Jizzy Pearl fronting a band is not an opportunity to be missed if you can carve out the time in your schedule. Most hard rock fans probably know him as one of the founding members of Love/Hate, one of the greatest L.A. bands signed in the wake of Guns N' Roses. Although they opened for heavyweights of the time such as AC/DC, Skid Row and Dio, to name a few, they never broke through to the masses as I believe they should have. Although they had a sound comparable to the first two acts I mentioned, they still delivered it with a style all their own, which also retained some funky elements from time to time. Some may recall Pearl fronting Ratt for quite awhile after Pearcy's departure in the late 90's, although no new studio material ever surfaced. These days he's the latest lead screamer for the band who arguably started the L.A. pop metal explosion; Quiet Riot. And, might I add, he fits in well there, having retained much of his range and rasp, which is no simple feat.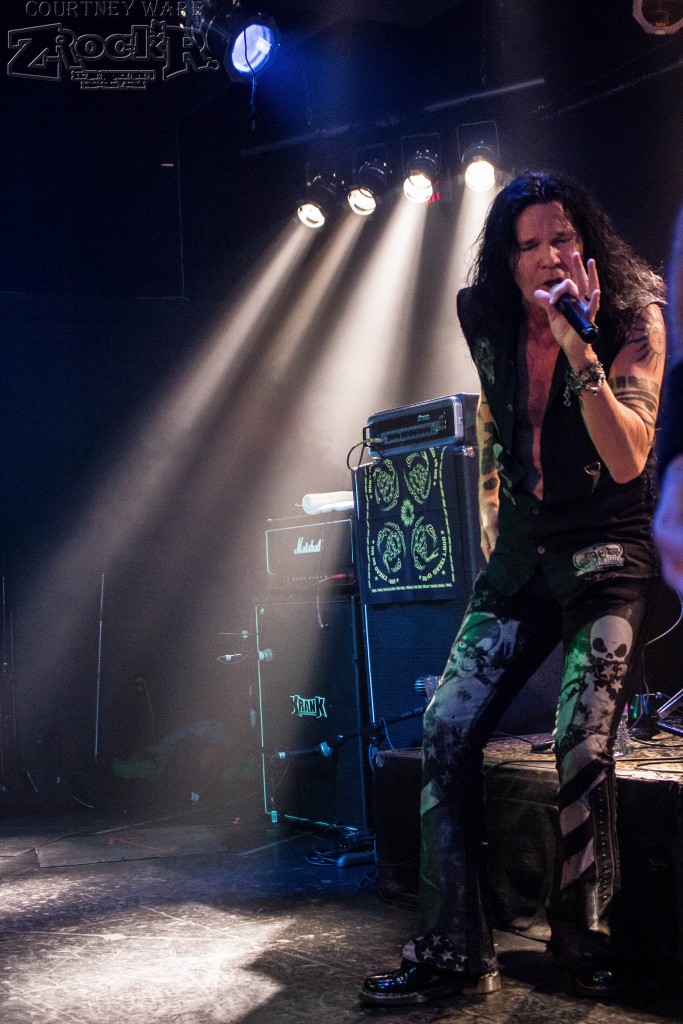 After a few attempts with varied lineups since Love/Hate's breakup, Jizzy has decided to carry on as the Jizzy Pearl Band when he trots out the Love/Hate classics. To my knowledge, he always retains Michael "Doc" Ellis (Sin City Sinners) on bass, and rounds out the act with other high caliber players. Although it's a shame that Jizzy has had disagreements with his former classic line-up Love/Hate band members, which has ultimately gotten in the way of a hoped-for reunion, it's a blessing that when schedules permit, he will get three stellar players to perform gems from their first three LPs. This time at Vamp'd, we again got Christian Brady (Hellyeah) on lead guitar duties, with newcomer-to-the-fold Mike Dupke (ex-W.A.S.P.) on drums.
After the pre-recorded Hendrix song faded out, Pearl and company seized the attention of the sizable audience with "The Boozer" off of Let's Rumble, their third album (their first after parting ways with Columbia/Sony). As to be expected, the setlist was weighted heavily in favor of their first two releases, although this is certainly not a bad thing. In their career, Love/Hate released five full length platters, as well as a compilation LP a few years ago that featured some new recordings as well as special guests.
Wasted in America's "Yucca Man" was followed by the debut album's deep cut "Tumbleweed," which spilled into "Spit." The next two were certainly odes to the imbibers in the crowd, the snarling "Fuel to Run,"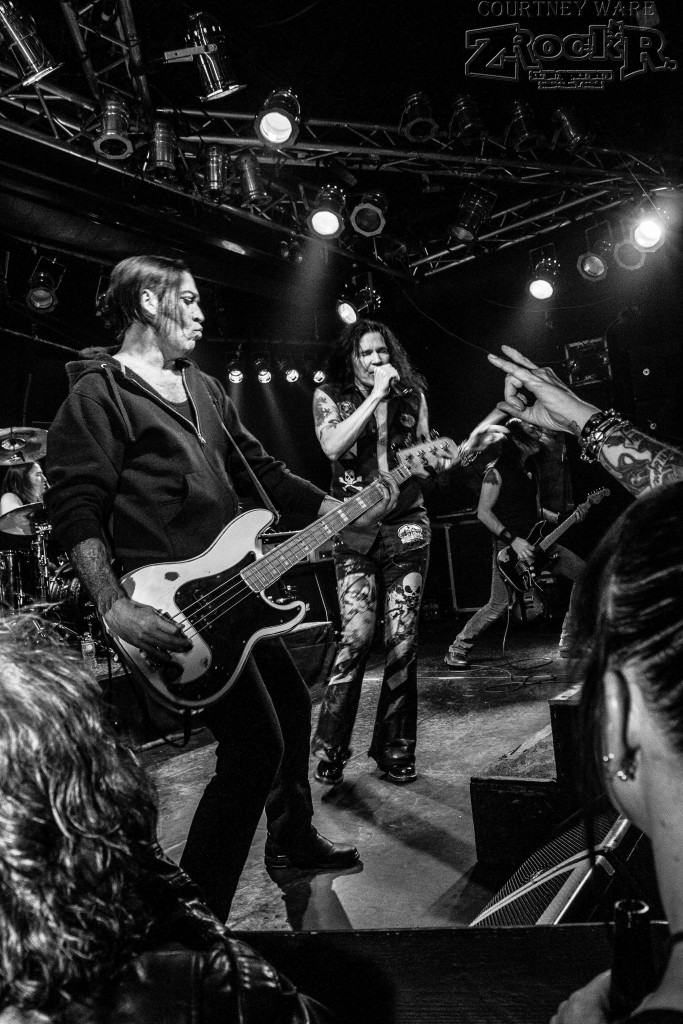 which starts off quietly with a distinctive bass line and the aptly-titled "One More Round." Love/Hate was always big on drug references and Jizzy is quite the fly-on-the-wall who condenses life's episodes well lyric-wise. "Tranquilizer?" Check. "Mary Jane?" You got it.
Tearing up the leads, Brady shone on "Don't Fuck With Me." Although "She's an Angel" is a cool song, I had hoped for "Rock Queen," which was not to be heard. Was this a major faux pas? No. But I'm requesting it be added for the next local date.
When I see/hear the songs "Evil Twin" and the title track off of sophomore outing Wasted in America live, it cements my dismay at how criminally overlooked the band was, certainly in the States; they have such a loyal following in the U.K. that they've recently done mini-tours there.
"Why Do You Think They Call It Dope?,"  whose video was generously played on MTV's Headbanger's Ball back in the day, was executed with finesse. This night was my first time seeing Dupke on the kit in any band, and he did not disappoint in the least, certainly bashing the skins hard on this one.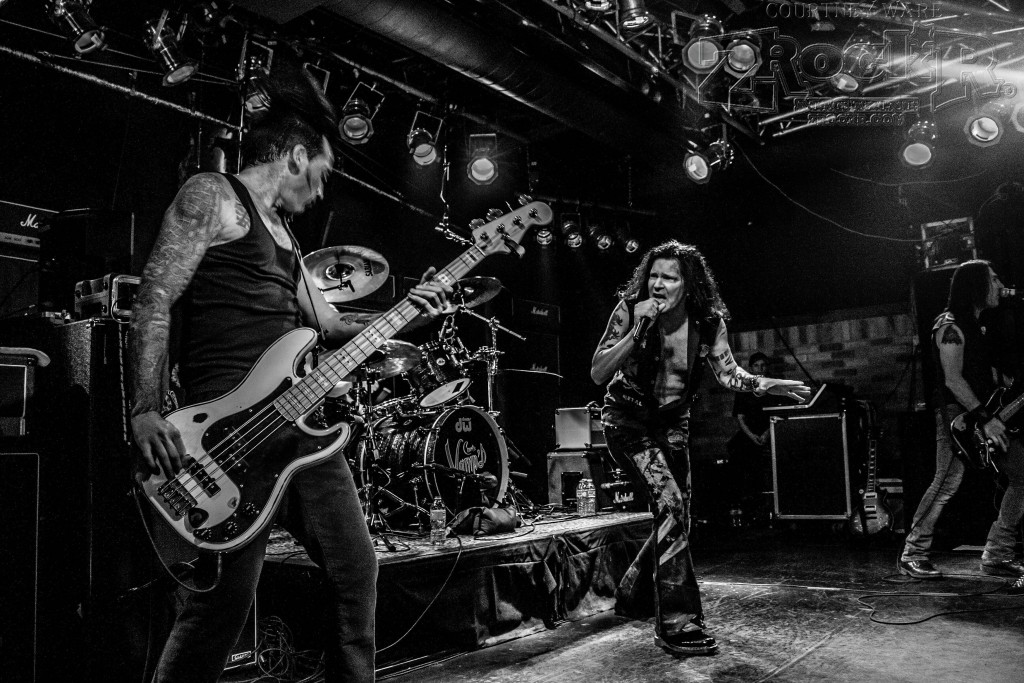 The treat of this concert was special guest Darren Housholder, who had replaced founding guitarist Jon E. Love in the 90s. He took the stage alongside Christian for a powerful two axe attack, a nice surprise, tearing up "Spinning Wheel" and expected closer "Blackout in the Red Room."
Although there wasn't an encore, the sixteen song set was impressive. I'll definitely be here again when they return. And so should you, my friends.
PHOTO CREDIT: All Photos by Courtney Ware for ZRock'R Magazine- ©ZRock'R Entertainment, LLC- ALL RIGHTS RESERVED