In recent years, Ace Frehley, the legendary original lead guitarist of KISS, has made a comeback for himself. Albums like Anomaly and Space Invader have established that the Spaceman is still a formidable force in the world of rock and roll, and will likely not be going away anytime soon!
Origins Vol. 1 is the latest release from the Space Ace, this time around featuring him paying homage to some of his rock and roll heroes, and even revisiting a few songs from his past. Special guests collaborating with the Spaceman on this covers CD include Lita Ford, John 5, Slash, and even former KISS bandmate Paul Stanley!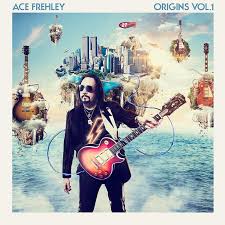 Unlike a number of aging artists, Frehley has managed to maintain his musical talent, still singing tracks in a distinctive voice and displaying his legendary guitar prowess. Covers albums seem to be something becoming all the more common amongst veteran classic hard rockers, and it is good to see that the man behind all of the action is still in fine form musically.
Doing covers is a tough task unto itself; the artist has to find the right balance of musical elements. You do not want to record carbon copies of the original songs, but at the same time, you do not want to go so far out in left field that the song is no longer recognizable. Fortunately, Frehley strikes gold on Origins Vol. 1; he has proven for years that he is a great musician when it comes to adapting the songs of others as his own. The tracks here are all recognizable, yet certainly not clones of the artists' own respective takes on the material.
So, what are the highlights here? Cream's "White Room" and The Rolling Stones' "Street Fighting Man" make for a powerful one-two punch to get things underway. Slash guests on an excellent cover of one of Thin Lizzy's finest deep tracks, "Emerald." Frehley even revisits his old KISS compositions "Cold Gin" and "Parasite," the latter given a blistering, more powerful rendition through the added guitar of John 5; these versions of the songs even feature the Spaceman on lead vocals (he did not sing on the original KISS versions of them). We even get to hear his reimagining of Steppenwolf's "Magic Carpet Ride!" Fans of Mr. Frehley will love hearing him work his Space Ace magic on these tunes.
The market is more than a little oversaturated when it comes to covers albums. Fortunately, Ace Frehley proves himself to be more than competent at turning the songs of others into his own here on Origins Vol. 1. Any fan of the Spaceman is going to want to add this one to their collections.