The last few years have seen a resurgence in popularity for Lita Ford. The former Runaways member and solo artist who had risen to fame on her own in the 80s came back a few years ago with a new studio and live album, establishing that she was not yet done to be rocking. In fact, a few weeks ago, we even got an autobiography from her! But that is not the only new news on the Lita Ford front. More recently, we have gotten the release of a new CD, Time Capsule.
Time Capsule features a number of special guests, including Dave Navarro, Robin Zander, Gene Simmons, Rick Nielsen, Jeff Scott Soto, and Billy Sheehan. The release consists of songs that were recorded by Ford in the past, but never released, in a time when Ford was between recordings following her Lita album, in which a number of musical all-stars were in the studio.
Recent years have definitely seen Ford making something of a comeback following her split from former husband Jim Gillette, and she has absolutely returned to her hard rock roots. More show dates in recent years have been well received by the fans as well. Needless to say, this fan is eager for any new release from this queen of rock.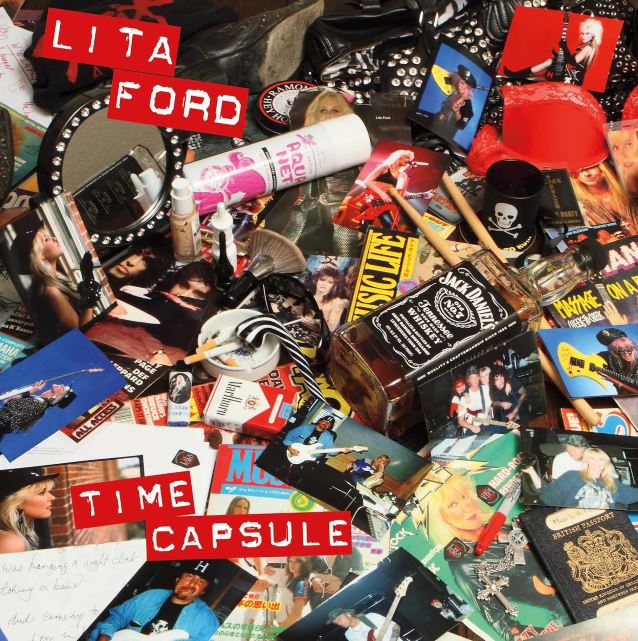 Despite being outtakes of sorts that never actually made it on an actual Ford album or got released in the past, everything here is solid and listenable. Due to these actually being vintage recordings, this is the most "classic" sounding Ford release in years, and that is most definitely a good thing. There are ballads, rockers, and even an unexpected but excellent cover of Jimi Hendrix's "Little Wing." Fans of Lita Ford are definitely going to find plenty to enjoy on this release; she is at the top of her game here, not surprising given that the genesis of these recordings was in the wake of her most popular and successful studio effort.
Lita Ford's comeback continues in fine form with the aptly titled Time Capsule, taking us back to her glory days in the form of these unreleased recordings. If you are at all a fan of Ford, this will make a great addition to your collection.