On April 15, 2016, Vamp'd played host to two bands from the Decade of Decadence – Tuff and Bang Tango. Both acts showed great promise upon their initial conception and record deals, with hit videos and singles, although changing musical trends prevented either act from getting the attention that they truly deserved.
This was my first time seeing Tuff live in concert. The group started in the mid 80s, with longtime member Todd "Chase" Chaisson remaining their only original member. An early lineup of the band included vocalist Jim Gillette, who would later go on to form the band Nitro, but the group is best known for its inclusion of vocalist Stevie Rachelle, who replaced Gillette and has been with the group ever since. Over the years, many musicians have played in the band. The band is best remembered for their 1990 debut album, What Comes Around Goes Around, which featured the #3 video hit, "I Hate Kissing You Goodbye."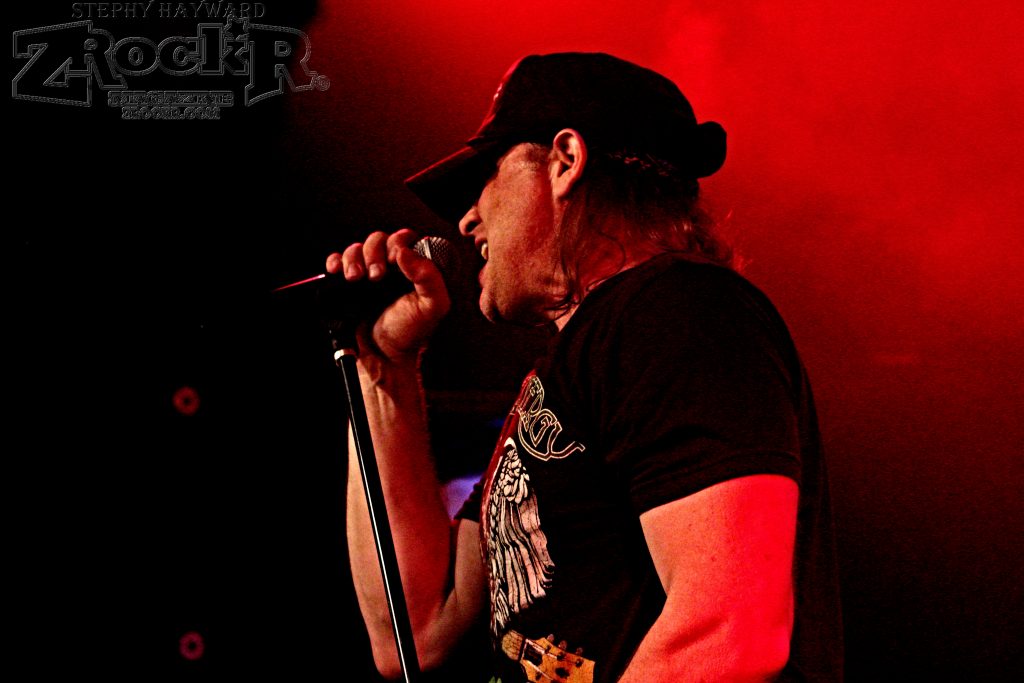 Having not actually listened to a good deal of Tuff material or seen the band in concert before, I was not entirely sure what to expect going into this show. Fortunately, these guys rocked and rocked hard. Stevie Rachelle is a frontman with stage presence and a sense of humor; the performances of these songs were good enough, but it is the latter trait that really made this show worthwhile. Going off on rants and making jokes to which even the current members of the band were not immune, he had the audience members banging their heads and laughing their asses off! Perhaps nowhere is this more evident than in the form of "American Hair Band," a parody of Kid Rock's "American Bad Ass," which deals with the history of bands from their genre and era in a humorous fashion ("I went platinum zero times!") Rachelle is to vocalists from the 80s glam/sleaze scene what Deadpool is to comic book characters… and this rocker loved every minute of the band's hard rocking and at times outright comedic performance.
Bang Tango is slightly better known than Tuff, due to some overnight success at the tail end of the glam/sleaze movement, with hit videos and singles from their first two albums, Psycho Café and Dancin' on Coals. The group's funky, bass-driven rock songs helped them to stand apart from the crowd in their early years. Vocalist Joe Lesté remains the band's one original member in its current incarnation, although bassist Lance Eric has been a major part of the group for over a decade.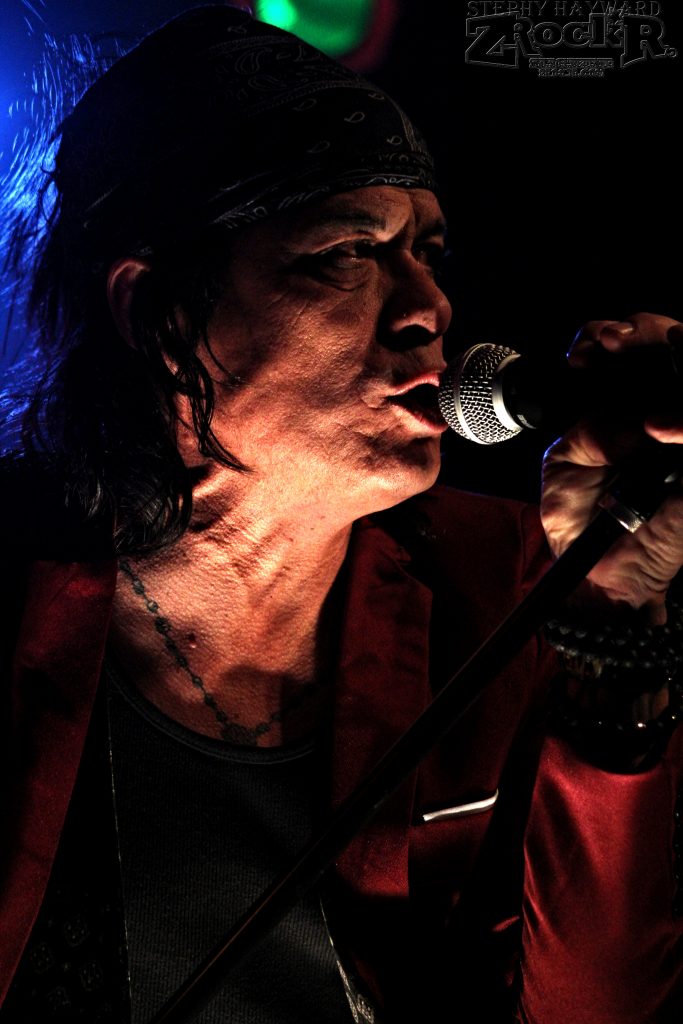 I love the classic Bang Tango records; this was one of the most distinctive groups of their era. Having been seeing the band a few times in concert since 2011, it is evident that the band remains revolving door, rarely holding down the same lineup for very long. That said, Lesté always seems to surround himself with excellent musicians, and the current five-piece lineup is no exception to that rule. Unfortunately, the shows tend to be hit and miss at times as a result of Lesté's drinking and behavior on stage. At their best, Bang Tango shows will rock your world. At their worst, well… we will get to that in a minute.
Let me start by saying that the guitars, bass, and drums all sounded excellent. This is an awesome band lineup that knows what they are doing and certainly does justice to the material, old and new alike. The real standout in the current version of the band is bassist Lance Eric, whose powerful bass lines are just what these songs need…
…and then we come to the frontman.
Joe Lesté is the man who gave Bang Tango its iconic voice and has remained a fearless frontman over the years, not to mention the band's one constant member. But shows like this largely hinge on how well the lead singer can perform on stage and command and audience. I have been listening to the band for years and seeing a number of shows; I can say that when Lesté is in his prime and sobered up, he still performs with the best of them.
This was not one of those nights.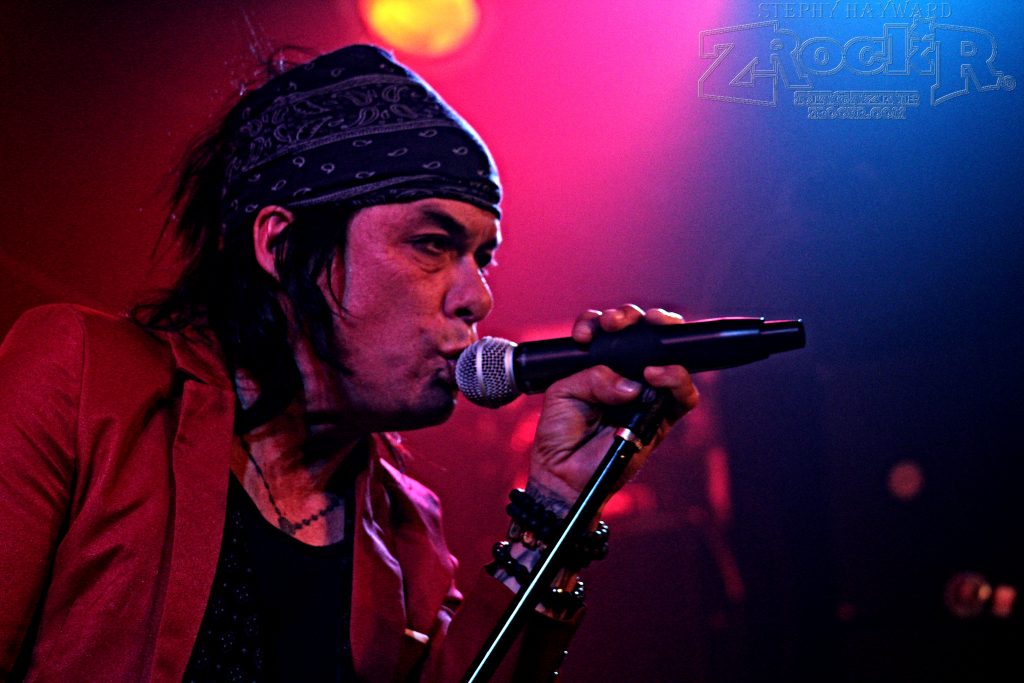 Right from the moment he took the stage, you could tell the guy was seriously fucked up. His rants between songs featured horribly slurred and stuttered speech, with no real sense of direction (I'm surprised he remembered what city and venue he was playing!) At one point, mid song, he reached down and grabbed a woman's glass of beer and took a sip before handing it back. But the real cringe-worthy moment is when he attempted to use the time interlude during a guitar solo to remove his jacket, which he struggled with and took so long to do, he did not even make it back to the front of the stage in time. And did I mention that when he was taking his time bent over doing this, his crack was visible to the entire crowd?
His vocals and speech between songs were downright incomprehensible at times, and his presence was not what one needs to command and entertain an audience. I was irritated to see that the setlist omitted the band's classic anthem "Love Injection," but believe me, that was the LEAST of the audience's concerns at this gig. The members of Tuff even rejoined the Bang Tango guys for a rendition of "Highway to Hell" late in the gig, but by this point it was too little too late in Bang Tango's corner due to the frontman follies.
Tuff is a severely underrated band, and I was glad to see Stevie Rachelle and Todd Chase are doing their part to keep the band alive; it is absolutely an act I look forward to seeing again in the future. Bang Tango has a great new lineup, but Joe Lesté's on-stage drunkenness derailed what could have been a fantastic show. You can expect a fantastic and humorous show from Tuff, but Bang Tango, despite their great new lineup, has everything hinging on the frontman's behavior and drinking habits. If nothing else, if this tour comes to your city, go for the Tuff set.
All photos by Stephy Hayward for ZRock'R Magazine- ©ZRock'R Entertainment, LLC- ALL RIGHTS RESERVED