Sunstorm is the latest project from former Rainbow vocalist Joe Lynn Turner. In recent years, Turner has begun to return to the public spotlight with assorted live shows and projects, including the Rated X band with Carmine Appice and Tony Franklin a few years back. After that foray into harder and heavier sounds, Turner sought to return to something more melodic, reminiscent of his early post-Rainbow solo career.
Over the years Turner has always had an amazing vocal style, and recent projects and concert tours have shown the New Jersey singer persevering and withstanding the test of time. Sunstorm finds Turner doing his part to recapture that melodic sound of his commercial peak, but also retain some of the harder edge of what he has explored in more recent times as well.
Turner had previously recorded three other Sunstorm albums, but this is the first since 2012 and the fourth overall. The record unites Turner on vocals with fellow musicians Alessandro Del Vecchio, Simone Mulroni, Nik Mazzucconi, and Francesco Jovino.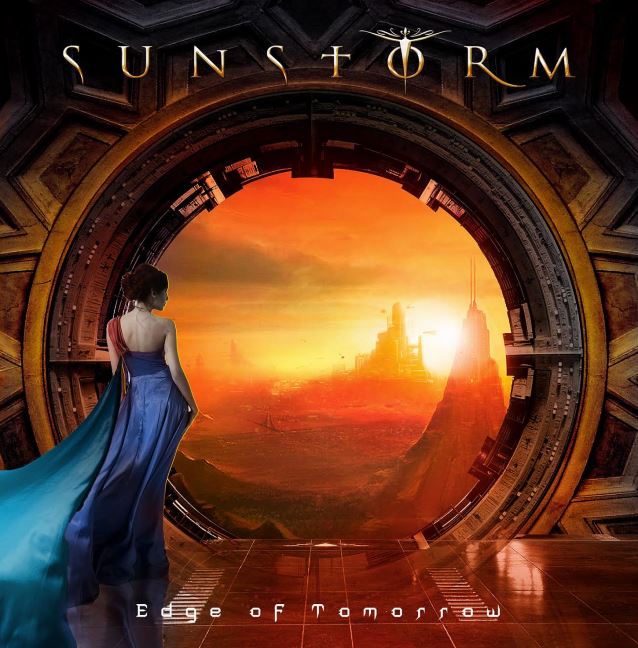 In recent years, Frontiers Records has become something of a "safe haven" for classic hard rock, heavy metal, and AOR musicians that have largely been out of the spotlight in recent decades. The result is that many of these artists have gotten what they have been looking for in terms of additional exposure and support that they would not be able to get in a world that has proven all the more unforgiving and unkind to classic artists. How does this latest Sunstorm release from Joe Lynn Turner measure up?
Edge of Tomorrow, the fourth Sunstorm release, proves overall to be another solid release from the always dependable Turner. Largely comprised of melodic AOR style tracks but not afraid to go into high gear with a few cuts that are a nice mix of hard/heavy rock and AOR elements, it manages to be a solid, consistent album for its duration. Finding that balance between unique sounding individual tracks and a coherent album that gels as a whole is not easy, but Turner and his fellow musicians certainly find it here. Naturally, this is probably going to be revered as "that new Joe Lynn Turner album," but his fellow artists deserve their share of the credit here as well.
Edge of Tomorrow feels modern and unique, yet also manages to have just enough of that throwback vibe to appeal to the age-old fans of Joe Lynn Turner's music. If you have ever listened to his past work and are a fan, this is a fantastic new release that belongs in your collection. Recommended!