In the 1970s, Punky Meadows was Angel's lead guitarist. The legendary classic rock quintet fused elements of pop, hard rock, and progressive sounds, and was one of the most unique of their era. Unfortunately, they never quite got the commercial breakthrough they deserved. The Casablanca-signed band disbanded quietly around 1980, after five studio records and one live album.
But what happened to Mr. Meadows? He largely disappeared from the public eye, like many of his fellow Angel members, aside from a brief appearance on a 1999 Angel semi-reunion record.
Meadows recently resurfaced in a number of press releases and interviews, making claims that he would be returning with a new solo album. For the album, which was finally released in May of 2016, Meadows recruited a band of talented musicians, including former Angel bandmate/bassist Felix Robinson.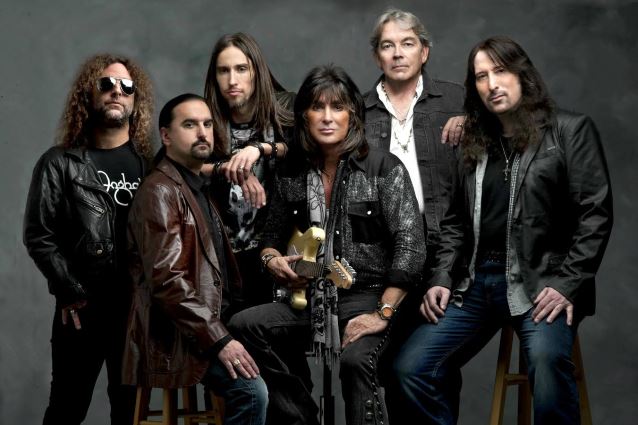 Having been hyped up for the past year, not to mention the fact that this rock and roll fan absolutely adores the old Angel records, this is quite possibly the most eagerly awaited release of 2016 for me. Angel was a band that never had mass mainstream success, but were truly ahead of their time, and to this day they still have a cult following of sorts.
The real surprise on this album was Meadows going with a band of relative unknowns. Aside from Meadows himself and former Angel cohort Felix Robinson, I had never heard of any of the musicians on this release! That said, this release is a long time in the making, with plenty of hype being generated over the course of the last year. Do Mr. Meadows and his new band succeed with the release of Fallen Angel?
I admit to having my doubts and being somewhat pessimistic with this release initially; after all, it had been a very long time since the world had heard from him, aside from that semi-reunion Angel album in the late 1990s.
Initial doubts be damned! Meadows kills it on Fallen Angel. Wild, diverse, and unpredictable in its duration, this could very well be my favorite rock album of 2016 so far.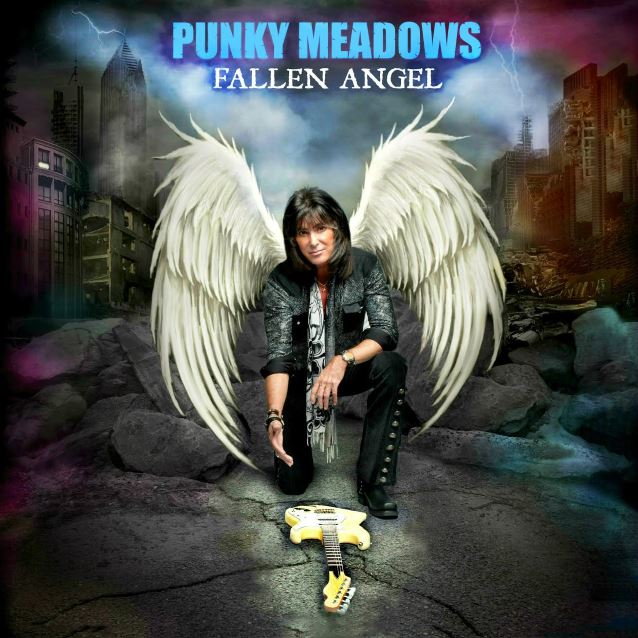 The album starts off with a bizarre, outlandish voice speaking from the heavens to Meadows, as he departs for Earth to rock, which longtime Angel fans will recognize from their classic concerts. From there on out, it becomes a powerful and deserve variety of rock and roll sounds from start to finish. Some tracks stand out more than others, but after giving it a listen you will agree that none of them are weak. This is not an Angel album; the sound is decidedly different from those glory days of Meadows' career. But when the songs here are this good, do you really care?
There are modern style rock songs. There are melodic AOR tracks. There are classic hard rockers. There are pop songs. There are ballads. And throughout it all, Meadows kicks ass on the guitar, remaining the centerpiece of the band and the focus of much of our attention. His playing and solos will grab your attention and leave you wanting more. Chandler Mogel, who I had never heard of prior to this CD, handles the vocal duties, and does not disappoint, with sounds that are appropriate for what all of these tracks require. This album covers all the bases, and Meadows' backing band is perfect for everything at hand.
Punky Meadows – if you are reading this review, welcome back to where you belong. You were gone too damn long. And you were missed. With the release of Fallen Angel, you have thoroughly rocked us all.
Needless to say, with its diverse sounds, superb guitar work, and great backing band, Fallen Angel gets my absolute highest recommendation. Do not hesitate to add this one to your collection. And expect to see it show up on my "Best of 2016" list when the time comes!