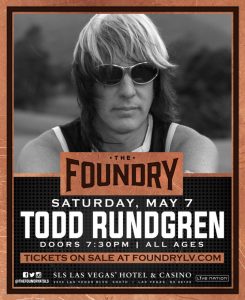 Todd Rundgren has long been one of classic rock/pop's all time great musicians, known equally well for his own musical talents and performances as his production skills; he has produced music for everyone from Meat Loaf to Bad Religion! Rundgren has remained active for nearly half a century, spanning his early 60s music with Nazz, a prosperous solo career, work with his band Utopia, and roughly a decade ago, singing for The New Cars. To say this is a man who keeps busy in the music world is certainly an understatement.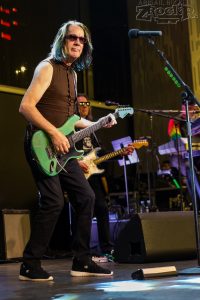 Rundgren's show took place at the Foundry inside the SLS Hotel/Casino (formerly the Sahara). For this rock and roll fan, the night marked two firsts; first time seeing Rundgren in concert, and first time attending a show inside the Foundry. The venue is half-circle shaped and quite large, with much of the space devoted to standing room area on the main floor. It maintains a classy atmosphere, yet is definitely the kind of space that could accommodate a good many different kinds of shows. It also pleased me to see that this particular gig was advertised as all ages; too few venues/shows accommodate younger fans getting to see the great classic artists so many of us know and love (though admittedly I didn't see anyone too young inside).
I admit, I am not as familiar with Rundgren's back catalogue as I am a good many classic rock artists, but I have respected him as an artist and loved his music for years. As such, this was one of my most eagerly awaited shows of 2016 for a number of reasons.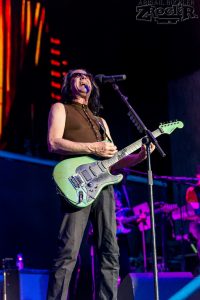 It was great to see Rundgren in a fairly small and intimate venue, but also one that could accommodate legions of his fans. Throughout the night, he clearly enjoyed performing, having plenty of energy even at age 67. Sometimes when you see an aging performer, it can be dreadful to see just how little stage presence they still have, or a lack of chemistry with the rest of the band. This was certainly no problem for the legendary Todd Rundgren! In everything I saw, the man had plenty of energy and did justice to hits and deep cuts alike.
For Rundgren, assembling a setlist is difficult because of his lengthy career and multiple bands/projects. Would he just do the solo hits? A grab bag of stuff throughout his career? Some unexpected new material? Everyone knows classic hits like "I Saw the Light," "Bang the Drum All Day," and "Hello It's Me" (originally a song by his old band, Nazz). But he definitely satisfied with a diverse, interesting, and above all, entertaining setlist that combined hits, deep cuts, and even Nazz and Utopia songs! There were many underrated deep cuts I did not recognize, and on one song, he even sounded like he was rapping! This is one of the most interesting things about Rundgren; he is musically diverse and always manages to both surprise and impress listeners. Some major credit must be given to his equally talented backing musicians as well.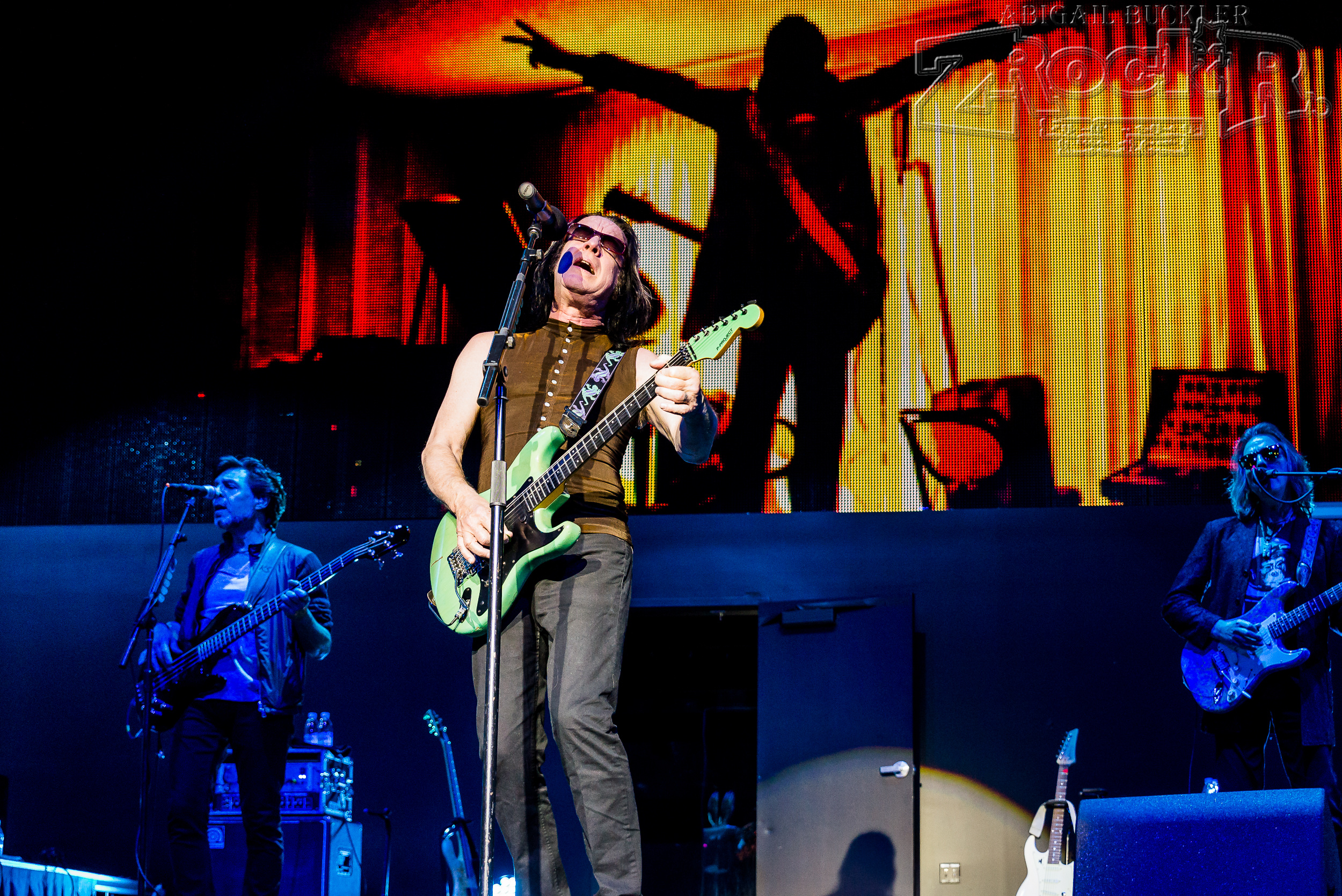 This was an excellent night of classic rock and pop songs brought to life by a true musical innovator. Fans of Todd Rundgren will be pleased to know that the man still has stage presence and knows how to attract and please a crowd. The amount of people that attended on this evening goes to show just how strong and good of a following he truly has. Do not hesitate to attend his live set if the opportunity arises!
Photo Credit:  Abigail Buckler for ZRock'R Magazine-  ©2016 ZRock'R Entertainment – All Rights Reserved