NOTE: Much of the content from this review specific to the film (and not the home video release/bonus features) was previously published in an earlier review.
Hair I Go Again is the story of two aging rockers who played together in several amateur bands in the 1980s. Still fans of music, the twosome come up with the ultimate goal – reunite with their classic 80s band, play some gigs, and record some new material. Unfortunately, this proves to be exceptionally difficult; their former bandmates live all over the country, and in many cases are working full time jobs, returning to school, have wives and kids, are experiencing debts and financial hardships, and an endless number of other commitments.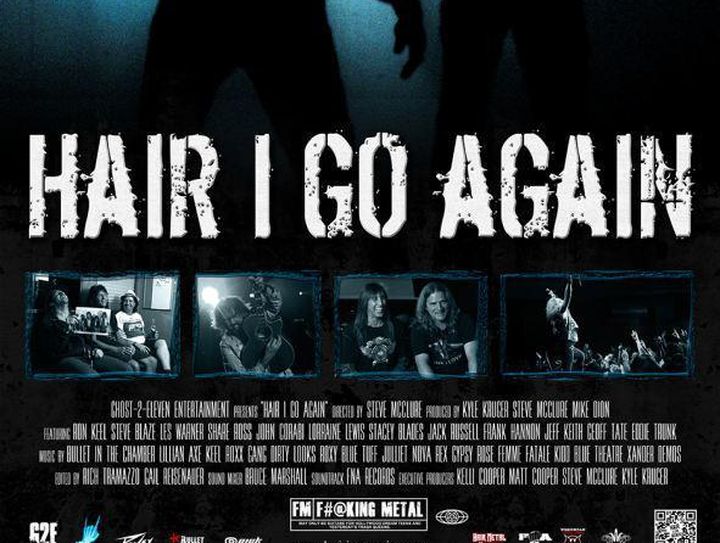 What stems from this fool's errand of sorts is a musical journey across the United States, reuniting with old friends, seeing where everyone has ended up over the years, and (literally!) returning to music school, to be up to speed on everything in the event of potential recordings and gigs. Complications arise and financial difficulties threaten to derail the project, which ends up spanning multiple years, but will the dream be realized?
Hair I Go Again features guest spots and interviews from a number of musicians, primarily from the 80s hair/glam scene, including Stacey Blades, Phil Lewis, Oz Fox, Ron Keel, Frankie Banali, Lorraine Lewis, members of Anthrax and XYZ, plus metal media personalities including DJ Luc Carl, and That Metal Show host Eddie Trunk.
There is a large number of rock and roll documentaries out there these days; that is certainly nothing new. Hair I Go Again is the latest in a growing number of them, but definitely does manage to bring something both new and memorable to the table. Whether a musician yourself or just a fan, chances are it will hit close to home in more ways than one.
If you are reading this review, chances are the rock and roll lifestyle has been a part of your life to some extent. Hair I Go Again is great because we get a look at two lifelong friends who have not given up on their dream, and are willing to go the extra mile to recapture it all. The difference in levels of devotion towards accomplishing this goal between these two longtime friends and their former bandmates makes for a rather interesting contrast. On one hand, you have two friends going for broke (again, quite literally!) in their quest, pouring years and money into a foolhardy quest that may or may not come to fruition. And on the opposite end of the spectrum, you have the other former band members that have moved on and seem content in their respective lives, with wives and kids, and jobs and potential careers they need to devote themselves to fully. The great thing about Hair I Go Again is that, even though this is not a "dream scenario" where everything fully works out the way that our protagonists and us as viewers want it to, you can certainly sympathize with the participants on both sides of the coin here.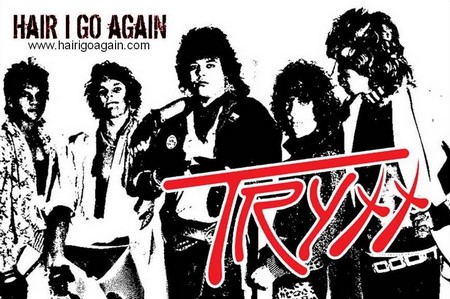 Another admirable trait of the picture is that it does not shy away from the harsh and often ugly realities of the music world and the business at large; this is well reflected through the interview content with established musicians. You have artists not afraid to reveal the truth of the bleakness of today's music industry, yet at the same time there are personalities who want these would-be rockers to give it their all and pursue their dream while there is still time.
Perhaps the best thing about Hair I Go Again is that we actually give a damn about our heroes. The outcome of the film is not what these guys set out to accomplish initially, but they are able to find another form of personal triumph. The experience does manage to feel authentic, and aging rockers and fans are going to find a lot they can relate to here.
If there is one minor issue I had with the otherwise excellent film, it is that a number of subplots and story elements do not get revisited. We hear that one man is disinterested in the project because he is apparently pleased doing death metal. By the time the film has concluded, how is that going for him? Another former band member was shown to have a wife, kid, and a startup job he was hoping to be successful. Did it work out for him? Even one of the main characters is evicted in the film and forced to share a room in a friend's house. Did he ever find a way to make more money and to reclaim his own place to live? Some quick "worded epilogues" to flesh these things out at the end of the movie would have been a welcome addition, and give some closure to the "loose ends."
Overall though, Hair I Go Again is a solid film with an interesting premise, likable personalities, and some of the top names in classic hard rock and heavy metal along for the ride, with their own comments to add to it all. Part Spinal Tap, part Decline of Western Civilization Part II, it must be seen to be believed. From laughable, comedic moments to the more dramatic and gripping material, it hits all the high notes (no pun intended). Fans of the genre/musical era will want to check it out.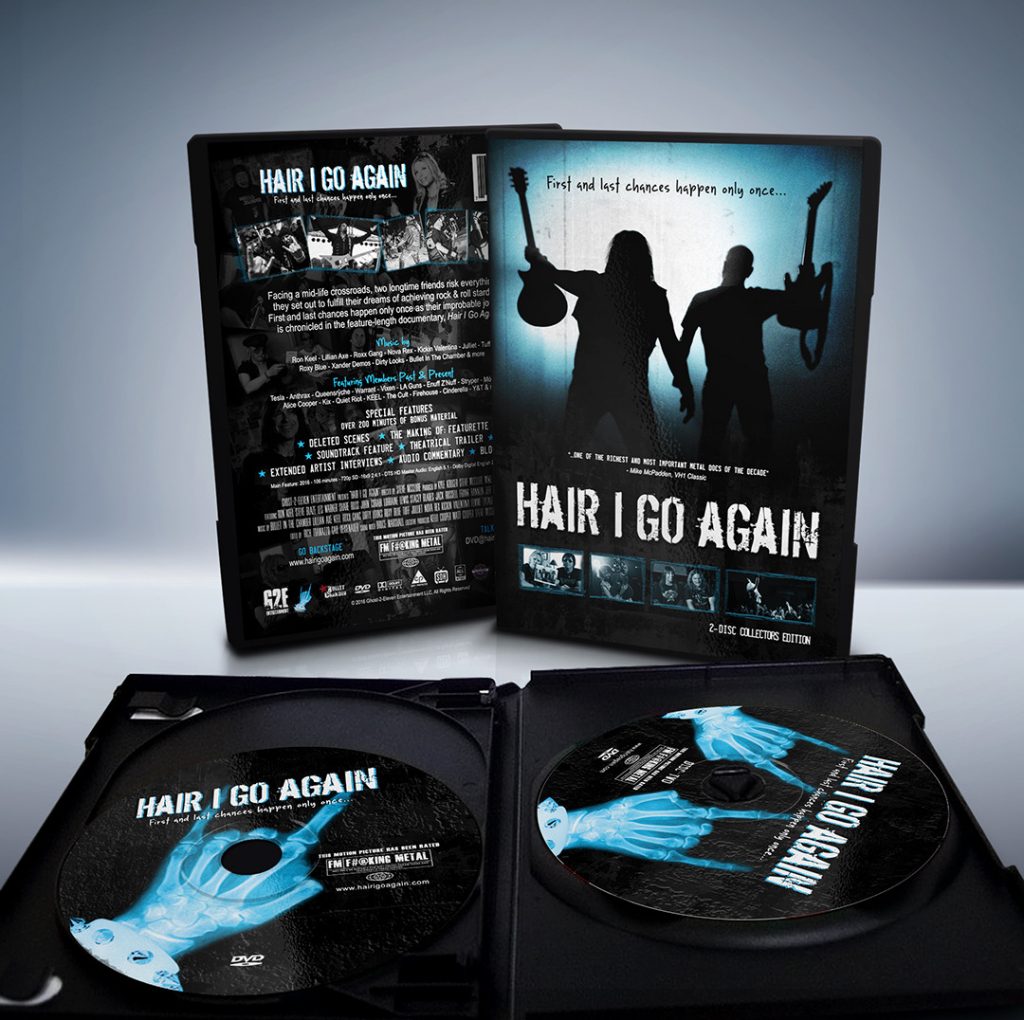 The home video release of the movie is a two-disc DVD set (it is also available digitally). The bonus features include the following, totaling over 200 minutes:
-Feature length audio commentary
-Making of featurette
-Blooper reel
-Extended interviews with Chip Z'Nuff/Johnny Monaco, Share Ross, Brent Muscat, Geoff Tate, Brian "Damage" Forsythe, Dave Meniketti, Beau Hill
-Deleted scenes
-Assorted radio interviews/promos
-Easter eggs
By far the biggest surprise on the first disc is that the filmmakers included a feature length audio commentary! This is a very casual and laid back track, with the twosome joking with one another throughout, but also revealing further information about what was going on throughout production. You really owe it to yourself to watch the movie at least once on its own, and once with this track on.
Further interviews with the rock star guests that participated in the movie are interesting as well; plenty of them have interesting tales to tell, both regarding their participation in the film, and their own lives and careers. As a fan of nearly every artist featured here, these were quite insightful and interesting.
You get plenty of other interesting material, including radio station interviews recorded throughout the duration of the project, and other means of promotional materials that give further details on the whole of the filmmaking process. If you were a fan of the movie you will want to watch and listen to everything at least once.
If I have one complaint with the bonus material, it is that none of it is dated. This was a project spanning from all the way back in 2010 initially, with various developments and pratfalls along the way; the movie very nearly did not get made and completed! Putting dates on the bonus material would have made it easier to see where in the process all of the content was recorded, thus giving an idea of how far along in the project the crew was at each step in time. But this is a minor caveat.
Hair I Go Again is great fun for any fan of the 80s rock scene, and anyone who has wanted to return to the days in which they dreamed of rock star stardom. The movie will strike a chord with many viewers and hit close to home. Very highly recommended, and the bonus features in this DVD set only further add to the retro rock experience at hand!
DISCLAIMER: All images in this review are the property of their respective copyright holders. For promotional use only. All rights reserved.