Remember a few years ago, when the Scorpions said they were retiring from recording and touring?
Obviously, very few bands ever follow through on that claim. But with Germany's finest classic hard rock quintet still at the top of their game, is that necessarily a bad thing? The group released the Return to Forever album last year to an enthusiastic public.
Recently the group announced a Las Vegas residency inside the Joint at the Hard Rock Hotel and Casino. This is fast becoming a popular trend in Sin City, with groups like Motley Crue, Guns N Roses, KISS, and Def Leppard having done similar series of shows in recent years.
Someone attending a Scorpions show is both enthusiastic and eager for what the group is going to present their fans. When you have a discography spanning well over 40 years and over 20 releases, you certainly have no shortage of songs to choose from! The group remains one of the world's most popular rock acts, with legendary rock anthems like "No One Like You," "The Zoo," "Rock You Like a Hurricane," "Big City Nights," "Still Loving You," and "Wind of Change."
The current Scorpions lineup features guitarist Rudolf Schenker (who founded the band way back in 1965), singer Klaus Meine (with the band since they began putting out albums in the early 70s), guitarist Matthias Jabs (who joined the band in 1979), bassist Pawel Maciwoda (who joined in the early 2000s), and drummer James Kottak (who joined in the mid 1990s, and was previously a member of Kingdom Come and the McAuley Schenker Group). Due to Kottak's current condition, the band has brought in a fill-in drummer for these dates – legendary Motorhead member Mikkey Dee!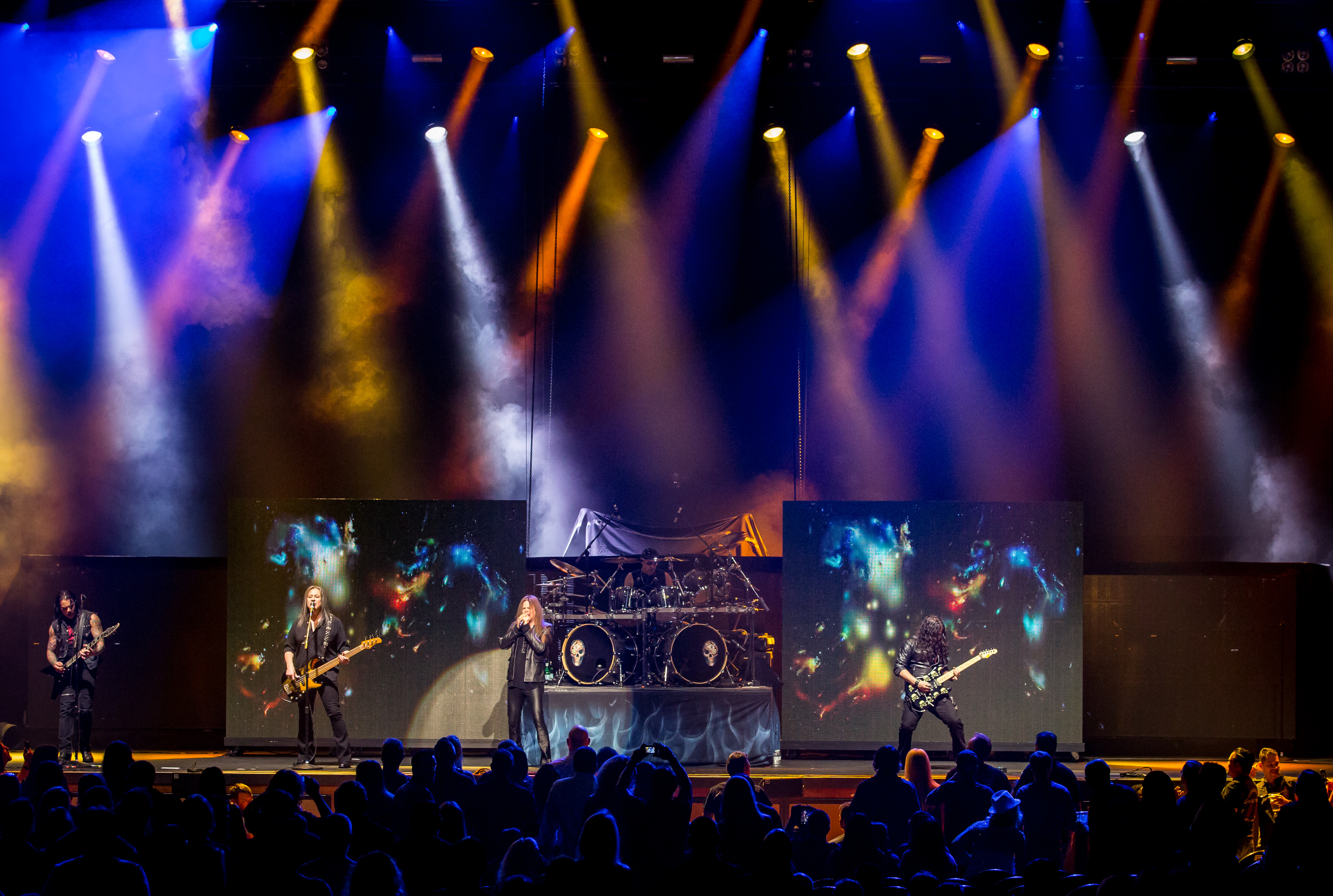 As with the other residence dates, Queensryche opened the show. Anyone who has followed these guys in recent years knows that classic vocalist Geoff Tate is no longer with the band, but they have gotten a long overdue revival in the form of their new frontman, former Crimson Glory vocalist Todd La Torre. With La Torre at the helm, the group has released two new records that stand as their best work in many years.
The Queensryche set only ran about 45 minutes and featured a fairly "paint by numbers" setlist consisting of classic hits from the band's 1983-1990 heyday; sadly there was not much in the way of tracks from their newer La Torre fronted records or retro deep tracks. Of course, these are some of the flaws you have to contend with when you only have an opening slot and must cater to a much more casual fan base. That said, their powerful renditions of these songs certainly won the crowd over for the first part of the evening. Many congrats to Queensryche for reinventing themselves with a new vocalist that has reinvigorated them in every way. This was definitely a solid way to start things off on this evening of rock.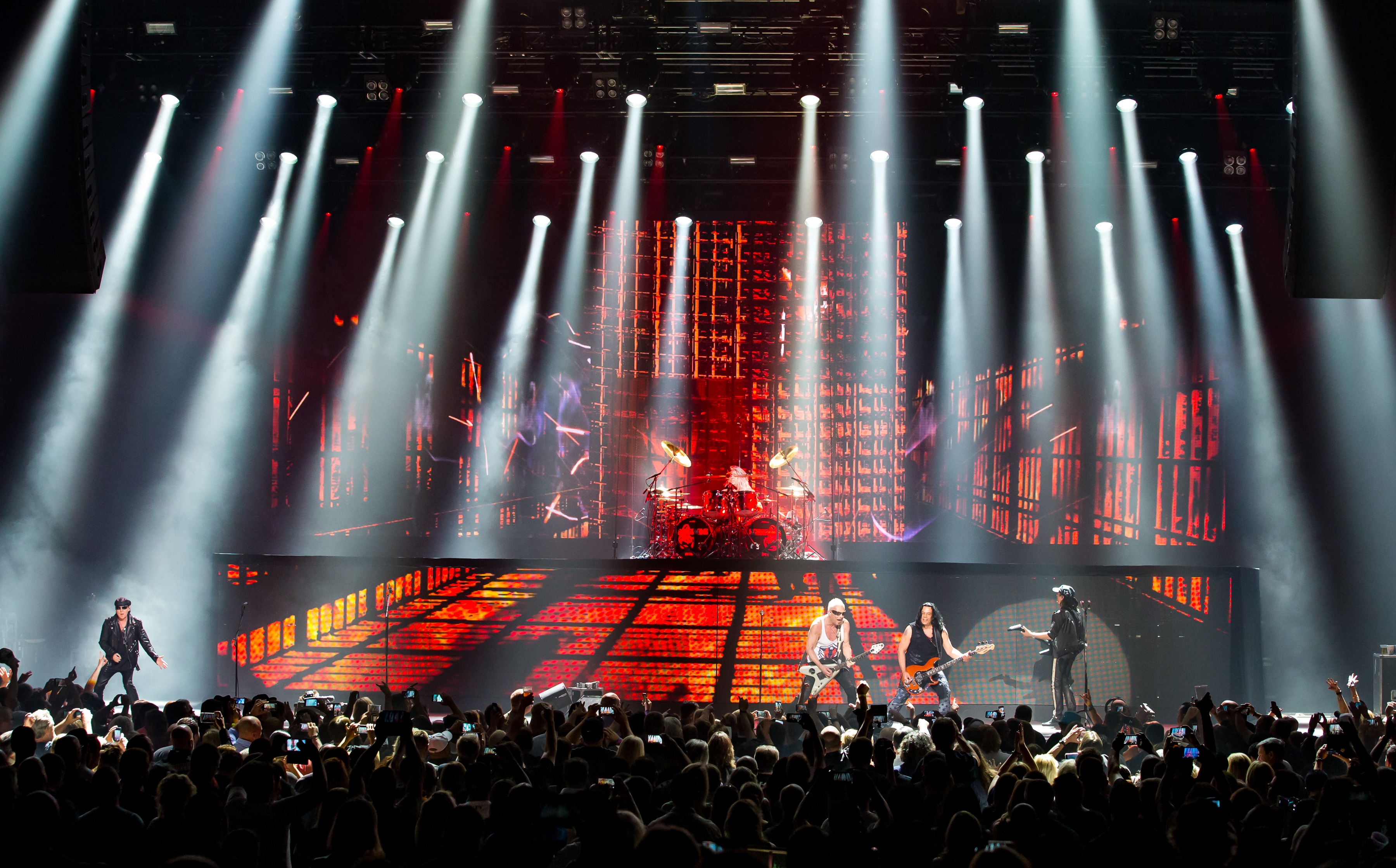 And then the Scorpions took the stage. And with the energy and ferocity these German hard rock legends brought to Sin City, you never would have guessed that only a few years back they were seriously giving consideration to retiring and walking away from the music world.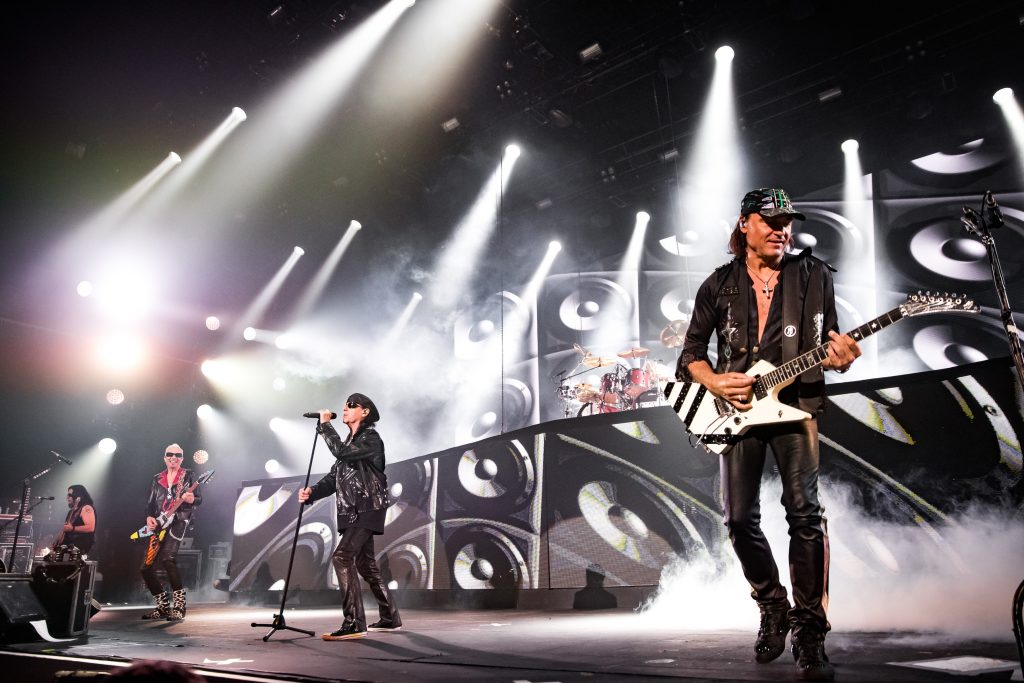 Back to my earlier point – when you have a 40+ year career, what do you play? When it comes to a band like this, often that is the greatest question of all. What did we get from these classic German hard rockers? The hits, the deep tracks, new stuff, old stuff? Actually, a combination of all of the above.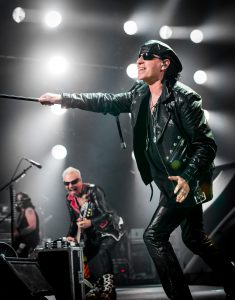 This setlist was a pleasant surprise to me. Yes, we got the obligatory hits like "The Zoo," "Blackout," "No One Like You," "Big City Nights," and encores of "Still Loving You" and "Rock You Like a Hurricane," but the group also incorporated a few cuts from their latest studio record, Return to Forever. I admit to not being the biggest fan of the new record, but it does show that the band is still going strong and remains musically capable.
The real surprise, however, were the deep cuts the band decided to use here, including the instrumental "Coast to Coast," and even a medley of the band's 70s era hits prior to international stardom, including "Steamrock Fever," "Top of the Bill" and "Speedy's Coming." This was a real surprise to much of the audience, including this fan.
The actual performance did not disappoint in the least. Even at age 68, Klaus Meine remains a powerful vocalist who has the ability to command this material and channel the enthusiasm and respect of audiences around the world. The amazing thing about the Scorpions' performances over the years is that their old songs have actually become heavier, tighter and more aggressive in the band's live shows; how many bands can say that? Musicianship was 100%. This is a group of performers befitting of their lofty reputation and worldly recognition.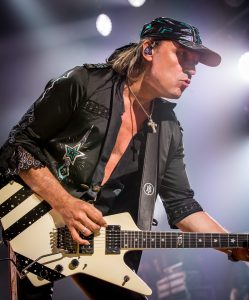 A good deal of credit must be directed to the legendary Mikkey Dee on drums, who took over this spot in James Kottak's absence. Learning all of these songs in a relatively short time period was surely no easy task; I bet there were plenty of audience members that did not even know he was a "fill-in" drummer! A solo, complete with platform that rose high above the rest of the stage, further added to the live experience.
The Scorpions are not about ready to quit rocking. This show at the Joint was one of the best of 2016 so far, and it is doubtful that anyone in attendance was disappointed with the events and musicianship that they witnessed on the live stage. Queensryche's opening set did a great job kicking things off well. Do not pass up an opportunity to see these German rock legends live while you can!
Photo Credit: Erik Kabik © Erik Kabik/Kabik Photo Group – Used with Permission- All Rights Reserved
Video Credit:  You Tube Channel: at all none – All Rights Reserved