Canada's Anvil is, in many ways, the real world's Spinal Tap. Hailing from Canada, these rockers have been making music for over three decades, and despite countless releases and a positive critical reception, they never quite seemed to get the mainstream attention that they deserved. The Anvil: The Story of Anvil documentary film from a few years back helped to introduce the band to a whole new generation of fans, and to win back many of the old ones as well, taking their popularity to a level they had not previously known. The band's latest studio album, Anvil is Anvil, was released earlier this year.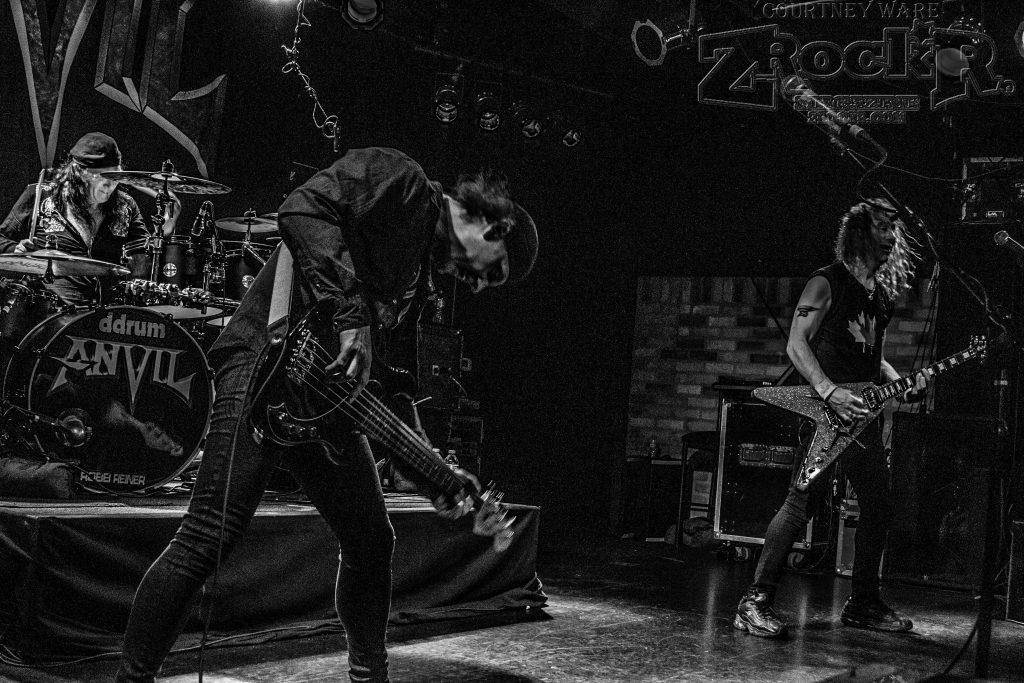 For this evening, Anvil was joined by three other bands, which made for an interesting night of hard rock and heavy metal. Graveshadow, Unleash the Archers, and Night Demon were all present to rock this audience of Vegas headbangers. Did the end results bring the goods for these heavy metal maniacs?
In all honesty, I was not familiar with the first two groups that opened the show, but it is always interesting to see what kind of talent these headliners have touring with them. What we got was a rather interesting and diverse night when it comes to said groups. Each one brought their own thing to the table and definitely left an impression.
Sacramento's Graveshadow was the first band to perform of the four. Again, this is not a group I had heard of, but they got this fan's attention right away. The group's real standout came from a symphonic, keyboard driven sound – courtesy of a great looking woman playing two keyboards at the same time!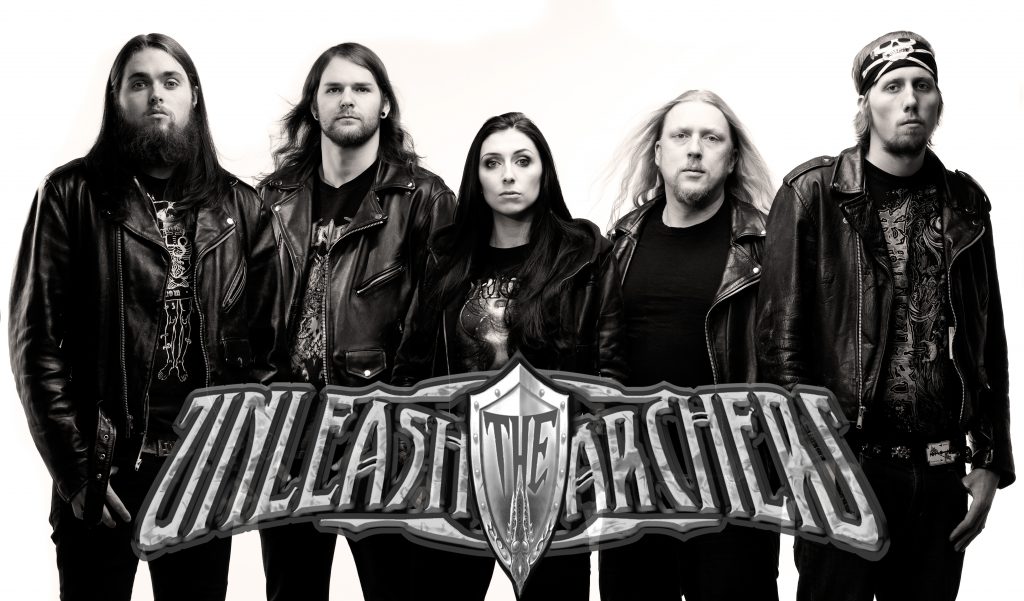 An equally attractive woman was on vocals, managing to run the range between a sweet, melodic voice and guttural screaming, making for a rather interesting contrast. While I admit to not being a fan of the more guttural vocal style that was utilized on a number of the songs, the sheer musical diversity these guys brought to the table was astonishing. This is a band that knows how to get a crowd's attention and keep it! Will be keeping my eye on them in the future.
Unleash the Archers took the stage second. Once again a female fronted group, though this one was more guitar driven than the first band. The playing displayed by the musicians here was superb; there were more than a few highlights in their set.
It was great to see Anvil brought along a diverse assortment of bands to support them, and not groups that are merely copycats. In their last song, the group stated that their bassist was not with them due to visa issues; I had not noticed that a bassist was even missing, which should stand as a testament to their musical abilities. These guys contributed another great set to a superb night of rock.
Third up was Night Demon, a heavy metal band out of California dedicated to keeping a New Wave of British Heavy Metal style sound alike, and as such, has become one of my favorite new metal bands of recent years. This trio plays loud, fast and aggressive, and does not fail to rock anyone that discovers them. Their set on this evening gave the audience a mix of originals and covers of bands including Jaguar, Diamond Head, and even Golden Earring! A guest visit during one of their originals from a demonic figure on stage certainly got the attention of the crowd as well. The set was far too brief, but this is one of the obstacles you face when you are playing a support gig to a larger band. This fan hopes the next time Night Demon comes to Vamp'd, it will be as the headliner!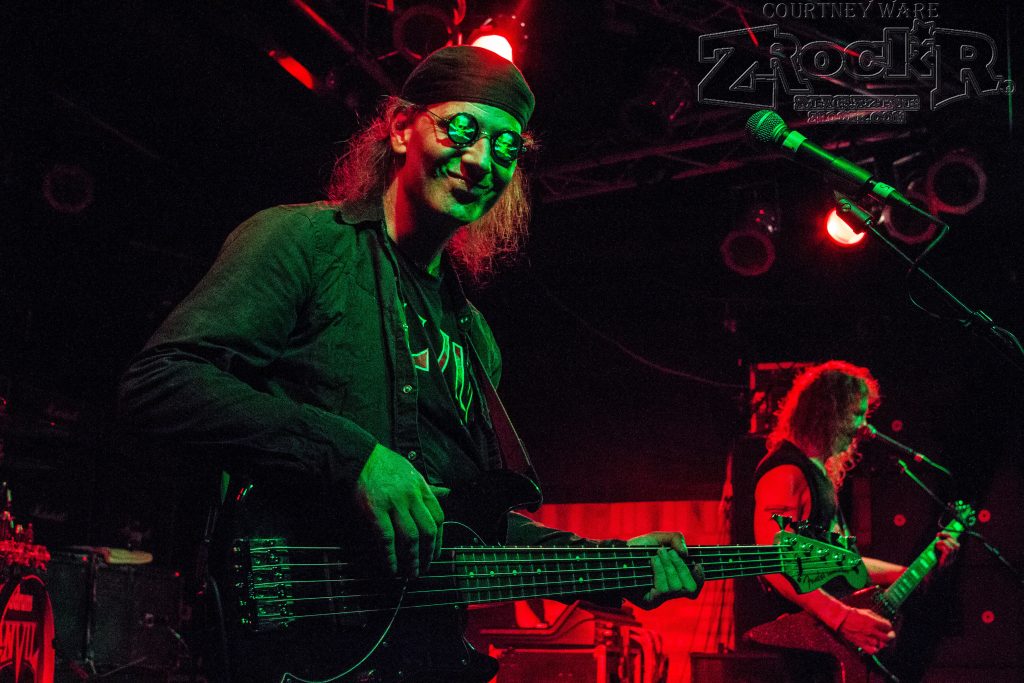 Anvil is an interesting band to say the least. They even made some comical Spinal Tap references during their set, all of which were surprisingly appropriate and fitting. These guys are delightfully over the top and campy, but it just makes this fan love them all the more.
The group kicked off their set with an instrumental sequence that had Lips playing his guitar solo right in the middle of the audience, off the stage! The crowds around him during said solo go to show that this band certainly has garnered its share of respect and rediscovery in recent years. It is clear that the group has a sense of humor; Lips' facial expressions throughout the concert were worth the price of admission alone!
The Anvil guys are competent, talented musicians, but definitely give themselves a gimmick with the over the top nature in which they do everything. Lips gave the audience a guitar solo for the ages that incorporated the use of screaming into his pickups, and even utilizing a vibrator as both a pick and a slide (seriously, I'm not making this up!) We of course got an equally impressive drum solo from Robb Reiner.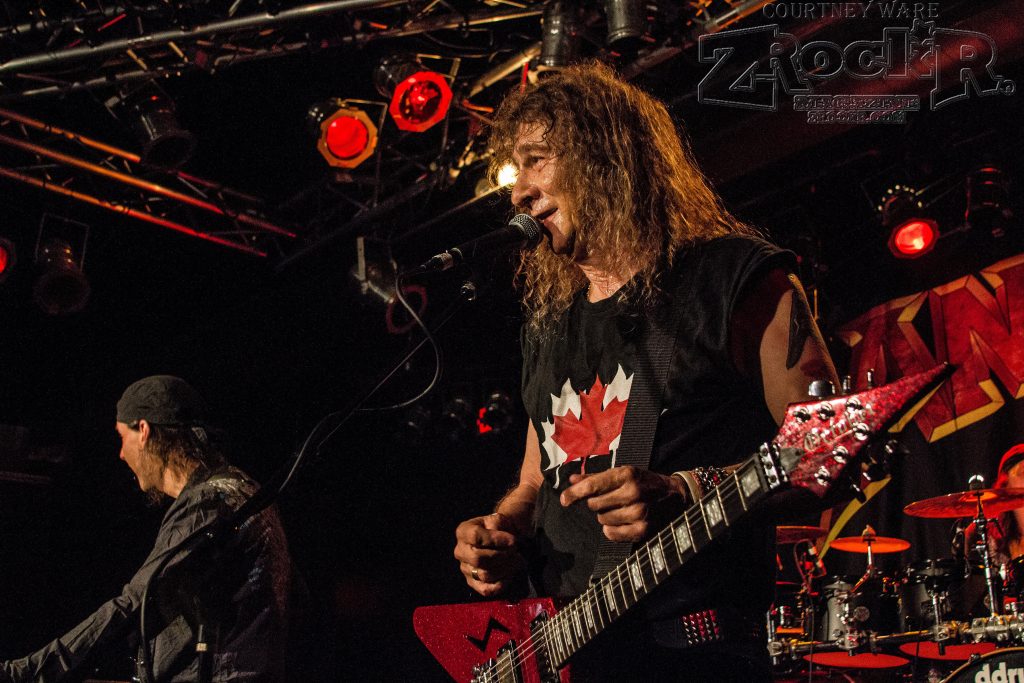 The setlist was mostly Anvil classics, but the group also visited their latest studio album, which captures the group doing what they do best even well over three decades later. You could tell this audience was never bored, and clearly enthralled with all that these Canadian hard rockers had to dish out throughout the evening. A surprise cover of "Born to Be Wild" made for a fitting and rocking encore.
When it comes to heavy metal, few bands are as genuinely entertaining as Canada's Anvil. From straight up talent to their borderline comedic antics, this is a group that deserves far more recognition. The support sets throughout the night were no slouches either, making this one of 2016's best nights of heavy metal mania so far! Anvil's live set comes strongly recommended if they come to your city.
Anvil photos by Courtney Ware for ZRock'R Magazine – ©ZRock'R Entertainment, LLC – ALL RIGHTS RESERVED