Vocalist Jim Crean has been making a name for himself in a number of acts in recent years, including the tribute band Hair Nation, and as the vocalist for Vinny and Carmine Appice's "Drum Wars" series of shows. His talents are becoming more recognized, and over the years he has put out a number of solo releases as well. Insatiable is Crean's latest solo album, released on Carmine Appice's Rocker Records label.
For this new solo album, Mr. Crean is not alone. He has brought along a ton of guest stars for the experience, in fact! Guests on the release include Vinny and Carmine Appice, Mike Tramp (White Lion), Phil Lewis (LA Guns), Frank DiMino (Angel), Tony Franklin (Blue Murder, The Firm), Rowan Robertson (Dio), Don Jamieson (co-host of That Metal Show), and even the late Jimmy Bain (Rainbow, Dio).
Having reviewed Jim Crean's previous solo album, I found it to be an appealing mixture between classic AOR-style sounds and a few more modern elements. For the new release, he has diversified with plenty of guest stars, giving the audience both cover songs and original material. Is Insatiable another worthy effort from Jim Crean?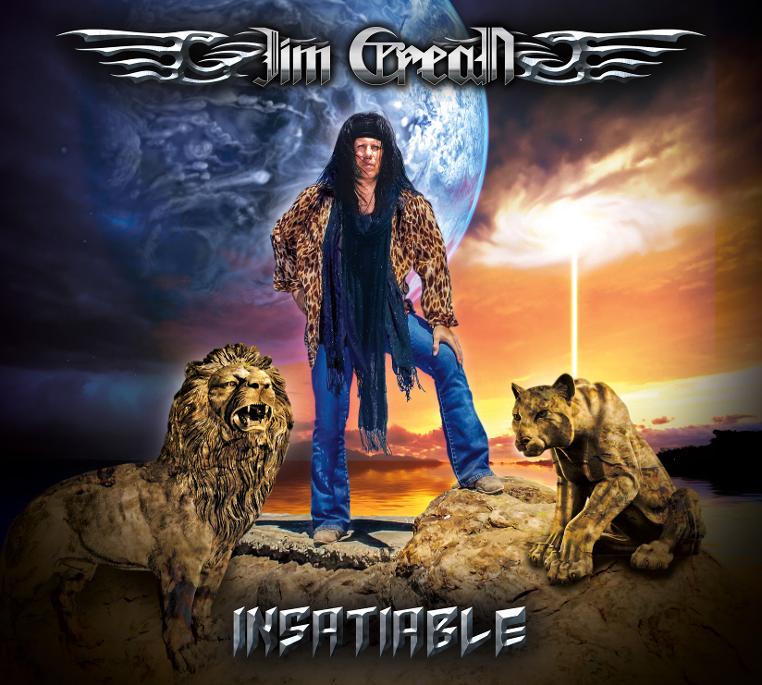 Following a brief comical intro from Don Jamieson introducing many of the players, we get down to business. Many of the cover songs on the record feature artists who helped to make the songs in the first place, so said tracks stay true to the originals, but Crean's involvement definitely puts a unique spin on them as well; it is good to see a vocalist that does not simply mimic the original material in these regards. A true highlight amongst the covers is the rendition of Dio's "Caught in the Middle," which features original drummer Vinny Appice and original bassist Jimmy Bain, making this one of the final recordings Bain did prior to his passing in early 2016. Frank DiMino of Angel fame splits vocal duties with Crean, which definitely gives the song an extra push. Phil Lewis guests on a cover of his LA Guns classic "Over the Edge," while White Lion vocalist Mike Tramp appears on "Can't Find My Way," a remake of a song from his band Freak of Nature.
The other songs are equally impressive in these regards. Songs like the title cut and "Touch" beautifully show off Crean's signature vocal style. Another major highlight is "Follow Your Heart," a perfect balance of hard and heavy rock riffs and melodic AOR elements, with the guitar being served up by criminally underrated former Dio axeman Rowan Robertson. Cuts like "Miss Me" demonstrate how musically diverse Crean is, by slowing things down.
The disc also features two bonus cuts. These are the Billy Sheehan-penned "The Whole World is Gonna Know" and a cover of the KISS classic "Magic Touch."
Jim Crean continues to impress his audience, and you are going to experience plenty of powerful AOR in the form of these covers and originals alike, and a myriad of talented guest stars. Mr. Crean does not fail to please on his latest release; rock and roll fans are going to find plenty to enjoy here. Highly recommended!