With the Temple of Rock, his new band, Michael Schenker has returned to the rock and roll forefront in a big way. Teaming the German guitar virtuoso with guitarist/keyboardist Wayne Findlay, former Rainbow vocalist Doogie White, and the classic Scorpions rhythm section of Francis Buchholz and Herman Rarebell, this is Schenker's best lineup in years. Their new studio record, Spirit on a Mission, was released in 2015 to rave reviews.
The Temple of Rock set out on a world tour to promote the new record, including a stop-off in Madrid, Spain in November 2015, at which time they filmed a live video/album. On a Mission: Live in Madrid is the end result of this stop-off on their world tour; the release has been put out as a digital download, two-disc CD set, DVD, Blu-ray Disc, and a limited edition set combining the CD and Blu-ray Discs (for the purposes of this review, I am covering the standalone Blu-ray Disc release). Now in his sixties, can this German guitar virtuoso of Scorpions, UFO and MSG fame still deliver the goods?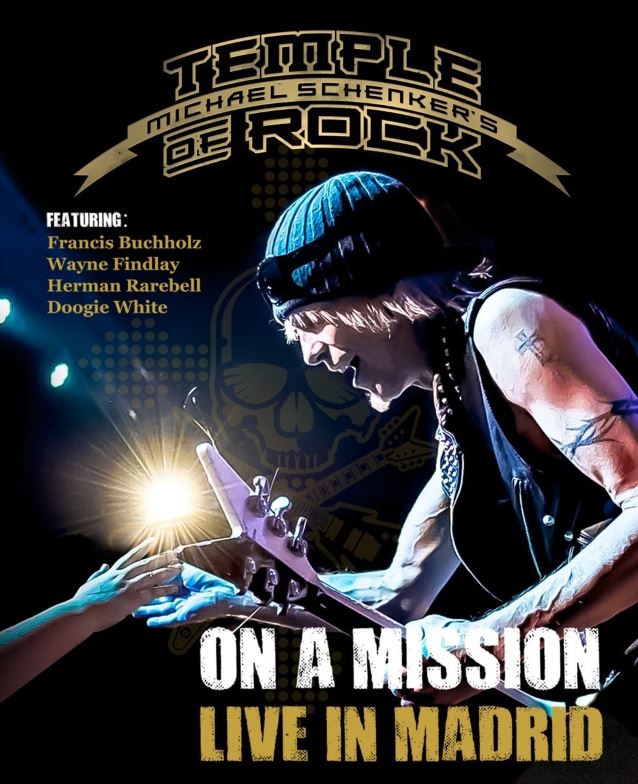 Temple of Rock is easily Michael Schenker's best band/work since the old McAuley Schenker Group days; this band features some of the best musicians he has ever played with, and the studio albums they have put out show a major resurgence for this hard rock icon. It is great to see the band out on exotic world stages, promoting Spirit on a Mission, and showing the fans how it is done. Schenker has had his missteps and tragedies along the way, but with the release of On a Mission, he is back on stage, on fire, doing what he does best all over again. This guitar hero has been revived, and the Madrid concert proves it to the world.
Running just under two hours, this release has a massive setlist packed with favorites from throughout Schenker's career, including classic UFO songs ("Only You Can Rock Me," "Lights Out," "Too Hot to Handle," "Doctor Doctor"), Scorpions songs ("Coast to Coast," "Rock You Like a Hurricane," "Blackout," "Lovedrive"), some classic Michael Schenker Group cuts ("Rock My Nights Away," "Victim of Illusion," "Attack of the Mad Axeman"), and some newer Temple of Rock era tracks ("Live and Let Live," "Before the Devil Knows You're Dead). What is amazing is how seamless everything flows together, despite this being material that stretches back as far as the mid 1970s! It is a solid, balanced setlist of old and new, and it never lets up. One could nitpick the tracks and point one which of their favorites are missing, but I am not going to waste time doing that. The good far outweighs the bad in that regard.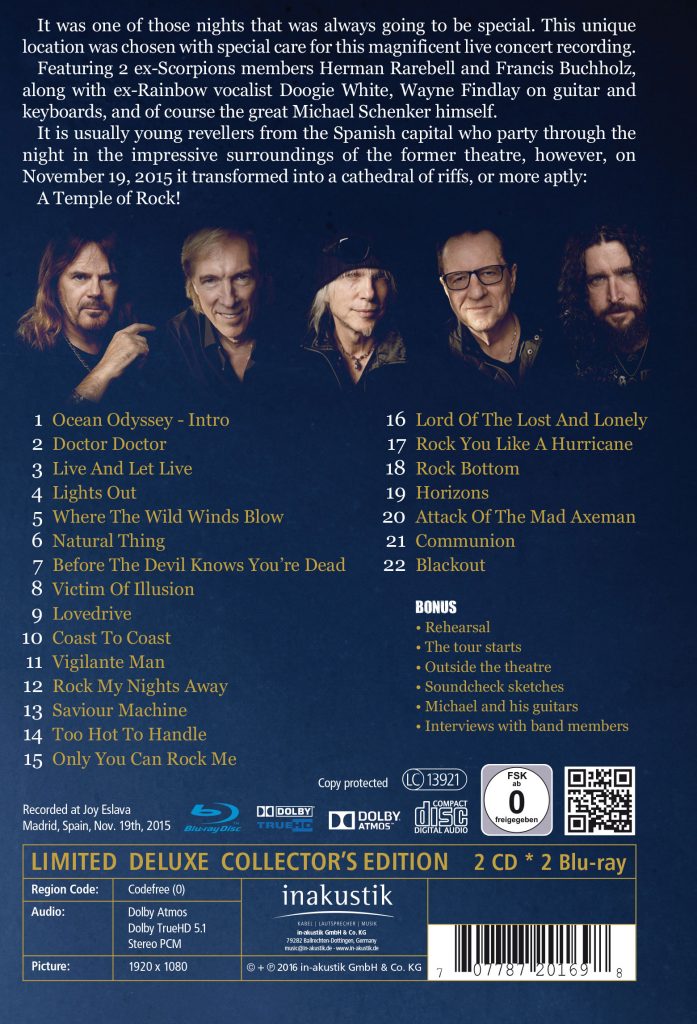 The performance itself is no less excellent; everyone gets a chance to shine, and you can tell the group is having a great time on stage. Schenker does his usual gimmick of soloing for a few seconds, and holding his hand up to his ear to hear the crowd's applause; this will never stop amusing me no matter how many times I see him play, live in person or on a home video release. This is a talented band and it is awesome that Schenker has been able to bring on board the classic Scorps rhythm section with Francis Buchholz on bass and Herman Rarebell on drums; that alone is worth the price of admission. Vocalist Doogie White once again hits it out of the park; he certainly does the older songs justice but does not waste effort trying to mimic the original singers either. You really could not ask for a better band of musicians; Schenker is not the only one on fire here.
Inakustic (who also released two earlier Michael Schenker Blu-ray Discs) presents On a Mission with a solid transfer featuring gorgeous, clear detailed picture quality throughout; faults are minor and ultimately negligible. Audio fares equally well, which is essential for a release such as this. Special features are sparse but appealing; we get a brief look of the line outside the arena prior to the concert with an impromptu, comical appearance from Doogie White, and some rehearsal footage as well. I would love to see some more thorough interviews with these guys at some point, but again, no complaints.
While On a Mission: Live in Madrid is a little light in the way of bonus features, this all-out concert spanning nearly two hours is worth owning for a fan. A beautiful looking and sounding disc featuring Schenker and company performing old and new songs alike lives up to the hype and then some, and no fan of the Mad Axeman is going to be disappointed in this release.