Carmine Appice. Vinny Appice. Take those names in. Consider the numerous projects each of the brothers have been involved in over the last few decades. Carmine: Jeff Beck, Rod Stewart, Ted Nugent, Ozzy Osbourne. Vinny: John Lennon, Black Sabbath, Dio. Quite impressive, isn't it? Even the list of some of the lesser known players both have drummed for is quite breathtaking. Check Wikipedia for those, as there are many for both of them.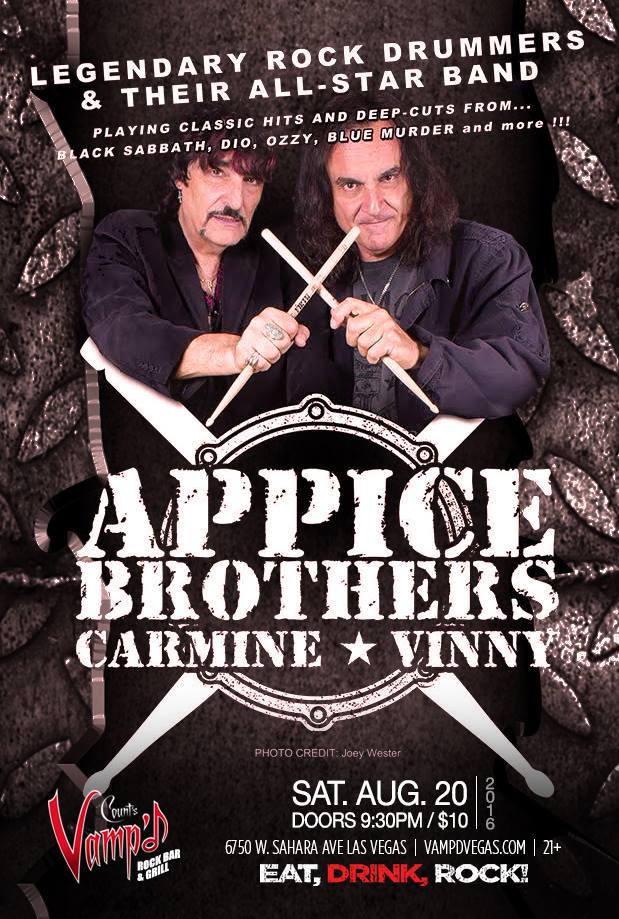 A chance to see them both on the same stage together? Are you kidding me? Move heaven and earth and rearrange your schedule, people. Or you'll wish you had. I did this time, as I missed the last three outings in town and was intent on not doing so again, lest I miss out BIG TIME, as I did when I opted to skip Queen on their Hot Space tour and The Cars on their original tour, to name a few. Lessons learned. The hard way. Ouch!
In past outings of this nature over the years, the brothers had assembled different lead vocalists, guitarists, and bassists.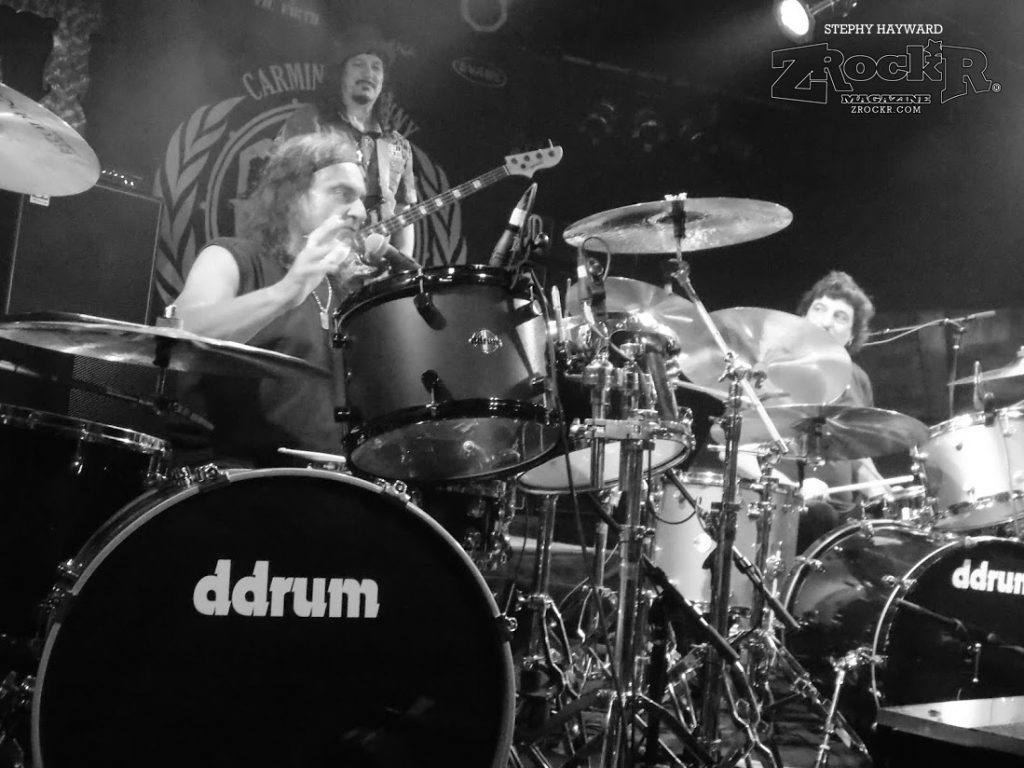 Kicking off the evening with a blistering reading of Black Sabbath's "The Mob Rules," Chas West delivered the lead vocals while the brothers played in tandem, trading off drum fills. On lead guitar and bass respectively were the Okai sisters: Mayuko and Tsuzumi. Young and talented. You'd have to be to be handpicked for this deal. A drumming duo followed, which led into Dio's "Holy Diver" and "We Rock."
One humorous part of the show was another duo by the brothers that they called "The Flintstones" due to the opening rhythmic nature resembling the cartoon's classic theme song. Around this time Vinny started to explain to the crowd why the brothers pronounced their surnames differently but was soon drowned out by Carmine's soloing until the very end. So we still don't know why they do it. Or why their other brother pronounces his a third way. Those silly guys…Fuhgetaboutit.
Carmine then launched into Ozzy's "Bark at the Moon," the title track nor album did he play on, but he WAS in the video for it and did start off the tour before being fired for supposedly upstaging the front man. This, of course, set the stage for King Kobra, since Motley Crue opened for Osbourne on that tour. That's where he got the idea for four blonde guys out in front of a guy with dark hair; kind of the reverse of the Crue, who obviously had a blonde leading three raven haired boys. But, anyway, enough rock trivia. Back to the show at hand.
A highlight of the night was Paul Shortino (Carmine's current King Kobra lead vocalist) taking the stage for what was explained to be the original rocking rendition of "Do Ya Think I'm Sexy" prior to Rod's disco-flavored hit version. Now THAT was new to me and worth the cover charge alone.
Another drumming in tandem duo ensued, however, this time Carmine was out front playing the snares on the back of his snare drum much as a guitarist would strum his guitar. A novel approach, I thought. Vinny then capped it off with a tasty drum solo of his own.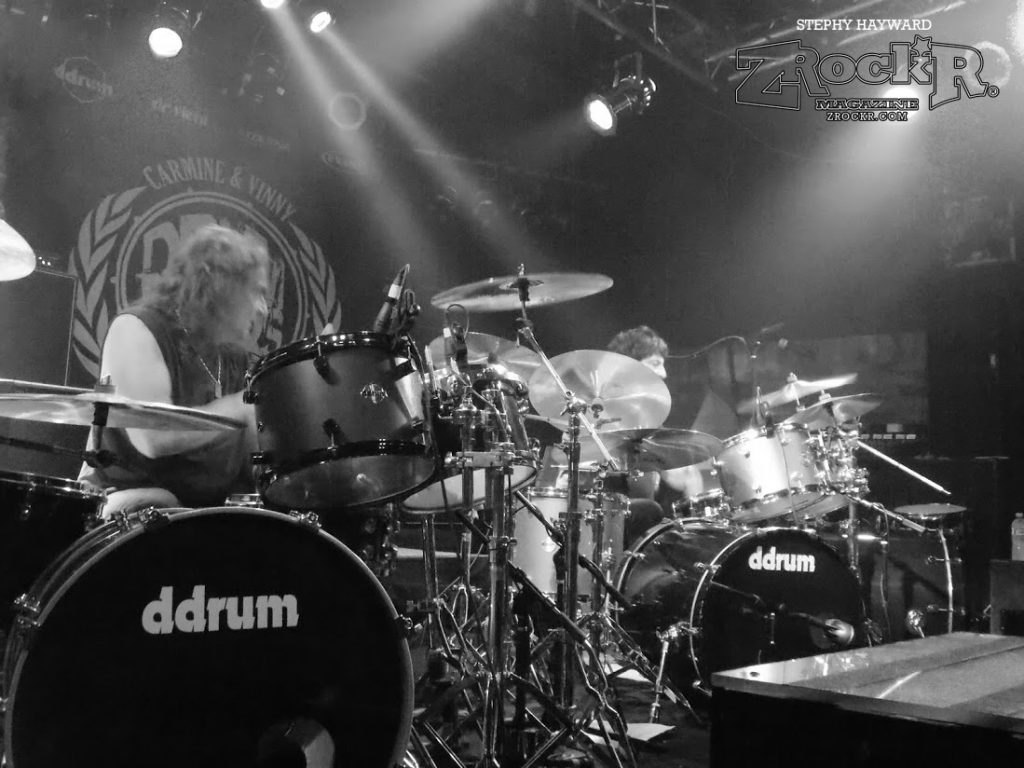 Back to songs most know and love included "I Don't Know" with Chas again on lead throat, followed by "Rainbow in the Dark" with Chas and Paul trading off and sandwiching Andrew Freeman (Raiding the Rock Vault, Lynch Mob, Last in Line) also on vocal duties. Andrew did belt out "Stand Up and Shout" as well, followed by Chas closing out the night with a medley of "Heaven and Hell," "War Pigs," and "Paranoid."
Were there other songs I or the crowd would've wanted to hear but didn't? Sure. Ditties by Blue Murder, Rick Derringer, Cactus, Axis, and Vanilla Fudge come to mind. But perhaps some of those were done in previous years. Or will be in years to come.
Oh. It's also worth noting that Carmine has recently released his long awaited memoir, Stick It!: My Life of Sex, Drums & Rock 'n' Roll. I'll be sure to pick that one up in the near future as should you if you haven't already.
Outstanding players. A world class concert. If you were there you know: if you weren't, hopefully there will be a next time.
PHOTO CREDIT: Photos of Vinny & Carmine Appice previously taken by Stephy Hayward for ZRockR Magazine – ©ZRockR Entertainment, LLC – ALL RIGHTS RESERVED