By 1989, there was a glut of hard rock/pop metal acts cluttering up the musical landscape, some of which tickled my fancy, others for whatever reason seemed to be also-ran pale imitations of mighty original bands who had their own unmistakable style/image. Every month one of the major national rags covering the scene featured at least two or three new ones. In a handful of years, the vast majority of these would lose members, have their record deal yanked, break up completely, or all of the above.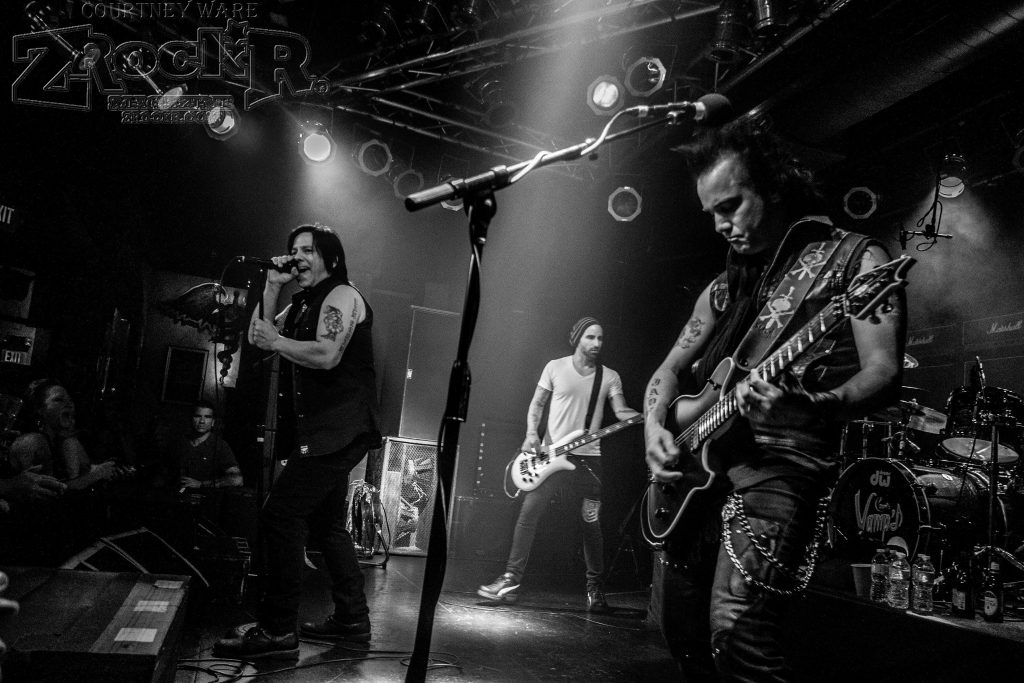 One of these was a band that hailed from Paramus, NJ: Trixter. Due to them being signed to MCA, I was a bit dismissive, as that label was notorious for signing what most deemed as lesser acts AND they seemed way lacking promotion. The other elements that made them not register too much on my radar at the time were their cartoonish debut album cover and first video, which featured them wearing plaid before the grunge bands made it fashionable. Even the name of the band itself didn't seem to really command respect from most people I knew. Regardless, their debut did attain gold status in the States, probably in no small part due to them opening for Scorpions on three months of their Crazy World tour, and three singles. I saw one of the dates at Irvine Meadows, but traffic on the way was SO bad that I only caught their last song while still in the parking lot. By the time their sophomore release Hear! came out, their once promising career screeched to a halt with many of their hard rock brethren.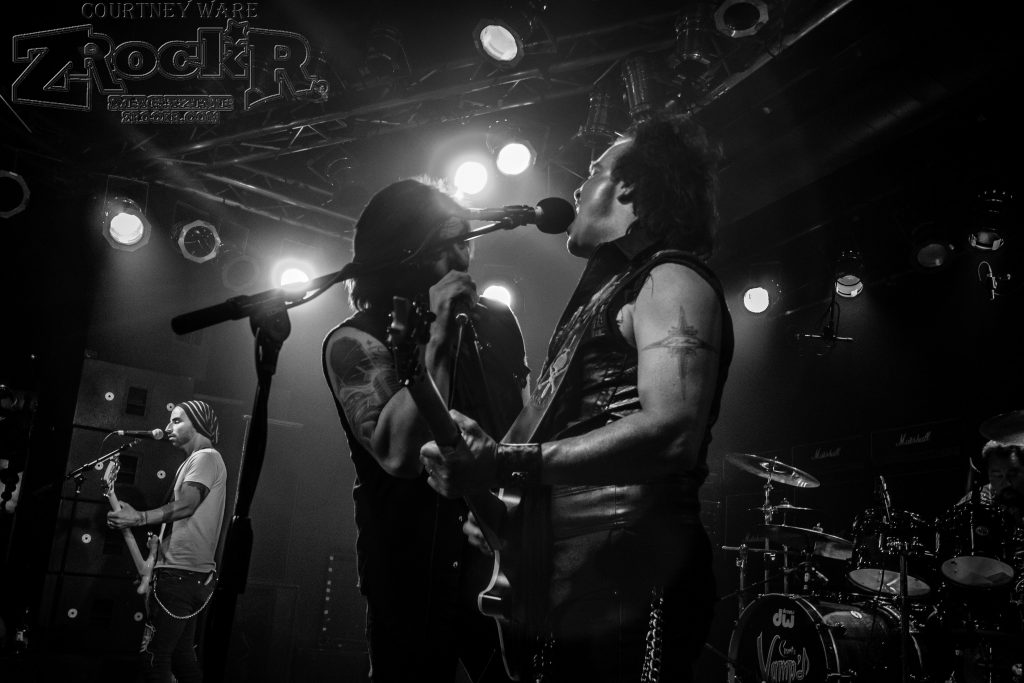 So, getting a chance to see them, original lineup fully intact 25 years later, was a luxury I intended to not miss out on. Perhaps time will have given me a fresh perspective on the music, my personal misgivings about their former label, image then, and moniker aside. Steve Brown, chief songwriter of the band, even back then was admired by many as a super competent axe slinger. So much so, apparently, that he was recently tapped by none other than Def Leppard to fill in for Vivian Campbell.
The house was pretty packed, which in some ways amazed me given how long they've been away, but it was a Saturday night, and I was happy about the turnout as these guys deserved it. Lead vocalist Pete Loran guested with Sin City Sinners once or twice in recent years, but I somehow missed it. Even the infamous Lonn Friend and Vinnie Paul were in attendance. If they showed up, who was I to be dismissive? Recently I was able to secure a CD copy of their debut, revisited it, and it is a pretty good release that still holds up. It's been on repeat in my Mustang since the night of the show.
Starting off their meaty thirteen song set with the rousing "Ride the Whip" off of the debut, the quartet brought the goods to the party. They delivered no less than eight tracks from it, but did not neglect to represent all four of their original studio releases. As I didn't avidly follow their whole career, I didn't know until lately that they've had seven proper releases, one a covers album, one a best of compilation, as well as a Live in Japan release. Three tunes performed off of their last two albums on Frontiers Records showed that they aren't content to simply rest on their laurels and tour as a nostalgia act. Kudos for that, guys! Pete's vocals shined,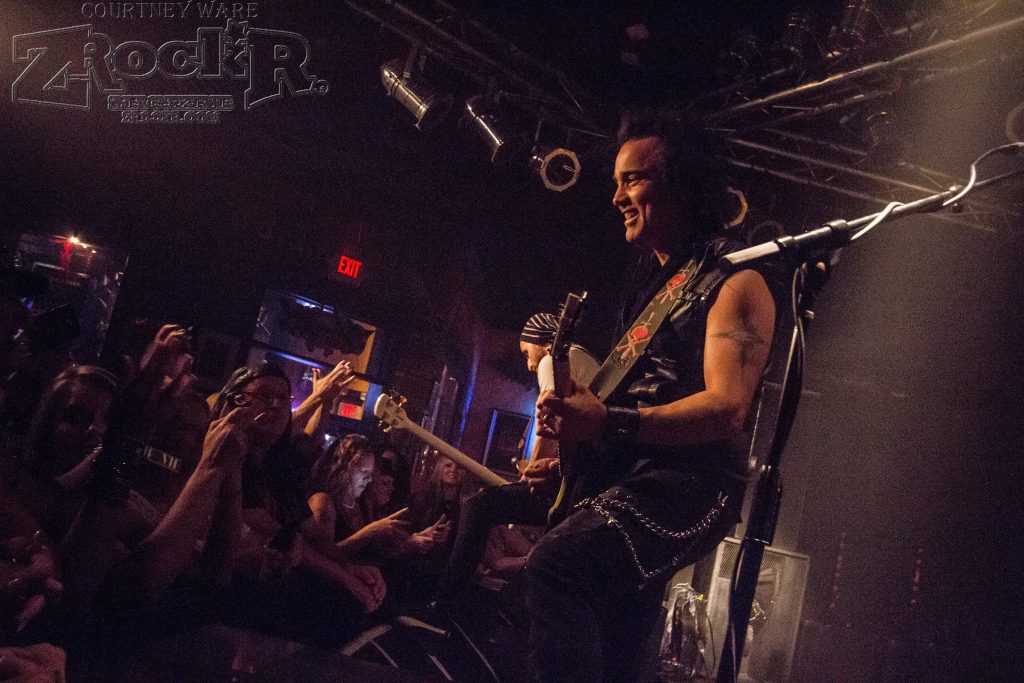 Steve played his guitar quite expressively while displaying his chops (no overly long guitar solo here), and bassist P.J. Farley and drummer Mark "Gus" Scott laid down the grooves and pocket swimmingly.
My summation? If you attended I'm sure you can attest that it was a fun night that probably garnered them new fans if not cemented them as a competent live act. Next time they come I'll be sure to have picked up Hear!, New Audio Machine, and Human Era. Having heard the five songs played off of them in advance of the show would've made it better probably for me. But, then again, concerts were made to push record sales in the first place. So, mission accomplished Trixter!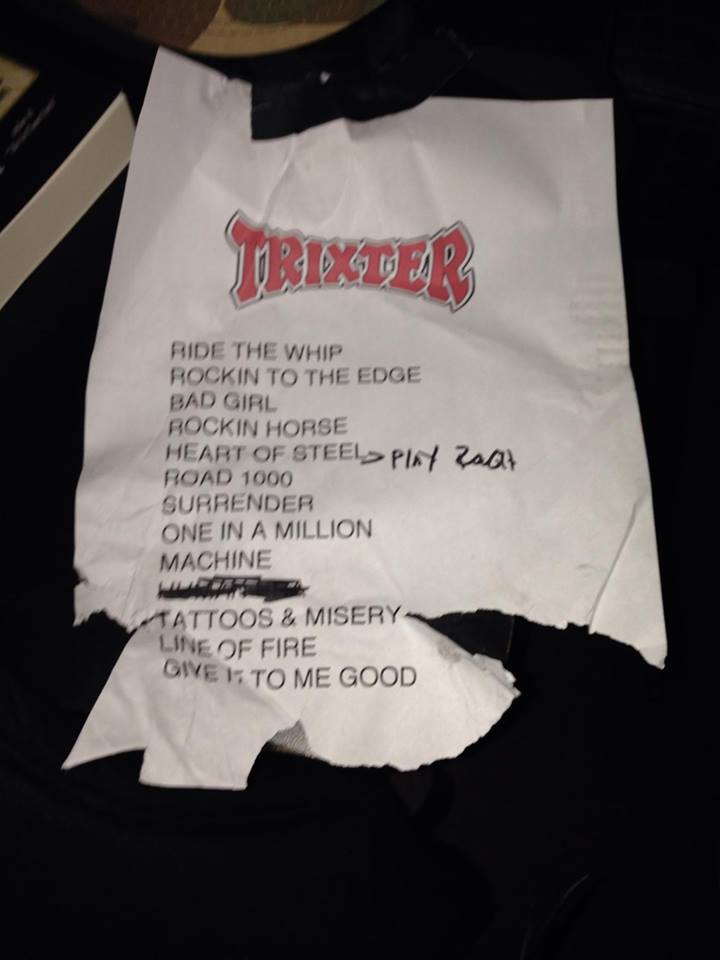 https://www.youtube.com/watch?v=U4YYxoHGo8g
PHOTO CREDIT: All photos by Courtney Ware for ZRockR Magazine – ©ZRockR Entertainment,LLC – ALL RIGHTS RESERVED
Trixter setlist photo provided by Zenon Skyy