Kee Marcello's name is not immediately recognizable. But he took on the monumental task in the latter half of the 1980s of replacing John Norum in Europe, following the smash success of The Final Countdown. His playing was heard on that record's follow-ups, Out of This World and Prisoners in Paradise. Following Europe's initial disbandment, Marcello largely faded into obscurity…
…until now.
Scaling Up is the latest solo album from Marcello, released on Frontiers Records. For the release, on which he sings, plays keyboards, and plays guitars, he is joined by bassist Ken Sandin, drummer Darby Todd, and special guests Mattias Eklundh and Michele Luppi. The record is to be officially released on October 14, 2016.
Okay, getting this out of the way first: I had no idea what Marcello was up to after leaving Europe. According to his Wikipedia page, which I did have to pull up while researching the release, he has done a number of one-off appearances on other artists' records, as well as some obscure solo albums. Likewise, I did not know what to expect when it came to this release!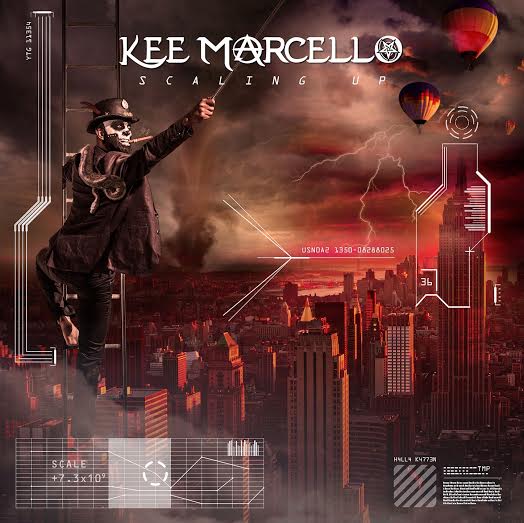 If you are curious about what Marcello is doing musically these days, his new release is definitely worth checking out, with no shortage of highlights worth hearing. Opening cut "Black Hole Star" is a melodic hard rock masterpiece for the ages, and while nothing else on the release quite manages to equal its first track, there is plenty to love about this new record from the former Europe guitarist.
What impressed me most about this release is how musically diverse it manages to be. There are bluesy cuts, melodic rock, hard rock, tracks that borderline on ballads, and everything in between. Marcello juggles his guitar and vocal duties beautifully, and there is nary a dull moment to be experienced in the midst of Scaling Up. The album is too long by about three tracks, but the strengths far and above outweigh the weaknesses. Fans of the former Europe guitarist will find plenty to like about this release.
With Scaling Up, Kee Marcello makes his presence known to fans all over again. While overlong, the sheer volume of rock sounds explored on here, from the heavier and faster tracks to the slower, more melodic ones, there is a lot to love. A strongly recommended release!