Having already conquered the big screen in recent years, Marvel Studios has set their sights to the small screen. The Marvel Cinematic Universe now spans over a dozen films, and in addition to the network television series they have done, they recently branched off into shows for Netflix. This started with Daredevil, which has aired for two seasons now, as well as Jessica Jones. Luke Cage is the third Marvel Netflix series, and it is slated to be followed by The Punisher, Iron Fist, and a Defenders series that will bring these characters together.
In the Marvel Cinematic Universe's Netflix shows, Luke Cage previously appeared in a supporting role in Jessica Jones. In his solo series here, some time has passed since the events of that series, and following said events, Cage is trying to lay low, not wanting his secrets or past life to be discovered by the police or criminal operatives. Having been genetically modified, Cage is literally bulletproof; his skin cannot be broken or cut by traditional means.
Trying to lay low in Harlem following the events that construed in his life in Hell's Kitchen not long ago, Cage works odd jobs under the table to try to make ends meet and pay the rent. Before long, he finds himself thrust into conflict with a criminal empire fronted by Cornell "Cottonmouth" Stokes, and backed by his councilwoman cousin. Over the course of the series, Cage makes new friends and enemies alike, including Claire Temple, who had previously appeared in the previous two Marvel Netflix series. And just when it seems like things may be wrapping up and moving forward for the best, a new foe enters the fray… one with unusual ties to Cage's own past.
Marvel and Netflix have been a winning combination; bringing a number of characters to life that we have not seen in the actual films. The series have received positive reviews across the board from a number of publications and fans alike. Despite their flaws, I did enjoy Daredevil and Jessica Jones, the former more than the latter. And while Luke Cage is not perfect, it may very well be Marvel's best Netflix television series yet.
As always, Marvel Studios has done a brilliant job in their casting choices. Mike Colter is fantastic as the titular hero, one who is complex and clearly struggling with his former life and hardships, and struggling to make the right choices in the present. There is no doubt his borderline vigilante actions, which are only resorted to when he needs to use them, along with subplots regarding the city's police force, will spark the whole "does the system work?" debate, and perhaps rightfully so. You may not agree with everything Cage does, or the law being forced to protect and exonerate clearly guilty criminals. But by the end of this series, you will likely find yourself sympathizing with Cage's predicaments and beliefs, as well as the futility of the legal system, despite the best efforts of the city's police force.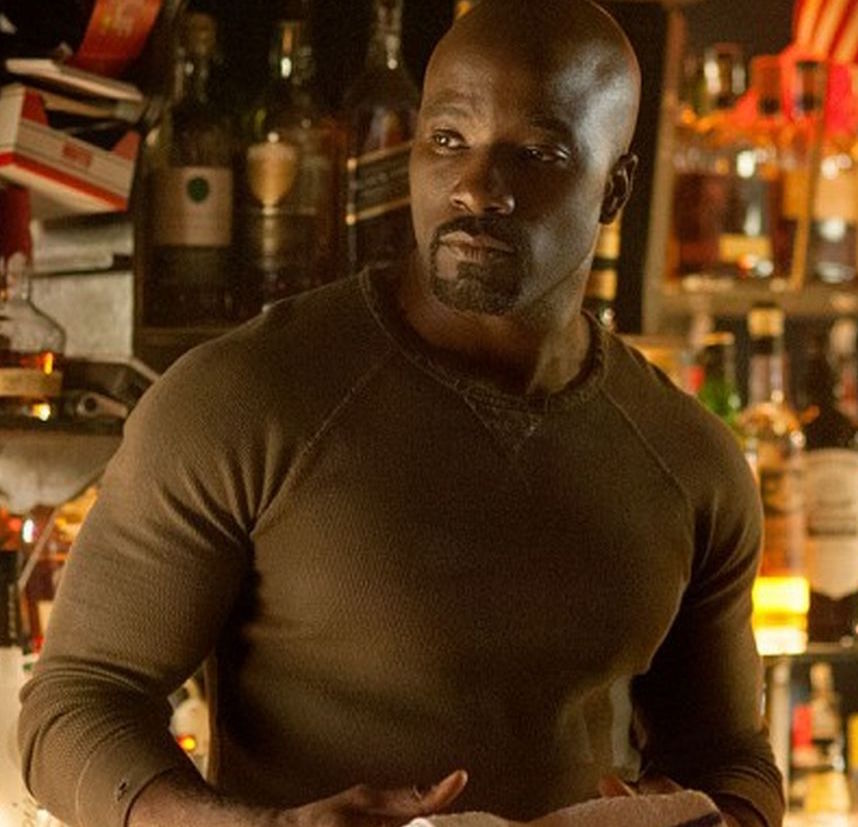 The one place the Marvel Cinematic Universe Netflix television series trump their big screen counterparts is in developing the villains. Being a TV show with episodes that fill a roughly hour long block, we get more time to develop the personnel on both sides of the coin. Cottonmouth may seem like a stereotypical crime lord at first, but over the course of the episodes in which he is highlighted, he becomes as interesting as the series' hero, and all the more tragic a figure for it. The villain from Luke's past introduced later in the series feels a bit more generic and "by the book" by comparison, but even that character is bound to entertain.
The "feel" of the series is well done, and appropriate for the setting and the cast of characters. We get an opening theme sequence with music that sounds like it was ripped straight out of a blaxploitation film; a nice homage to the title character's origin. There is a very "urban" feel throughout the series; I found the soundtrack to be appropriate in establishing this show and giving it a unique identity, even if it is not my first choice for genre of music. And while the show still primarily focuses on the mean street of Harlem in difficult times, there are still the few references to the films/character/situations/etc., so it does feel interactive with the Cinematic Universe that we see on film. The TV-MA rating gives the show's creators more freedom than the PG-13 movies have, but the rating is used tastefully and not milked for a needless overindulgence of sex and violence, except where necessary.
The other Marvel Netflix series, despite my being a fan, did have their share of issues. Daredevil had a great leading man and immediate support cast and villains, but the show simply tried to do too much, particularly in the latter half of its second season. Jessica Jones gave us a terrific lead character and a fantastic villain, but the series' overemphasis on sex and edginess just for the sake of being edgy undermined much of what was an otherwise solid show. Luke Cage is a much more streamlined series by comparison, which is a major strength. A few moments, subplots, and tertiary characters feel dragged out, and a few forced scenes/cameos feel unnecessary. But these are minor, minuscule flaws compared to those of the other series in question.
It is worth addressing some of the complaints that others have made in regards to the show. Many have criticized the show for having a primarily black cast. Others claim it is liberal propaganda in favor of the "Black Lives Matter" movement. The soundtrack and cameos have also been called into question and become the subject of criticism. Seriously, can't people just shut up and enjoy the show for what it is? You have a fantastic series with a great cast, and plenty of entertaining moments throughout.
Luke Cage is Marvel's best television series to date. It ties into other productions in the MCU well enough, but manages to maintain its own identity and excellently develop out hero, and those around him. If you have Netflix, Marvel's latest show is essential viewing!
DISCLAIMER: All images in this review are the property of their respective copyright holders. For promotional use only. All rights reserved.