If you are at all a fan of classic hard rock and heavy metal, the name Graham Bonnet requires no introduction. Though he had been active over a decade prior as a pop artist and a composer of advertising jingles, he first rose to prominence with Rainbow's 1979 masterpiece, Down to Earth. What followed have been stints with countless bands, including the Michael Schenker Group, Alcatrazz, Impellitteri, Blackthorne, and countless others, as well as solo albums. This is a man who has kept busy, and despite pushing 70, does not plan on letting up any time soon.
Recently, Bonnet put together the Graham Bonnet Band, with whom he recorded a new single and a live EP. These recordings showed the fans that Bonnet is still going strong, and is back to impress the fans. At last, we now have The Book, Bonnet's first full length album for Frontiers Records. The album is comprised of two discs; one of entirely new studio material, and another of rerecorded songs from Bonnet's past.
Bonnet's band for this record includes guitarist Conrado Pesinato, keyboardist Jimmy Waldo, bassist Beth-Ami Heavenstone, and drummer Mark Zonder; Angelo Vafeiadis plays keyboards on the second disc's rerecorded material. How does this release from the Graham Bonnet Band measure up?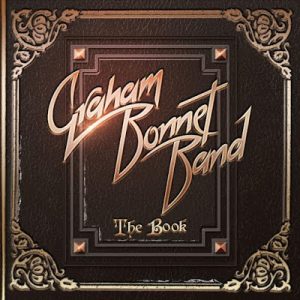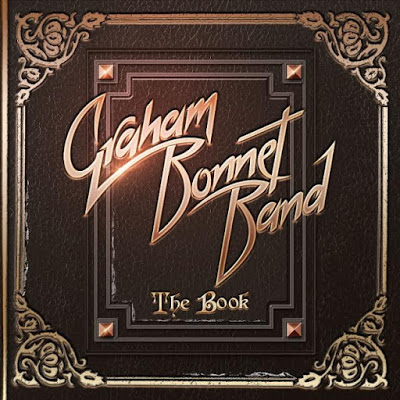 I am relieved to say that Bonnet and company deliver the goods this time around. The original material featured here on the first disc is strong, and while I would not go so far as to call any of these tunes "instant classics" alongside Bonnet's most famous material of the past, it is a very strong modern release from one of the genre's most legendary vocalists. His trademark singing style comes through on every track; even if he does not sound EXACTLY the same as he did 30-40 years ago, there is still no mistaking who it is singing these songs. The band is one of the most pleasant surprises; despite being relative unknowns, all of them hold their own and do justice to the music in question. That is no easy task when you consider the company Bonnet has kept in his earlier bands!
I'm always weary of artists rerecording their older material, but the second disc of this set is quite good. There are energetic remakes that once again see this talented band doing their best to make things work. None of these top the originals from back in the day, but they are respectable new versions overall, and fans should be satisfied with what they hear. It is a nice assortment of tracks from the various bands Bonnet has played in over the years, and the sheer variety of the track sources should say something.
If there is one weakness with the album, it is the rather raw and unpolished production sound, which really does not suit the feel of the songs. With a little more polish and production, this could have been a much more powerful sounding album that did justice to the material. Fortunately, this is really the only major flaw worth reporting here.
Graham Bonnet has been in the midst of a comeback ever since signing with Frontiers, and his first full length effort with the label, combining excellent new compositions with rerecorded classic hits, is a solid package that his fans are going to love. One of the most distinctive and legendary voices in the music business is back with a vengeance. The Book comes highly recommended!