Although one generally associates Wolf Hoffmann with being Accept's guitarist, his former co-axeman Herman Frank is not to be overlooked. Playing on the band's classic Balls to the Wall album and the trio of new albums featuring new vocalist Mark Tornillo, he is quite the talented guitarist, having impressed audiences all around the world.
And how, he gets a chance to step back into the spotlight once again with a new solo album!
The Devil Rides Out, a release on Frontiers Records, is not Frank's first solo album, but it is certainly one that has been long awaited by his fans over the years. Joining forces with vocalist Rick Altzi, bassist Michael Muller, and drummer Andre Hilgers, the former Accept guitarist is back with a vengeance, ready to take the world of rock and roll by storm once more.
Truth be told, prior to listening to this album, I was not familiar with any of Frank's non-Accept work. But it would be an understatement to say The Devil Rides Out did not impress this longtime headbanger. This is a great solo album from the former Accept axeman, and it is highly unlikely that his longtime fans will be disappointed here.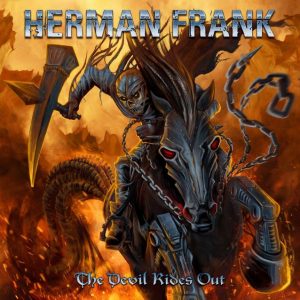 Like many classic artists who have recently signed with Frontiers Records, Herman Frank has returned with a band of musicians you are not likely to be familiar with, yet as soon as you start listening to this album, you will be impressed nonetheless. This is a great cast of characters, and they know how to bring this material to life. Fans of Frank will be pleased with his choice in fellow musicians.
As for the actual sound on the album, it is a great mix of old and new alike. Many of these tracks are songs that would not be out of place on an 80s heavy metal album, yet nothing sounds on here like it is blatantly copying Frank's Accept days as well. You also have tracks with a fierce level of energy that would not be out of place on modern rock radio as well, which goes to show just how solid a musician Frank really is.
Chances are this record may end up overlooked, and that is a shame. Herman Frank is a beast on the axe, and lets his fans know it from start to finish on the new album. For any fan of classic hard rock and heavy metal, this one gets a solid recommendation!
https://www.youtube.com/watch?v=0oUVW5hxyWM