Ever since I was a little kid, I've enjoyed getting down on some Ant music! So, when it was announced that Adam Ant would be gracing Brooklyn Bowl Las Vegas' stage with his Kings of the Wild Frontier album in its entirety, I jumped at the chance to cover the show, and I am so glad I did. The crowd, and myself, got a hell of a lot more than what we bargained for!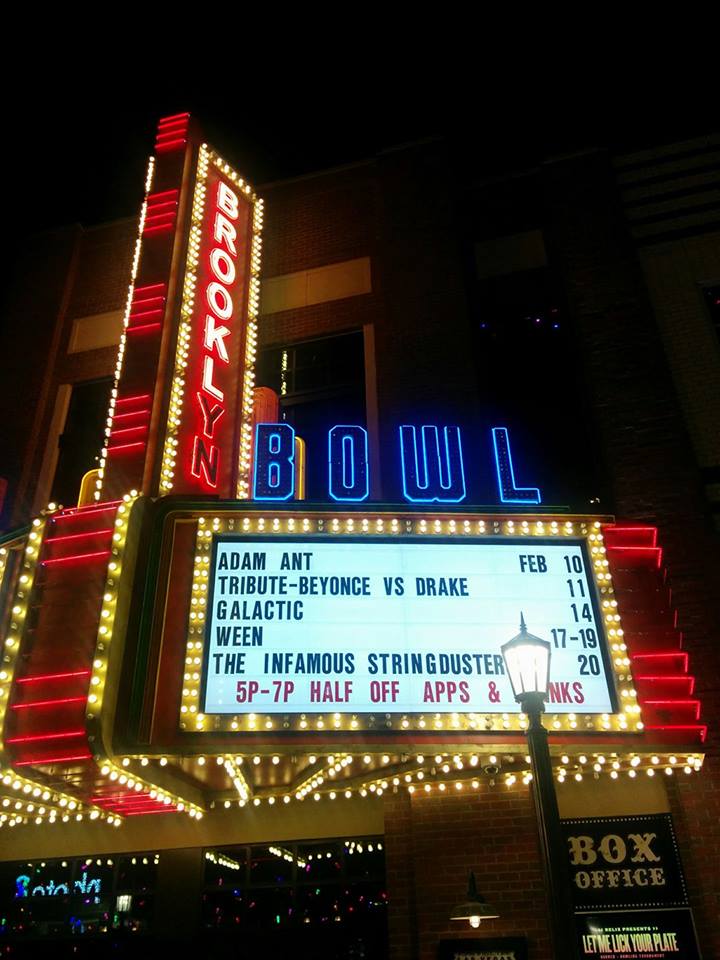 Starting out the evening was all female rockers, the Glam Skanks. Looking like they had just stepped off the CBGB stage, and sounding like a blend of blues and Bikini Kill, the girls hooked their audience instantly. I had never heard Glam Skanks before that night, but I will definitely be treating myself to them more often. A four piece lineup, they have perfected the art of the stage. Vocalist Ali Cat kept the crowd engaged throughout the entire set, dancing about the stage with her tambourine, her fringed silver arm wear moving perfectly in time with her. This band is one you have to keep your eyes peeled for. Major things will be coming from them. After all, with songs like "Bad Bitch", "Blow Me", and "Karma is a Skank in Heels", how can these badass chicks stay stagnant?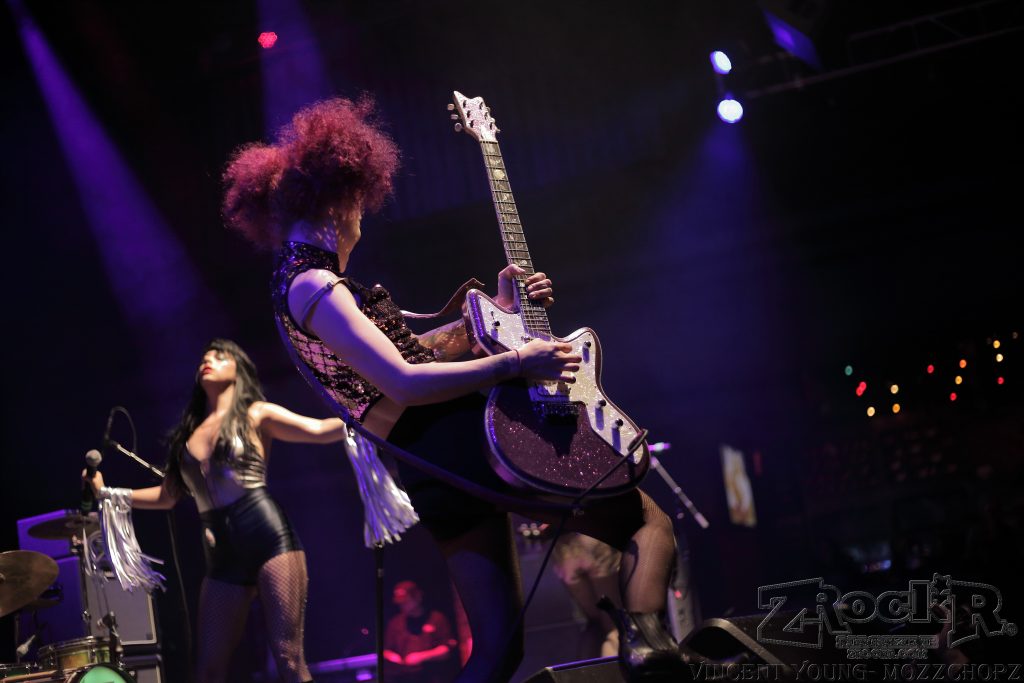 Following Glam Skanks was the man of the evening, Adam Ant. I honestly did not know what to expect from his performance. I made sure to keep myself off of YouTube and other sites so that I was fully surprised and went in with no expectations, and I am certainly glad I did! From the opening song of "Dog Eat Dog" to the finale of "Physical (You're So)", it was one song after another full of energy.
The venue itself was packed from the stage to the very back of the house, as well as the upper balcony, and the audience was definitely feeding off of the energy on stage. Every where I looked there were people laughing, dancing, singing, and just plain having a good time. I was actually quite shocked at the amount of people dressed up in full garb; I'm talking every single detail from the jacket to the makeup to the hair wraps. It was easy to tell that the people who came out to enjoy this show were not just the ones who liked "Goody Two Shoes". These were the die-hards, which made it that much more amazing. For this fan, getting to hear songs like "Feed Me to the Lions" and "Jolly Roger" was a complete dream come true.
Ant himself was dressed for the occasion as well, which made it even more of a treat, especially for the women in the crowd. Not only did it look like we had all gotten into a time machine together, but Ant bounced all over the stage like in the videos, interacting with the crowd. It was easy to tell that he was enjoying it up there as well. His voice was completely spot on as well. That was something that I was very happy about. Sometimes, you build up a show in your head and are let down. This was not one of those shows. The band itself was spot on as well and left nothing to be desired! Every note, every solo, their backup vocals- all perfect. The only thing missing instrumentally was the horns, but it wasn't something that was missed.
After Kings of the Wild Frontier was played in full, Ant and his band treated the crowd to even more Ant Music. Kicking off the small set of randomized songs was one of my all time favorites, "Beat My Guest", which through the crowd into an absolute frenzy. This was not the only B-Side played. Others included "Christian D'or" and "Red Scab". Before saying goodnight to the crowd, Ant strapped on a guitar and led the band into "Prince Charming". The band went silent as Adam struck the single D chord on his guitar, telling the crowd "Just you and me", and leading them into a chant of the lyrics before saying thank you and goodnight. Ant returned briefly to the stage to finish out with a total of three encores, including a cover of T-Rex's "Get It On".
Leaving the venue with my photographer, all we did was rave about the event we had just gotten to witness. In all of my years, I never thought I would get the chance to see Adam Ant perform live. This was hands down the best show of 2017 so far, in my opinion, and I truly hope that Ant comes back to visit Las Vegas soon. If he is coming to a town near you, whether you are a die hard fan of the music or just familiar with the hits, go and see the show. You will not be disappointed in any way shape or form. Personally, I can't wait for the next Ant show in my neck of the woods. I will be there ready to sing, dance, and wave the jolly roger yet again!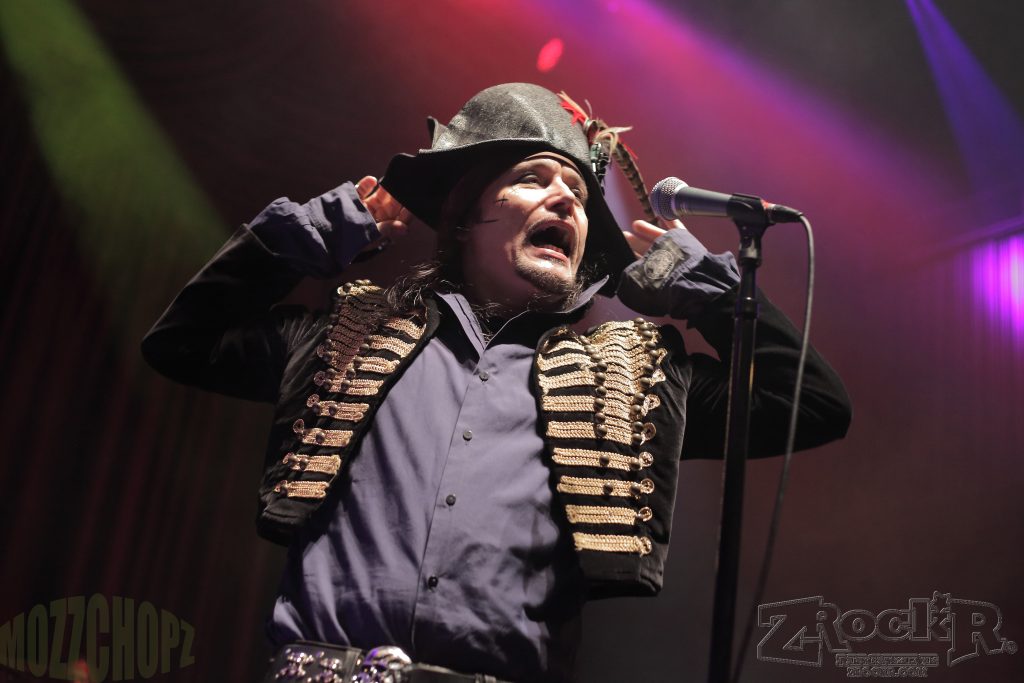 Setlist:
Dog Eat Dog
Antmusic
Feed Me to the Lions
Los Rancheros
Ants Invasion
Killer in the Home
Kings of the Wild Frontier
The Magnificent Five
Don't Be Square (Be There)
Jolly Roger
Making History
The Human Beings
Beat My Guest
Christian D'or
Stand and Deliver
Vive Le Rock
Cartrouble
Desperate But Not Serious
Zerox
Never Trust A Man (With Egg on His Face)
Lady/Fall In
Goody Two Shoes
Prince Charming
Encores:
Red Scab
Get It On – T-Rex Cover
Physical (You're So)
PHOTO CREDIT: All Photos by Vincent Young- Mozzchopz Photography for ZRockR Magazine – ©ZRockR Entertainment, LLC – ALL RIGHTS RESERVED