METAL BLADE AT 35 ROLLS INTO DIVE!
1982 was an important year for Metal Blade founder and CEO Brian Slagel. In his early twenties and still fresh off starting one of North America's first metal fanzines The New Heavy Metal Revue and working as a columnist for a number of music publications such as Sounds Magazine, and Kerrang! Slagel decided to release a compilation of new metal bands in the Los Angeles area and this fateful release was entitled The New Heavy Metal Revue presents Metal Massacre.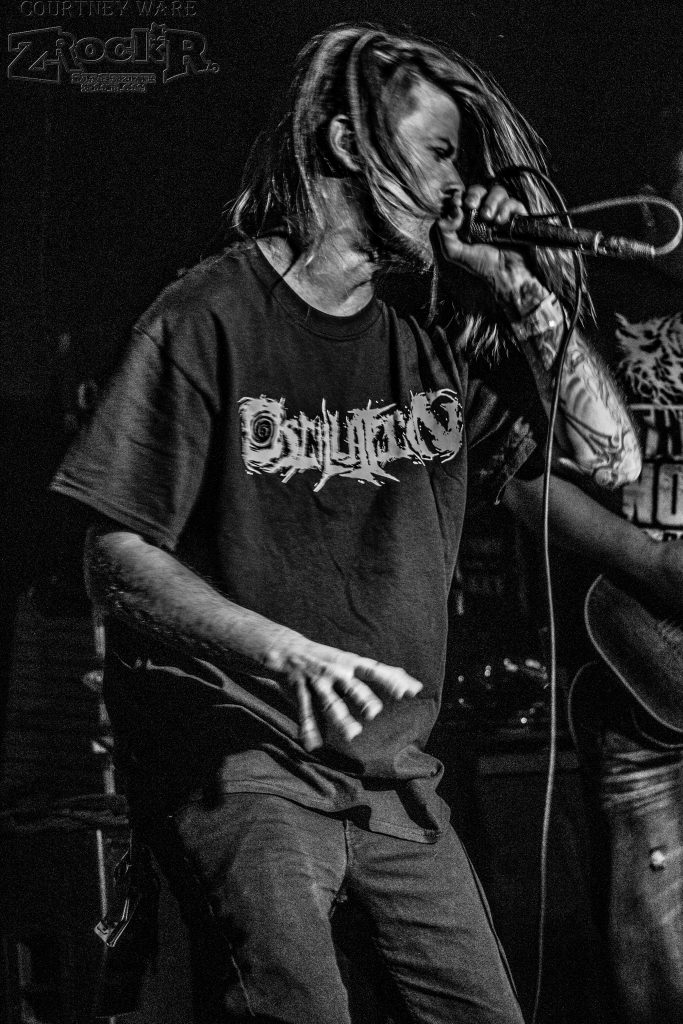 The first Metal Massacre (for the sake of brevity) featured such up-and-coming bands as Ratt, Malice, and Mettallica. Now I swear that is not a spelling error on my part. This was as effing real as it gets! Granted the extra 'tee' was omitted in later pressings an d "Hit the Lights" was re-recorded this time with Dave Mustaine replacing Lloyd Grant on lead guitar.
A year later he signs a band you may have heard of? Perhaps from someone yelling their name in your face at a show? You know what? Nevermind it's a rhetorical question anyway.
IT WAS FUCKING SLAYER!
Other bands to have been under the Metal Blade umbrella have included Cannibal Corpse, As I Lay Dying, Lizzie Borden, Anvil, Armored Saint, Between the Buried and Me, Unearth, King Diamond, Gwar, Amon Amarth, D.R.I., The Black Dahlia Murder, Corrosion of Conformity, and even the Goo Goo Dolls… Huh
Pulling up to the The Dive Bar, parking is a bit of a problem with a large section of the asphalt sectioned off and a great percentage of the suddenly precious real estate taken up mostly by the vans transporting the bands and the trailers hauling their gear. This hadn't been an issue for photographer Courtney Ware when she had been here last Fall to shoot photos for ZRockR before so it's a relatively recent thing. I mostly mention this because it could be important for anyone who might be headed to this venue in the near future. I'd like to add that we settled on parking at Popeyes which made me laugh to myself – a bit more on that later.
(ed note:  They recently tore down a bank that was once on the property so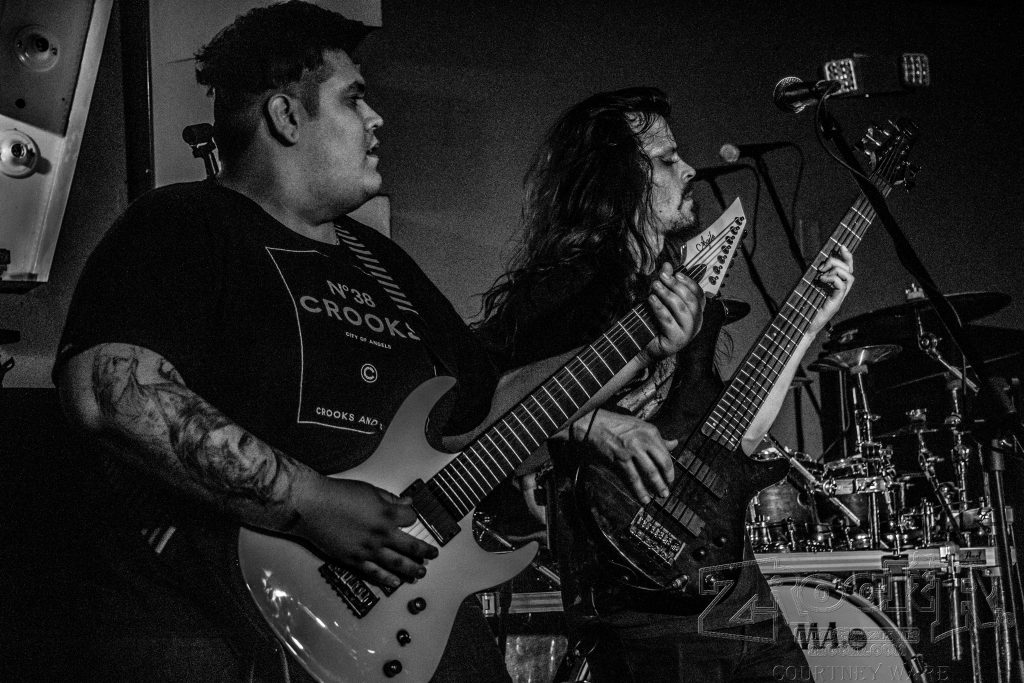 as soon as that melee is cleared there should be plenty of parking once again!)
As we approached the front doors the merch table had been set up outside the  venue as well as a number of tables and chairs that I presume are normally inside. Have you ever seen table and chairs on the floor during a metal show? Don't answer that because of course you haven't. That would just be silly.  It would be a little while longer before the show would start so a good portion of my time was spent watching the local act set up. My ogling, I mean studying of the gear they were using was interrupted by a voice telling patrons to exit the building and enter again if they are there for the show tonight. Well that was an inconvenience. Not a big deal, though the box of Popeyes' Cajun Fries on the table next to the doorman was gave me a craving I'm still dealing with as I write this review.
So back inside we were treated to the sarcastic remarks of a British soundman over the P.A. as the sound check resumes. After more examples of dry wit that can only be achieved by a proper Englishman the opening band is ready to play… or not.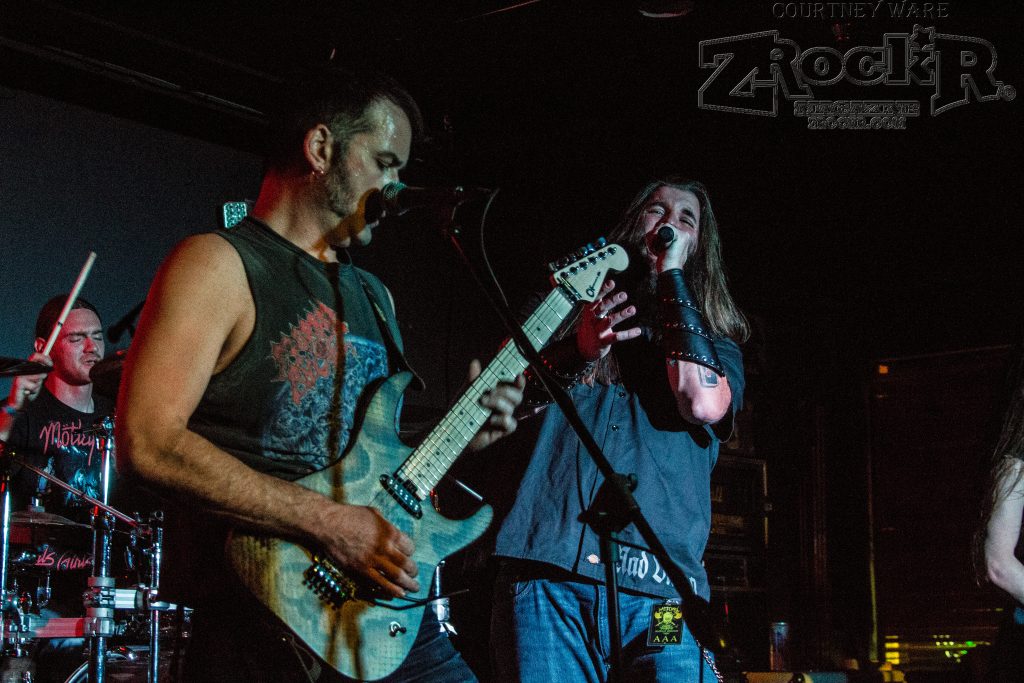 Brian (Drummer), Tyler (Bass), Gerardo, and Sergio (Guitars) of Asylum of Ashes are there but the vocalist is missing. "Willy!" came cries from the P.A. and even the crowd and soon a long blonde haired man comes strolling to the stage with two shots in his hands. Well – as he explained to his bandmates he paid for those drinks!
It's time for another tangent. You know that guy? You know the one, he's at nearly every show so you must have seen him once or twice by now. A wild drunk appears and he's absolutely hammered and he insists on starting a mosh pit by way of trying and failing to get the most reluctant among us involved in his mission. Well until he shoves security. Then he's gone so quickly you wonder if he was even there or if he was simply a figment of your overactive imagination.
Asylum of Ashes is a local Deathcore band drop tuned extended scale instruments and out to start a war against your senses. There isn't super technical playing or melodic singing you're signing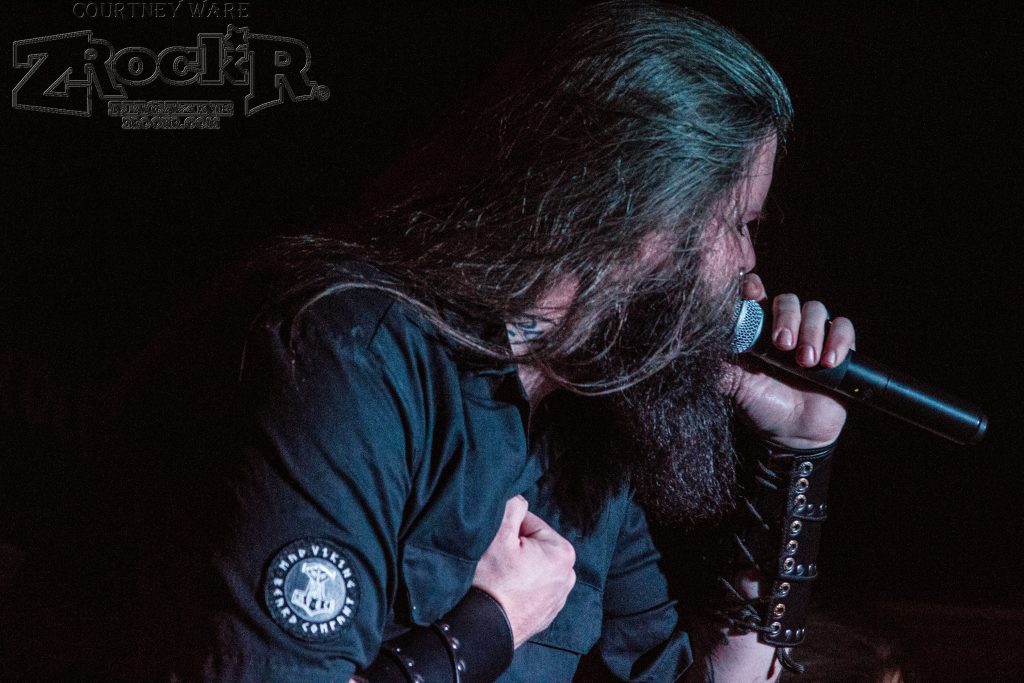 up for when seeing this band. No, it's riffage, breakdowns, and growling vocals! Personally Deathcore has never been my cup of tea… Or coffee – molten hot blackest of the black coffee if that's more to your taste. However Asylum of Ashes keeps things tight and the band were clearly on the same page through the whole set. This band has certainly shown they have potential and have a groove to their music that can't be denied. I'll be looking forward to seeing them again in the future. For those interested the band's EP Cease the Plague of Despair is available now on cdbaby.com and features such songs as "Code Grey", "Left For Dead", and "Dreams of Bliss" co-written by a friend of Will's Ryan Bear who unfortunately has since passed away.
Anyone looking at the merch available outside might have noticed that Necromancing the Stone was added to the line-up unannounced.With James Malone (Arsis) and Justin Wood (Brimstone Coven) on guitars, Jeramie Kling (The Absence) on the drum throne, and "Big" John Williams (Brimstone Coven) on vocals, Necromancing the Stone who released their first full-length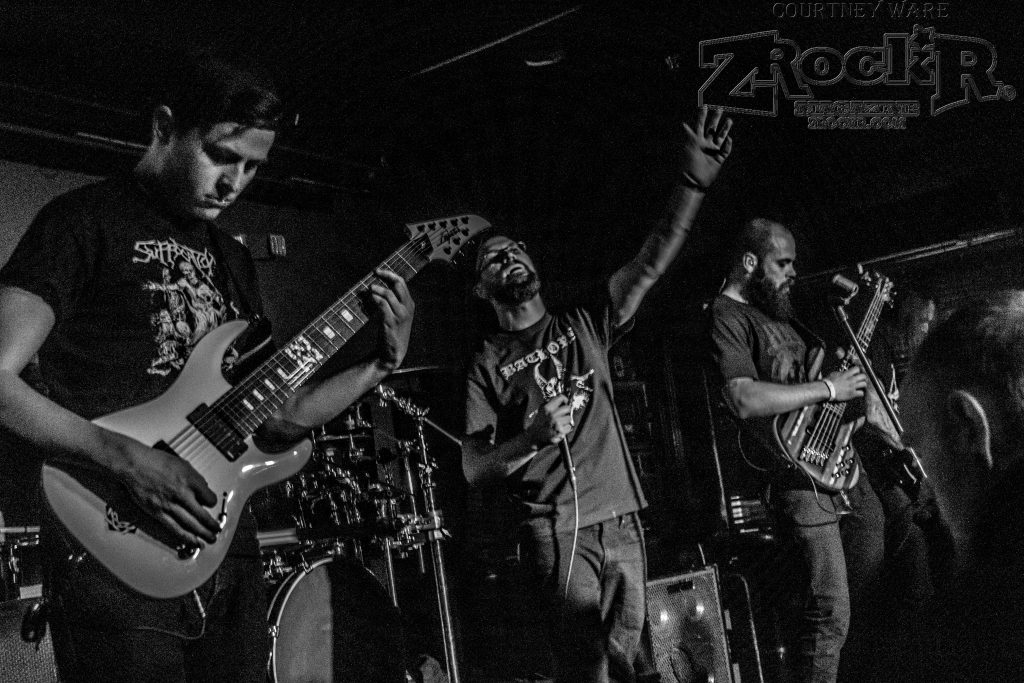 album back in August 2016 absolutely killed it! It should be noted however that bassist Ryan "Bart" Williams (ex-The Black Dahlia Murder) didn't make it out for the tour but a recently posted video of him playing "Ritualistic Demise" on the beach of Santa Monica. Check it out reader it's a damn good watch.  Blending the stylings of thrash and death metal with vocals and lyrics that wouldn't be out of space on a D&D themed power metal album this side project is definitely worth a listen. James Malone's guitar playing was a delight and I had an excellent view of him making his parts look easy. Pumping his fist in the air while playing a legato part on his fret board made me laugh out loud. However the stand out song with which they ended their set was "The Siren's Call" which has a chorus that shows off just how well and how long "Big" John can sustain a note for. I'll definitely be picking up their debut album Jewel of the Vile soon.
The next band Allegaeon from Fort Collins, Colorado is an excellent example of high concept technical death metal with their use of science fiction in the lyrics as well as a mastery of eight-string guitars.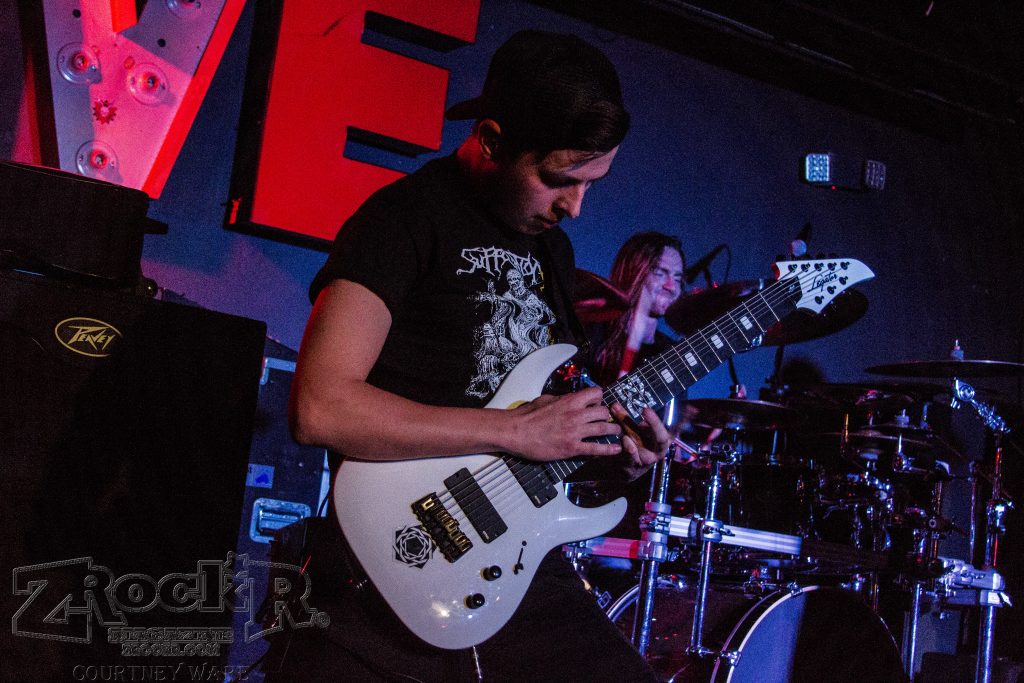 With such heavy material to wrap your head around such as real-life scientific advancements and the threat of machines with sentience seeing the true worth of us human beings and finding us wanting it's good to see that they can still have fun. Case in point was the pearly white smile on vocalist Riley McShane's face throughout the set. The aforementioned happy camper as well as band mates Greg Burgess (Guitar), Michael Stancel (Guitar), Corey Archuleta (Bass), Brandon Park (Drums) released their latest full-length album Proponent for Sentience on Metal Blade Records back in September of 2016 and based on recent interviews the band has already started writing material for their next record.
Before we talk about the next band I have a confession to make. I recently moved back to Las Vegas from a little town called Berwick, Louisiana. About an hour and half drive from either New Orleans or Lafayette where you'd get all the bands coming through and you have no idea how hard this is for me to say this but… This was the first time I've seen Goatwhore. I know what you're thinking, "But Ethan, you'd drive much further if it meant seeing a band you really loved." And yes, I am ashamed of myself.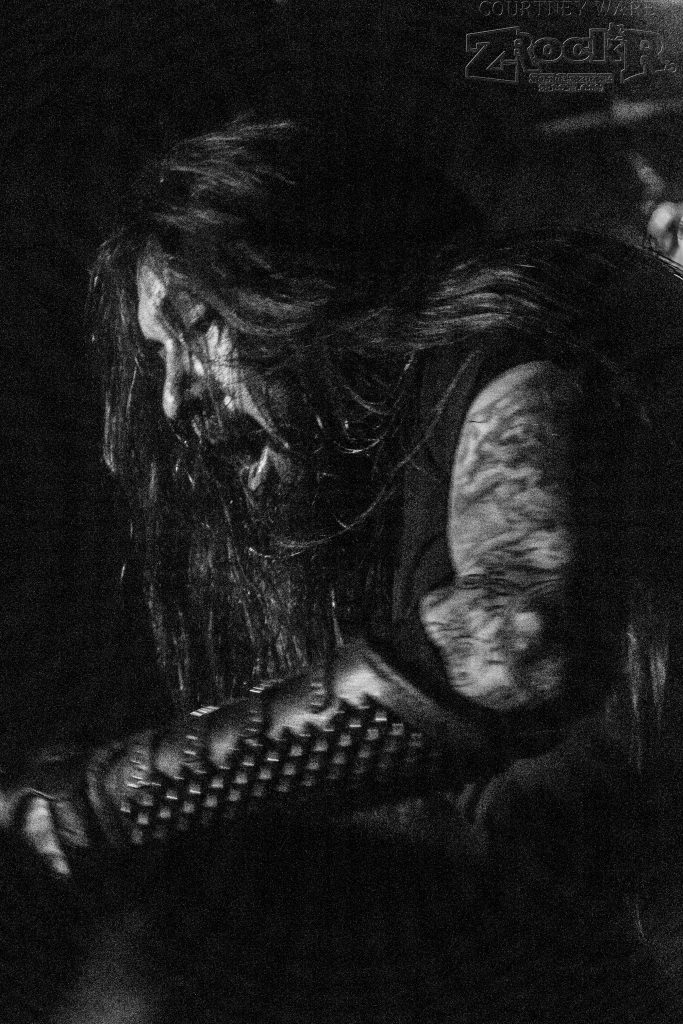 There is no excuse. None at all.
Goatwhore hailing from New Orleans, Louisiana and formed in 1997 is a mix of several extreme metal subgenres but the most prevalent in my mind is the sludge metal that is so prominent in the NOLA scene and the proto-black metal stylings of Venom and Celtic Frost. Featuring founding guitarist Sammy Duet (ex-Acid Bath, ex-Crowbar), and Louis Ben Falgoust II (Soilent Green) on vocals,Zack Simmons on drums, and touring bassist Rob "Trans Am" Coleman, Goatwhore was the band I was most excited to see. Playing such songs as "Alchemy of the Black Sun Cult", "Apocalyptic Havoc", "Reanimated Sacrifice", and "Fucked By Satan" Goatwhore isn't for the timid or easily offended and absolutely for those of us that aren't afraid to stare out into the Abyss or not at all surprised when the Abyss stares right back. Falgoust's crowd interaction was one of the many highlights of this band's set. Getting right up in the face of people in the crowd belting out the lyrics to each track in his distinctive growling voice. Maybe because they were the only band that wasn't a four piece and that the previous bands had to work with less space to move around but Goatwhore were the only guys that would move around the stage the whole night. During the set Sammy Duet cut open one of his fingers on his right hand so there was blood on the body of his guitar by the end of their time on stage. He'd even got on the mic and said that tonight that was the first time he'd bled in front of an audience. This is why ladies and gentlemen that superglue is a must for a gigging musician. Goatwhore's latest album Constricting Rage of the Merciless was released back in 2014! Here's to hoping for news of a new record coming to us soon. One last thing before we move on I will like to point out I totally called it that I'd see Popeyes in the hands of the guys in Goatwhore and their stage crew and that by now I've satisfied my craving for fried chicken, cajun fries, and sweet tea thank you for asking.
The headliners of this show Cattle Decapitation are a deathgrind band from San Diego, California with lyrical themes revolving around gore, misanthropy, and animal rights and include Travis Ryan on vocals,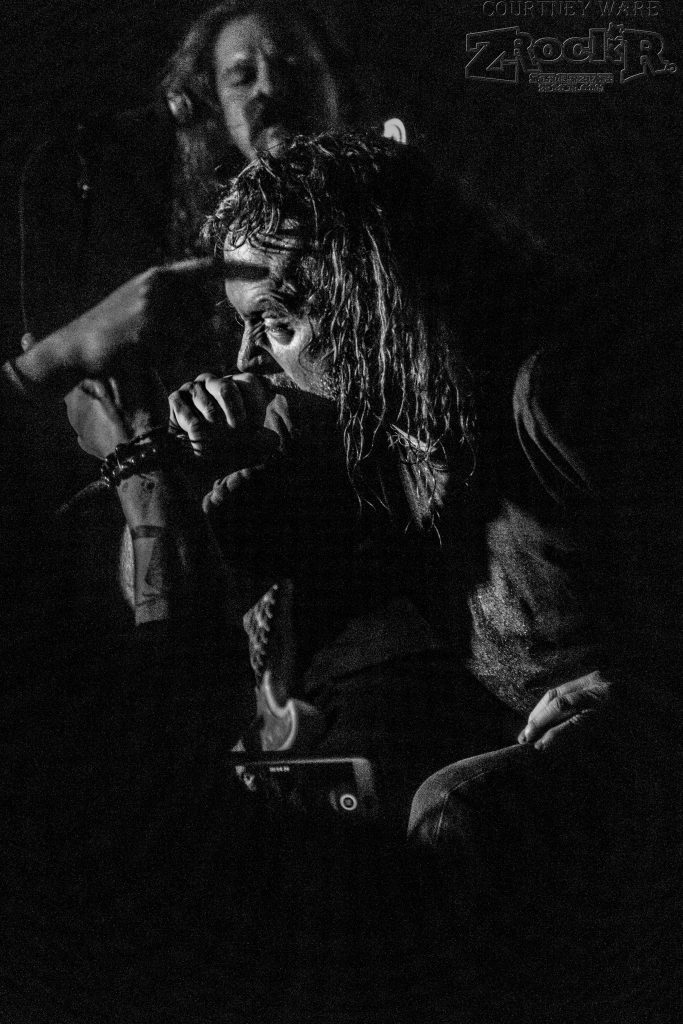 David McGraw on drums, Josh Elmore on guitar, and Derek Engemann on bass. The music of Cattle Decapitation is fast, brutal, and unrelenting to it's core but don't take this to mean it's lacking melody or that there isn't a method to the madness. For example take a song like "Regret & the Grave" where the song begins fairly wide open letting the bass guitar shine before delving into the whirlwind that twists and turns on a dime as quickly as Ryan is able to switch up his vocal delivery. If the deep death metal growls or the screeching rasps don't do it for you listen to tracks where he injects some of that melody I was talking about earlier. No, that does not mean that Cattle Decapitation has clean and crystal clear vocals on any of these songs. I've only started listening to Cattle Decapitation fairly recently leading up to this show but I'd recommend seeing them live if only to see masters of their craft at work. If you listen to any extreme much give these guys a listen before you write them off entirely. Cattle's latest record is available (yet again) through Metal Blade Records and it's called The Anthropocene Extinction.
Before I let you go I want to tell you about the shirt I bought. Goatwhore had a shirt with the slogan "Less White Chapel More Haunting The Chapel", call me a hypocrite if you must but I totally had to have it. Gotta say though – damn that's harsh.
Metal Blade's 35th Anniversary Tour isn't just about capitalizing on the label's past. Though important I think it's rather telling that their most successful bands many of whom are long long established and widely respected weren't featured on this tour at all. Even though Cattle Decapitation and Goatwhore each have twenty years of history behind them and Whitechapel who weren't on the bill tonight have yet to receive the attention that say Cannibal Corpse have or a whole slew of bands on their roster for that matter.  My point being that if any of these bands had headlined this tour or taken the place of these. No one would have batted an eye or objected to them taking top spot but I think it's telling that Metal Blade in the spirit of Metal Massacre is showcasing the bands they feel are the future of not just their company but metal in general. Good on you Mr. Slagel. Here's to another 35 years!
PHOTO CREDIT: All photos by Courtney Ware for ZRockR Magazine – ©ZRockR Entertainment, LLC – ALL RIGHTS RESERVED