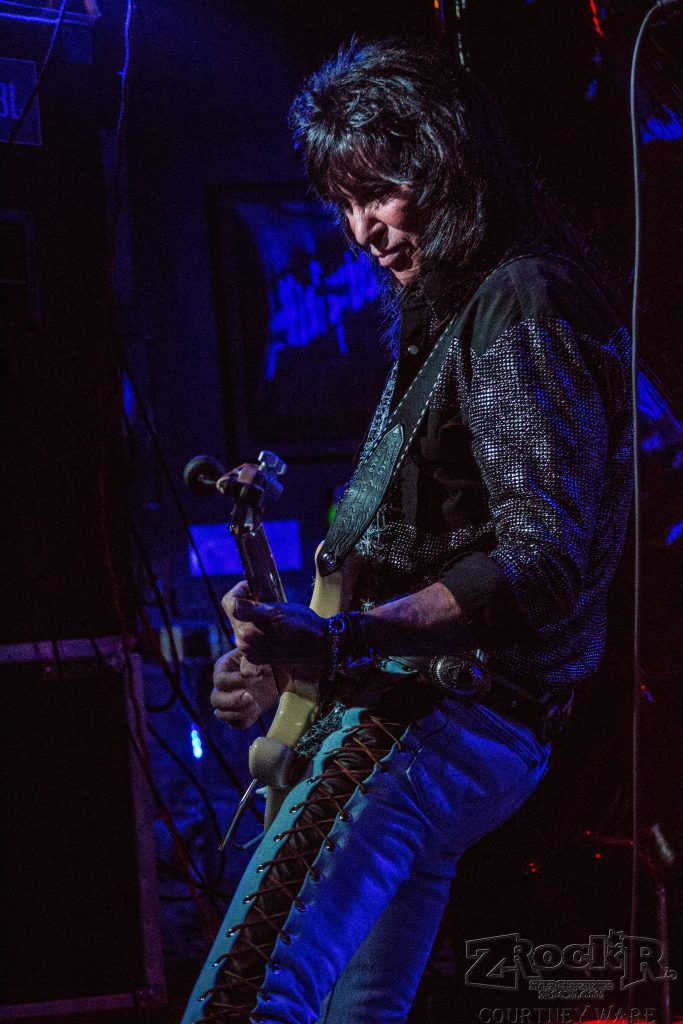 Angel. Signed to Casablanca Records after being "discovered" by none other than KISS' Gene Simmons in a D.C. club. A progressive hard rock quintet that pared their sound down over the years to be more straight ahead. Even Frank Zappa had to acknowledge them by way of writing a song called "Punky's Whips" about their lead guitarist Punky Meadows.
Although they had a string of five studio releases with the label, capped off by a live album, they didn't break as big as they should have. Their legendary shows, however, proved to be inspirational for Spinal Tap (check out Angel's concert clips on YouTube and see the movie This is Spinal Tap for the pod scenes). Dressed all in white, they were positioned as the antithesis to KISS (dressed all in black for most of their early career and renewed makeup years).
After Angel folded, the members went their separate ways. Most notably, keyboardist Gregg Giuffria started a band aptly named after his surname that recorded a couple of albums for MCA. But the other members were noticeably absent from the music business. Punky had successfully gotten into the tanning salon world. Not that there's anything wrong or even unusual about taking a sabbatical from the biz; it can definitely chew you up and spit you out.
However, after roughly a thirty-five year break from putting out new material, much less performing, it was with great anticipation that one Edwin Lionel Meadows returned to the scene, releasing his debut solo album Fallen Angel last May.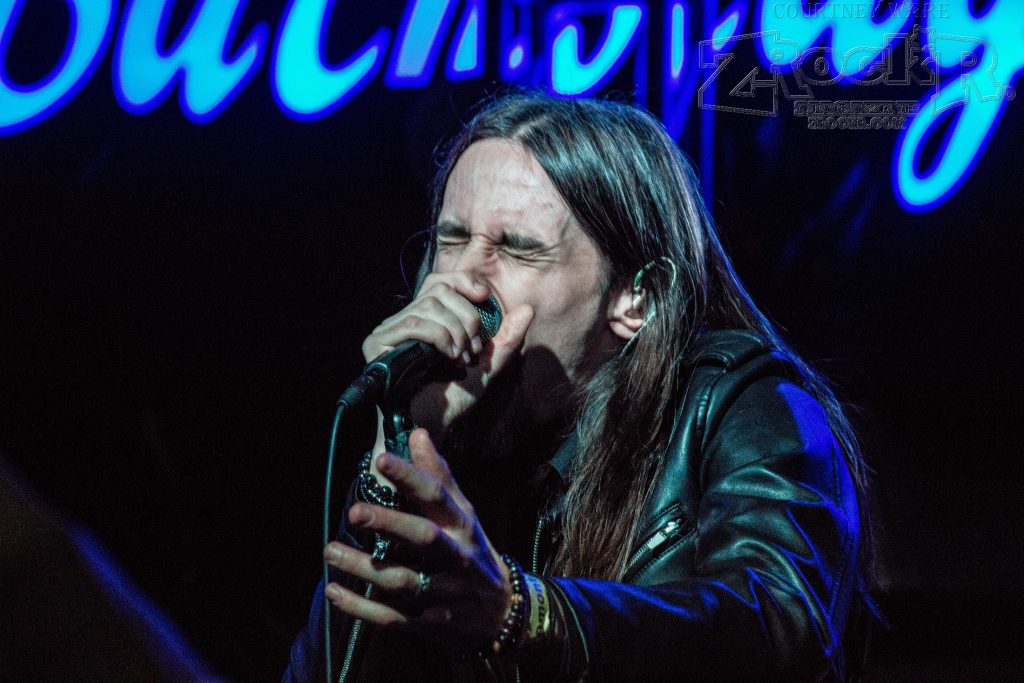 Earlier this year a string of select live dates was scheduled, the first being in Vegas. His band, comprised of best friend Danny Farrow on rhythm guitar/vocals, Chandler Mogel on lead vocals, Bob Pantella on drums, Charlie Calv on keys, along with ex-Angel Felix Robinson on bass (he had a fill-in on at least the date here) and a couple of female backup singers made for a formidable lineup to deliver a rock solid set.
Starting off the proceedings with a blistering rendition of Angel's "Rock and Rollers," Punky's band set the tone for the night. The fourteen song set was heavy on his recent solo effort, but that was certainly welcomed by this fan, and showed that he wasn't content to simply rest on his former band's laurels. He still had something fresh to bring to the table and it was well received.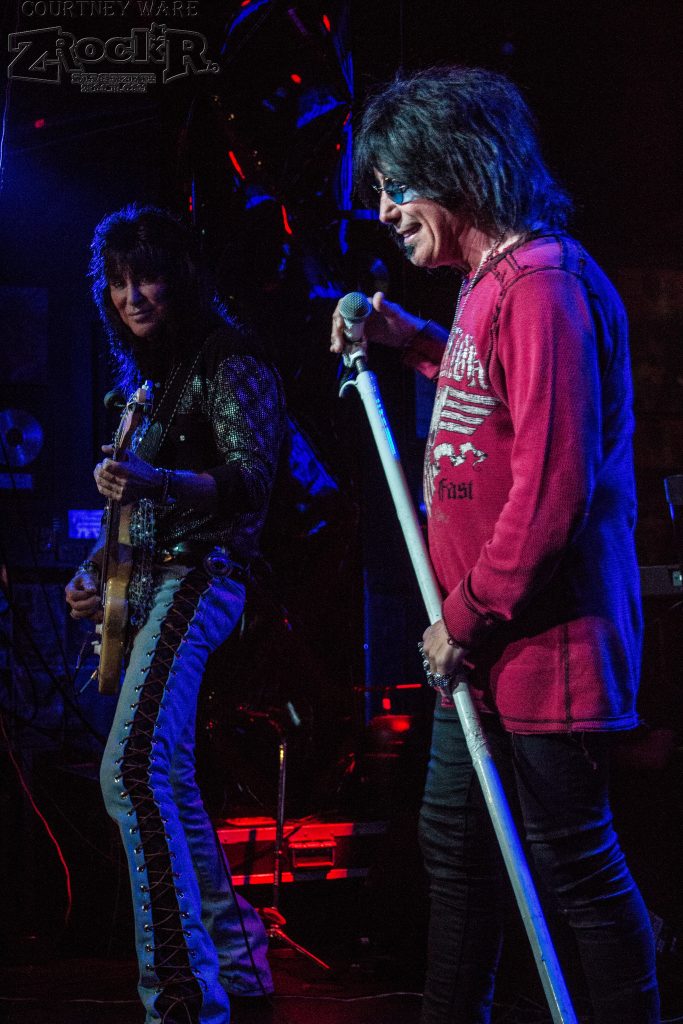 The show was laced with several Angel classics, such as "Don't Leave Me Lonely" as well as the driving rocker "Can You Feel It." Without giving away everything, let's just say that Punky was in fine form, both visually belying his years as well as executing everything performed expertly. The band was tight, the vocals soared into the stratosphere. If anything was amiss it's that the house should've been more packed given the caliber of the show by this cult legend. I'm fairly certain that this injustice will be corrected in the near future given the chance. And I'm quite sure that the subsequent Hollywood show at the Whisky was more dense in attendance, as it should've been, no question. But again, given the lengthy absence of the incendiary glam axeman and today's musical landscape, it wasn't that shocking. Just a shame that for whatever reason that a few fans of his and Angel's undoubtedly missed out on an historic evening.
Meadows' recent LP certainly has its share of terrific, melodic tunes and seeing Angel's iconic frontman and Sin City resident nowadays, Frank DiMino, join the band on an encore of "The Tower" was a sight to behold. I count myself among the fortunate few to witness this and it won't soon be forgotten.
If you haven't yet snatched up Fallen Angel, do so, as this fan highly recommends it. The sooner the better. The repeated spins will pay amazing aural dividends, trust me.
One can hope that this mini-tour was a strategic, cautious attempt hinting at bigger things down the road.
Punky is back. Can YOU feel it? I most certainly did.
PHOTO CREDIT: Photos by Courtney Ware for ZRockR Magazine – ©ZRockR Entertainment, LLC – ALL RIGHTS RESERVED