Louder Harder Faster is the latest studio album from Warrant, due for release on May 12, 2017. This is the first studio album from the group since 2011, and their second with former Lynch Mob and Cry of Love vocalist Robert Mason.
Warrant is remembered for their first two releases, Dirty Rotten Filthy Stinking Rich and Cherry Pie, both of which featured classic frontman Jani Lane (RIP) and spawned countless hits. The group has continued in a number of incarnations in recent years, and put out many more releases, although these have largely (and unfortunately) been ignored. In recent years, Warrant has come back with a stronger stage presence than ever, thanks to a lineup that combines vocalist Robert Mason with the surviving classic members of the band.
Classic groups like Warrant performing in the modern day have a difficult struggle ahead of them, and this is especially true when it comes to the recording of new, original material. Do you try to recapture the sound of the past, or do you move on give the audience something new and unique? Attempts to recapture the old sound often fall flat and just leave listeners wanting to go back and revisit the band's old material. Modernizing can often be seen as a way of "selling out" and alienating the classic fanbase. It can be difficult for any group to find the happy medium between these two extremes.
On their latest record, does Warrant give the fans what they want?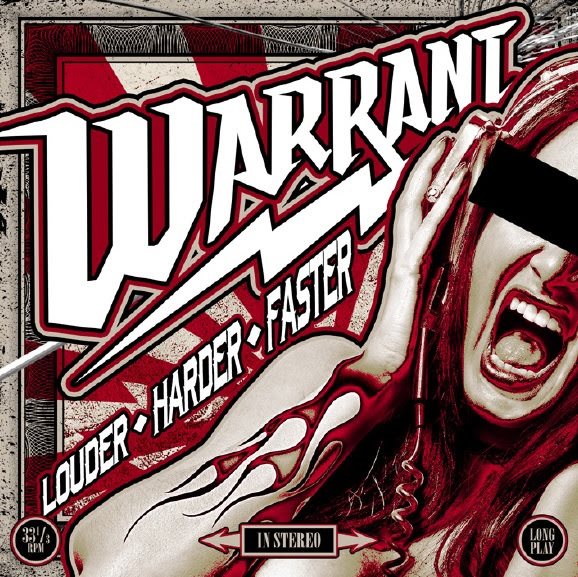 Obviously, opinions are going to vary, but this rock and roller believes that the band has given fans one of their strongest releases in years, and that it is certainly worthwhile listening.
Louder Harder Faster is definitely a more "modern" album than the band's classic releases, but that late 80s/early 90s spirit and energy is still present in the music, and it shows on nearly every track. There are some truly fantastic moments and tracks to be had here. If Bon Jovi had not wimped out and moved on to making modern pop songs far from their rock roots, I have a feeling the result would have sounded something like what the Warrant boys have given us on this record.
There are straightforward modern rockers. Ballads. Bluesy stuff. Catchy, infectious anthems. I would not say every single song is an "instant classic," but overall this is a strong effort, and certainly musically diverse. All five of these musicians are at the top of their game, and it will be great to hear the new songs performed live on the band's forthcoming tour dates.
Warrant is often overlooked in the wake of many of the more popular bands of their era, but hopefully that is a mistake that will be rectified with the release of Louder Harder Faster, one of the band's strongest efforts in years. Robert Mason has clearly established himself in the band's vocalist position, and longtime fans of Warrant will be glad to see the modern version of the band still going strong, without lingering on a nostalgic element or anything of the sort. Warrant's new release comes strongly recommended!