Darkness Remains is the third release from Night Demon, following their EP and 2015's Curse of the Damned. Based out of Ventura, California, the trio has unleashed their own breed of heavy metal on an unsuspecting world, hearkening back to the classic sounds of the New Wave of British Heavy Metal, and a wide variety of other influences, using them to craft something all their own. The group has toured numerous territories in the company of other legendary bands as well.
A few years ago, I had no idea who these guys were, but they have quickly become one of my favorite modern heavy metal bands. It is great to see a group like this that takes the best of classic hard rock and metal, and brings it into the modern world in their own way. This fan was all the more ecstatic to get and listen to the band's third release. And now that Darkness Remains has arrived, will it make for a worthy addition to your collection?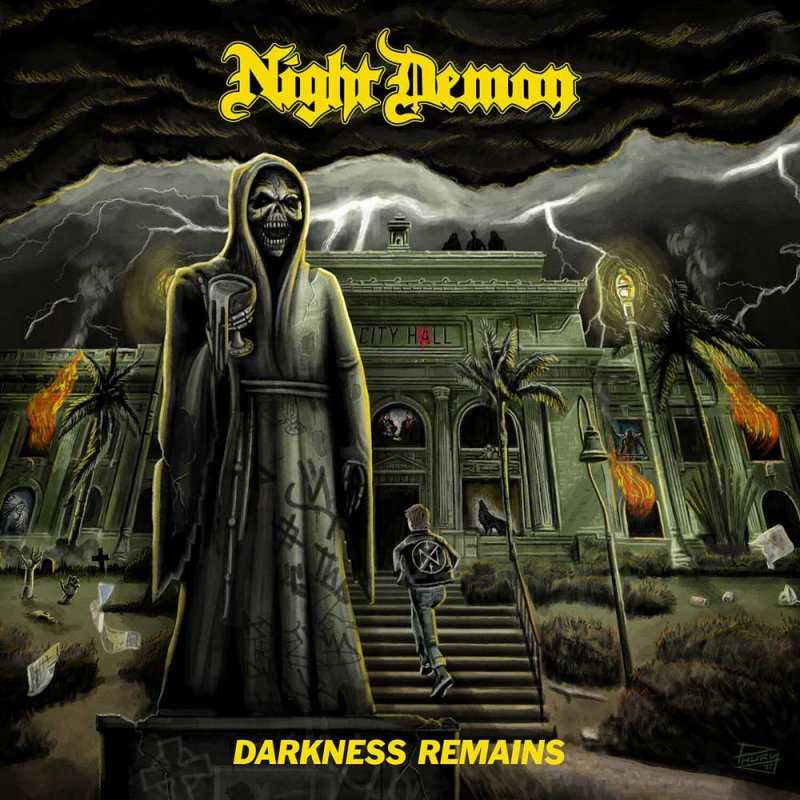 Night Demon does not fail to please on their latest release. These guys are hard and heavy, and hold nothing back when it comes to rocking their audience. Serving up the hardest, heaviest riffs since the glory days of the NWOBHM, their new album proves that this California trio is the absolute best at what they do, It is a relentless release, with anthems like the opener "Welcome to the Night," and its closing one-two punch of the instrumental "Flight of the Manticore" and progressive mini-epic title track.
If there is one minor weakness in an otherwise excellent release, it is that it is, perhaps, a little TOO relentless in its 40-minute duration, and one cannot help but feel like the band is "playing it safe." (Not that this is a bad thing.) The closing title cut hints at a more melodic and progressive direction, and personally, I would love to hear the band explore these elements on a future record.
If you like hard and heavy rock and metal, Night Demon is the best of all worlds, taking the best elements of classic sounds and bringing them into the modern age with unrivaled fury and force. On the band's third release, they once again satisfy the headbangers of the world, this one included. Easily one of 2017's best rock/metal releases so far, and highly recommended.