Vamp'd remains the definitive home of hard rock and heavy metal in Las Vegas. And on April 21, 2017, the venue welcomed three killer sets of rock and roll – Adam Bomb and the SST, Them Evils, and Black N Blue.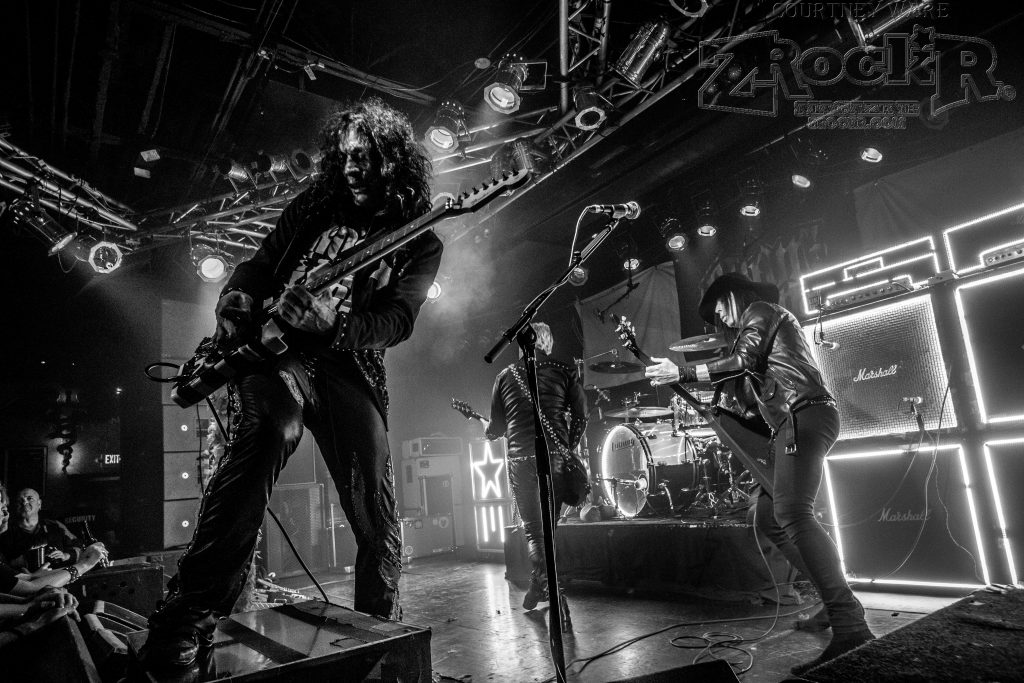 Adam Bomb is amongst the latest in a long line of classic 80s rockers to head out this way to make Sin City his home. This was the debut of Adam Bomb and the SST, his latest band, featuring the likes of local favorites Johnny Rude and Morpheus Blak, as well as LA guy Scott Earl. And let me start by saying that absolutely nothing could have prepared me for what I saw on stage during these (all too brief!) 30 minutes. The amplifiers and Bomb's guitar were awash in brilliant lightning that turned the stage into something from another world. The rhythm section was held down by solid bassist Scott Earl, who is just as animated as the rest of his bandmates, and Mr. Rude played a transparent, lighted drum kit with a heavier, more powerful sound than most of the national/international drummers that play the venue; clearly this guy was not content to settle for the house drum kit (I see Mr. Rude hanging out everywhere in town, but had not seen him actually perform – this guy has been holding out on us!)
Adam Bomb and the SST performed with a bombast (pardon the expression) that I rarely see from anyone, taking the audience by storm and surprise, something further demonstrated when Bomb (literally!) engulfed his guitar in flames. It was a performance not without humor and a few other surprises as well, including the crowd being drenched with glitter (I definitely felt bad for the security guy that had to sweep it up a few minutes later). The energy displayed by the band here was almost more akin to the energy one would expect from a punk rock show, but I mean that in the best of ways. The only weakness of this set was that it was restricted to a mere 30 minutes, but they were 30 minutes of my life I will never forget. Hoping to see these guys return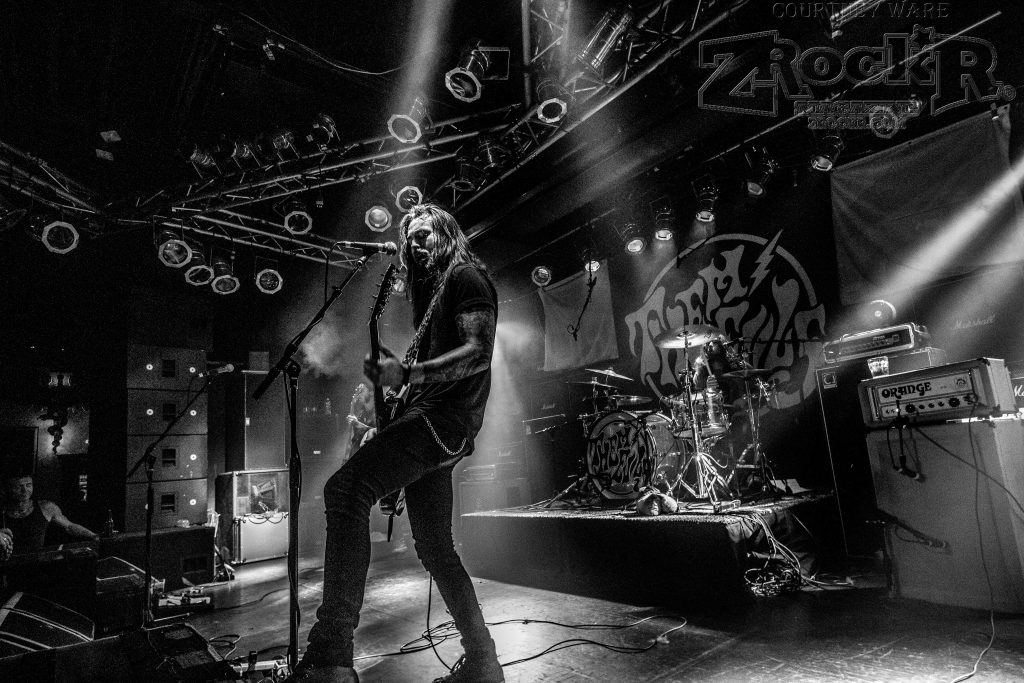 to Vamp'd as the headliner in the near future, because it is clear that Adam Bomb and the SST latest project has a serious future.
Them Evils, the second band on the roster, was one I had never heard of, but they too managed to impress. The trio of Jordan Griffin, Jake Massanari, and David Delaney II defies all expectations, and creates a fuller and more powerful sound than you would expect a mere three men to be capable of. It was a strong set of original tunes, though the band was not above throwing in covers for good measure. The band has a new EP out, and while I did not purchase it at this event, you had better believe I will be getting my hand on it soon for some future coverage.
Black N Blue was the official "headliner" for the evening, and despite their talent, I definitely felt bad for them having to follow up the two bands that came before. Fortunately, the quintet proved that they are still musically strong, and that the strong will always rock! Classic members Jaime St. James, Patrick Young, Pete Holmes, and longtime guitarist Brandon Cook were joined by new guitarist Bobby Capka, who according to the rest of the group, had only done a handful of gigs thus far. No worries; the guy fit right in, with all of these musicians having a great chemistry together. St. James still has a powerful voice and stage presence, and you can tell these guys have aged better than many of their contemporaries, even if they did not have the same levels of mainstream success.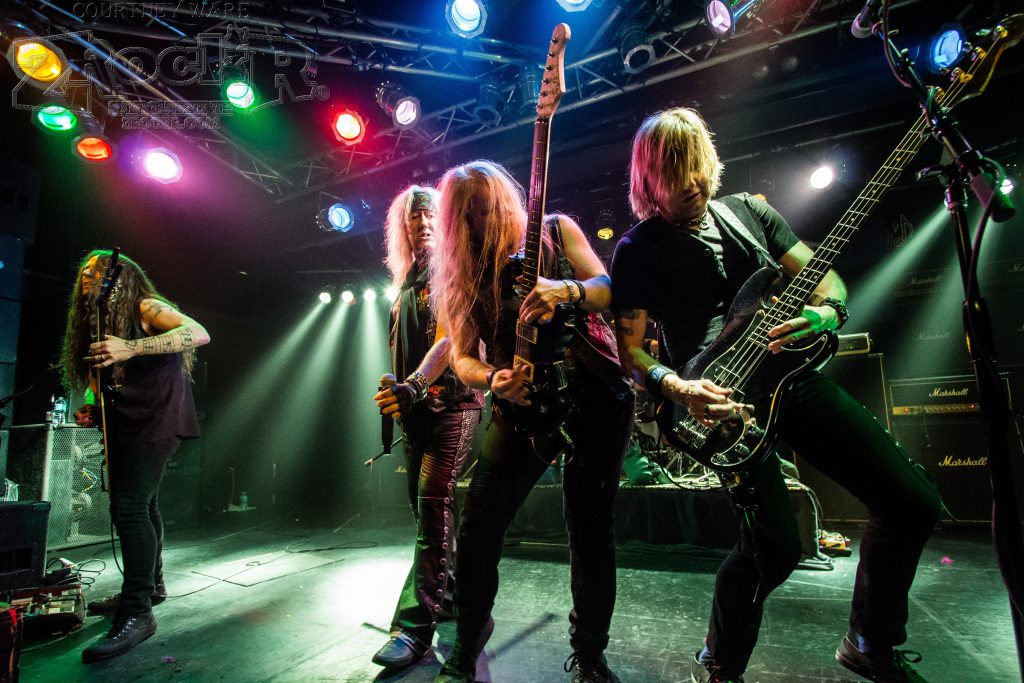 Black N Blue also scores points for their varied setlists; no two shows are exactly the same. We heard cuts from their four classic 80s records, plus the Hell Yeah album that came out a few years back. Die-hards may nitpick the setlist somewhat, but I found this to be an excellent assortment of tracks that certainly did not clone last time's setlist. There were not exactly any surprises with their performances, but that is not necessarily a bad thing when you consider the musicianship and chemistry on display. The only wasted opportunity of the night was that Adam Bomb did not get up to jam with the Black N Blue guys; he had made an appearance on one of the group's classic records and this would have been a nice touch, but alas, it was not to be.
All three of these bands kicked ass, and this fan was more than pleased with what he saw. Adam Bomb and the SST, Them Evils, and Black N Blue all rocked the house and left the fans wanting more. In particular, hopefully we will get another Adam Bomb show with his band as the headliner in the future. Each of these groups is superb and continuing to rock the world on their own terms. A fine night of rock and roll for all involved.
PHOTO CREDIT: All photos by Courtney Ware for ZRockR Magazine – ©ZRockR Entertainment, LLC – ALL RIGHTS RESERVED