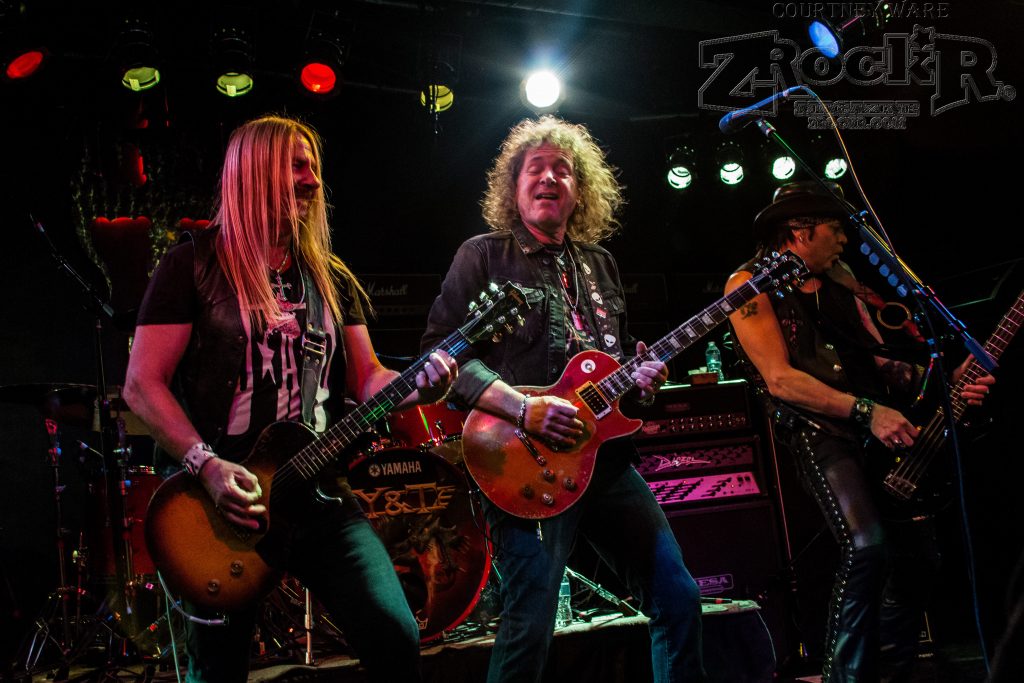 Yesterday and Today. What a fitting moniker. The band known as Y & T (it was shortened to the initials after their second album and upon signing with A & M), and named after a release by The Beatles.
They certainly pay their respects to yesterday in terms of their set lists these days, delving deep into album tracks and live favorites from their storied past, certainly the first A & M LPs. And on this night, they delivered once again. Though the stellar act these days is still steered by the only classic era member alive these days, the illustrious, but by many accounts under-appreciated Dave Meniketti (lead vocals/lead guitar), they are by any measure still a force to be reckoned with. Lately drawing up their nightly song choices minutes before showtime, the well-oiled machine probably has 40 tunes or so on tap ready to unleash on annual tour dates. I mentioned to Mr. Meniketti after the show that they are in some ways the hard rock Grateful Dead, what with fans from other places flocking to out-of-town dates, coupled with their fluid nightly list of tunes in concert. He chuckled; I guess he knew it was true. And nothing to be ashamed of. With an amazing 45 year career he's had in the fold, a merchandising line branching out in recent years to include vintage wines, their sizable fanbase has been supportive enough for them to carry on, with only a brief sabbatical.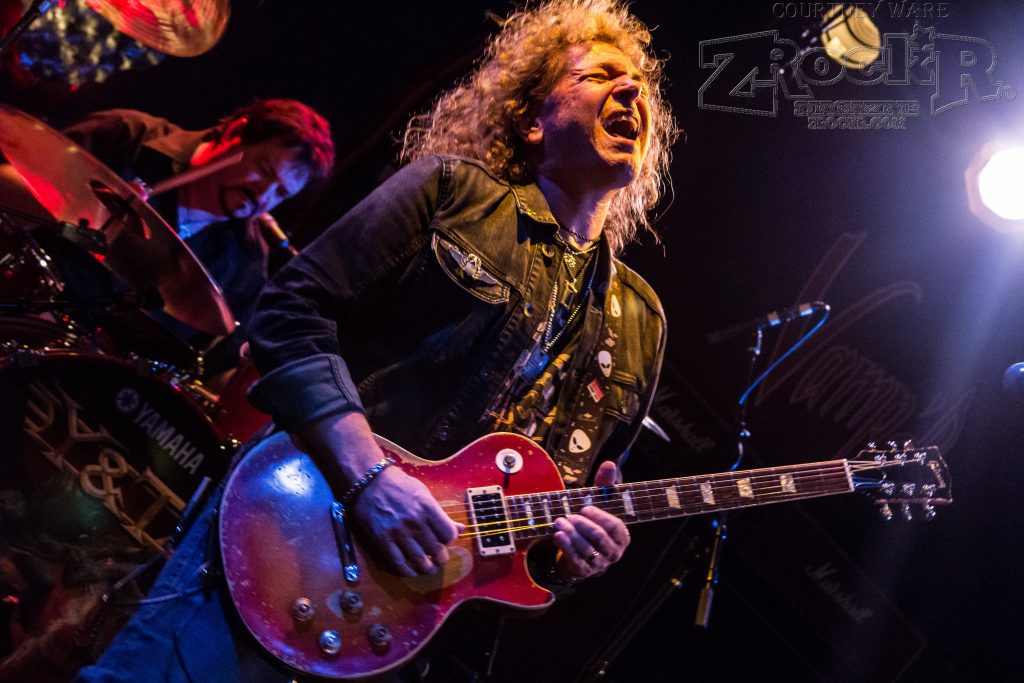 What kind of firebrand still brings the same level of intensity to songs they wrote decades ago? The same fierce approach on guitar scorching the fretboard with an unbridled attack and precision? Retains much of the gusto and delivery in his vocals all those years later? Dave Meniketti, that's who! So if for some ungodly reason you are a rock, hard rock, or metal fan and STILL haven't seen Y & T live, you have got to do some severe soul searching and beg forgiveness. You have sinned. And need to repent. If you like your rock with melody, a bite, guitars up-front, riff-laden, hook-heavy, perhaps a bit blues-based, then you damn well owe it to yourself to get immersed in the rich, criminally-unheralded-the-way-it-should-be catalog of these guys. Classic line-up, mid-period line-up, recent-line up. Whatever. Makes zero difference really. There's no valid reason to write this band off. None at all. Okay. So maybe they didn't become a household name. Didn't have a boatload of Top 40 hits. Meniketti and company pretty much were and are the Bay Area UFO in a way. They rock solid and nary a peer wouldn't name check them as a contender if not influence for some reason.
Launching the night with a driving "Open Fire," they started their tour again in Sin City, kicking ass and taking names. Their satisfying, lengthy 23-song set encompassed ditties off of 8 of their 12 studio offerings, and was heavy on Earthshaker and Black Tiger. This was way cool by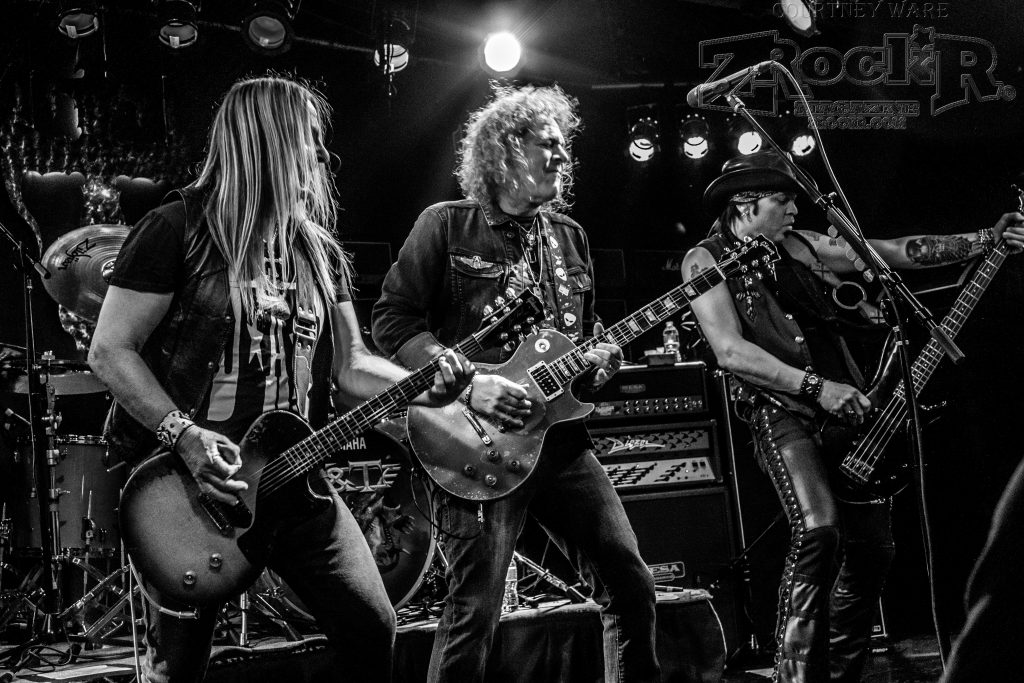 me, as I'd recently met one of the guys who produced the former. They played tracks I'd never seen them do live before, so not including "Lipstick and Leather" was a minor quibble. Black Tiger's "Winds of Change" was dedicated to the recently departed Joey Alves, longtime former rhythm guitarist. A couple of choice nuggets served up this time included "Rock & Roll's Gonna Save the World" off of 1984's In Rock We Trust, as well as "Don't Be Afraid of the Dark," the lead single off of Ten, their second and final studio opus for Geffen.
Brad Lang's somewhat recent bass slot this time had been filled by newcomer Aaron Leigh, who did a fine job. Mike Vanderhule murdered the skins as always, and John Nymann, the one with the second longest tenure (check Wikipedia for the impressive details), seared on rhythm guitar, with an occasional lead, most notably on "Dirty Girl."
Anyone who was there at the packed house would probably attest to this being one of the standout shows of the year so far, either here at Count's Vamp'd or anywhere in town for that matter. I certainly think so. Y & T forever.
PHOTO CREDIT: All photos by Courtney Ware for ZRockR Magazine – ©ZRockR Entertainment, LLC – ALL RIGHTS RESERVED