The famed Viva Las Vegas invaded the city this last weekend for their annual rockabilly hootenanny with pompadours, high heels, and hot rods all over the valley. While most of the festivities, like their car shows and concerts, are usually at The Orleans Hotel and Casino, a couple miles away was a meeting of constituents that needed a venue; somewhere to contain the turbulence of roaring woes and slamming feet that comes with a Tiger Army show.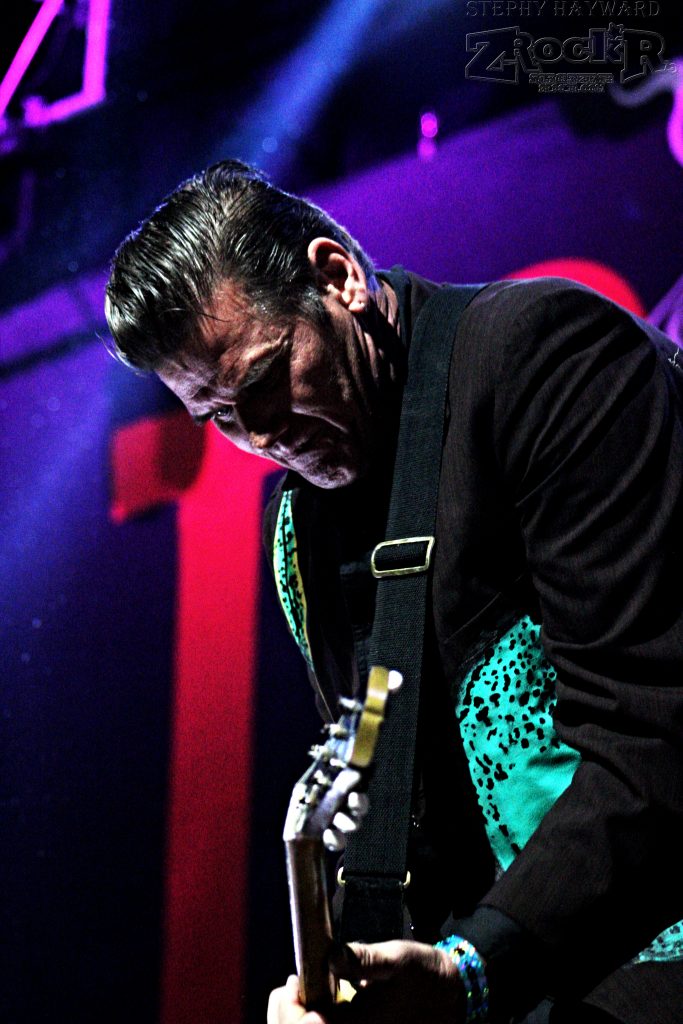 When you bring a band like Tiger Army on Viva weekend, it's a treat to get punk legends T.S.O.L. as an opener, and bringing along the Psychobilly sounds of Gamblers Mark as an opener to make the showcase a Rockabilly sandwich with some Hardcore Punk as the meat, really made it a unique lineup. The House of Blues at Mandalay Bay was surrounded with patched-up vests and polka dot dresses, for what looked to be a Punk Rock Sock-Hop of mostly couples and groups of friends having drinks and drags off their cigarettes.
This show had an early start, and with $10 parking and $11 drinks inside, one is almost encouraged to pre-game and make sure you feel good and tipsy before going inside. The drinks have always been an expectation when going to strip shows, but this parking is going to put a new variable in a budgeted show for some people, especially when you can buy a perfectly good beer inside the casino for that parking price!
The only downfall of pre-gaming before an early show is that a time portal gets created where the opening band is put on stage and they somehow go through their entire performance without me seeing them. From what I've heard from Gamblers Mark, they seem like they were perfect to open up the show. They have the original Rockabilly sound and pace in their vocals, like it could almost be sung to two-tone, but they let out the instrumental pace of a Chicago Hardcore band; fast and hectic with bass crawls that hold everything together. Check out their recent releases on their YouTube Channel for a good listen.
Sitting outside the venue and sacrificing a six-pack to the opening band gods made me look around and realize that not many people were showing up for the opening acts at all, which I suppose is a normal thing, but it was as if the Punk Rock Sock-Hop took full effect and people were only going to show up for their pictures with Tiger Army and go back on to their party weekend like it was a high school prom. Nonetheless, it was time to dig through graveyards and abolish government with T.S.O.L.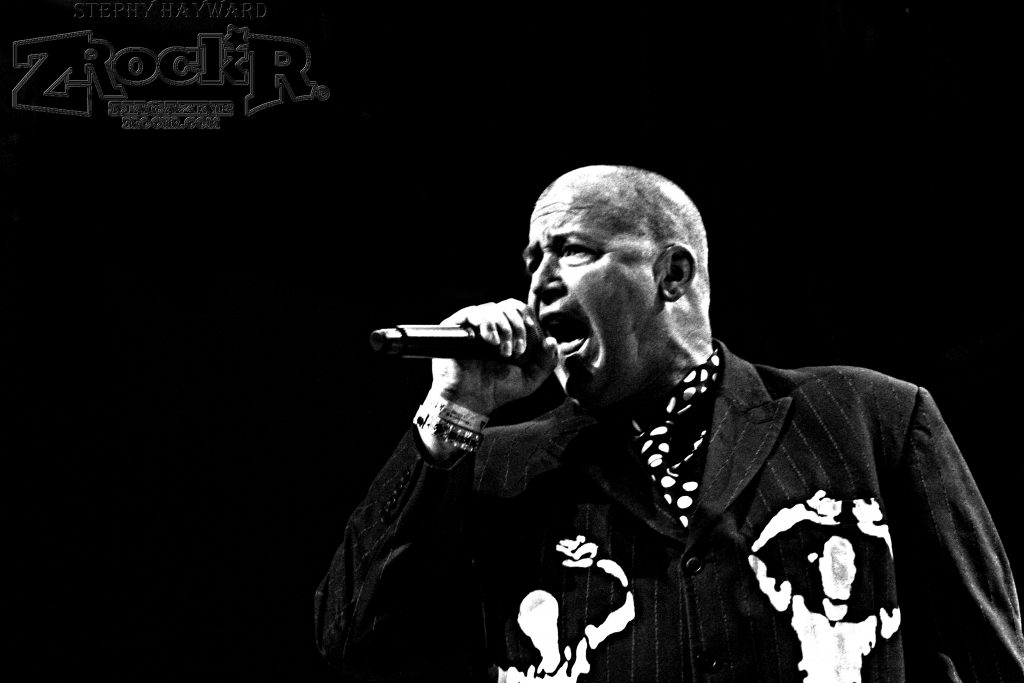 I made it down the stairs and to the center of the floor with no troubles at all. Draped behind the equipment on stage was a T.S.O.L flag that had the point of view of looking down the end of a smoking revolver barrel, which is the cover of their cleverly named latest album release The Trigger Complex.
The crowd wasn't too dense to where you had to push people around to move, but the floor was covered from front to back. The boys from T.S.O.L. made their way out on stage, and the first thing that caught my eye was the oversize business suit, with what looks like tagged-on stencils, that front man Jack Grisham was rocking. Holy shit! It made me want to red-carpet-style ambush him with a "Who are you wearing?", just to hear the response.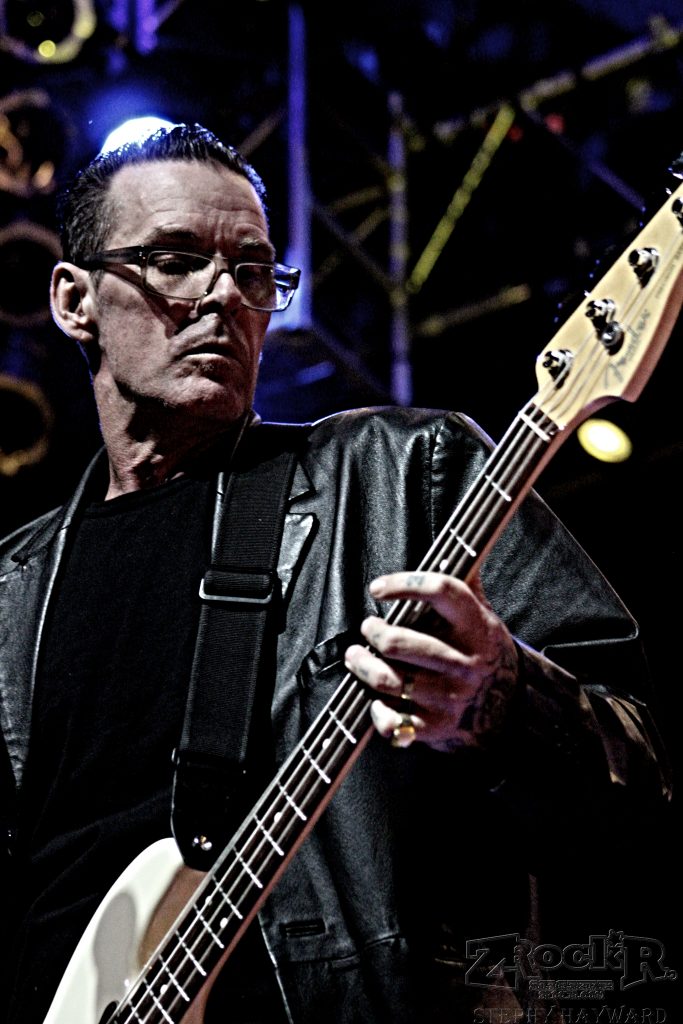 Starting off the set with "Sounds of Laughter" was fitting since it is the first song off of their debut album Dance With Me in 1981, and well, they always open with it. It's a great opener because it sorta introduces all the members in an instrumental way; the drums come in by themselves at first, then the bass kicks its way in for a few bars, and then the screeching power chords come out to set the pace for the entire song and Jack's rant of schizophrenia.
The crowd was pretty still for most of the beginning of the set, and rightfully so. I had thought of getting a pit going, but one shoulder getting rubbed the wrong way at a rockabilly show can quickly turn you into a stabbing victim. There were a few guys that tried to move around, but they eventually ended up playing in their own little circle, sort of just standing in place and doing an air-guitar like they were at an AC/DC show, but they would just bump into each other a few times a minute.
After the crowd had chanted to hear "Code Blue" in every break, Jack eventually had to address the shout out with, "It's not like we won't play it. It's easy to get stuck playing the same songs, so we give you some old ones. Some guys play the same shit over and over, but not us."
T.S.O.L. shows are certainly no rarity, but it was good to hear them bring out some new material from The Trigger Complex. Tracks like "Sometimes", that sounds like Tim Armstrong came in and recorded every part of (in a good way), and a love song in "I Wanted To See You", that I haven't thought would come from the band since their 1984 album Change Today?, were played really well and left me thinking that this band is nowhere near done with recording new material.
We were also gifted with a special guest on drums for T.S.O.L. that night. Keyboard player Greg Kuehn's son Max from the band FIDLAR was filling in and did an amazing job. FIDLAR is going to be co-headlining a night of Punk Rock Bowling this year with Bad Religion, and after jamming their new album Too the past couple of months, they have easily become my new favorite band. Give them a listen to get an idea of what the next generation of Punk is putting out.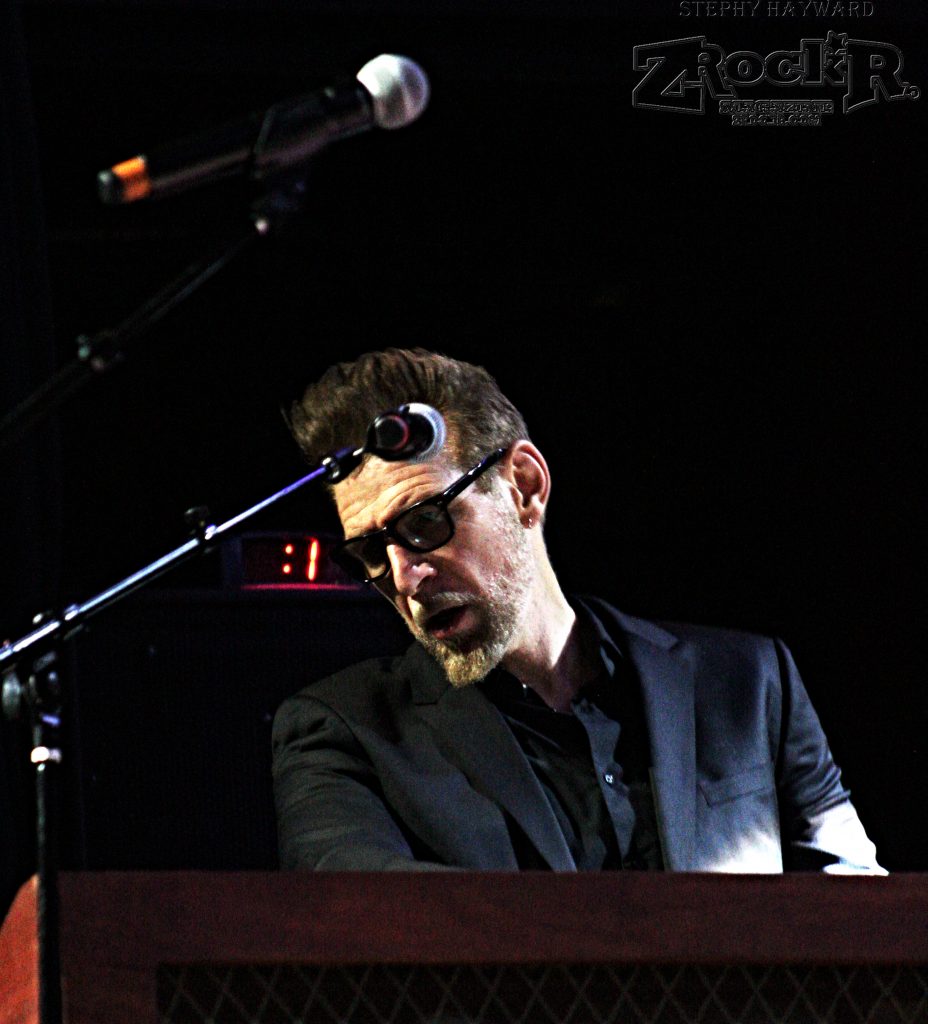 After a little more movement through songs like "World War 3" and "Abolish Government", the crowd's necrophilia needs would be met with the obvious closer of "Code Blue", which opened up a pretty good size pit to send the boys home with. It was one of the best performances that I've seen them put on, and for a band that has been jamming since Carter was in office, it doesn't look like there's a stop to True Sounds of Liberty.
Journeying my way back upstairs to get a cigarette in before Tiger Army hit the stage was a must. It unsurprisingly seemed like the crowd tripled while I was watching T.S.O.L., and outside on the casino floor a was a legitimate line compared to how it was earlier. You could tell that a lot of these people were from the Viva festivities by the size of their groups and a volume that was most likely provoked by a day of drinking in the sun and preparing for the highlight of their weekend they at long last arrived to.
When I descended back down to the floor I realized that getting to my original vantage point was a difficult task. Even the stairs leading down to the collective herd were packed with stragglers that gave up before even trying to make their way closer. Turned out I wouldn't be any different.
Being tall at this show was a plus, and perching up on the wall at the edge of the crowd gave me a great vantage point to see the entire crowd and stage. They killed the lights and the music playing in the background amplified and switched to this Woody Guthrie sounding classical tune. The song was immediately drowned out by whistling and howling from all over the crowd, and the darkness replaced with the light of at least a couple hundred cell phones that were trying to get a personal document of Nick 13's emergence.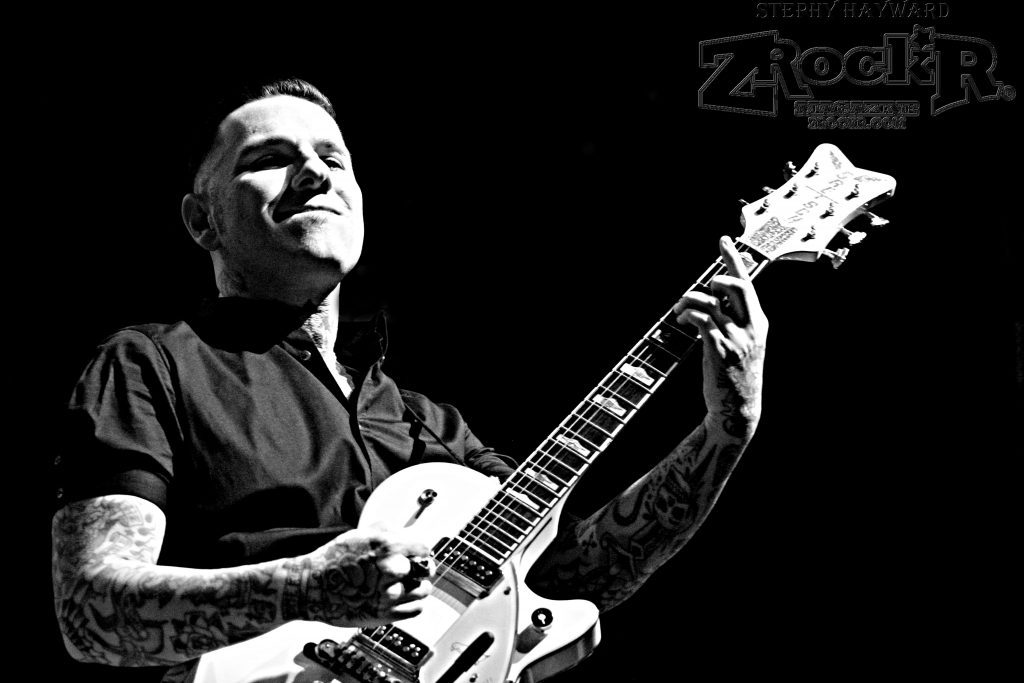 Having never been to a Tiger Army show, I had thought of what the intro song to their set would be, and if I would be able to join in on a the infamous "Tiger Army Never Die" chant, but with a roll of the drums and a surf-punk style pick slide, Tiger Army took the stage to their "Prelude: Ad Victoriam/Firefall" intro off their latest release V •••–. The entire mass of people immediately erupted in noise. Not just singing along, but randomly yelling for premature song request and howls from women that sounded like pre-teens at pop concert.
Movement was everywhere. Each individual in the crowd was either swaying back and forth with the sounds or tearing it up in the pit, and couples were in each other's arms singing their anthems of love like it was their first time hearing them in years. Punk shows usually have this kind of organized chaos, but there was a lot of love in the air that night making it a unique vibe, especially through songs like "Cupid's Victim" and "Dark and Lonely Nights".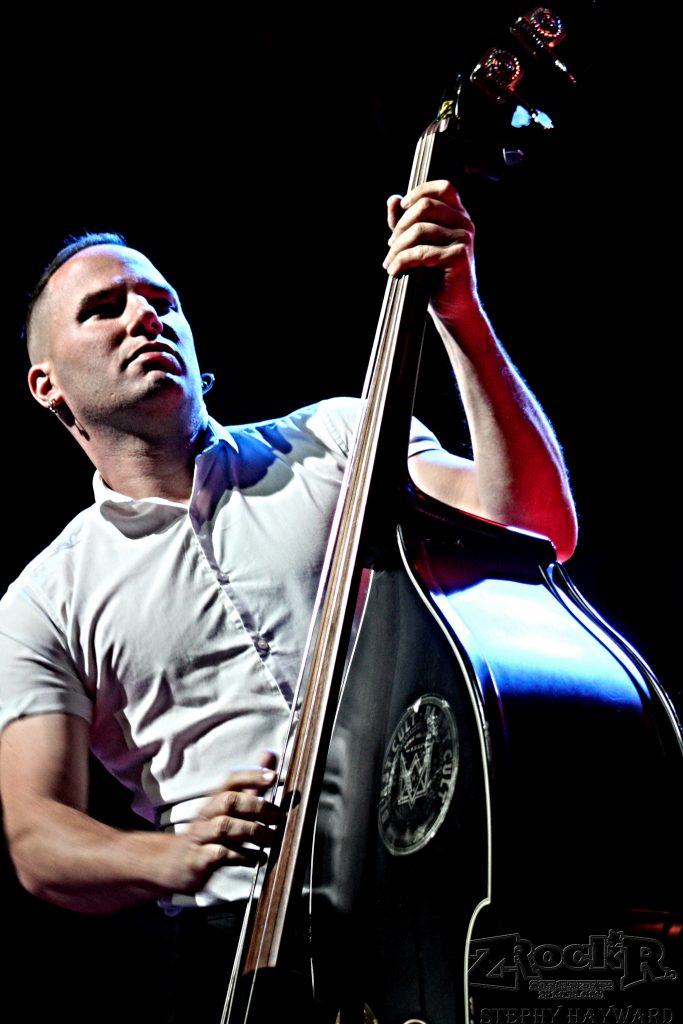 No psychobilly show is complete without a cover from the good ol' days of the swingin' 50's, and pulling out the great Eddie Cochran's "Twenty Flight Rock" was a perfect little pick-me-up in the pit compared to the more steady songs played before. The moshing and chants were in full swing when the crowd's constant cry for "Fuck the World" was finally answered. Greased up humans with the adrenal might of gods crept out of every corner to make their way into the pit for that song like they just heard the battle cry of Gjallarhorn.
Most of Tiger Army's set was accompanied by T.S.O.L.'s keyboardist Greg Kuehn, and through songs like "Rose in the Devil's Garden", I could sense the inspiration that Tiger Army took from their tenured opening act. When Nick 13 had thanked T.S.O.L. for their influence and specifically Greg for helping them out, all I could think of was the full-circle beauty of music when talents get to work with the people that helped them get to that exact moment, and I would assume that Greg was most excited one out of all four of the people on the stage when he was saying it.
During the encore I finally figured out why these hardcore Tiger Army fans keep coming back to their shows like they're the psychobilly Grateful Dead,the boys end their sets with pantie soakers! I think the mesmerizing Spanish vocals and calming woe's in "Hechizo de Amor "are a spell that Nick 13 puts on the crowd right before he ends the set, and then closing it out with "Anabel Lee" brought back the pick-em-up drums and the pit for all of those that needed to get their fix one last time, even taking a 5 minute singing break to introduce(outroduce?) the band and letting the crowd get a rest before one last chorus.
I'd never witnessed the spectacle of a Tiger Army show before, but now I can see why this cult has turned into an army. As long as Nick 13 can keep a psychobilly-superhero- backup band to roll through their now classic collection of hits, it's safe to say that (you knew this was coming) Tiger Army Never Die.
PHOTO CREDIT: All photos by Stephy Hayward for ZRockR Magazine – ©ZRockR Entertainment, LLC – ALL RIGHTS RESERVED