High Water is the latest studio album from Junkyard, released in Spring of 2017. The group began in the 1980s, and while never one of the most commercially successful bands of their era, they impressed audiences with one of the most wildly diverse sounds of their era. Songs like "Hollywood," "Simple Man," and "All the Time in the World" were minor classics. And while the band initially disbanded in the early 1990s, they reformed circa 2000 and have been rocking audiences ever since.
The current lineup of Junkyard is comprised of vocalist David Roach, guitarists Tim Mosher and Jimmy James, bassist Todd Muscat (brother of classic Faster Pussycat guitarist Brent Muscat), and drummer Patrick Muzingo. Over the years, many of these musicians have played with other (often more popular) acts, but it is great to see them together under the Junkyard banner for the band's latest studio release.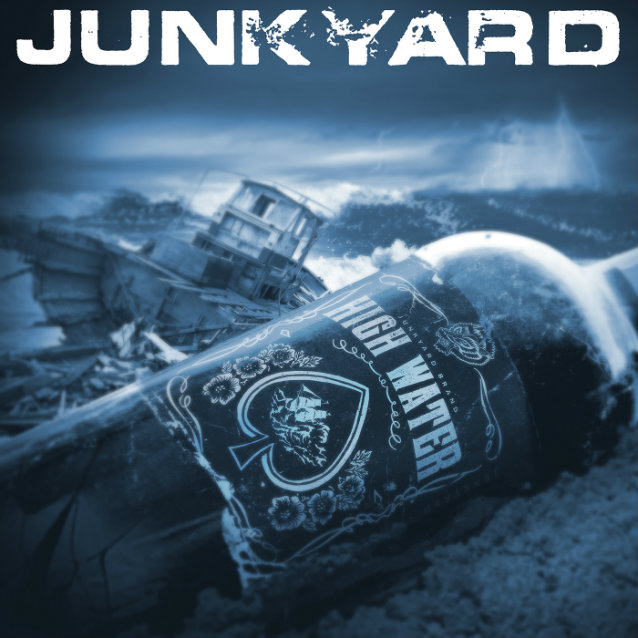 I have listened to sporadic releases from the Junkyard catalogue over the years, and occasionally hear their classic tunes on satellite radio. That said, I came into High Water not quite sure what to expect. With the band's diverse roots and musical styles, this is one band no one will ever fully know what to expect from, and that is not necessarily a bad thing!
High Water features the band at their strongest in years, and much of the album I can liken to a more bluesy, more Southern AC/DC. It sounds like an odd combination, but the results here work surprisingly well. There are traces of other musical elements on this release as well; the level of energy is sometimes more akin to that of a punk band, for example. Junkyard tends to get lumped under the "hair band" umbrella, but they have a far more diverse assortment of styles and influence than many of their contemporaries; the tracks you will hear on High Water stand as solid proof. This is a criminally underrated band, and it is nice to see them back where they belong.
Unpredictable in the best of ways, Junkyard has once again struck gold with High Water. Mainstream rock radio is sure to ignore this album, which is a criminal mistake. This is an album that is well worth adding to your collection, and it comes highly recommended.