Kenny Aronoff has long been making a name for himself as a touring and session drummer, and has become a "go to" name in the industry when it comes to past and present superstars finding the right drum sound for what they are doing. From humble beginnings to playing illustrious ceremonies and gigs all around the globe, this is a man who has a story worth telling. Said story is finally available in Aronoff's autobiography, Sex, Drums, Rock N Roll – The Hardest Hitting Man in Show Business, featuring a foreword by Rush's iconic drummer/songwriter, Neil Peart.
Even if the name does not ring a bell, I assure you, at some point in your life, you have heard a song with Kenny Aronoff drumming on it. His discography is far too lengthy or complex to go into in this review, but his resume include stints with artists like John Mellencamp, John Fogerty, Alice Cooper, Cinderella, Marshall Crenshaw, Melissa Etheridge, Lynyrd Skynyrd, Jon Bon Jovi, Willie Nelson, Bob Seger, and The Smashing Pumpkins. It does not get much more extensive than that.
The book follows Aronoff from childhood forward in his life, from learning the drums in his youth and studying traditional, classical music styles in college, eventually landing a long-lasting gig with the John Mellencamp Band, where his contributions would play a major role for well over a decade. What followed was branching off into music instruction, and well as becoming a very busy session man for countless artists, all the while juggling musical and personal commitments in his life.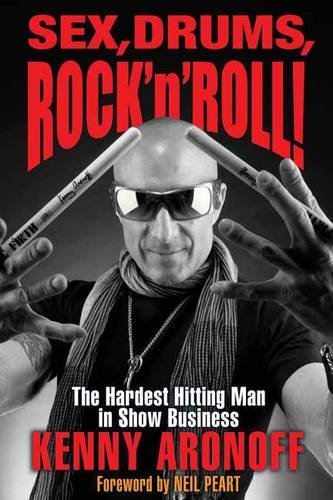 As a die-hard rock and roll fan, I have read many artist biographies, and Kenny Aronoff's story is a respectable addition to them. While there are a few minor errors and issues, at large it succeeds for reasons that include a positive overall message, and emphasis on his career and life above all other things. The title is admittedly a bit misleading; there is very little sex discussed here, but this fan saw that as a welcome change after reading other rock and roll biographies that were bogged down in countless groupie stories and sexual escapades. It is amazing what Aronoff has been through and who all he has played with. This is a man who put his hard work first, and it paid off for him over the years. From small town bar gigs to playing for the President of the United States, there is never a dull moment.
The book runs roughly 350 pages including its discography session, which is surprisingly huge unto itself due to Aronoff's extensive session and touring work, yet the book never feels overwhelming or like it is telling "too much." I appreciate how Aronoff and his collaborators on the book broke things down into smaller, easier-to-digest chapters, which was a welcome change from other rock and roll biographies where someone keeps a single chapter going for 50+ pages. Everything is written well and easy to understand, and keeping things in mostly easy-to-follow chronological order was a smart move as well. Aronoff even states when he was making this book, he had access to extensive notes detailing his tours and sessions, so you know he went the extra mile to make things detailed and informative for the reader; a far cry from many musicians releasing books who were drunk on on drugs throughout their whole careers and might not have the best recollection.
If I have one complaint with the book, it is that there are a few mistakes with information and spelling; as something of a rock scholar/journalist, some of these things jumped out at me. The most gaping example of this (which I can remember off the top of my head) is the book referring to Surrealistic Pillow as Jefferson Airplane's first album, and the lineup that recorded it as the "original" lineup; it was actually their second album, and they had another female vocalist prior to Grace Slick, so it is erroneous to call this the band's original lineup or that their first record (classic lineup would have been a better term to use here). Other errors include claiming the "Day the Music Died" happened in 1958, when it actually occurred in February 1959, and misspelling George Harrison's son's name as "Danny" (it is spelled "Dhani," but pronounced like "Danny.") It would not have hurt to give things one last "fact check" before publishing, but fortunately these things do not detract from my overall enjoyment of the book.
Kenny Aronoff has long been one of the music industry's greatest "hired guns," everyone in the industry knows him for his punctuality, talent, and willingness to contribute to any project, though he sadly tends to live in the shadows of the very artists he contributes to. Fortunately, his story has finally come to light here, and fans will be able to hear what he has given the rock and roll world for the past four decades. The book comes highly recommended to all fans.