As the voice of the Vinnie Vincent Invasion and Slaughter, Mark Slaughter forged a name for himself as one of the rock and roll world's top vocalists in his heyday. He continues to do his thing, having released a solo album, Reflections in a Rear View Mirror, a few years back. With Halfway There, Mr. Slaughter has given audiences his second solo release. Does lightning strike twice for the Slaughter frontman?
For Halfway There, Mark Slaughter is joined by a band that includes Josh Eager, Jaymi "Pink Bassman" Millard, and Bill Jordan, with Slaughter himself producing and engineering the release. The album was released on EMP Label Group, the label owned by Megadeth bassist David Ellefson. Naturally, longtime fans of the iconic vocalist are wondering about what to expect from the Slaughter frontman's latest album.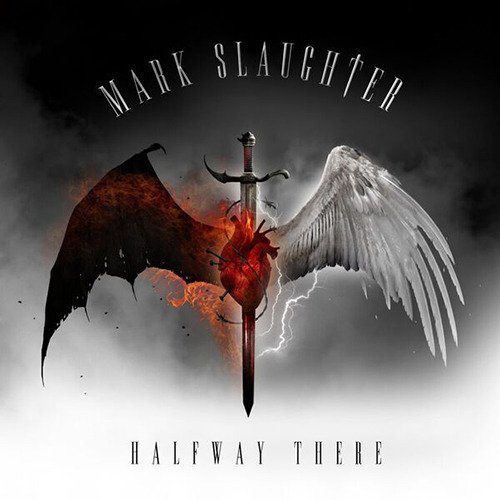 Let me be the first to tell you that Halfway There kicks ass. It seems like when many of these musicians from iconic bands go solo, the releases end up being cash-ins that fail to live up to the hype. And with Mark Slaughter's second release, that could not be farther from the truth. While I enjoyed Slaughter's first solo record (and wrote a glowing review for it), I will be the first to admit that the second one feels more like a "real" Slaughter album, which will be a welcome change for fans of the man's most classic era.
The straight-up rock tracks on here, including opener "Hey You," sound like they would have been right at home on Slaughter's 1990 debut, Stick it to Ya, and this fan cannot think of greater praise than that. From rockers to more melodic, bluesy tracks, and even ones that borderline on the power ballads of the band's glory days, there is plenty to love about this release. The diversity of the album shows throughout its duration, with everything from the Alice in Chains-esque "Conspiracy," to "Disposable," which features Beatles-esque vocal harmonies.
Halfway There is the total package, and shows fans that Mark Slaughter is still going strong, giving audiences the album they have been waiting for. Definitely more of a "classic" Slaughter style album than his first solo release, this is the one that fans want. Very highly recommended!