40 years after putting out their first album, Cheap Trick shows no signs of letting down, and that is not necessarily a bad thing. Classic members Robin Zander, Rick Nielsen, and Tom Petersson are still making great music, proving to the fans that age is just a number. With Bun E. Carlos no longer behind the drum stool, Rick's son Daxx Nielsen has stepped up to the plate, his first release with the band having been last year's Bang Zoom Crazy Hello, which I proudly declared one of the best releases of 2016. To see the group follow up that record a mere year later was certainly a surprise, albeit a welcomed one.
–
We're All Alright is studio album number 18 for these rock icons. The album is being sold as a "regular" edition with three bonus tracks, in addition to the main 10 tracks that comprise the album. It has only been a year since their last album, but does lightning strike twice for these boys from Rockford, Illinois?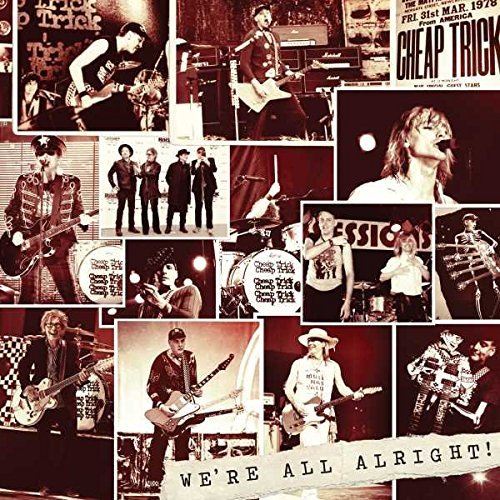 –
Cheap Trick's most admirable trait is that, over 40 years, it has always been about the MUSIC. This is not a group that has had vicious legal battles and tabloid scandals; something I admire and respect them for all the more (how many bands/artists can you say THIS about?) These guys have always put their music before all other things and, even though there have been a few musical missteps along the way, there are far more hits than misses. And while I would not say that We're All Alright reaches the same highs as last year's Bang Zoom Crazy Hello, it is still a damn good addition to their already sizable and impressive catalogue.
–
From the beginning here, Cheap Trick makes it clear that the album title is more than just a gimmick, in fact, they're better than simply "alright." Rick Nielsen's distinctive riffs remain the focal point of nearly every song, with amazing vocal work form the always impressive Robin Zander; I swear, this guy's voice does not age at all. There are harder rocking tracks on the album, and stuff more atypical of the "power pop" sound the group became famous for so many years ago. There are orchestral overdubs that would not have been out of place on the Dream Police Record, riffs reminiscent of classic rock anthems, and even a solid, melodic ballad in the form of "Floating Down." But the best thing I can say about this album? It's actually FUN to listen to.
–
The Deluxe Edition of the album with the three additional studio tracks includes two original songs plus a cover of ELO predecessor The Move's "Blackberry Way" (Cheap Trick had previously covered another song from The Move in the 1970s, "California Man.") These tunes are all superb; in particular the "Blackberry Way" cover, which should have been put on the "normal" release as a regular track; it marks one of the group's strongest recordings in years.
–
Cheap Trick has impressed time and time again, and their latest album proves to be no exception. While I still don't think this one quite tops Bang Zoom Crazy Hello from last year, it is a damn good effort that is worthy of a spot in the collection of any fan of the band and/or classic/melodic rock/power pop in general. Highly recommended!