It is that time again, in which we take a look back at 2016's best releases and concerts! While this year certainly had its share of dry spots (particularly in the summer months) compared to the past several, there was still more than enough to entertain and impress the fans. Local, national, and international talent are all going strong, further proving just how much of a rock and roll city Las Vegas remains.
We will get to the five best albums and five best concerts of the year soon, but before that, a number of other "Best Releases" in their respective categories! Note that for the purposes of "Best Album by a Local Band," releases from national/international acts that started in Vegas are excluded, as are bands based out here featuring musicians that played to worldwide audiences on tour back in the day.
Unless otherwise specified, I have reviewed all albums/concerts/etc. listed in this article. Links to the more detailed respective reviews have been included throughout; simply click on them if you are interested in learning more about a particular item!
Best Reissue of a Classic Album
Metallica: Kill 'em All and Ride the Lightning Deluxe Box Sets (not reviewed)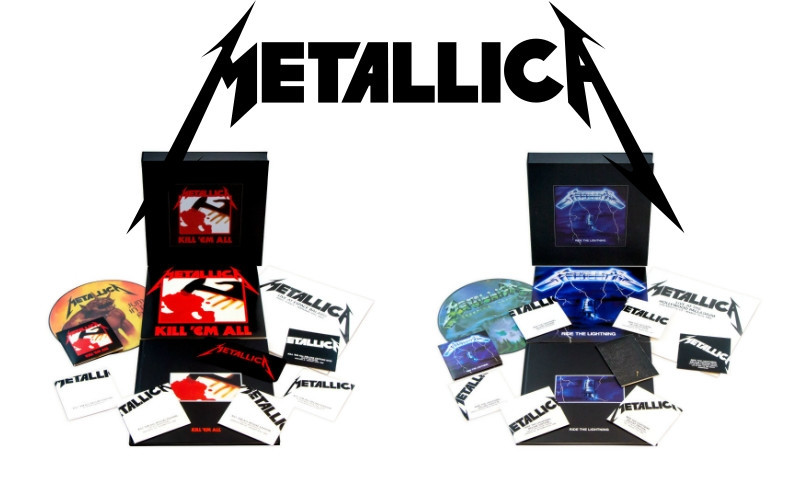 The Metallica catalogue has long been overdue for reissue, and as such, these sets are a fan's dream come true. They are both a bit on the pricey side, but upon seeing the sheer treasure trove of goodies included, including old demos and rare vintage performances, with content on LP and CD alike, those fans are going to be in heavy metal heaven. Here is hoping the next two albums in the Metallica discography get similar treatment in the near future!
Best New Live Release
Michael Schenker's Temple of Rock: Live in Madrid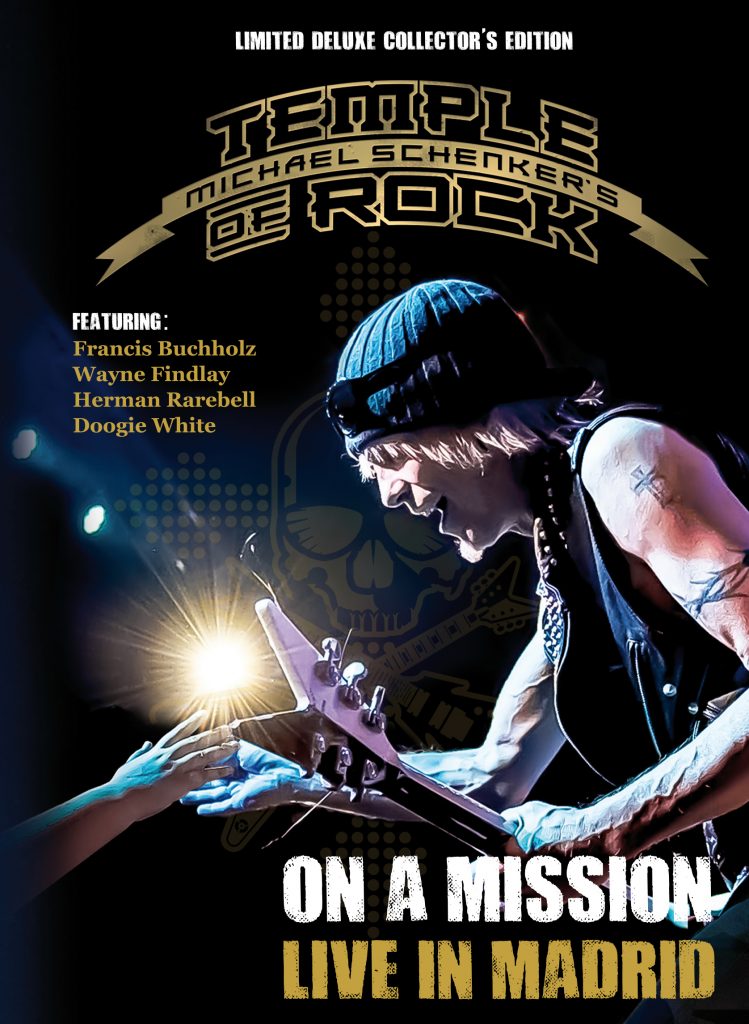 If you have not been able to decipher it based on my previous reviews, this fan is enthralled by Michael Schenker's latest band, Temple of Rock. The classic Scorpions rhythm section. Former Rainbow singer Doogie White. The multi-talented Wayne Findlay. With a mix of classic and current Schenker tunes, this live concert filmed last year in Spain is everything a fan could hope for and then some. If you are at all a fan of Mr. Mad Axeman himself, do not hesitate to add it to your collection. The home video Blu-ray Disc also comes strongly recommended.
Best New Live Release of Vintage Material
The Beatles: Live at the Hollywood Bowl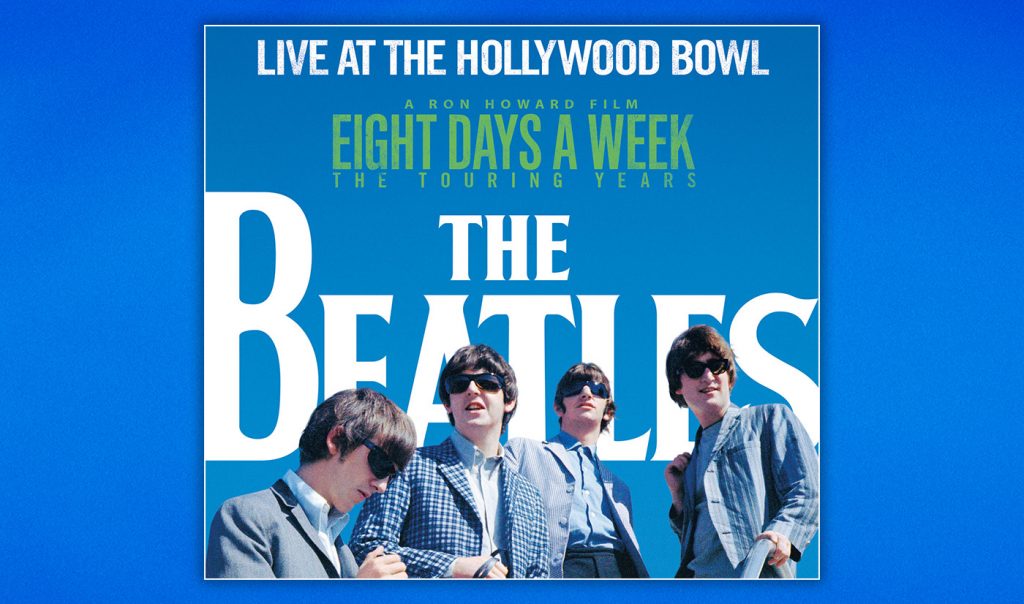 Whether this counts as a "new release" is debatable; it was released on vinyl back in the 70s, but never modern formats. However, with Giles Martin and his crew remixing and remastering it from the ground up, and even adding some previously unreleased bonus cuts, plus the fact that it is the album's first CD release, there is certainly enough ground on which this could be called a "New Live Release of Vintage Material." This is John, Paul, George, and Ringo at their youthful best on the stage of one of the most legendary venues at the height of their touring popularity, in both 1964 and 1965 (elements of concerts from both years are used). If you are at all a fan of the Fab Four, there is no reason not to own this.
Best New Live Release of Vintage Material Honorable Mention
Bad Company: Live 1977/1979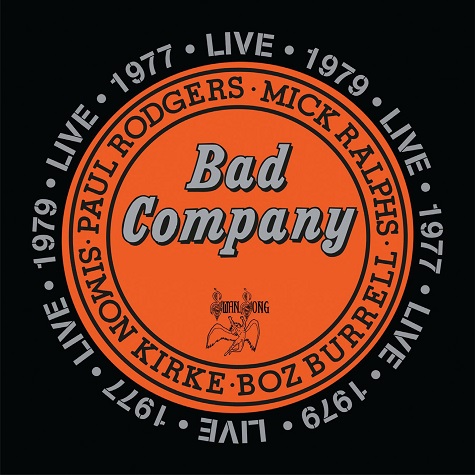 This one deserves a mention since classic Bad Company is criminally underrepresented when it comes to live releases (there was a "Live in Albuquerque 1976" release from about 10 years back, but it was pulled off the market, apparently for legal reasons). This release fills that long overdue void, with two concerts featuring the classic lineup of Paul Rodgers, Simon Kirke, Boz Burrell (RIP) and Mick Ralphs. You cannot go wrong here with energetic renditions of the band's best material, plus a few unexpected surprises.
Best New Studio Release of Vintage Material
Blackthorne: Don't Kill the Thrill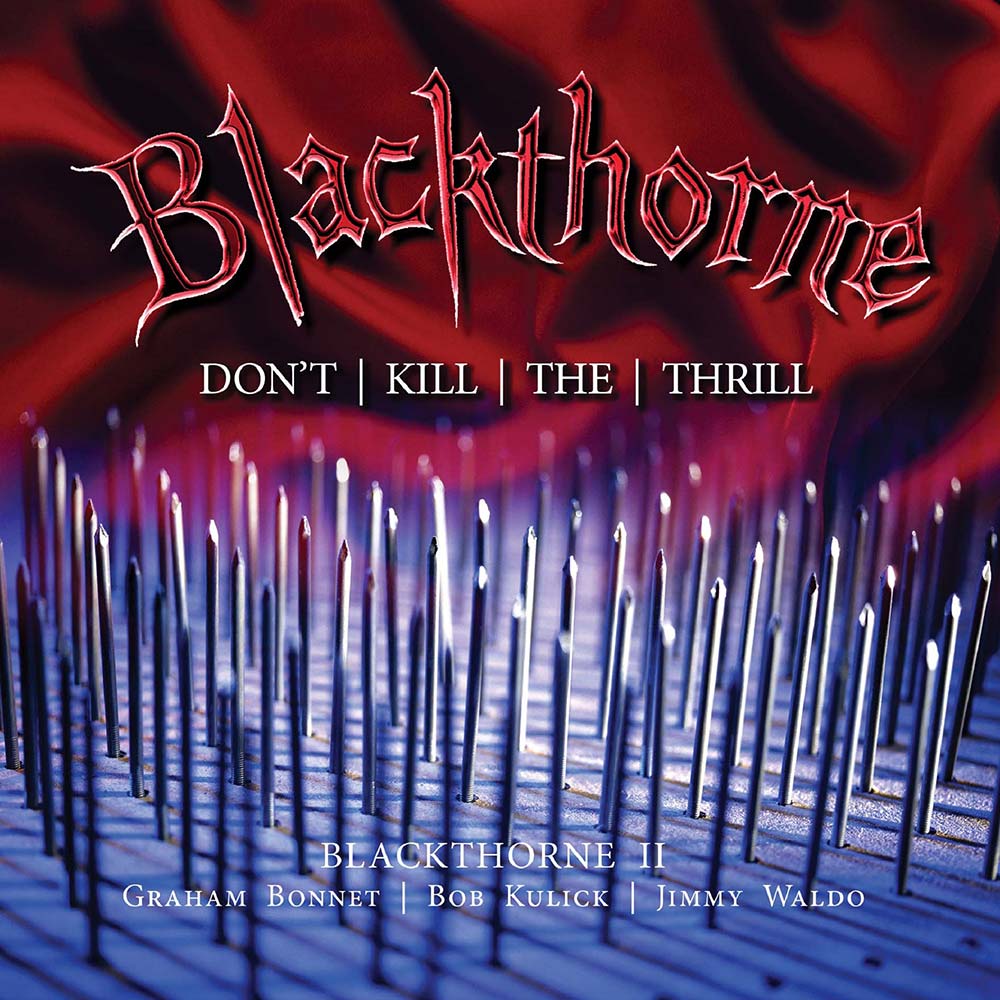 This underrated supergroup featured Graham Bonnet (Rainbow, MSG, Alcatrazz), Jimmy Waldo (Alcatrazz), and Bob Kulick (KISS, Balance). Quiet Riot members Frankie Banali and Chuck Wright were also involved. More gritty and modern but never sounding like a "sell out" by giving in to the grunge trends of the days, this was a kick-ass band. They put out one album officially back in the day, but had a second shelved one that finally saw release this year! As if that alone wasn't good enough, we get an entire second disc's worth of bonus material, including live cuts. Do you like any of these musicians? If so, it is unlikely you will be disappointed in what you hear here.
Best New Rock Documentary
Hair I Go Again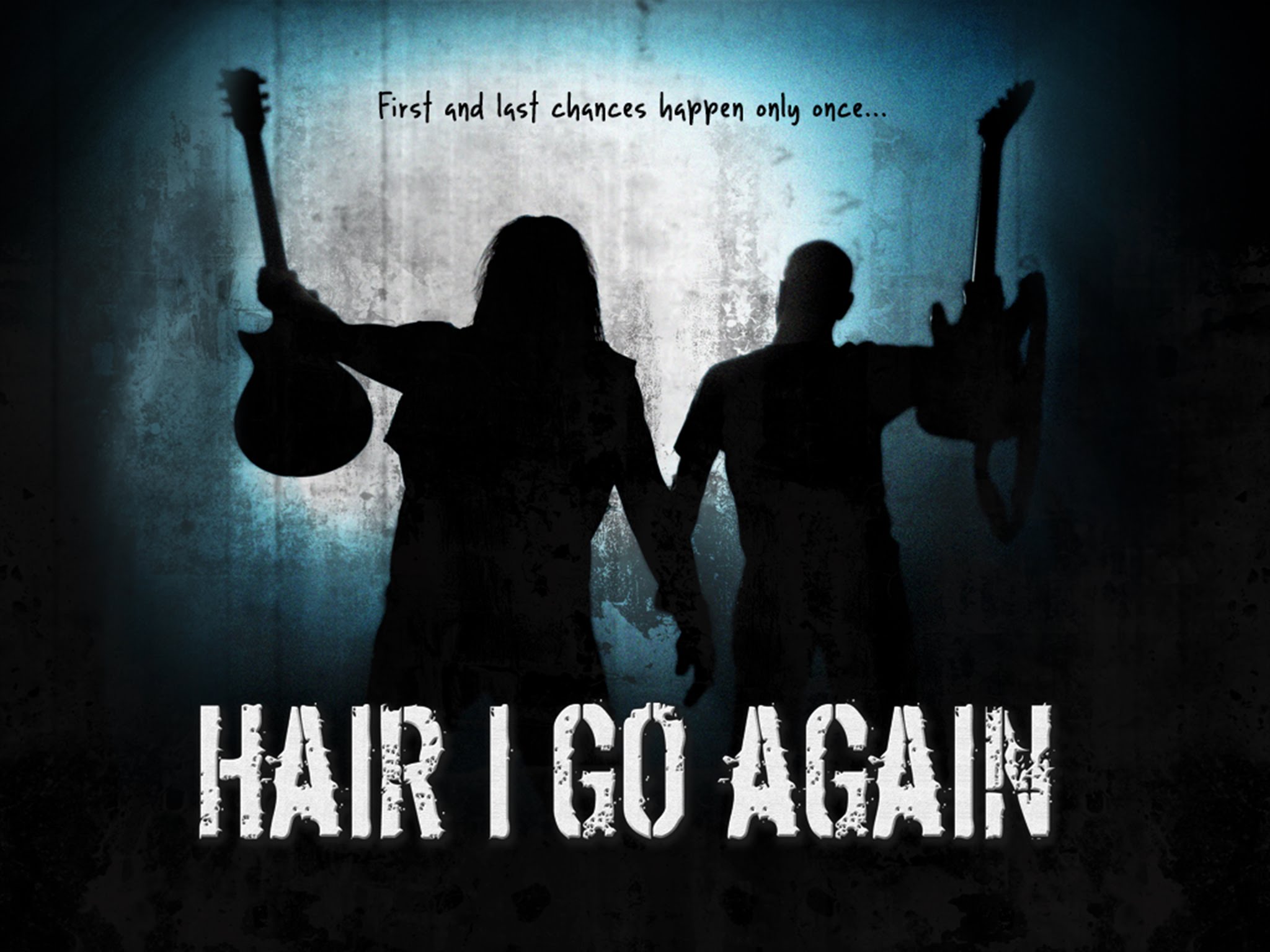 This one has been in the works for years, and it is finally out! Part Spinal Tap, part Decline of Western Civilization Part II, it is both moving and hilarious to see this pair of middle aged men incurring a midlife crisis attempting to put back together their old band from the 80s. Ranging everywhere from emotional and tear-jerking to laugh-out-loud funny, this one is going to hit close to home for anyone who has ever had dreams of rock stardom.
Best New Rock Book
Carmine Appice: Stick It! My Life of Sex, Drums, and Rock N Roll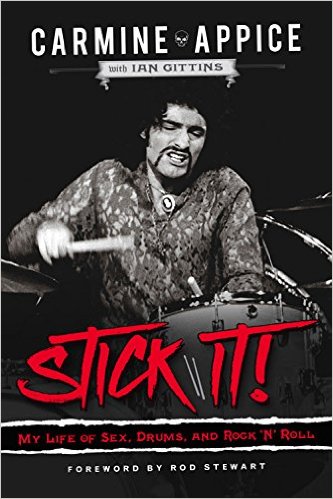 Given his prowess in the music industry and his reputation throughout it all, it is a surprise that Mr. Appice had never written an autobiography prior to 2016. And now that it is here, let me be the first to say it does not disappoint in the least. Learning about his early life and struggles off the stage is just as interesting as the "band" stuff. Not to mention there are a few moments in here that are outrageously comical that had this fan in stitches. Co-written by Ian Gittins, the same man who co-wrote Nikki Sixx's much acclaimed The Heroin Diaries, I have no reservations in calling Stick It! the best rock and roll autobiography I have ever read. Not too long, not too short, this is an instant classic. Fans of this drum legend owe it to themselves to pick this one up.
Best Local Artist Release
TailGun: Comin' in Hot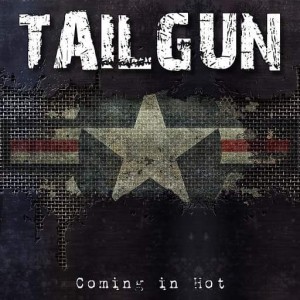 What if there was a band that more or less went back to basics and played good old fashioned bluesy hard rock the way it was meant to be heard? Ranging from classic to modern sounds, and complete with raunchy, Spinal Tap-esque lyrics on many of the tracks, this group, featuring musicians including former Aces High singer Dru Jaxin and former BlackBox13 drummer Todd Turgeon (who unfortunately left the group prior to the publication of this article), has quickly become one of my favorites on the local scene. Check out their album and you may be pleasantly surprised by what you hear!
Best Album by a Local Artist Honorable Mention
CC Storm: Passionately Angry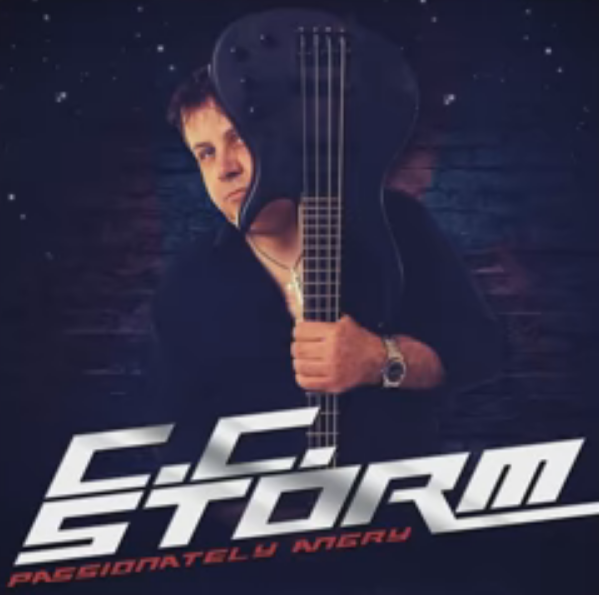 Another "late in the year" surprise for this rock and roll fan, this time around from one of my favorite local Vegas-based performers. I have seen this guy play out here for years, and it is great to finally have his solo album, featuring everything from hard rock to Elvis Costello-esque pop tunes. It is a bit on the uneven side, but is a great overall listen. Looking forward to more work from this guy down the road!
Before we get on with the top five albums, a few honorable mentions. For the purposes of the "Albums" portions of this list, album is defined as a release of new original studio recordings from an artist. It does not include live albums, compilations, new releases of vintage material, or anything of the sort; material falling under those categories was covered above.
Best Album Honorable Mentions (no particular order)
Megadeth: Dystopia

As much I love Megadeth, the material that they have recorded since their 2004 reunion has been a bit spotty at times. Not the case on their latest record. While not necessarily the strongest material they have ever recorded, the band's 15th studio record may very well be their heaviest. That alone is worth the price of admission.
Anthrax: For All Kings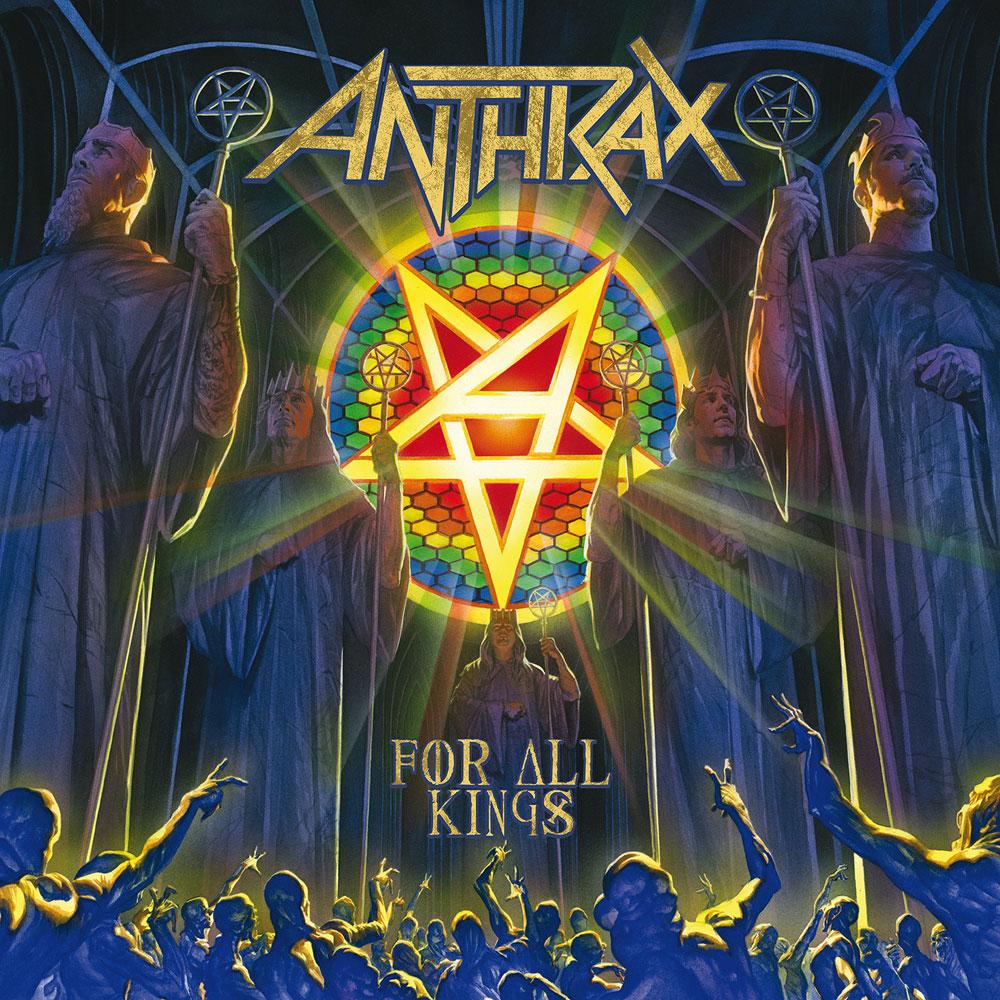 Scott Ian, Joey Belladonna, and all the rest have made a major comeback with their latest album, which is easily their finest release since their 80s heyday. If you are at all a fan of this band, their latest ranks as a solid one worth adding to your collection.
Jim Breuer: Songs from the Garage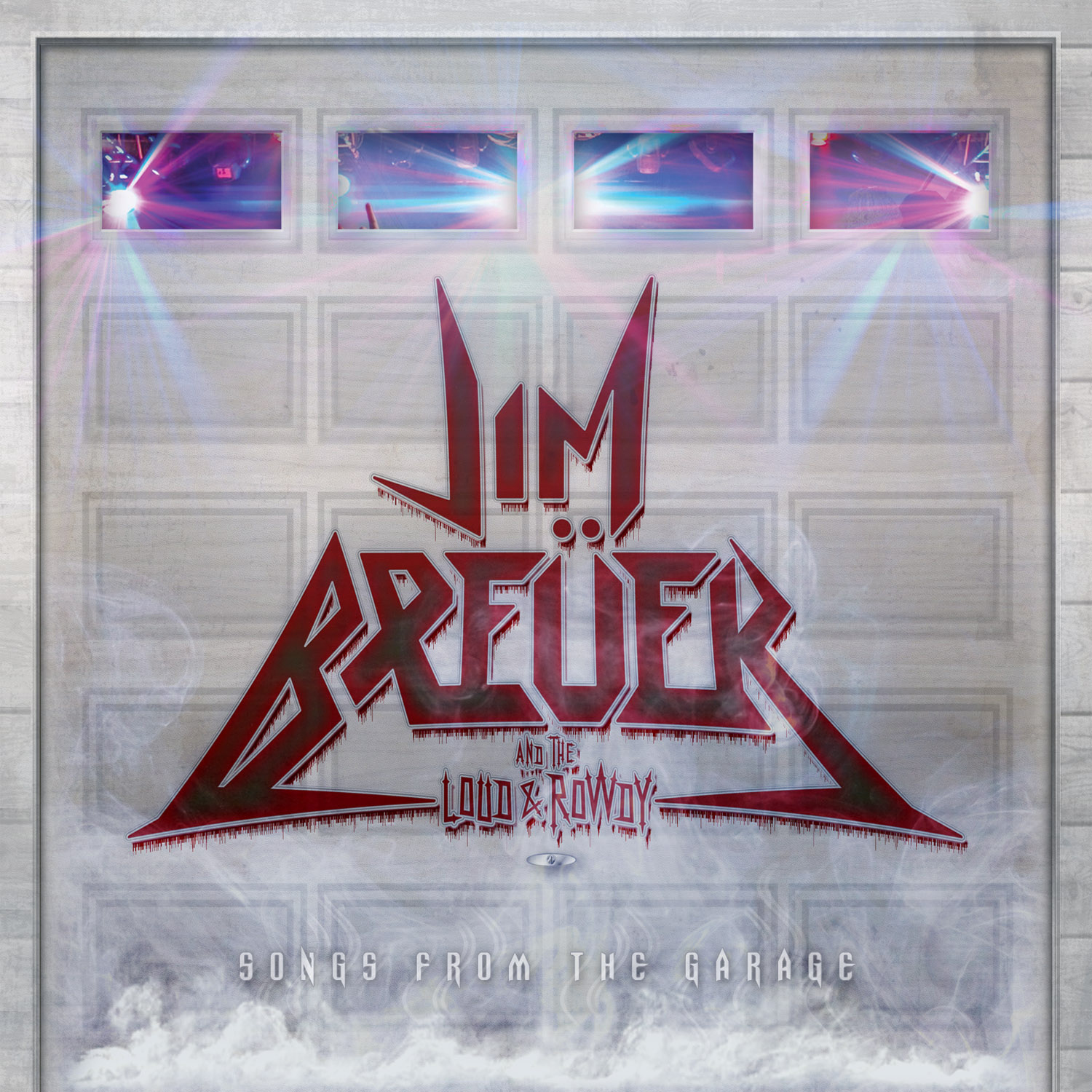 Comedian Breuer has long been a favorite of those looking for something to get them laughing… and he surprised audiences this year with his first ever MUSIC album! It rocks hard, but retains Breuer's signature sense of humor and comedy. Did I mention Brian Johnson of AC/DC is a special guest? This record was a total and unexpected surprise, but it is far better than you would expect!
Jim Crean: Insatiable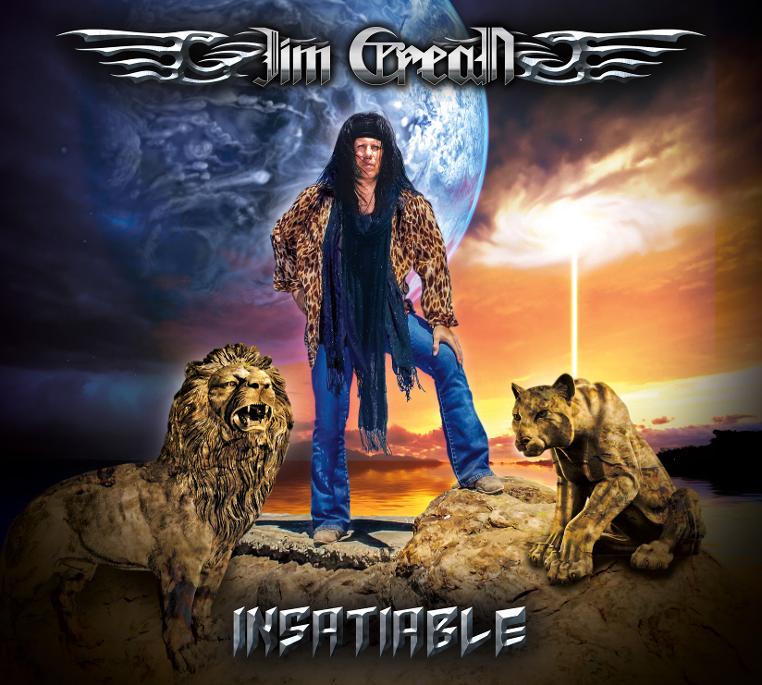 I first discovered this guy from his being the vocalist in the Appice Drum Wars. But he also has other side projects and solo albums that should not be overlooked. A myriad of guest stars can be found here, ranging from LA Guns vocalist Phil Lewis to That Metal Show co-host Don Jamieson! A mix of cover songs (many of which feature original musicians that played on the songs) and originals can be heard here, and everything is solid. It also features one of the final recorded appearances of late, great Rainbow/Dio bassist Jimmy Bain.
Count's 77: Soul Transfusion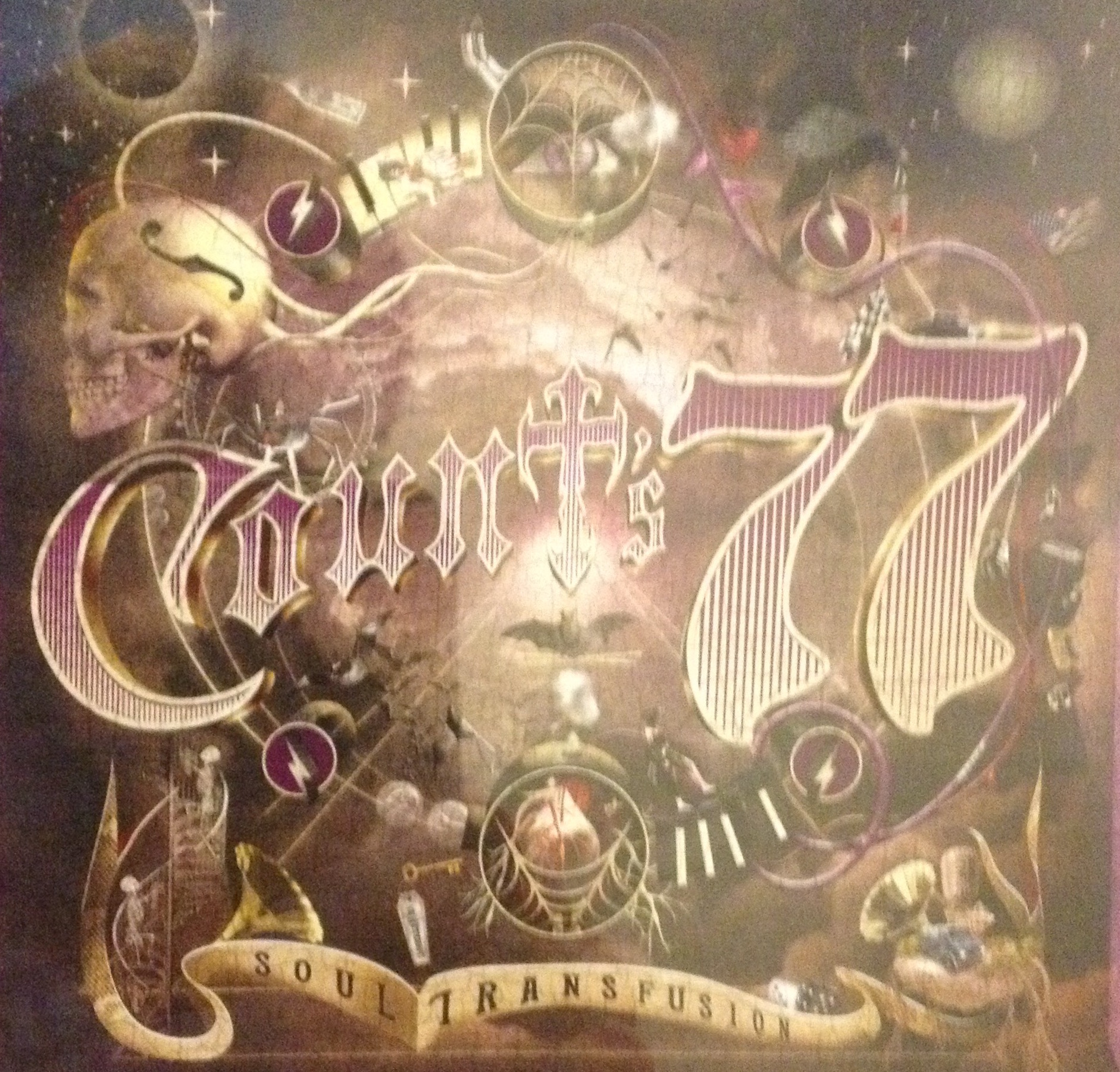 The first Count's 77 record was great (and was in fact included in my Best of the Year for 2014), though in retrospect that release felt like it was half Count's 77, and half Stoney Curtis solo album (not necessarily a bad thing). The new record is definitely a more unique release, with a great retro feel, featuring some amazing songs and killer playing from the musicians. This band is way more than just "that band with the guy from Counting Cars singing."
Sin City Sinners: Let it Burn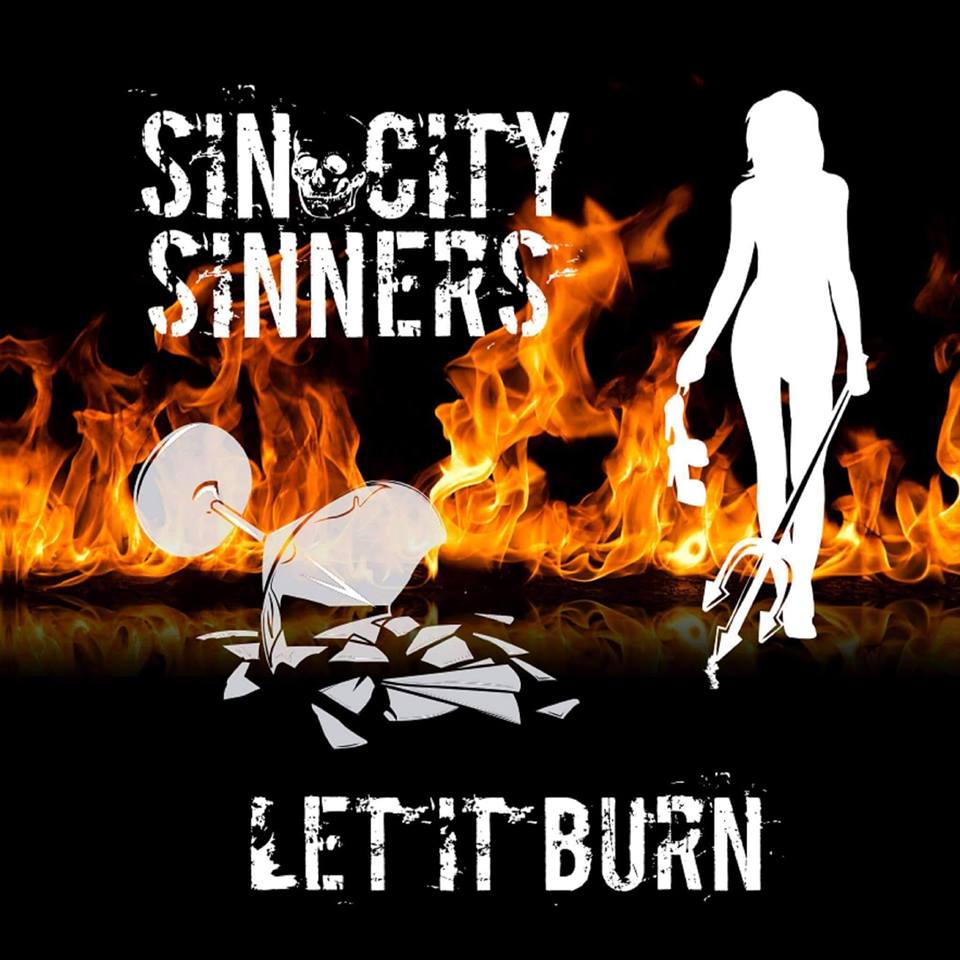 By far the most bittersweet item on this list. This was the sixth and final release from the Sin City Sinners, and features the best songwriting and performances from the group ever captured on an album (something I never thought I'd be saying about one of their releases following Brent Muscat's departure). The original material on here beautifully demonstrated this was no mere "cover band." I will not go into the details of what conspired amidst the band following the release; there have been enough random articles on that already. Just pick this one up and enjoy it for what it is; a fantastic final effort from Vegas' finest.
Graham Bonnet Band: The Book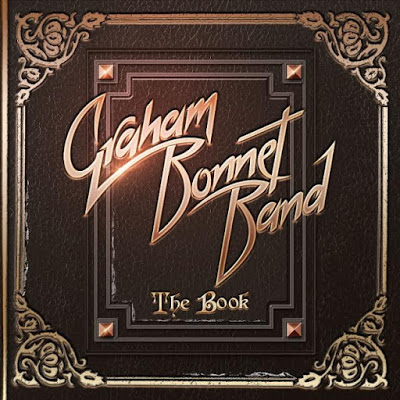 Another major comeback this year came in the form of legendary vocalist Graham Bonnet (Rainbow, MSG, Alcatrazz, etc.) who brought his own breed of rock and roll back to the forefront. We got a single and a live EP from Bonnet last year, but now at last, we get a full length album from the iconic singer, featuring a disc of new compositions, and rerecorded/reworked versions of songs he did with older groups. This is definitely essential listening.
Michael Sweet: One Sided War

The Stryper frontman beautifully demonstrates that he is a forced to be reckoned with, with or without the Yellow and Black Attack in his corner. Sweet's solo discography is bigger than you may expect, and there are many underrated gems to be discovered. Do not overlook his latest effort; it is definitely one of his best yet!
And now, without further ado, the Best Albums of the Year!
5) Inglorious: Inglorious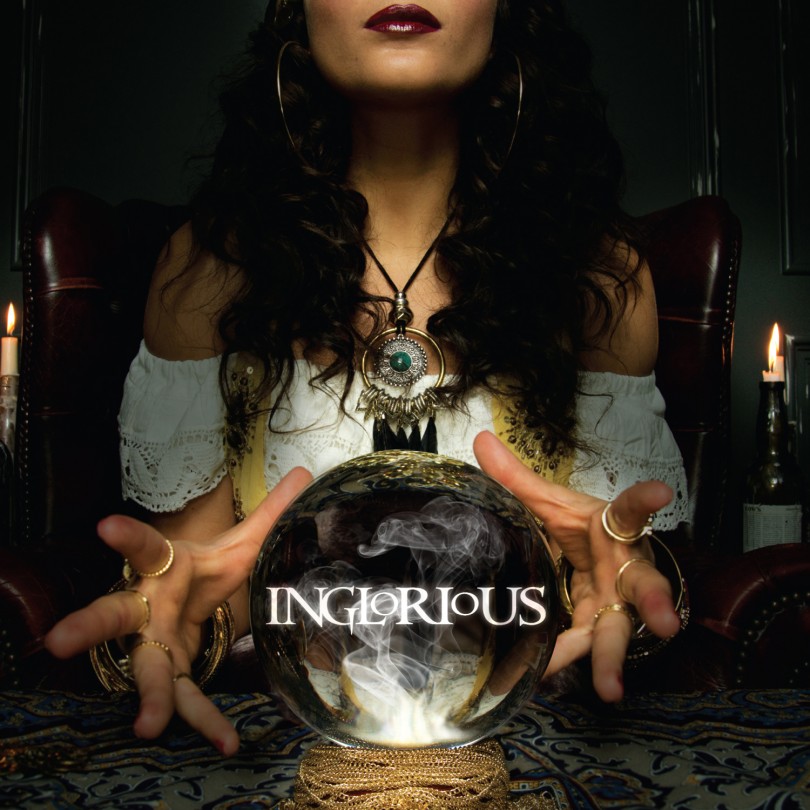 There has been a lot of new talent coming this way lately, and Inglorious was easily the one amongst the new bands that definitely left the biggest and best impression on this classic hard rock and heavy metal fan. Drawing their influences from the best in classic hard rock but certainly putting their own spin on things as well, they are as much the spiritual successors to Coverdale-era Deep Purple as they are their own unique product. Do not make the mistake of overlooking this release!
4) Dead Daisies: Make Some Noise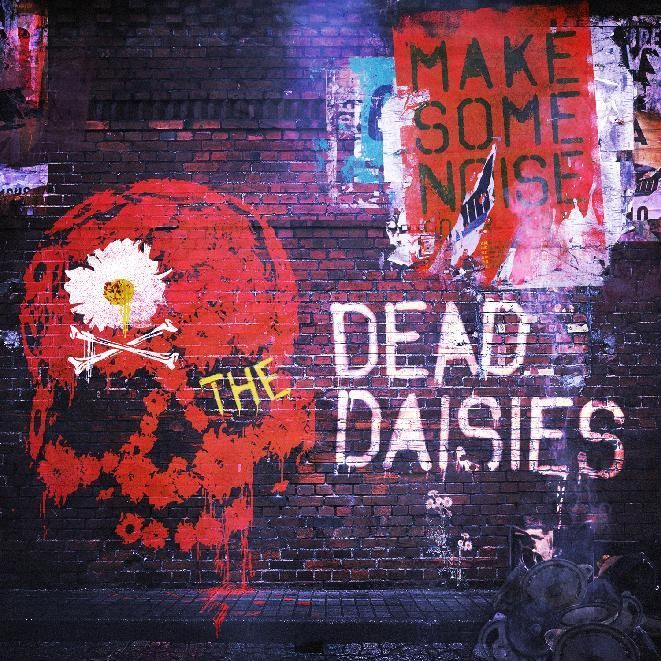 You have John Corabi, Doug Aldrich, and Brian Tichy together in one band. Is a further explanation even really required here? This is a great release of classic and modern sounds alike, and the group even does the audience one better and throws in some surprisingly entertaining cover songs. All of these musicians have been on fire for years in their respective groups, so getting a new Dead Daisies album that brings them together is a dream come true. Any fan of any of these musicians will want to take a look.
3) Cactus: Black Dawn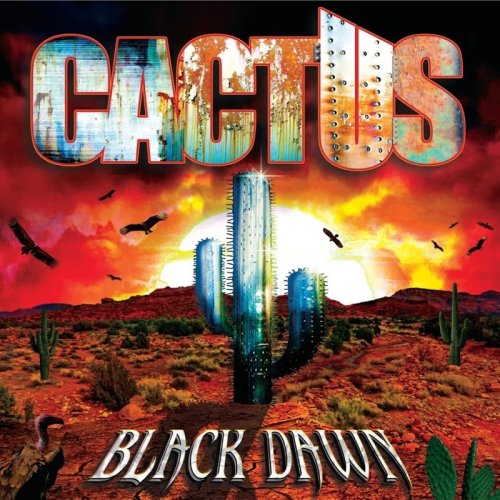 Yes, this is "that old Carmine Appice band from the 70s." As the first release under the Cactus name in nearly a decade, it is one I came into with a sense of skepticism. But Appice and company deliver the goods, with a lineup that combines old and new members, delivering some of the best material they have ever done. Classic hard and bluesy rock; the original incarnation of this group was once hailed as "America's Answer to Led Zeppelin." Exactly how true that is remains debatable, but one thing I remain certain of is how excellent this release is. Carmine Appice is a man that shows no signs of letting age catch up with him, and you need only give this one a listen to see that for yourself.
2) Cheap Trick: Bang Zoom Crazy Hello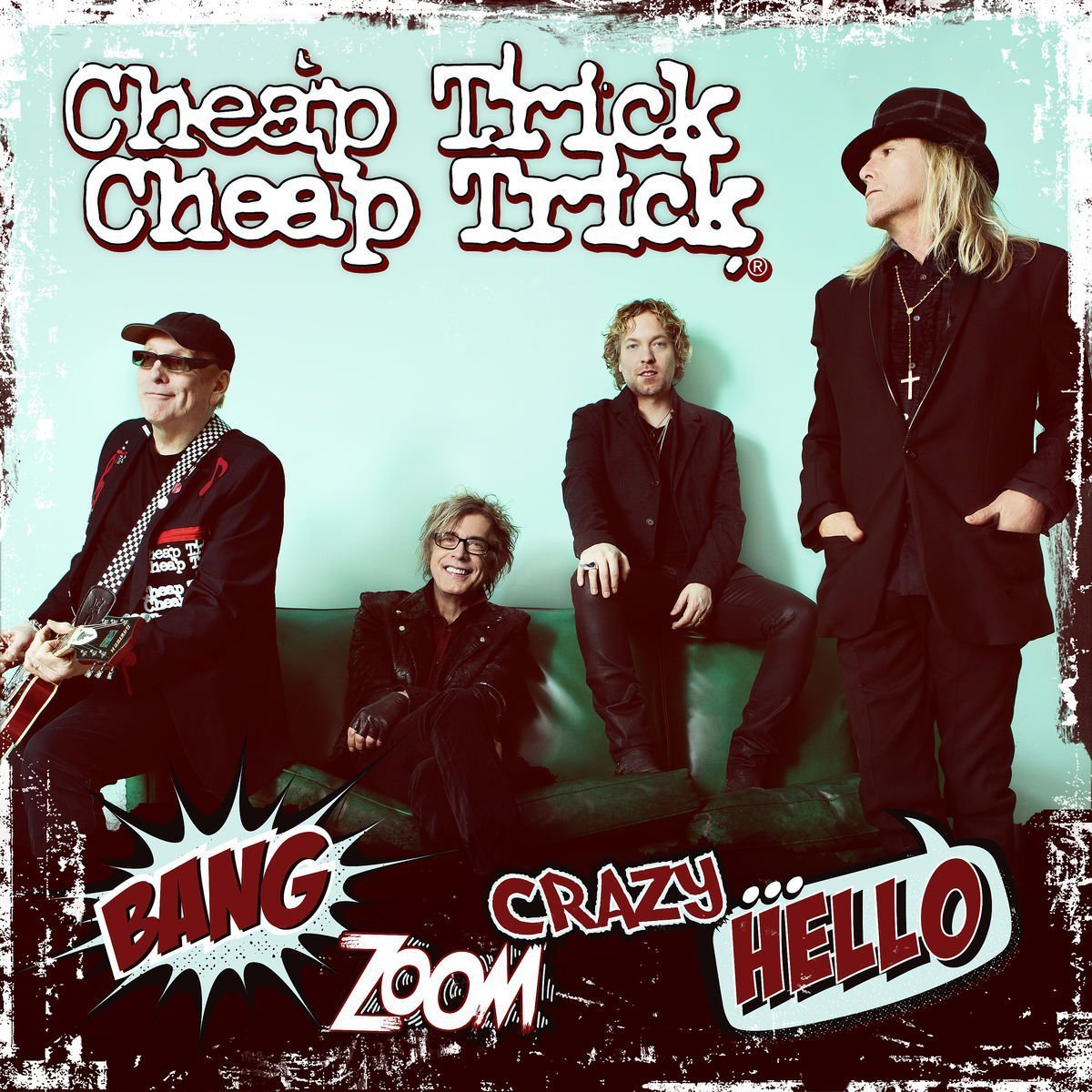 The first Cheap Trick album came out in 1977. It is now nearly four decades later, and these boys from Rockford, Illinois are still making music that ranks amongst their best work. There are great power pop numbers on here, melodic ballads, hard rockers, and everything that you have come to love from the group. Longtime veterans of the band Robin Zander, Rick Nielsen, and Tom Petersson are joined by Rick's son Daxx Nielsen on drums, replacing Bun E. Carlos (Nielsen the Younger has been drumming for the band at live shows for the past several years). These may very well be the best Cheap Trick recordings in the past two decades. If you are at all a fan, you will not be disappointed in the new album.
And now, the number one album of the year…
Punky Meadows: Fallen Angel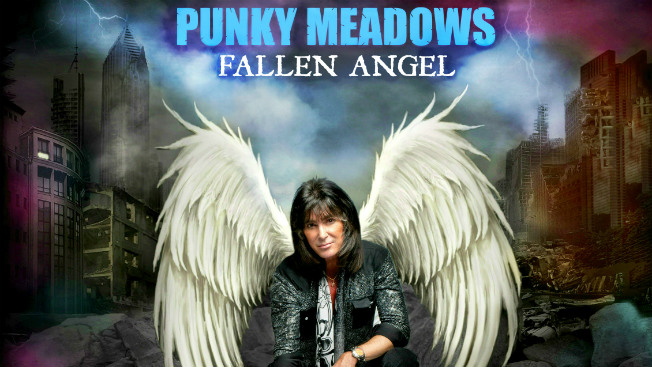 Meadows has been largely quiet since the disbandment of Angel circa 1980, but he makes a comeback here that is a force to be reckoned with. Complete with a spoken word intro reminiscent of those in old Angel concerts, and a great mix of melodic tunes, power pop, hard rock, more modern songs, and everything in between, Meadows' new band, which includes fellow former Angel member Felix Robinson on bass, kills it on every single track. The album is a bit overlong, but when the music is this good, you will not mind or care. This Fallen Angel has risen, and his long awaited solo album easily wins the title of Best Album of 2016, in the eyes of this longtime rock and roll fan.
Now, Mr. Meadows, get on with that Angel reunion!
And now, we move on from albums to shows! A few basic rules before we move on with this part of the process. Nothing has really changed in this regard since last year, but all of this needs to be made clear before advancing any further:
First and foremost, despite my rather enthusiastic and frequent concert attendance, I cannot be at every single show that goes on in Vegas. If you are asking me why a particular show did not make the list, the reason is likely "because I was not there!"
Secondly, this list is ONLY for traditional concerts. It does not include awards shows, charity fundraisers, stage shows performed regularly, musicals, stage plays, spoken word events, comedy events, parties, outdoor festivals with countless bands, multiple day festivals/events, album release parties (unless they are a regular concert as well) and so forth. Events like this typically have larger budgets and ensemble casts, and for this reason, they would have an unfair advantage in many cases.
For the purpose of rating a best "Local Artist," only musicians who primarily play in the Vegas Valley are included. The category does NOT include established global artists who came from Las Vegas (Slaughter, The Killers, etc.) nor does it include locally based bands comprised of established musicians who had regularly toured the nation/world in the past (Sin City Sinners, Vinyl Tattoo, etc.)
It also needs to be made clear that I have limited connections and resources, and regularly am not approved to cover a show despite my desire to do so (this is typically more an issue of the larger venues). This must be kept in mind when viewing the list; that is why you will not see many "arena" shows on here.
Best Performance of the Year by a Local Artist
Carol Lyn Liddle's Herstory of Rock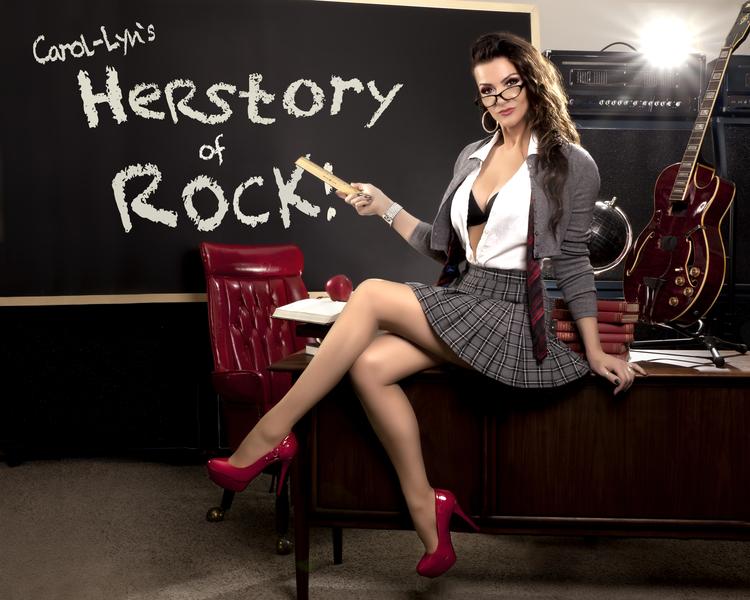 One thing I am proud to say about the Las Vegas music scene is that there are plenty of women who rock. And someone who has been proving this for years is Carol-Lyn Liddle. Chances are you have seen her fronting the former Aces High Iron Maiden tribute, as a singer in Raiding the Rock Vault, or with the Legends of Rock show. Fortunately, this is a woman that keeps busy and gives an enthusiastic audience what they want. Part history lesson, part rock and roll show, this is a great way of paying homage to several decades of female fronted rock. While there are costume clad dancers and usage of video screens to get the point across, this is certainly no "stage show." It is one of Vegas' top singers doing what she does best, and putting it to good use. You owe it to yourself to catch one of these performances.
(Note: The linked review above for Herstory of Rock is for the premiere show at Santa Fe Station from July 2016.)
Best Performance of the Year by a Local Artist Honorable Mention
TailGun, Cyanide, and Winter's Call, Vamp'd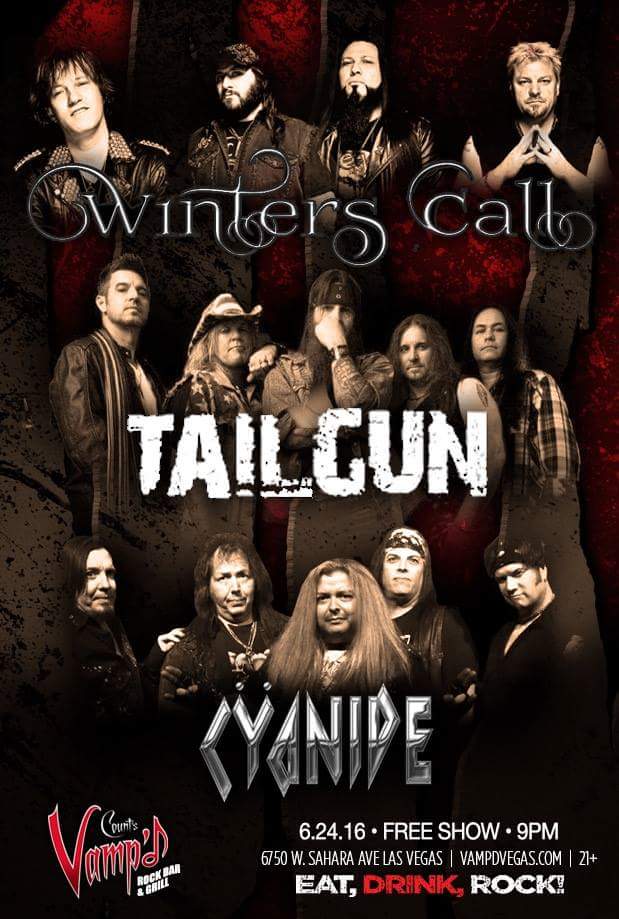 What happens when you get some of the best in Vegas rock and roll talent together for one fantastic night of classic hard rock and heavy metal? Put simply, a damn good time. If you have read any of my past reviews/comments/etc, you know that the old school sleaze of Cyanide, and TailGun's "back to basics" approach of bluesy hard rock, have won me over and then some. The night also featured a great performance from Winter's Call, featuring musicians like Jason Constantine and Danny Wilde, covering some of the best in classic hard rock. It was an all around good night for any fan of these musicians/bands!
And before we get on with the rest of the best, a few honorable mentions.
Best Show Honorable Mentions (no particular order)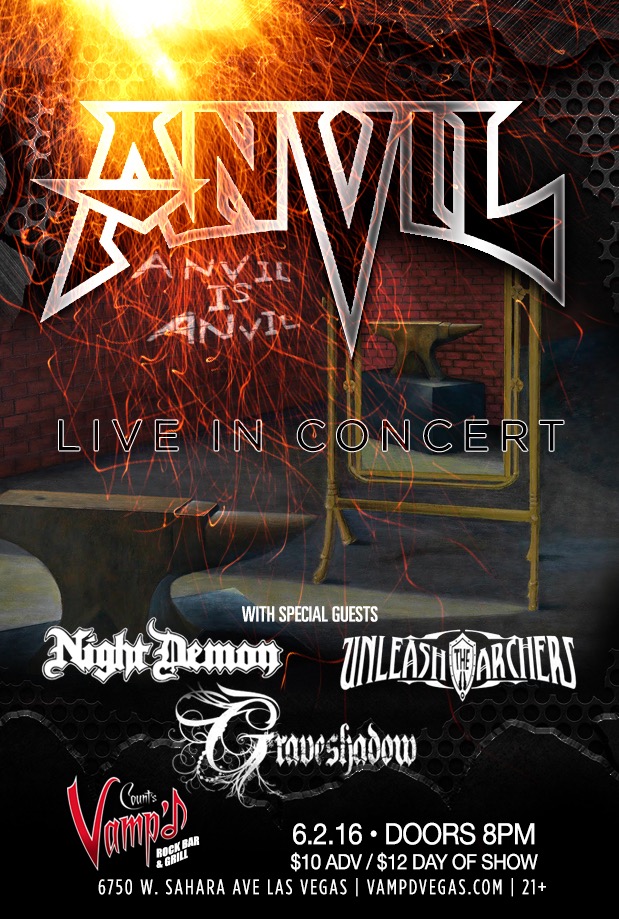 I had longed to see Anvil for years, and finally got my wish in 2016! This eccentric Canadian band is one that has been impressing fans for decades, even if mainstream success eluded them compared to many of their peers. Likewise, getting to see them alongside Night Demon, a modern band that is California's answer to the New Wave of British Heavy Metal, only sweetened the deal. Some up and coming acts opening the show helped to ensure that this was one of Vegas' best nights of heavy metal this year.
World Classic Rockers, Cannery (not reviewed)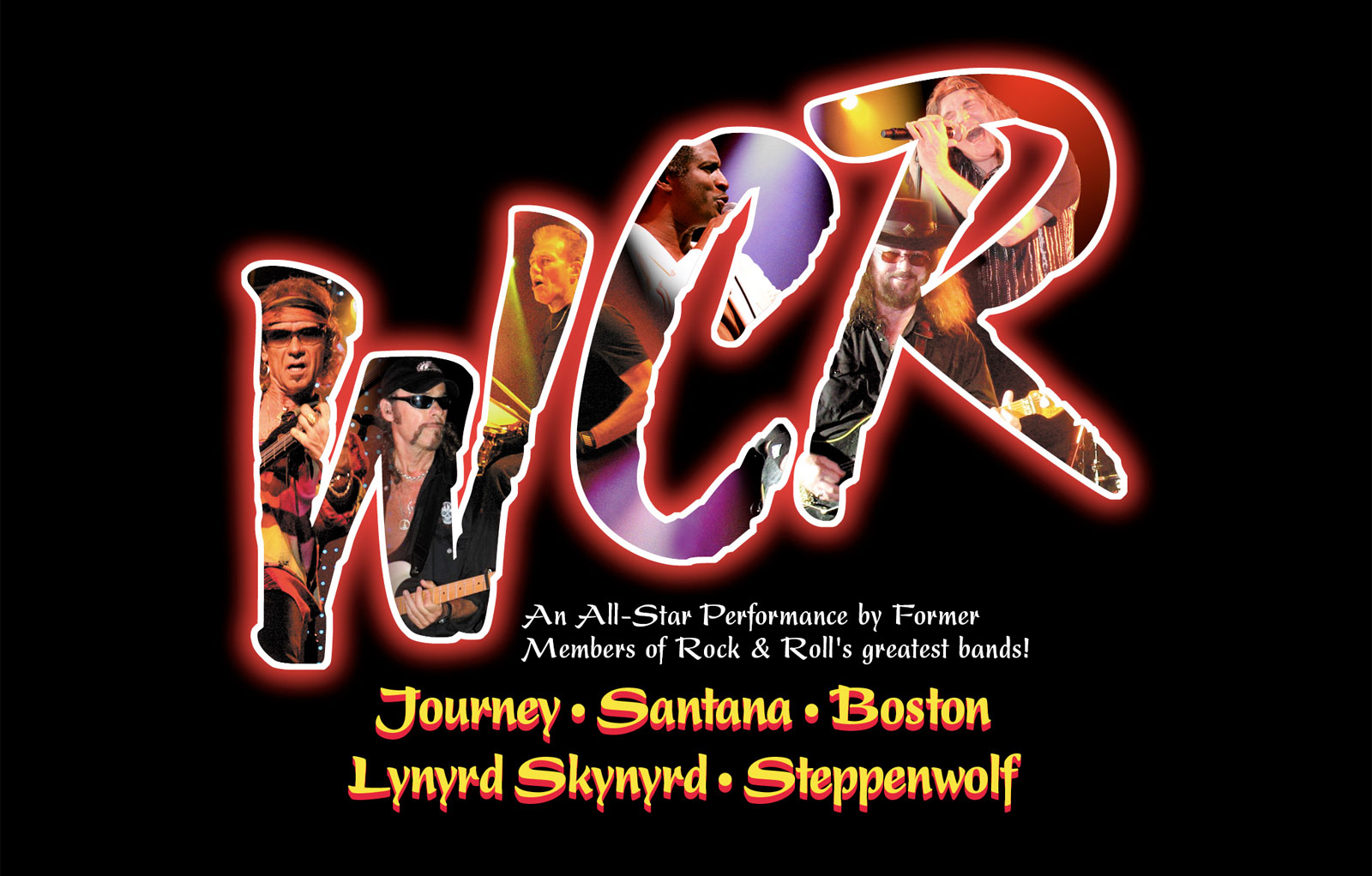 What if there was a classic rock all star band that pulled together former members of legendary groups and got them to play their hits? That is more or less the premise behind World Classic Rockers, a fantastic band whose impressive ensemble lineup includes Journey's Aynsley Dunbar, Boston's Fran Cosmo, Santana's Greg Walker, and even Steppenwolf's Nick St. Nicholas and Michael Monarch! The setlist included many of the classics from their respective bands, and had the crowd fired up. Looking forward to more shows in the future from these guys!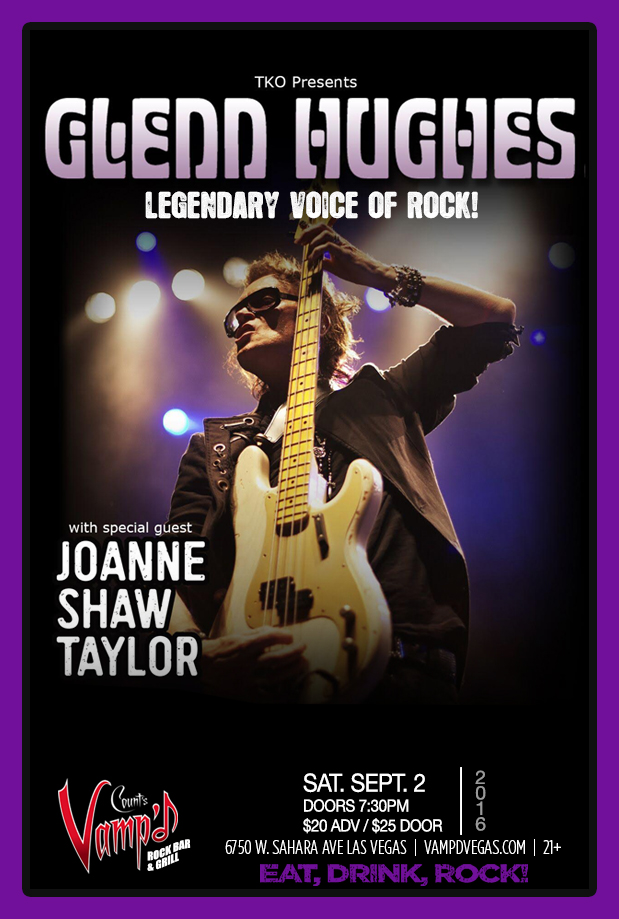 One of the legends behind Deep Purple MK III graced the Vamp'd stage, and played a great assortment of songs throughout his career. Unlike many of his surviving contemporaries, this is a man who holds nothing back, and is still firing on all cylinders. Fans of his music were not disappointed in the least with his Las Vegas gig.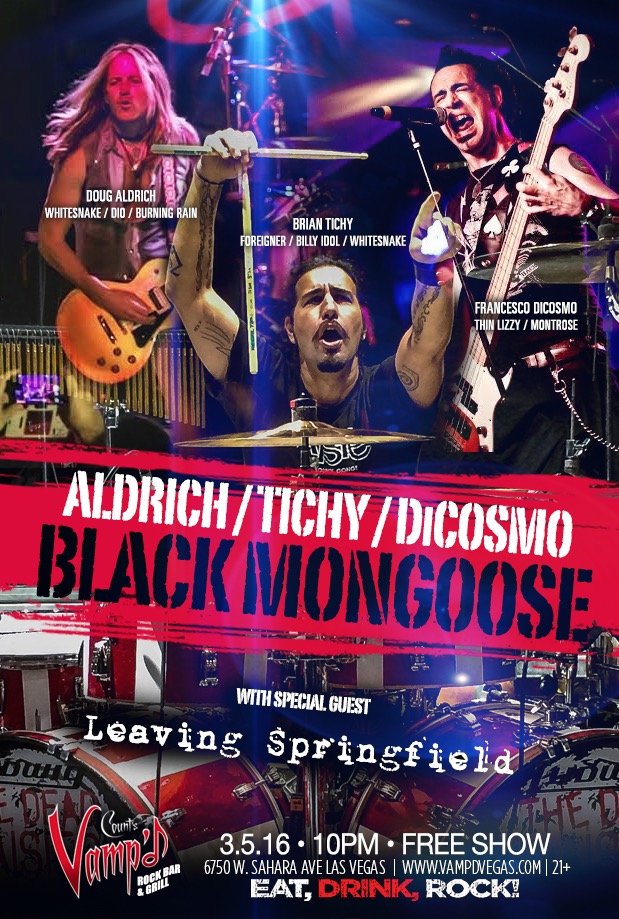 This was essentially Doug Aldrich, Brian Tichy, and Francesco DiCosmo covering some of the greatest classic rock, hard rock, and heavy metal songs ever made, and putting their own spin on said songs, including things like lengthy solos and jams. The results spoke for themselves, with all kinds of surprises for the crowd. Definitely an unexpected delight for the fans!
Iron Maiden, Mandalay Bay Events Center (not reviewed)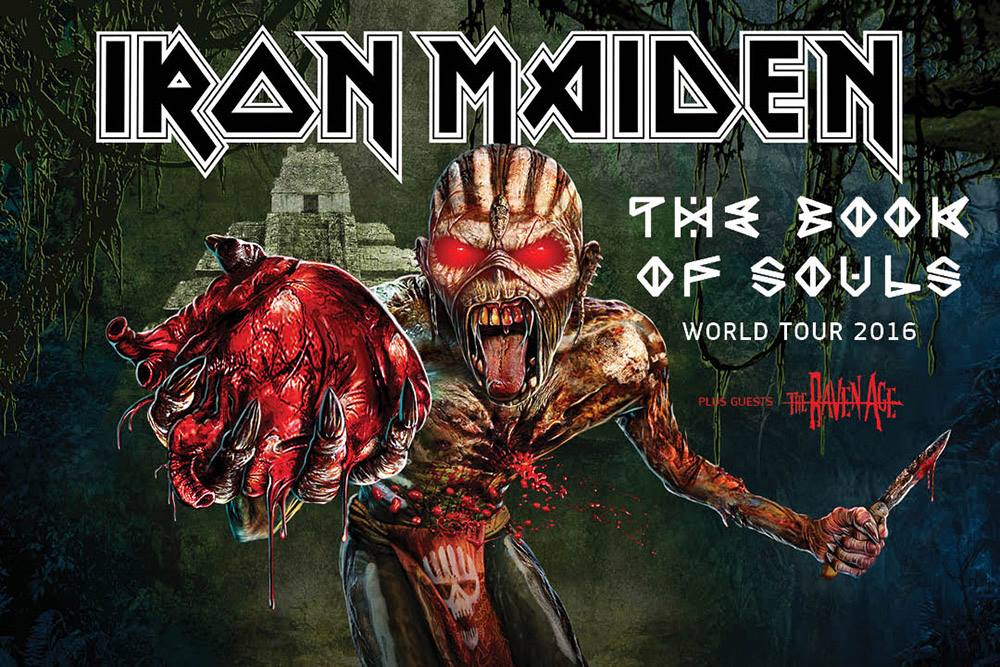 This legendary British metal act has been going strong for four decades and requires no introduction. While their setlist was admittedly too heavy on tracks from their latest record, one must applaud the way the band still brings the thunder on a live stage. Bruce Dickinson may have dealt with a cancer scare in the recent past, but with his performance here you never would have known that.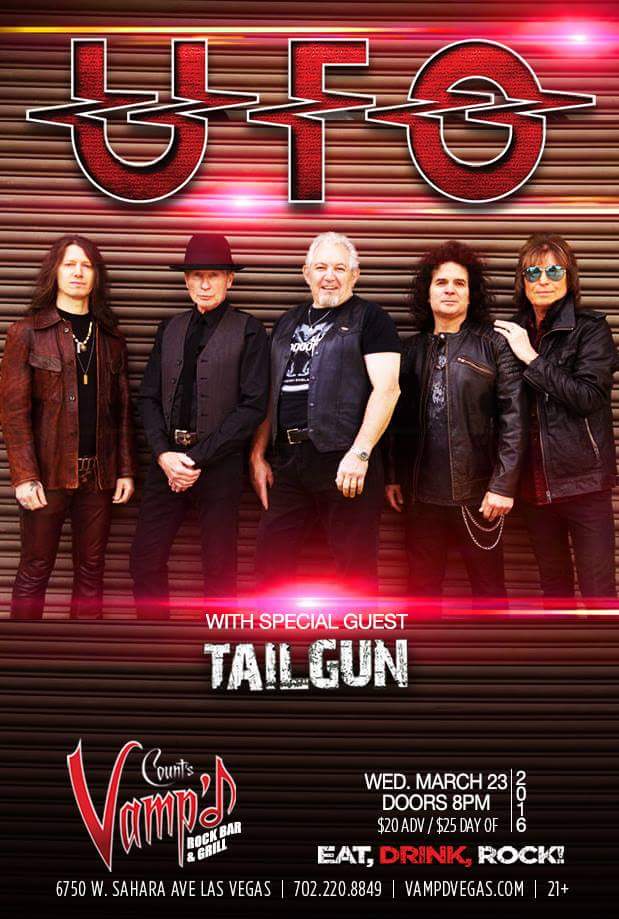 One of England's finest classic hard rock bands is still going strong; they put out a new album last year and are still doing world tours. Getting to see them in the small, intimate setting of Vamp'd was a pleasant surprise. Even though singer Phil Mogg is pushing 70, the guy still sounds great and brings a fantastic stage presence. These guys are definitely still worth catching in a live setting. Guitarist Vinnie Moore definitely feels like part of the UFO family these days, and no one should pass up a performance since "Michael Schenker isn't with them anymore."
Europe, Hard Rock on the Strip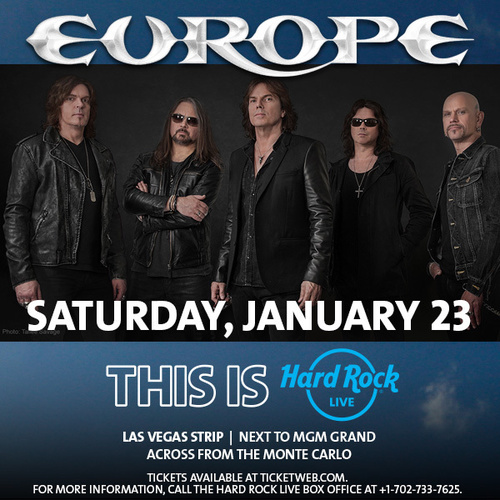 These guys almost never tour America, but I was fortunate enough to catch their Las Vegas performance this year. Here in promotion of their latest studio album, War of Kings, released last year, this was a great show from a criminally underrated band. There is way more to these guys than "The Final Countdown" and that GEICO commercial! War of Kings is the band's best album since the 1980s, and their set, combining old and new songs alike, definitely satisfied the rock fans of Sin City.
A great show late in the year. Paul Shortino is well known to Vegas rock and roll fans, and here we got to see him reunite with the classic lineup of a criminally underrated band that he was a part of. These were killer renditions of the classic cuts from the band's two studio albums, and on top of that, we got the added surprise of Mark Boals joining the group on the stage for a performance of the Hear N Aid song "Stars." Dueling leads from Chris Hager and Matt Thorne dominated the evening, and Shortino beautifully demonstrated why is one of the great rock vocalists out there, even 30+ years on. This fan is hoping Rough Cutt's reunion becomes a long term affair, with new material and the like.
And, here we are, the five Best Shows of the Year!
5) Stryper/Todd Kerns, Vinyl, Hard Rock Hotel and Casino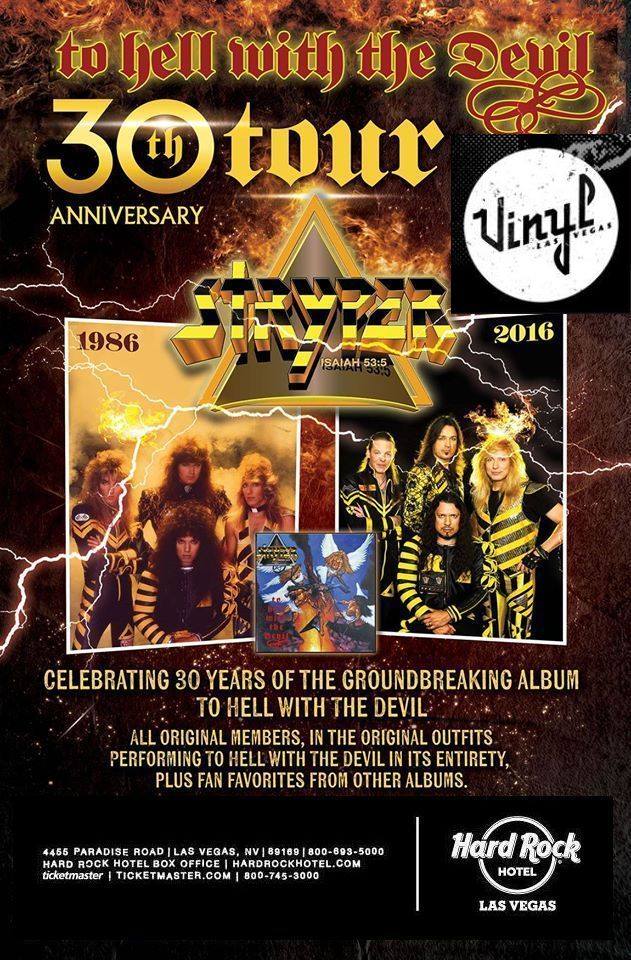 These guys are celebrating the 30 year anniversary of their biggest and best album, To Hell with the Devil. So what better way to celebrate than to perform the album live, in its entirety, plus a second set of other hits, deep cuts, and new tracks alike? These four Christian rock gods (pardon the pun) are still in their musical prime; their most recent releases coupled with live shows of this high a quality say it all. Catch these guys live while you can; they will not let you down. The opening acoustic set from Todd Kerns was no less satisfying despite its brief length; this guy is way more than just "Slash's bass player."
4) Scorpions/Queensryche, The Joint, Hard Rock Hotel and Casino

Remember a few years ago when the Scorpions said they were retiring? Seriously, does ANY band ever mean it when they say it? Well, if the Scorps are going to stay together and give fans shows this high of a quality, they can stay as long as they like. A great set with a diverse setlist of old and new cuts, ranging from the latest studio album to a medley of the Uli Jon Roth era, this was a phenomenal set with Germany's all time greatest band at their finest. Mikkey Dee of Motorhead fame filled the gap left behind in James Kottak's absence beautifully and seamlessly; he has since taken over the position permanently. Queensryche was limited to a fairly brief opening set, but they brought new life to old classics, due in no small part to the contributions of new vocalist Todd La Torre, with whom they have recorded two records so far. Both bands are well worth catching live these days!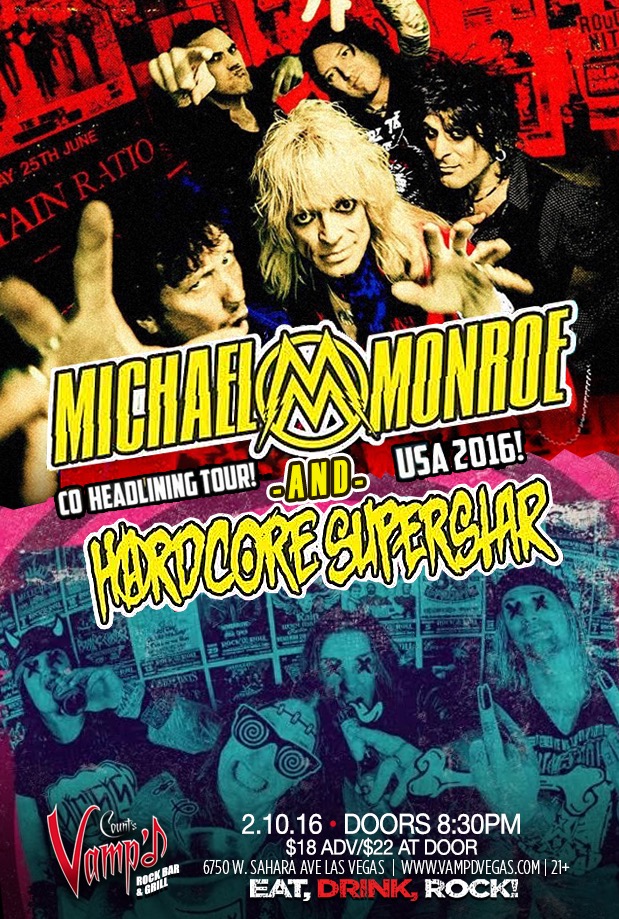 Another show I never thought I would get to see live, but Monroe came out of nowhere and rocked Vegas. Playing classic solo and Hanoi Rocks hits, plus songs from his latest solo album, he proved to be an energetic, entertaining performer that impressed this Vamp'd crowd; this was arguably the most crowded I have ever seen the venue on a weeknight! Did I mention his backing band included his former Hanoi Rocks bandmate Sam Yaffa? And that he actually physically climbed the amplifier towers during the show? This is a man that does not disappoint, and it was great to finally see him in concert, doing what he does best for a live audience.
2) Billy Idol, House of Blues.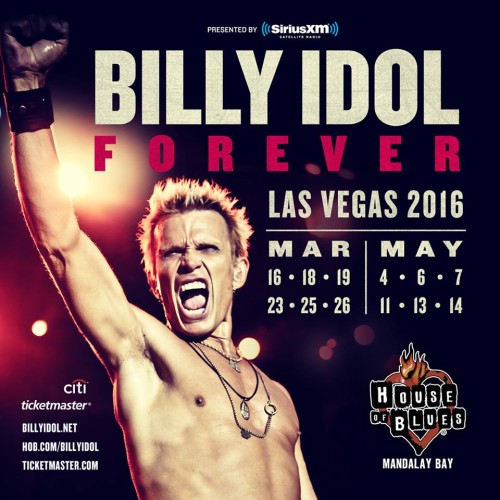 I debated between this or the Michael Monroe show in the second place spot, but Steve Stevens was the deciding factor. Billy Idol's name may be the one on all of the ads, but it is his underrated guitarist that is the real star here. That said, Mr. Idol remains no slouch, still bringing plenty of stage presence to the experience, and singing vocals on these songs as well as he ever has. Given his rough past, I was questionable as to whether or not Idol would be able to deliver in a live setting. He shattered my doubts in a mere few moments. This was my first time seeing Billy Idol and Steve Stevens live; I truly hope it will not be the last.
And now… the number one rock show in Las Vegas of 2016…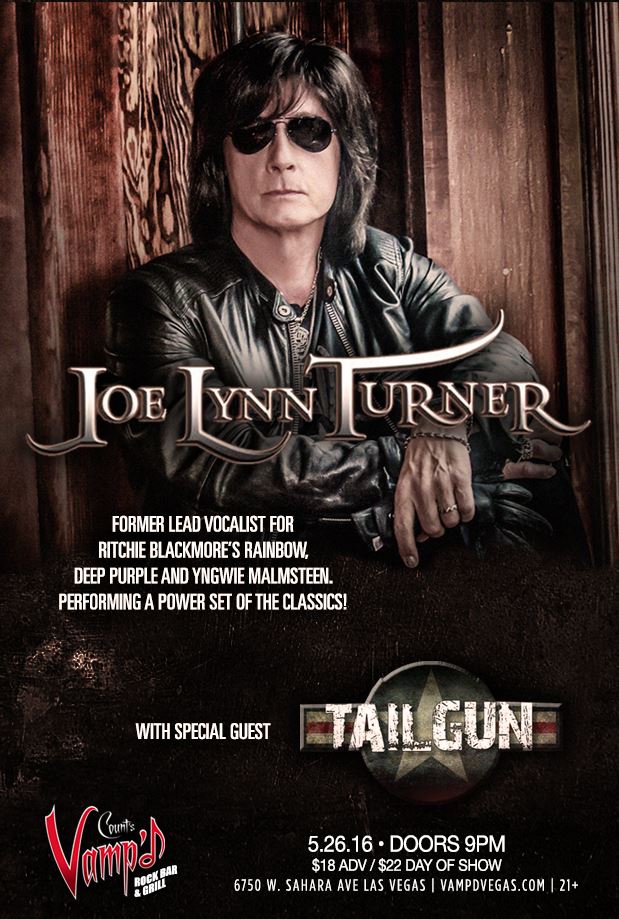 The voice of Rainbow's most commercially successful material. A vocalist for the mighty Yngwie Malmsteen. A respectable solo artist, and the frontman of countless other bands and side projects. This man is an icon in the music industry, and on this night in May, he delivered what was, in this fan's eye, Las Vegas' number one night of rock and roll for 2016.
Turner gave fans a great setlist of the Rainbow classics, plus many other assorted songs from throughout his lengthy and impressive career. We even got some classic Deep Purple tunes, and pre-Turner Rainbow songs sung in tribute to Ronnie James Dio! I have seen Turner as part of last year's Extreme Guitar show, as a Raiding the Rock Vault guest, and as a Zito Jam guest, but this was my first time seeing him do an actual full length SOLO set. The man did not fail to please.
With a great band that included guitarist Steve Brown (Trixter), bassist Sean McNabb (Quiet Riot, Dokken), keyboardist Eric Ragno (London), and drummer Matt Starr, Turner thoroughly covered his classic catalogue, with vocals that sound just as good as they did 30 years ago; no easy task for anyone in the music business.
Joe Lynn Turner is someone I will always keep my eye on, since he is a man that absolutely does not let the fans down. I have no reservations calling this the best night of rock and roll in 2016, and I highly doubt anyone in attendance on this night would disagree!
If you are a fan of Turner, you should also check out the new releases of his vintage concerts, one from a 1981 Rainbow show, and one from a 1985 show in support of his solo debut, Rescue You.
Once more, we have had a solid year of rock and roll in Las Vegas, despite a few dry patches here and there. Fortunately, 2017 is right around the corner, so it will not be long before we see what next year has in store for the headbangers of Sin City!
Until then, rock on.
Past "Best of the Year" lists:  2015 2014
All opinions given in this article are exclusively those of the author, and do not necessarily represent the views of ZRock'R Magazine or any other writers/staff members/etc.