On May 6, 2017, Vamp'd was rocked by Smashing Alice, with The Bones providing the first set.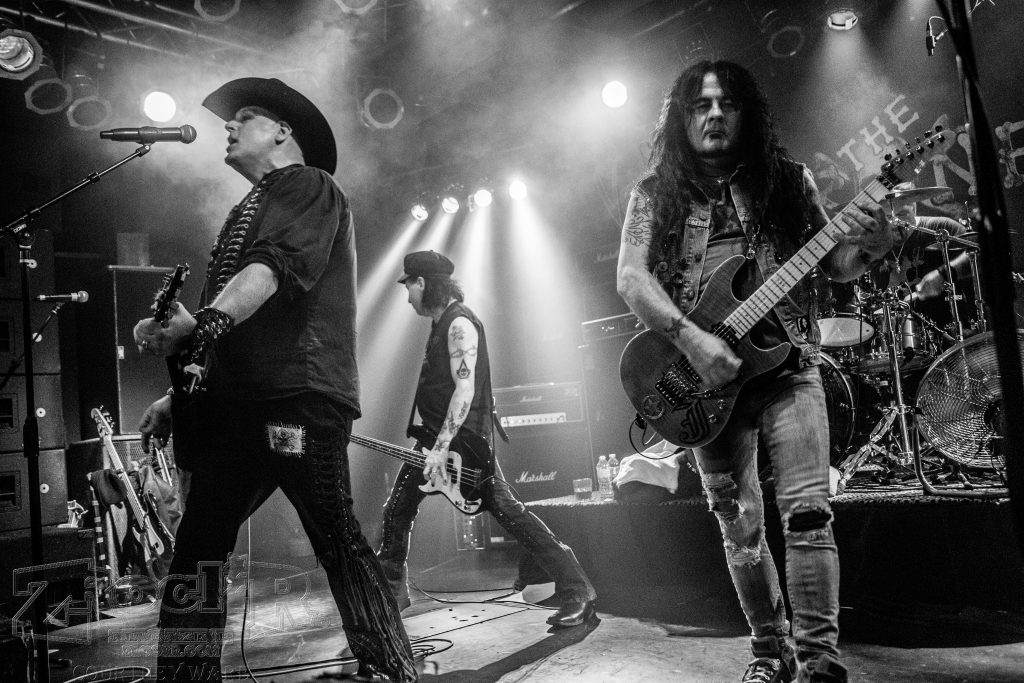 Some of the best talent that plays Vamp'd on a regular basis is the local talent. The venue attracts no shortage of national and international headliners, but in Las Vegas, one does not have to look far for great rock and roll covering a wide variety of styles. This night at Vamp'd was solid proof, with great sets from two bands that could not be more different from one another, yet rock equally hard.
The Bones started the night of rock and roll off in fine form. I have reviewed these guys countless times in the past, as well as their album releases. Fronted by Patrick Vitagliano, the group also includes Odin's Duncan Brothers, Jeff and Shawn (though Jeff is probably best known for his part in Armored Saint), and Sean Koos (formerly of Joan Jett's band) on bass. The band started life doing stripped-down, punk-style covers of overproduced pop songs, primarily from the 80s new wave era. Over time, their sets and performances grew to include original power-pop tunes, which were also quite diverse. Highlights of the set included the band's originals, and a great cover of The Beatles' classic hit, "Oh Darling," with Jeff Duncan taking the lead vocal mantle for the track. It was Shawn's birthday, and clearly the audience and band members alike were celebrating the occasion!
With a name like Smashing Alice, you might expect this group to be an Alice Cooper or Alice in Chains tribute band. And you would be wrong on both accounts. This hard-hitting band has been doing their thing in Vegas for the past several years, giving the audience covers of the biggest modern rock hits, with emphasis on the last 20-25 years or so of music. The lineup is comprised of guitarists Dustin Turner and Kristian Roloff, bassist Paulie Walnuts, drummer Craig Nielsen, and their latest member, vocalist Dallas Williams.
Honestly, I do not follow most music following grunge/the 1990s; that for me is where things slipped off and became unlistenable. As a band that primarily covers these things, you probably would not expect me to be drawn to a group like Smashing Alice that more or less covers and pays tribute to the past 20-25 years.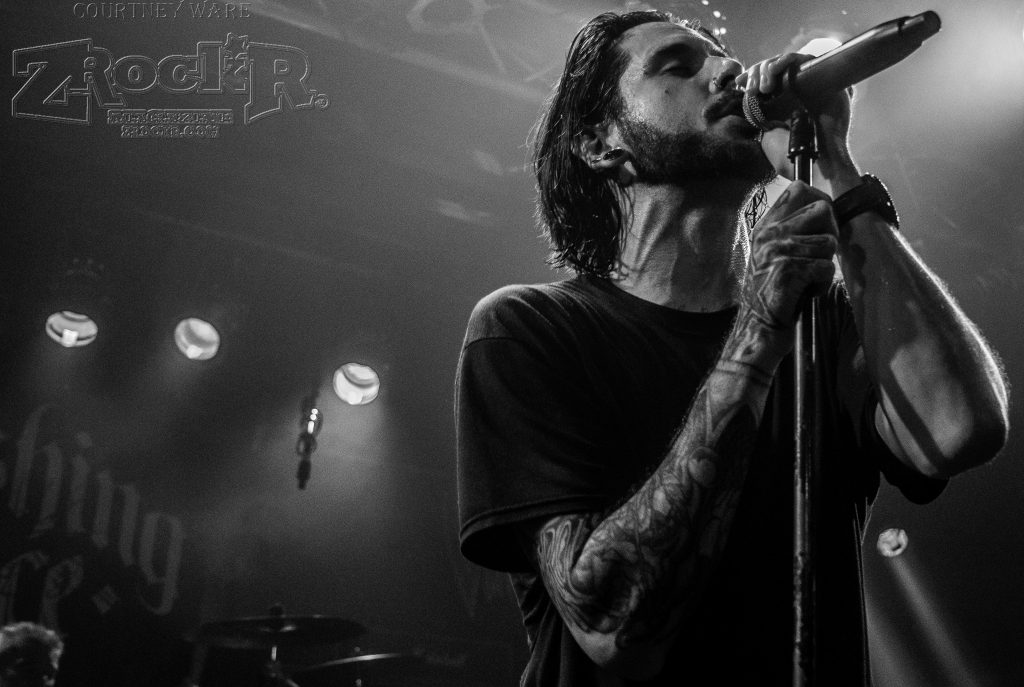 Once again, you would be wrong. While admittedly not a big fan of these acts/styles/songs, the sheer force and ferocity with which Smashing Alice performs the songs is the star of the show, not the songs themselves. They not only do justice to the material, they accomplished the unthinkable – they actually made me want to go back and listen to these songs, something I have not wanted to do in years after moving on to more refined "classic" rock/metal tastes. That is no small accomplishment.
The setlist was quite varied with tunes from mostly the last quarter century or so of music, with bands covered including Incubus, Korn, System of a Down, Drowning Pool, Helmet, and Papa Roach. One of the biggest surprises of the night was a cover of Nine Inch Nails "Head Like a Hole," which was far heavier than the original due to the lack of electronica/techno-style instruments (obviously!) If you've listened to the rock and roll radio stations of the past two decades, surely you have heard these artists/songs, and it is great to see a band in town that actually performs this material, as opposed to the old 80s hair band covers we have heard a million times over. Even if you are not a fan of these bands/songs/styles, you still owe it to yourself to listen to Smashing Alice, just to see how well they cover and perform everything.
The band themselves deserve the most credit. This is a thunderous, high-energy performance where the group is, quite literally, in your face. Paulie damn near whacked me with has bass a few times, and Dallas, himself formerly of one of my favorite local bands of the past years, Dirty Pairadice, was in the faces of his enthusiastic audience, and at one point even tried to snatch my phone! They deliver loud and heavy performances that rock the whole venue, and it never lets up in that duration. Once more, I like to see a band that can do justice to material, but also have a good time doing it. A surprise to the audience game in the form of one track performed by a guest vocalist, Chase Grijalva. Hell, we even got to see Dallas leap into the crowd and participate in what could best be described as a "poor man's pit," much to the delight of those surrounding him. It may be somewhat demeaning to say this, considering the "bad ass" vibe these guys put off, but you can tell there is a lot of love on that stage!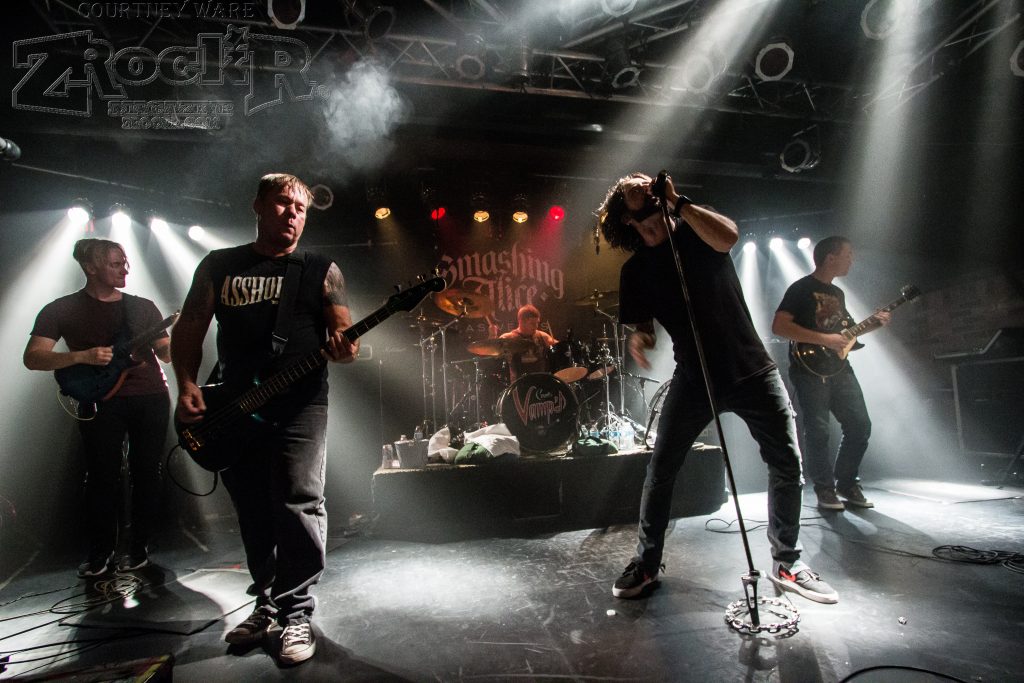 One thing that also impressed me about this show was the fact that the bands drew in such a big crowd. People claim the music scene/rock and roll/live music is dead. Blasphemy, I say! If even locally-based bands can bring in a crowd this strong, including plenty of young people (not something I always see in Vamp'd audiences), then you know as well as I do that rock and roll is far from over.
Smashing Alice brings the thunder when it comes to modern hard rock, and the set from The Bones was a nice addition as well, giving audiences two radically different but no less impressive takes on rock and roll in Sin City. If you live in or are visiting the Vegas Valley, you owe it to yourself to see both bands.
PHOTO CREDIT: All photos by Courtney Ware for ZRockR Magazine – ©ZRockR Entertainment, LLC – ALL RIGHTS RESERVED