For half a century, guitarist Bob Kulick has had a prevalent presence in the music industry. He auditioned for KISS circa 1973, and while passed over in favor of Ace Frehley, the KISS men would regularly employ Bob's guitar skills and songwriting talents over the years. Additionally, it was Bob that suggested KISS hire his brother Bruce as their lead guitarist; a collaboration that would last for over a decade!
Bob's discography, spanning 50+ years, is certainly not limited to indirect KISS connections. Noteworthy artists to feature his talents include WASP, Lou Reed, Michael Bolton, Alice Cooper, Meat Loaf, and the supergroups Blackthorne and Murderers Row. Bob is best known for being a "side man" of sorts, as well as sitting in the producer's chair, but here we finally have an album letting this axeman do his own thing.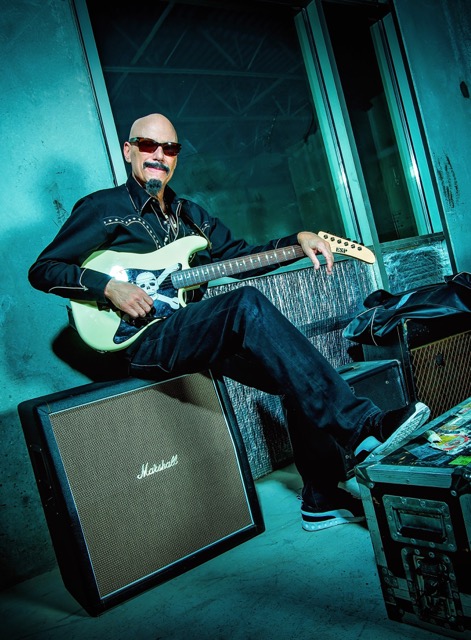 Skeletons in the Closet will be released in September through Vanity Music Group. The ten tracks on the album consist of five newly-recorded songs from co-producer Bobby Ferrari at Vegas View Recording, and five additional tracks from Bob's past, including songs from Murderer's Row and Skull, and a previously unreleased one. The tracklist for the release is as follows, with tracks 1-5 being the new songs, and 6-10 being the previously existing ones:
01) "Rich Man"
02) "Not Before You"
03) "London"
04) "Goldfinger" (cover of the Shirley Bassey song)
05) "Player"
06) "India" (from MURDERER'S ROW)
07) "Skeletons in The Closet" (from MURDERER'S ROW)
08) "Can't Stop the Rock" (previously unreleased track)
09) "Guitar Commandos" (from SKULL, also features a guitar duel with Bruce Kulick)
10) "Eyes of a Stranger" (from SKULL, not a cover of the Queensryche song)
Musicians playing on the record include a who's who of all-stars in the rock and metal world. Collaborators on the album are as follows:
-Lead vocalists: David Glen Eisley, Andrew Freeman, Todd Kerns, Robin McAuley, Dennis St. James, Dee Snider, and Vick Wright.
-Bassists: Kjell Benner, Bobby Ferrari, Bruce Kulick*, Dennis St. James, Rudy Sarzo, and Chuck Wright.
-Keyboardists: Doug Katsaros, and Jimmy Waldo.
-Drummers: Vinny Appice, Frankie Banali, Chuck Burgi, Scot Coogan, Brent Fitz, Bobby Rock, Jay Schellen, and Eric Singer.
*This is not a typo; Bruce Kulick DOES play bass on this release. That is because his brother Bob handles guitar work on the record, although Bruce can be heard playing guitar in the duel on "Guitar Commandos."
Clearly, all the pieces are in place for rock and roll excellence. Combining a legendary axeman who has made countless contributions to the rock and roll world, and more rock stars than one would ever expect to see together, let alone on the same album, Skeletons in the Closet is eagerly and widely anticipated by longtime followers of Kulick and this menagerie of rockers that has been assembled.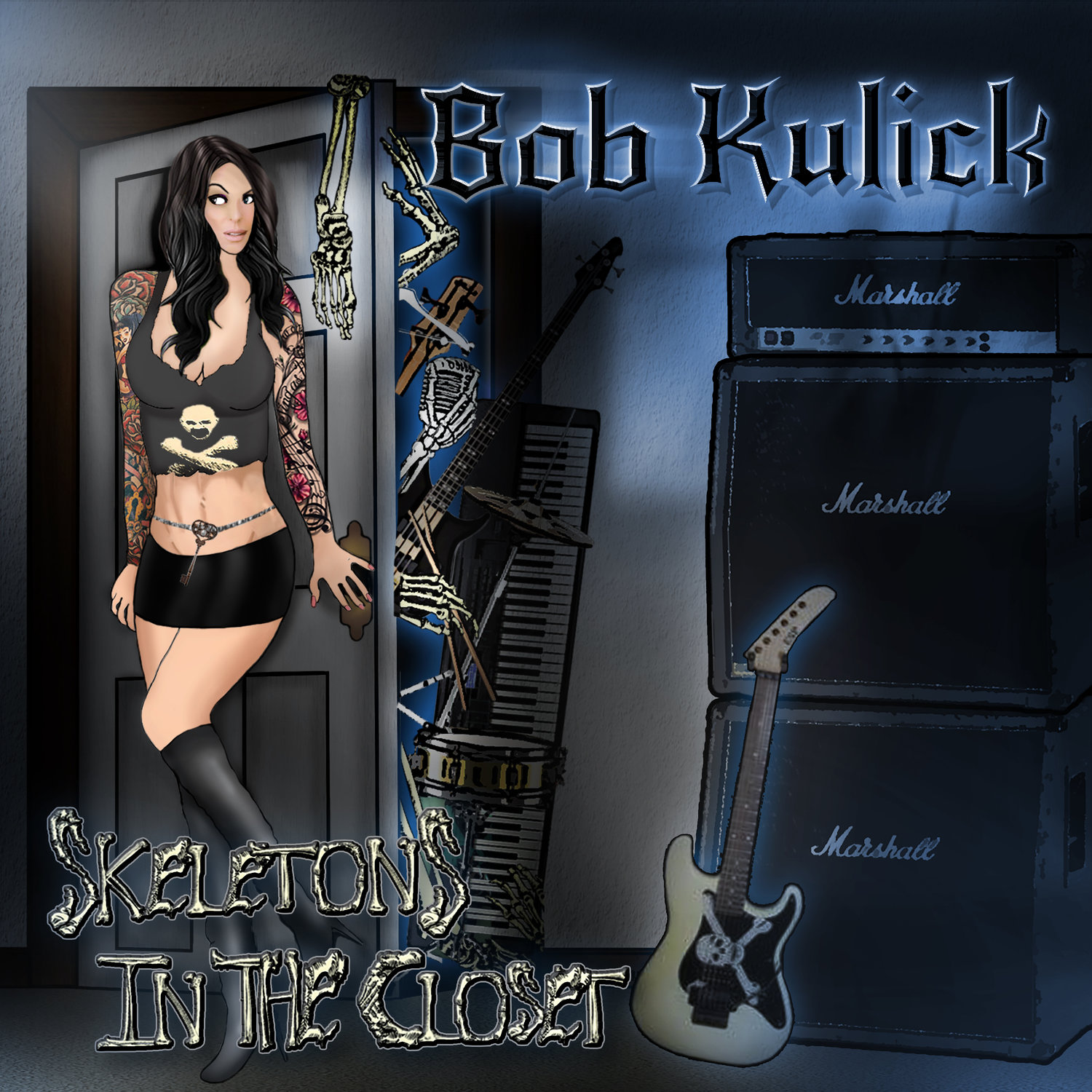 Bob Kulick does not disappoint on Skeletons in the Closet. From these newly-recorded tracks to the underrated ones from the past that fans likely missed the first time around (they were first released in a time when grunge was prevalent), there is not a dull moment in the album's duration. Even though the "old" songs on here were recorded nearly a quarter century earlier, the whole package comes together nicely and nothing feels out of place.
The album does not waste any time getting off the ground with "Rich Man," featuring the instantly recognizable Todd Kerns on vocals, and pounding drums from Vinny Appice, coupled with Kulick's distinctive guitar work. "Not Before You" has the distinctive and always impressive vocals of Robin McAuley; this guy is the rare vocalist that sounds just as he did 30 years ago, and Kulick was right to bring him along for this project; despite being a more modern-driven track, I was definitely having some McAuley Schenker Group flashbacks while listening to this one.
One of the biggest surprises of this album is the fact that we get a track featuring the mighty Dee Snider! The Twisted Sister vocalist takes the reigns on "London," and I must say, it is a shame that this track was not on his recent solo album, as it is easily one of the best non-Twisted Sister songs I have heard the guy sing, moody and atmospheric yet powerful and driving. Another unexpected surprise comes in the form of a cover of Shirley Bassey's "Goldfinger" (the theme song to the James Bond movie of the same name), with Vick Wright of Johnny Crash on lead vocals, turning the song from a big band vocal classic into a straight-ahead rock anthem (with all of Bob Kulick's work on tribute albums over the years, what are the odds we could get him doing something with hard rock covers of all of the James Bond movie theme songs? Hint hint.) The five "new" songs are rounded out with "Player," sung by Andrew Freeman (Last in Line). This guy brings his all to whatever band he happens to be fronting at the time, and his contribution here stands as a strong one.
The first five tracks, which are the ones newly recorded for this release, are all spectacular and do not disappoint, though it would have been nice to get a song or two that "broke the mold," like a lengthy epic or a ballad/melodic rock song to keep things a little more diverse; given Kulick's work with acts like Meat Loaf and Balance, the lack of one is surprising. That is not to say these songs are disappointments; they rock hard, as anyone who listens to this CD will see and hear for themselves.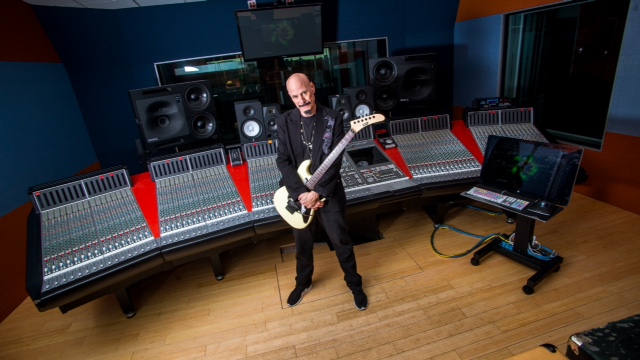 The remaining five songs are earlier recordings; two from the self-titled Murderer's Row CD in 1996, two from the Skull CD, No Bones About It, in 1991, as well as one song that is previously unreleased. As audiences missed out on these somewhat obscure releases, it is great to see a handful of the best cuts from them get revived through inclusion here, and an unreleased cut only sweetens the deal.
If you only know David Glen Eisley from the work he did with melodic rock outfit Giuffria in the mid 1980s, his vocals on the two Murderer's Row tracks will absolutely floor you. The former "Call to the Heart" singer steps up to the plate and belts out some unexpectedly powerful singing that suits the material surprisingly well. Of course, Kulick himself remains a star here, with some bold hard rock riffs that further demonstrate the fact that this material was wrongfully neglected at its time of release.
The unreleased "Can't Stop the Rock" also features Eisley on vocals, and has drum work from Eric Singer (KISS, Alice Cooper, Badlands, Black Sabbath). This is Kulick's attempt at an AOR/arena rock anthem, and it is surprisingly entertaining. Had this song been released in the 1980s, at the height of these genres of music, chances are it could have been a big hit.
Rounding out this release are the two tracks from Skull's No Bones About It record. The obvious highlight of the two is "Guitar Commandos," since it lets us see both Brothers Kulick go head-to-head in a guitar duel. Closing cut "Eyes of a Stranger" is a great relic of a bygone era of rock, and further demonstrates the underrated work Kulick did as a part of this act.
The choices for tracks for the album's latter half are impressive, but the surprising disappointments here are the lack of a Blackthorne track, as well as a Balance one. Balance featured some of Kulick's best melodic rock work, while Blackthorne was one of his heaviest, most driven bands, and featured killer vocals from Graham Bonnet. From Balance, "Looking for the Magic," "It's So Strange," "In for the Kill" and "Slow Motion" could have made good inclusions. From Blackthorne, good picks would have been "We Won't Be Forgotten" and "Breaking the Chains" (the latter having actually originated as a Skull song). That said, the "previously existing" tracks that appear on the CD are all superb choices, so this fan can't complain too much.
Skeletons in the Closet stands as a superb solo release from the mighty Bob Kulick, giving us great all-star packed performances from the past and present alike. If you're a fan, you will definitely want to pick this one up when it hits stores in September.
Highly recommended!