Vamp'd was in for a surprise on Friday, August 4, 2017, when the venue played host to artists that were definitely off the beaten path, compared to what kinds of groups normally play the venue. The night also managed to be a pleasant surprise for all in the audience, with hard and heavy punk sounds that won over the audience. Headliner Sin City Rejects played alongside support acts The Quitters and Crackerman.
Despite being a die-hard fan of all things rock and roll, I had never seen any of these Vegas acts play live, making this a much anticipated evening. I got more than I bargained for on this particular evening, in the best of ways. It was this fan's first rock and roll show in quite some time, and the evening definitely broke the mold and was unlike any in recent memory.
Opening act The Quitters, who I had not even heard of prior to the gig, proved to be the first in a long line of unexpected surprises. Right from the get go, these guys managed to impress me with their musicianship and original tunes. The band is one of those that is the perfect "happy medium" when it comes to punk sounds; enough pop appeal that they won't alienate fans of lighter fare like Green Day, but at the same time, hard and heavy enough for the punk purists. The band impressed with their original songs, but the arguable highlight of the set was the closer, a cover of Prodigy's "Breathe," reimagined punk style, and done surprisingly well! I look forward to catching these guys again in the future; this was their first gig at Vamp'd and hopefully will not be the last.
Prior to the Crackerman set, I was talking to a friend. I had not yet seen a Crackerman gig, but was aware of frontman Tyler Lawson, who my friend was quick to say is someone that becomes the center of attention wherever and whenever he is playing. This was a band that had been on my "to see" list for quite some time, and I am glad that I was finally able to experience their live set.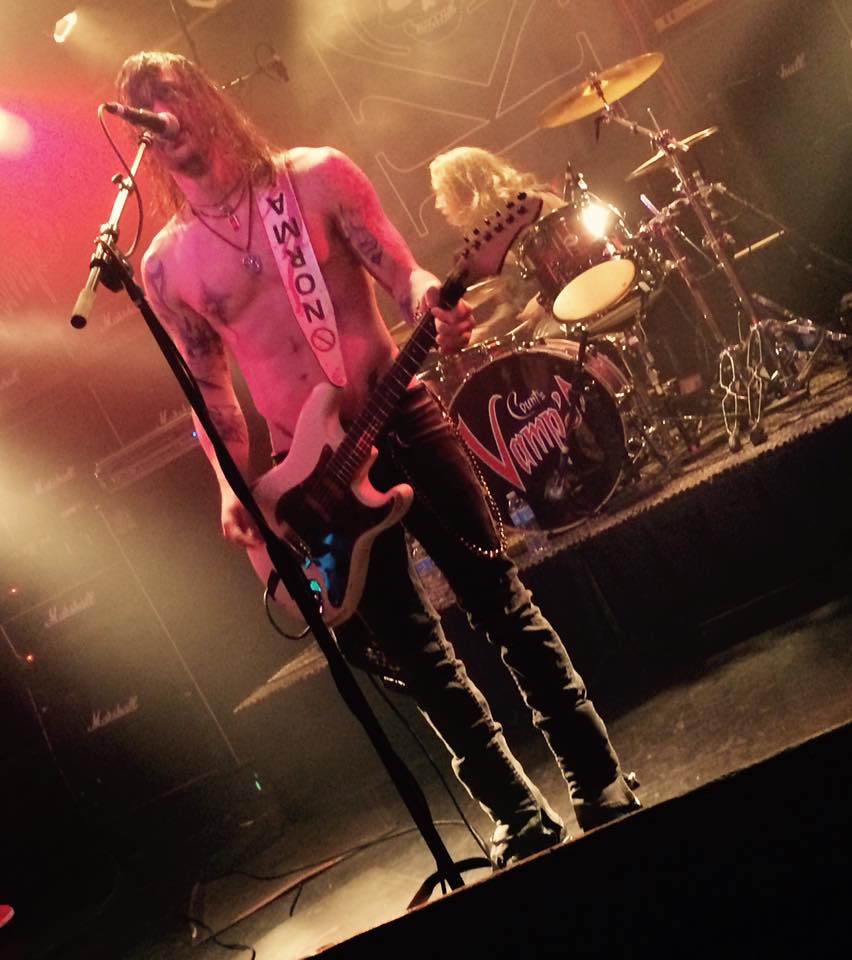 The remarks about Lawson being a center of attention were not unfounded; even if he hadn't sang or played a note, his sheer look would be enough to pull you over, with face paint and a heavily tattooed body. But once the show started up, it was clear that this man wasn't just about looks. He rocked this audience with an energy and ferocity rarely seen on this stage, going anywhere from high-energy travels from one end of the stage to the other, to slower (but no less gripping!) moments.
Crackerman's sound also helped the band to stand out. Somewhere between 90s grunge/alternative rock and more modern hard rock sounds, and with plenty of other influences and elements thrown in, my eyes and ears were glued to the stage for the duration of the performance. Lawson's surprise trip into the audience and an abrupt departure from the stage from the band at the end of their last track made this performance something to behold. I came on this evening to see the Sin City Rejects, and believe me, I felt bad for ANYONE that had to follow that Crackerman set….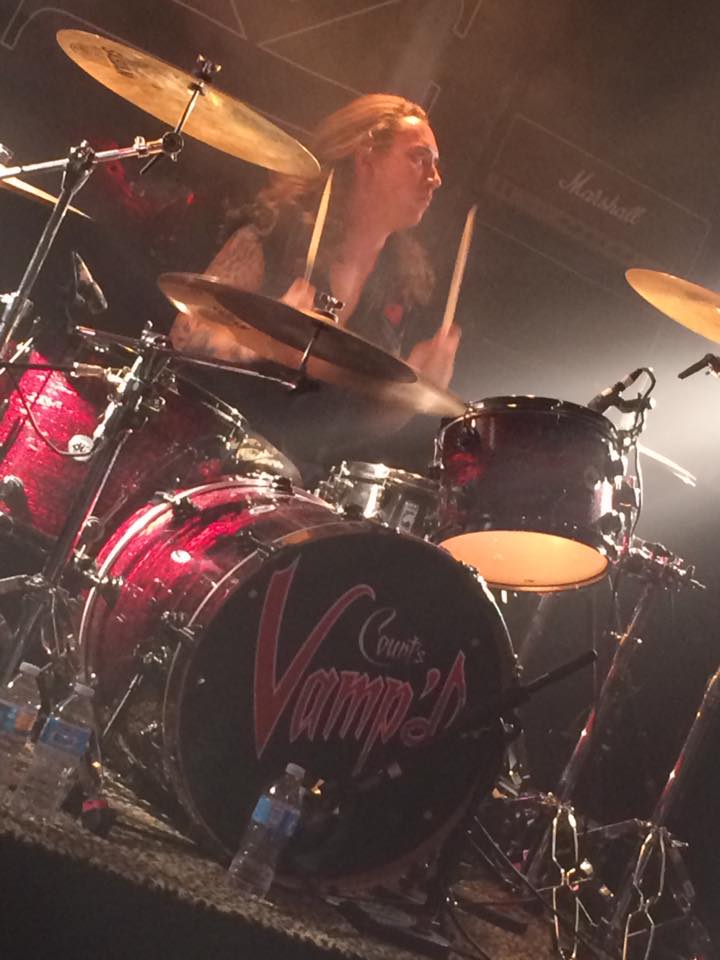 …fortunately, the headliners did not fail to please in the least, making for a truly complete night of sounds one does not normally experience at Vamp'd.
After months of them only playing shows in which I had to work the next morning and could not attend, there was finally a Sin City Rejects show on a Friday night. The fact that it was at Vamp'd, one of the best and most intimate of all rock and roll venues in Vegas, only sweetened the package.
The Sin City Rejects could be considered a Sin City Sinners spin-off band, as they include Sinners bassist Scotty Griffin (formerly of LA Guns, though he just sings here) and Sinners manager Jason Green (who plays bass here). Rounding out the ranks of the band are guitarist Johnny Roxx (Bay City Rollers), drummer Michael Maysonet (Missing Persons), and guitarist Rachel May. Prior performances by the group had included drummer Jeff Tortora, who is currently touring with Blue Man Group.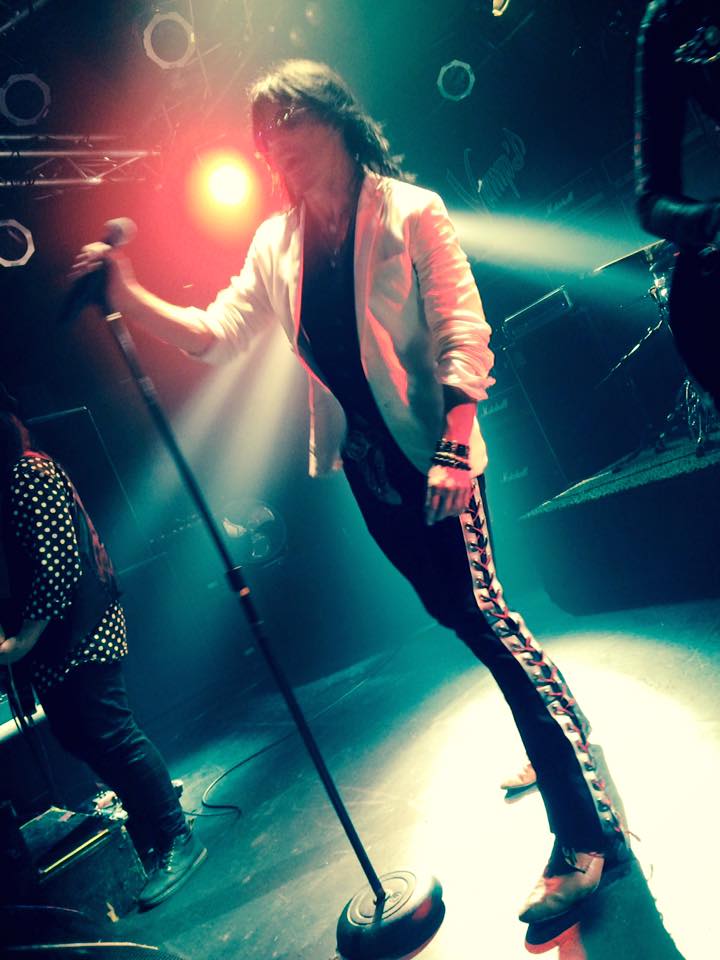 Upon hearing that the Rejects specialize in playing covers of classic punk songs along with a few other surprises, including a few original tunes, I knew this would be a night like no other. The setlist for the evening was as follows; this gives you an idea of the sheer diversity of what was played:
-Pipeline (Johnny Thunders version)
-1945 (Social Distortion)
-Sonic Reducer (Dead Boys)
-C'mon Everybody (Sid Vicious version)
-Do You Love Me (Johnny Thunders version)
-Do you Wanna Dance (Ramones version)
-I Wanna be Sedated (Ramones)
-Blitzkrieg Bop (Ramones)
-Chinese Rocks (Ramones)
-Sheena is A Punk rocker (Ramones)
-Holiday in Cambodia (Dead Kennedys)
-Stepping Stone (Sex Pistols version)
-London Calling (Clash)
-Louie Louie (Stooges version)
-If Mary Wanna (original)
-Mary Jane is a Punk (original)
-Los Angeles (X)
-Attitude (Misfits)
-Stronger Than This (original)
-Just Like Heaven (Cure)
-Another Brick in the Wall (Pink Floyd)
-God Save the Queen (Sex Pistols)
-Something Else (Sid Vicious version)
-Born to Lose (Johnny Thunders)
-I Wanna Be Your Dog (Stooges)
Just one look at that setlist reveals a bevy of classic punk rock songs that you would rarely hear live anymore, let alone all played by one band! Sure, rock tribute bands cover The Ramones…. But when is the last time you heard a band play something by X or Johnny Thunders? If I have one minor criticism of the setlist, it is that I would loved to have heard at least one Generation X song (Billy Idol's band before he went solo).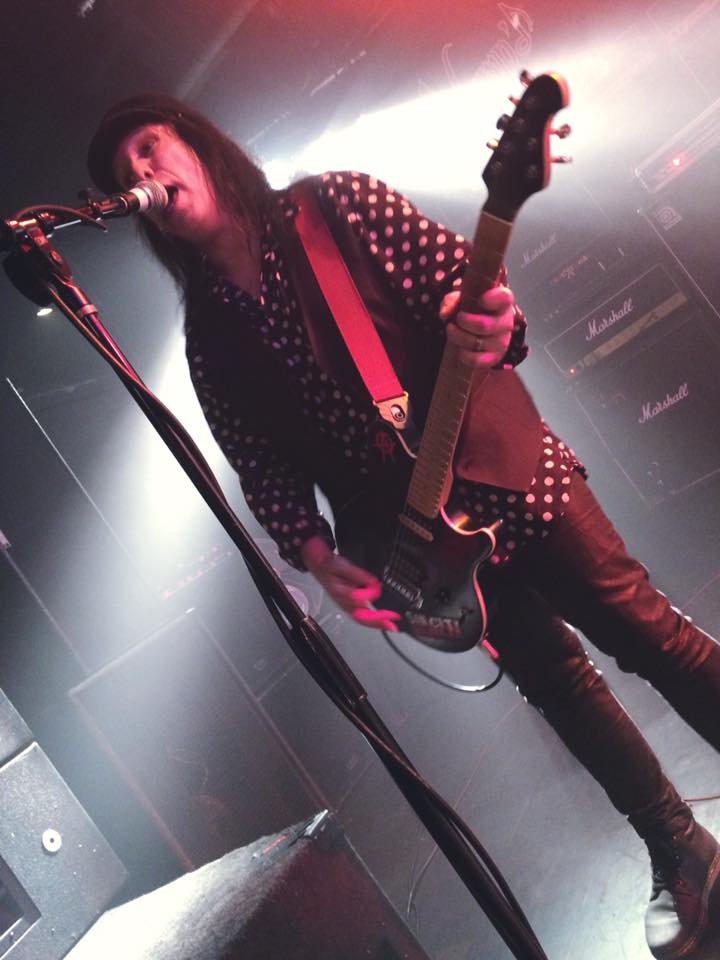 The bandmates were all at the top of their game, bringing musical ability and stage chemistry alike. You can tell these guys love what they do, and have respect for the material, both in the deepness of their setlist and how well and energetic they perform the music. The real standout member in the group is Scotty Griffin; do not write this guy off as "that guy that used to play bass for LA Guns." He is an energetic frontman with no shortage of talent and appreciation for classic punk anthems; something he proved many times over on this evening of rock.
The highlights in this gig were too numerous to name, but a handful of them included X's "Los Angeles" done duet-style, with guitarist Rachel May handling the Exene Cervenka parts, as well as revisiting the punk-style interpretations of classics like "Louie Louie" and "(I'm Not Your) Stepping Stone," and the closing theatrics, featuring Jason Green "dying" on stage, complete with fake blood; these moments definitely added something to an already excellent show and made for a fine conclusion.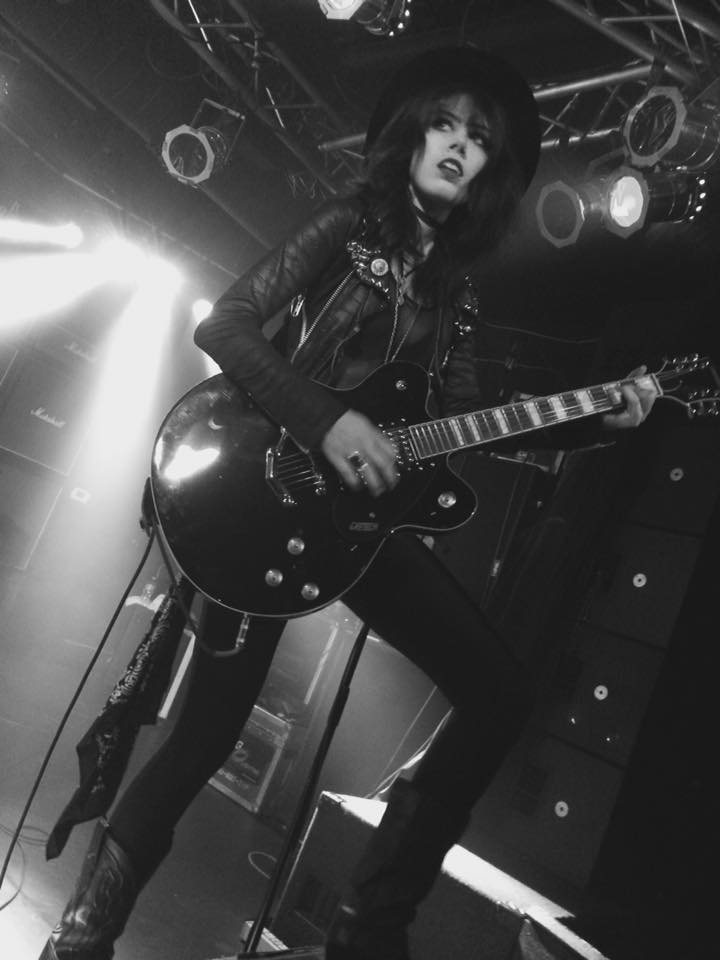 This was a night at Vamp'd unlike any other, and this fan is hoping that more evenings like this will become possible at the venue in the future. The Quitters, Crackerman, and Sin City Rejects all put on performances for the ages, ensuring that this will be one of 2017's most memorable nights of rock and roll in Vegas. All three acts come highly recommended, so see them when you can!
Photos used in this review are the property in Gin Woodward. Used with permission.