On June 16, 2017, Original Sin played Vamp'd, reuniting the classic Sin City Sinners lineup of Brent Muscat (Faster Pussycat), Todd Kerns (Conspirators), Rob "Boom Boom" Cournoyer (Raging Slab), and Michael "Doc" Ellis (Love/Hate).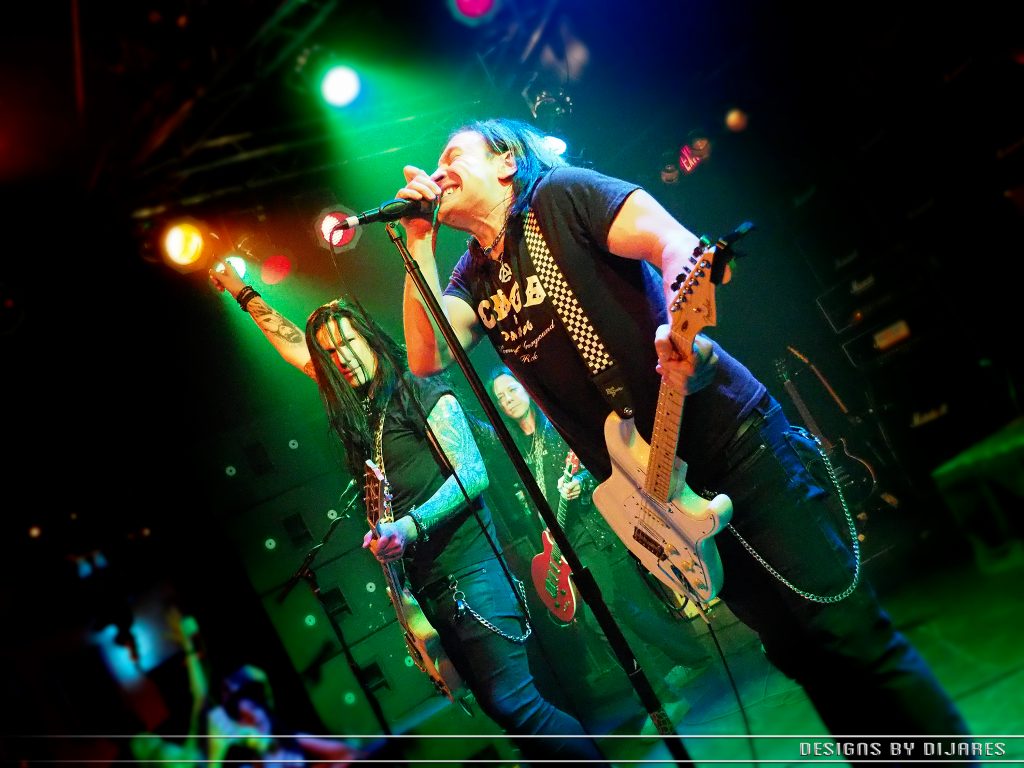 First, a brief (okay, maybe not so brief) history lesson. In July 2010, a friend wanted me to go to Sunset Station's outdoor venue to see Great White with him. I took him up on the invitation, noticing that there were two support bands on the bill, groups called Nawgahyde and Sin City Sinners. The former were dressed as a bunch of stereotypical rednecks performing classic Southern-style rock tunes, and were a lot of fun to listen to. But it was the latter band, Sin City Sinners, that truly won me over, with a strong variety of musical styles, from power pop to straight-up hard rock, and even a variety of guest stars! Not to mention, unlike many other local bands, they had both covers AND original songs. From the first night I was hooked, and it was not long before I was attending their regular weekly shows at Sunset Station inside Club Madrid, which lasted nearly two years from then. Before long I was following the band all across town, with further album releases and guest stars becoming regular occurrences. Anyone who knows me knows that I heavily cover the Las Vegas music scene and have done so for years, and for me, this is where it all began. I largely credit these musicians as the ones who got me to where I am now; it was them who enthused me to become a part of the local scene, something that stands to this day, even if I do not see them around town quite as often. The fact that rock fans coming in from out of town take the time to go see Sin City Sinners shows should say something about how big a phenomenon this has become.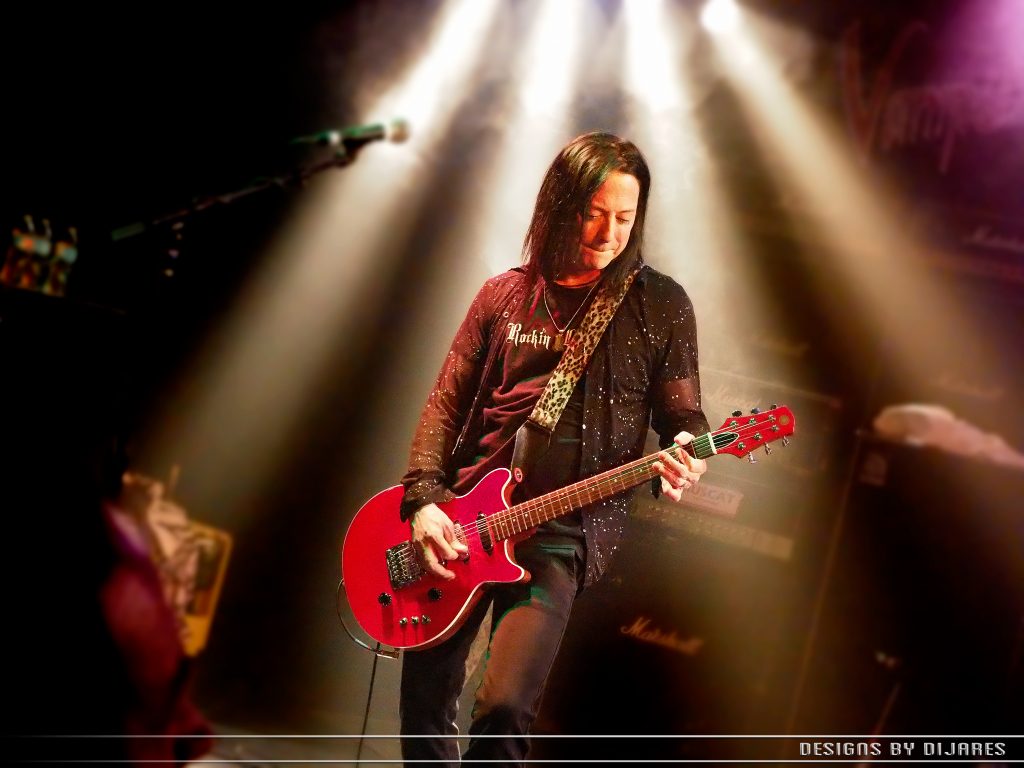 Over the years, the Sin City Sinners lineup has changed drastically, this was largely due to Todd Kerns becoming a part of Slash's backing band, The Conspirators. Technically, this lineup is not even the "original" band; there are earlier incarnations with a few other musicians, though this lineup is the most remembered one, and the one that first recorded and released albums. Fill-in musicians over the years included musicians like Louie Merlino (Beggars and Thieves) and Jimmy Crespo (Aerosmith). Later incarnations of the group included musicians like actor/musician Zachary Throne (The Heights), Joshua Alan (BlackBox13), and Scotty Griffin (LA Guns). None of the "classic four" are in the band anymore, with the current Sin City Sinners All-Stars band comprised of Jizzy Pearl (Love/Hate), Scotty Griffin, Blas Elias (Slaughter), Rowan Robertson (Dio, Bang Tango), and Oz Fox (Stryper), with fill-in players performing when a member or members of that incarnation is out of town. Though there are the occasional exceptions, that version of the band tends not to play original material, opting for primarily covers.
While these "classic four" Sinners are not a part of that group any longer, and are doing their own separate projects and bands now, they have reunited for this show under the name Original Sin. No one was more excited to see these four, who sucked me into the Vegas music scene so many years ago, back under the same roof for one evening. There have been many versions of the Sin City Sinners over the years, all of whom I have loved and enjoyed the performances of. But this is the definitive lineup; the one that so beautifully fused power pop and hard rock, giving us an amazing mixture of covers and original music, performing with unrivaled stage chemistry and musical skill, but having fun and a good time doing it. As Original Sin, they have returned to rock audiences in Sin City once again, much to the enthusiasm of this fan, and countless others. Here is hoping this will be a permanent arrangement.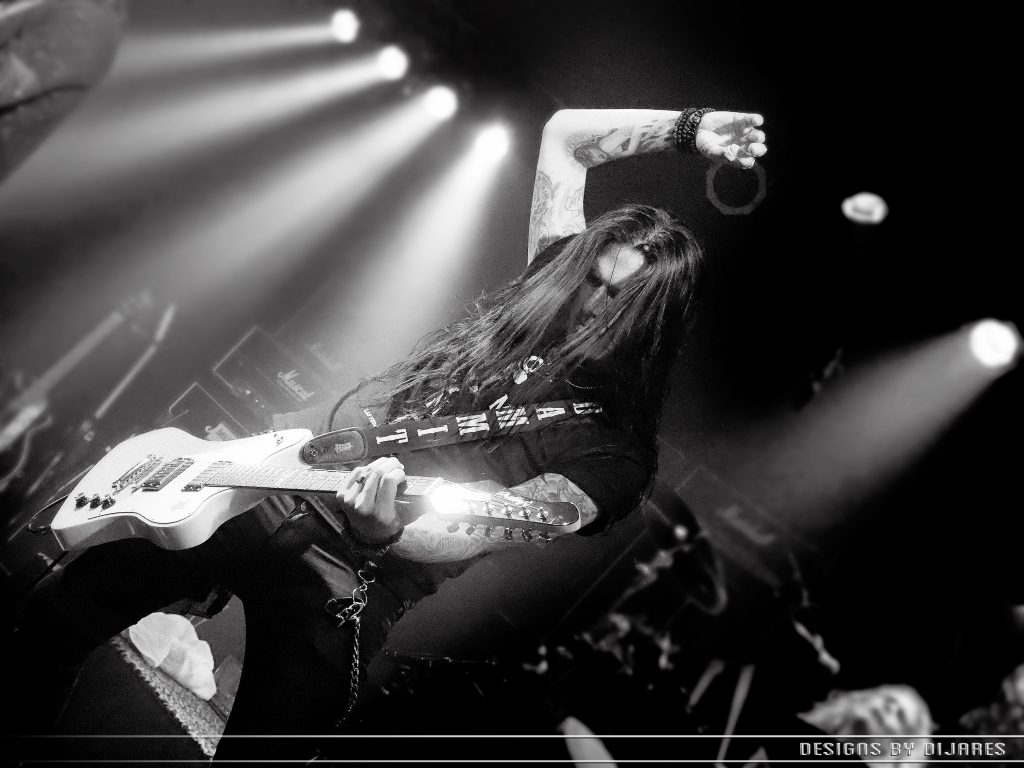 In addition to the main Original Sin set, there were two acts there to rock audiences ahead of time. Starting things off was an acoustic set from Anthony Serrano, who in more recent years has played alongside Brent Muscat in The Saints of Las Vegas. Originally, Joshua Alan, himself a former Sinners singer, was supposed to perform, but Serrano opted to fill in due to Alan recovering from eye problems. I admittedly arrived about halfway through the acoustic set from Serrano (the show started earlier than I had anticipated) but what I got to hear was excellent as always. Serrano is definitely someone I hope to see more of in the future; something I am sure will happen at a forthcoming Saints of Las Vegas show.
The second set of the evening came from Zachary Throne, another man with history in the Sin City Sinners; being Doc Ellis' initial replacement when Ellis departed the band in 2012. An actor and self-taught musician, this guy is always entertaining. His band for the evening included Jeff Duncan (Odin, Armored Saint) and Sean Koos (Joan Jett and The Blackhearts) as well. Throne kicked things off with a superb cover of Soundgarden's "Rusty Cage," no doubt in tribute to the recently deceased Chris Cornell (who coincidentally was being honored at another event in Vegas on this same night). You never quite know what to expect from Zach Throne, and that is not a bad thing. We got everything here from (what I assume were) original tunes from him, to covers that included "California Man" (a song popularized by Cheap Trick but originally performed by ELO predecessor The Move) and even the "Movin' On Up" theme from The Jeffersons! Mr. Throne proved to audiences again why he is just so damn entertaining….. the brevity was this set's only weakness.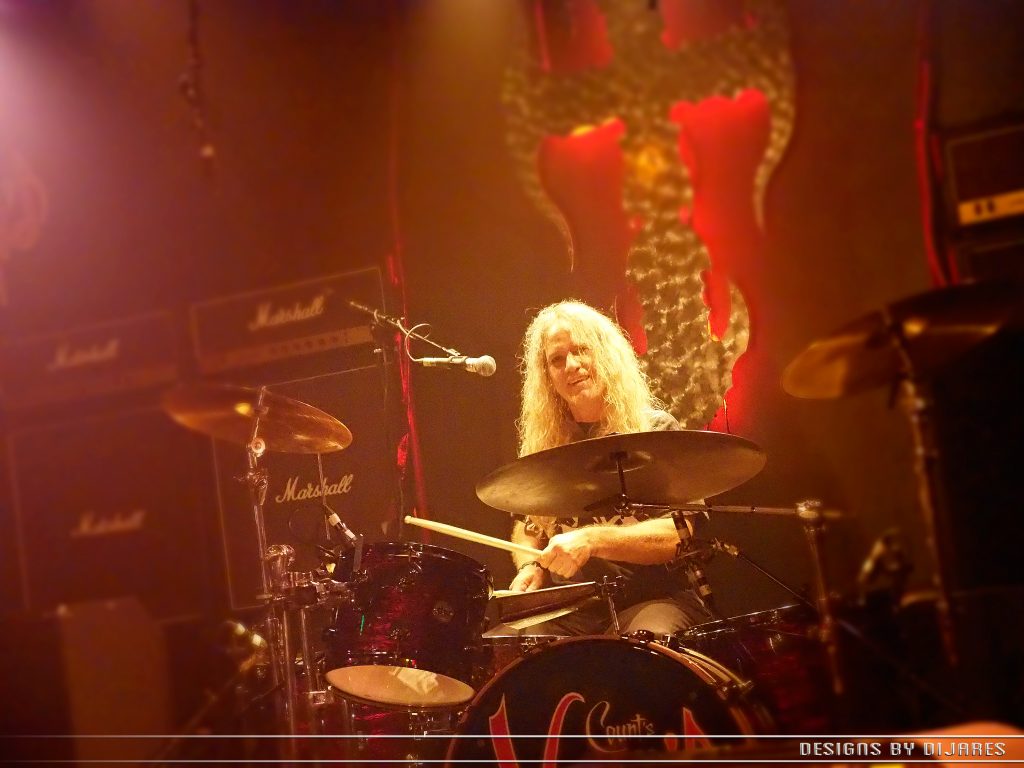 Seeing all four classic Sin City Sinners members reunited to rock Las Vegas once again, even if it only ends up being for this one evening, was an epic occurrence, and one I was certainly not going to miss. There was a time where I would see these guys practically every week; something I credit for myself becoming so involved in the Vegas music scene, writing reviews and articles. Hard to believe it has been nearly seven years since this all begin for me. The venue was packed; I saw Sinners fans from back in the day I had not seen in years! That should go to show how big of a following this version of the band has, and how anticipated their return was.
Much of the band's work is out of print, presumably due to legalities. But for this show, the foursome pulled out all the stops, giving audiences a setlist that was comprised of every song from the band's debut CD in 2010, Exile on Fremont Street, plus the two original tracks from the acoustic follow-up EP, Broken Record (albeit with those songs performed electrically) and a handful of cover songs and tracks from the artists' pasts.
You would not know that it had been years since these four played together; they had a great time on stage, and all the chemistry that this fan remembered. Every track sounded great, from Sinners originals like "Numb" and "Goin' to Vegas" to covers that included Dramarama's "Anything Anything" and Chris Isaak's "Wicked Game." While Todd Kerns generally handles vocal duties, we got to have Muscat step up to the plate for The Rolling Stones "Gimme Shelter" and a cover of his own Faster Pussycat classic, "Bathroom Wall," Ellis filled vocal duties on the aforementioned "Anything Anything" cover, as well as two of his Sinners originals, "Gotta Girl" and "Hey Hey Rock and Roll." I love seeing musicians that have a great sense of humor and chemistry on stage, but still manage to deliver a great performance. This classic Sinners incarnation is difficult to beat when it comes to that. Zach Throne even returned to the stage for a surprise encore cover of the Joe Cocker version of "With a Little Help from My Friends."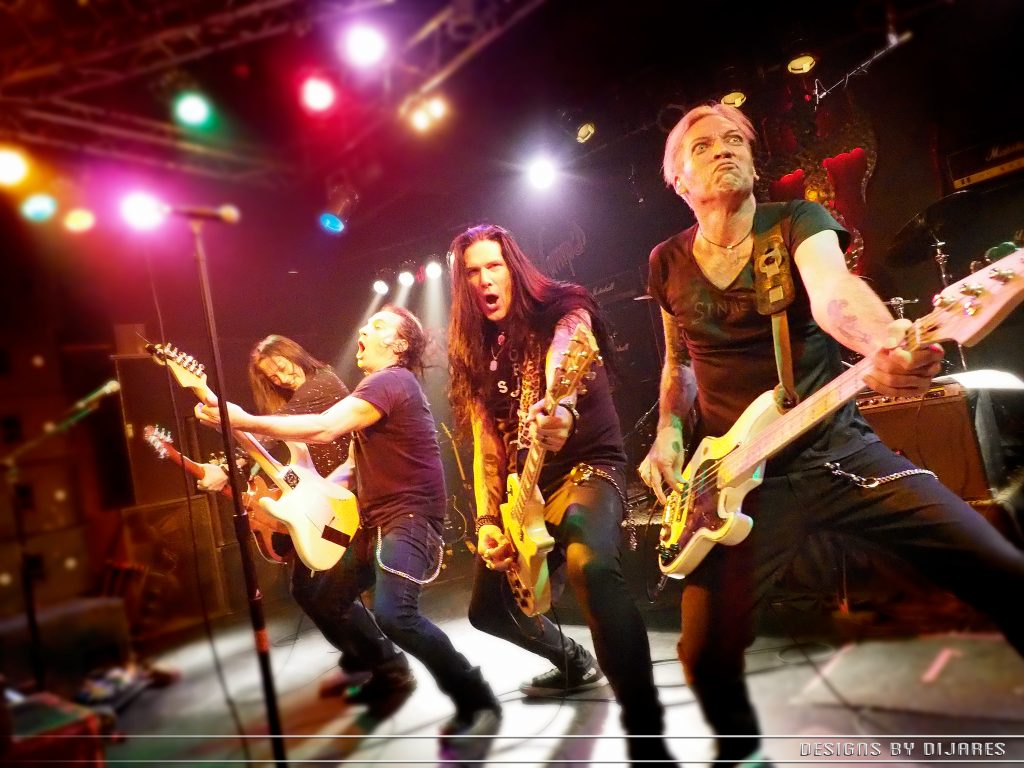 There was not a single dull moment to speak of at this show; the old fans clearly loved revisiting these glory days of one of Sin City's best bands. Here is hoping Original Sin will become a regular thing around the music venues of Las Vegas. Nothing but the best things to say about this band, the performance, and the support acts as well. Truly some of the most fun I have had at a concert in 2017.
PHOTO CREDIT: All photos © Michelle Djares – Used with permission