Graham Bonnet's powerful vocals have dominated the world of classic hard rock and heavy metal for decades, and it is no surprise to see him still going strong, even pushing age 70! The former Rainbow, Michael Schenker Group, Alcatrazz, and Impellitterri frontman has made a comeback in recent years with his new Graham Bonnet Band.
Recorded in Milan, Italy on April 24, 2016, Live…Here Comes the Night captures Bonnet and his band of bassist Beth-Amy Heavenstone, guitarist Conrado Pesinato, and drummer Mark Zonder, on stage in their element, covering many of the standards from Bonnet's career. Even Alcatrazz keyboardist Jimmy Waldo makes an appearance! Following a studio album that featured new original songs and rerecordings of Bonnet classics from those assorted bands he once played with, returning to the live stage made sense. How does Mr. Bonnet sound in his latest live endeavor, and are his bandmates up to the task?
I will be the first to admit that I had not heard of any of Bonnet's backing musicians prior to him launching his current band, but one thing I have been able to say, which is certainly true on this live release as well, is that they get the job done. Bonnet's booming vocals are as powerful as ever; this guy knows how to belt out a tune like no one else, and it comes as no surprise that he has worked with some of the biggest names in the hard rock world.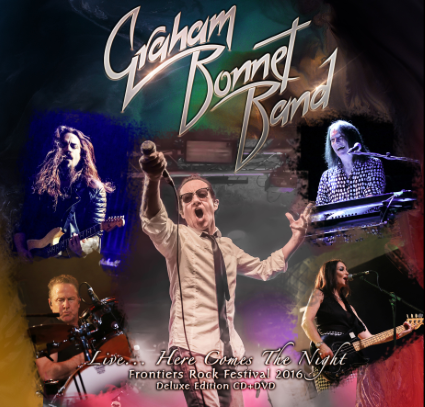 If there's a classic hit with Graham Bonnet singing from the past three decades, odds are good you'll hear it here. "Island in the Sun," Since You've Been Gone," "Assault Attack," "Desert Song," "Dancer," "God Blessed Video," and "Jet to Jet" are amongst the classics you will hear here. We even get underrated fare including "Lost in Hollywood" from the Rainbow days, and tunes from Impellitteri, as well as Bonnet's solo albums. The one classic tune missing from the setlist I would loved to have heard here was "Hiroshima Mon Amour," but that is a minor complaint in the grand scheme of things. Even more surprising is the decision to do a setlist of older tunes; considering Bonnet and company just released an album of new songs which are surprisingly solid, it does come as a slight disappointment not to see those songs get some emphasis on here.
The performance is a spirited one; these performers kick ass. The unexpected star of the show is guitarist Conrado Pesinato; he is playing material originally played by the likes of Ritchie Blackmore, Michael Schenker, Steve Vai, and Yngwie Malmsteen, yet holds his own. These live recordings do not surpass the classic originals, but any man actually being able to do justice to this material on a live stage definitely scores points on my book. The whole band is surprisingly talented, and deserves serious credit for being able to pay tribute to Bonnet's musical legacy.
Live…Here Comes the Night is a damn good live album from the iconic Graham Bonnet, who is pushing 70 yet shows no signs of letting down. And if he still sounds this good, I hope the man is going to be around on live stages for years to come. This is a great live release that comes highly recommended to all fans!