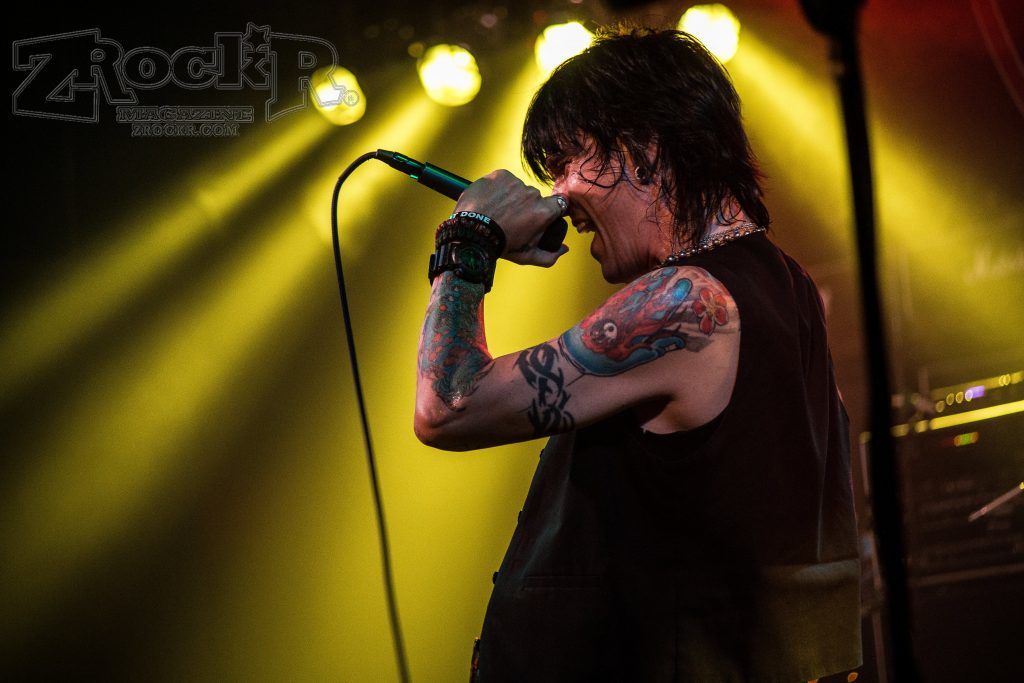 The Whitesnake'd Whitesnake tribute band played Vamp'd on Saturday, August 5, 2017, alongside local support acts TailGun and Baker's Dozen.
With three terrific bands playing the venue, this is yet another Vamp'd show I knew I would be attending, eager to experience the best in classic hard rock, and more.
Baker's Dozen launched the show; I had only seen these guys once in the past, but they continue to impress with a diverse variety of original tunes. The band offers a solid lineup, including ex-Cyanide bassist David Karr, and frontman Tommy Elliott. It is great to see a new band that can carry a whole set of original songs, and I definitely sense great things for the group. With a wide variety of influences, chances are that if you are a rock and roll fan, their sound will appeal to you.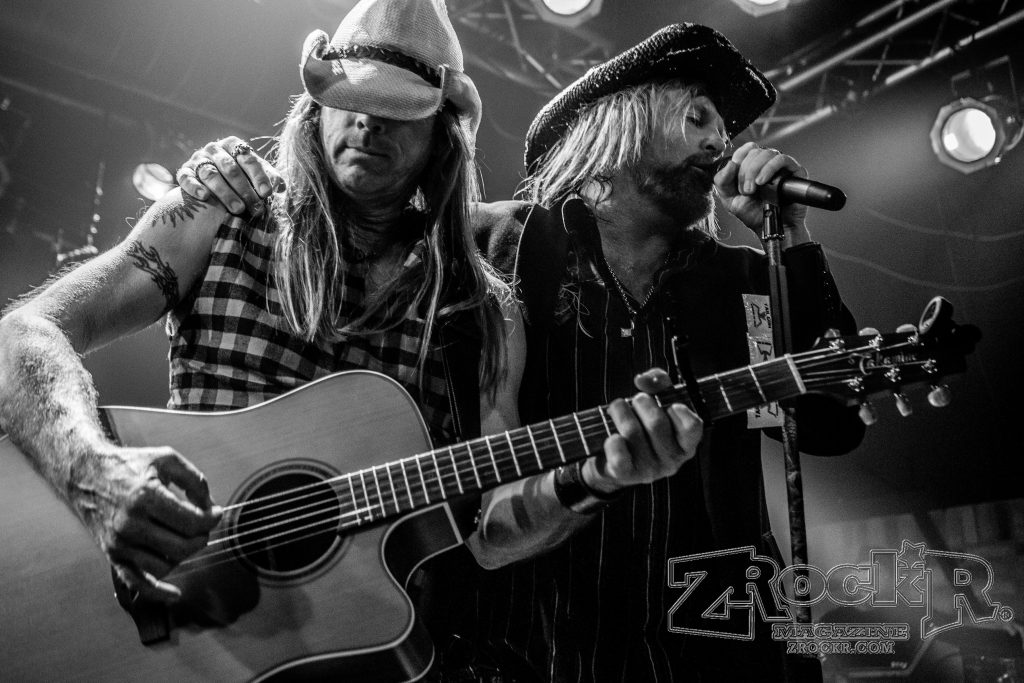 TailGun has been rocking Vegas for years now, and even released their first album last year, to an enthusiastic public. I have been seeing frontman Dru Jaxin (AKA Drew Calvert) for years now, ever since he was the frontman for a local Iron Maiden tribute. Dru was celebrating his birthday on this evening, and had many special guests get up and join the group, to the delight of the crowd. The group served up original songs covering their first album, and some newer songs that will likely surface on the second when it eventually comes out. The set was a bit overlong (more akin to if the group was headlining and on last), but everyone in attendance was having a great time, whether the group was raffling off a bong shaped like a guitar, tossing out condoms to audience members, or calling women up to the stage to dance with the group. I love these guys for their musicianship and sense of humor alike, and it all proved true here again.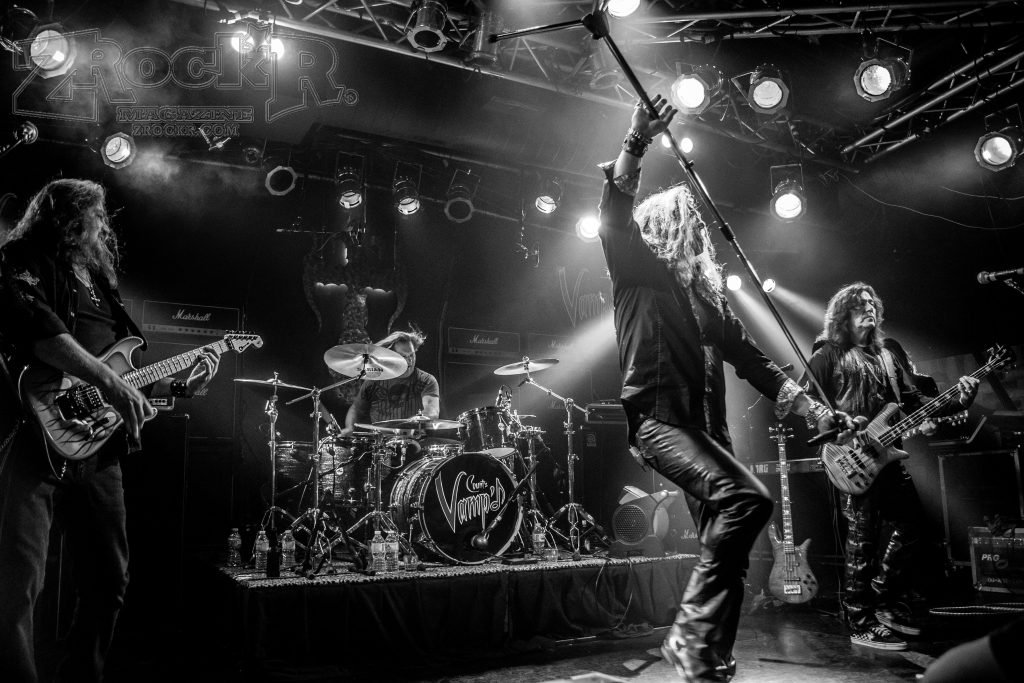 And at last, we come to the headliner! Whitesnake'd is a national touring Whitesnake tribute, and the group pulled in a fairly sizable crowd for a Saturday night in Las Vegas. Years ago, Vegas had its own Whitesnake tribute, but it quietly disappeared and disbanded. At last, after years, Vegas audiences would be able to hear Whitesnake songs performed by a suitable act!
Right from the starting moments, frontman David MacDonald made it clear that he captures the charisma and vocal style of a young, powerful David Coverdale. The group also consists of guitarist Sean Michael Clegg, keyboardist/guitarist Eddie Larkin, bassist Tommy Rojo, and drummer Mark Kelly. Any doubts or skepticism I had regarding the band's ability to replicate the classic Whitesnake sound were quickly shattered; these guys are the real deal.
From the hard rockers to the ballads and everything in between, there are no dull moments. There were the obligatory hits and a few lesser hits as well, impressing the crowd of rockers assembled at the venue. It was great to hear these songs brought to life by a talented ensemble of musicians that appreciate the source material.
Unfortunately, this brings me to the major issue I had with an otherwise stellar evening, and one I was afraid would be present – a predictable, "paint-by-numbers" setlist comprised almost exclusively of the hits from 1984-1989 (although the band did open with "Burn" from Coverdale's Deep Purple days). This was billed as "North America's Tribute to Whitesnake," and the logo the band uses is even based on the original "Snake" logo that the group used up to 1984. A lack of material from pre-Slide it In records was a huge disappointment. If you are doing a Whitesnake tribute, songs like "Come On," "Ain't No Love in the Heart of the City," "Long Way from Home," "Walking in the Shadow of the Blues," "Outlaw," "Ready an' Willing," and "Don't Break My Heart Again" are all essential gems that should not be neglected. These guys perform kick-ass renditions of the songs they play; it is just a shame that they are limiting themselves to "the hits" and not much else.
All three bands put on stellar sets on this evening. Baker's Dozen is a group I look forward to hearing more from down the road. TailGun was entertaining and comical as always, and it will be great to eventually get their new songs on an album. Whitesnake'd brought us killer renditions of Whitesnake's biggest hits, despite adherence to a predictable setlist. That said, all three bands did a fine job, and I strongly recommend seeing them all when you get the chance!
PHOTO CREDIT: All photos by Courtney Ware for ZRockR Magazine – ©ZRockR Entertainment, LLC – ALL RIGHTS RESERVED