UFO is still going strong, touring the world and entertaining hard rock fans in countless countries. The band's most recent studio album, A Conspiracy of Stars, came out in 2015, to positive reviews from fans. This time around, the group is trying their hand at something that is becoming increasingly common for classic hard rock bands to attempt these days – the covers album.
UFO's current lineup consists of vocalist Phil Mogg (the band's one consistent member over their nearly five-decade history), drummer Andy Parker, keyboardist Paul Raymond, bassist Rob De Luca, and guitarist Vinnie Moore. This is the lineup that has appeared on albums and toured in recent years.
The Salentino Cuts features the band trying their hand at a dozen classic songs, ranging from classic 60s rock fare, right up to material ranging well into the 90s. Fans of these classic British rockers are certainly eager to hear them try their hand at the classics, and many songs beyond.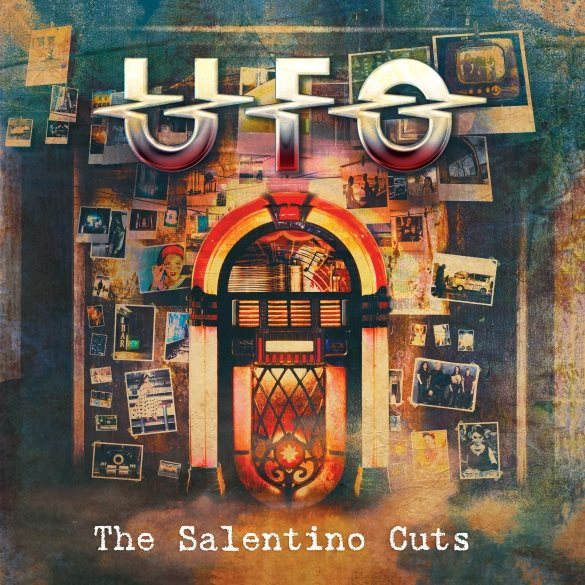 Here's a look at the tracklist, and the artists who made these songs famous:
01. Heartful of Soul (Yardbirds)
02. Break on Through (to the Other Side) (Doors)
03. River of Deceit (Mad Season)
04. The Pusher (Steppenwolf)
05. Paper in Fire (John Mellencamp)
06. Rock Candy (Montrose)
07. Mississippi Queen (Mountain)
08. Ain't No Sunshine (Bill Withers)
09. Honey-Bee (Tom Petty)
10. Too Rolling Stoned (Robin Trower)
11. Just Got Paid (ZZ Top)
12. It's My Life (Animals)
I'll be honest; I didn't exactly think we needed to see UFO doing a covers album. However, the execution here certainly won this fan over. The diverse setlist ranks as one of the best assets here; these aren't necessarily the most obvious songs for the band to cover in most cases, which will appeal to fans of the deeper cuts of the era, though some songs are still classics people will recognize. Besides, when's the last time someone covered everything from the 60s rock of Steppenwolf, right up to the 90s alternative sounds of Mad Season? This tracklist's diversity alone makes the album worth picking up.
Covers albums are always a tough thing to win the audience over with, because the artist needs to put their own spin on the songs, while at the same time staying true to the originals. Striking this balance can make or break a release of covers. Fortunately, the case here satisfies. The real stand-out members of the band here are vocalist Phil Mogg, who despite pushing 70, still sounds like his old self, and guitarist Vinnie Moore, who has made himself a true member of the UFO family over the past 15 or so years. Even the rest of the band gets to shine as well; Paul Raymond's organ playing on "The Pusher" stands as a definite high point.
Even the more unconventional choices come off done surprisingly well, including "Ain't No Sunshine" and "Paper in Fire." If you are a fan of UFO and/or old school classic rock tunes, there will be plenty here to keep your interest. Listening to the cover of Tom Petty's "Honey-Bee" is bittersweet in the wake of Petty's death, but the UFO version now feels like a suitable tribute to his memory. Any rock and roll fan is going to find plenty to love about The Salentino Cuts.
While this fan is eager for the next release of original material from UFO, this collection of cover songs is surprisingly good, and entertaining all around. It will definitely hold you over until the band gets out a new album of originals. A firm recommendation for The Salentino Cuts!