In 1984, Autograph scored one of the biggest pop/rock hits of the decade with the classic anthem "Turn Up the Radio." The group continued to persevere, and has had some partial reunions over the years, but has never quite recaptured the thunder of their most classic hit single.
In recent years, Autographed reunited with classic members Randy Rand and Steve Lynch (fellow classic members Steve Isham and Keni Richards, sadly, have since passed away, and Steve Plunkett is off doing his own thing). These two classic members are joined by new members Simon Daniels and Marc Wieland. A handful of singles have been released in recent years, which along with new tracks, have been combined to create the band's new album, Get Off Your Ass.
Resurrecting the Autograph name again is certainly a risky proposition; you've essentially only got two of the five classic members, and the current lineup does not feature a keyboard player. These "pseudo-reunions" can make or break a band. In the case of Autograph, does lightning strike twice?
The singles put out by Autograph in recent years, while decidedly different from the band's 80s heyday, definitely gave this fan some hope for something better. While Get Off Your Ass is not a perfect record, the highs outweigh the lows. The band is energetic, and proves to be more than capable of holding their own. Quite honestly, the lack of a keyboard player sounds like something terrible, but this actually proves to be a blessing in disguise, as it requires the band to revert to guitar-driven rock. In this regard, Get Off Your Ass is the best of both worlds, deliciously retro at times, but with enough modern elements that it never quite feels like a blatant nostalgia trip.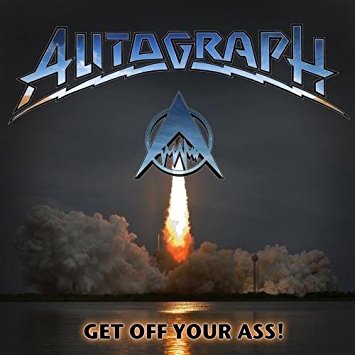 The singles that have come out in recent years, "You Are Us, We Are You" and "I Lost My Mind in America," are catchy as hell, and are worthy additions to the band's catalogue. The same can be said of newcomers like the title cut and "Every Generation;" this is a band that is not content to simply copy the "good old days," and they let you know it on every cut. Jailhouse singer Simon Daniels proves himself to be a worthy addition to the group, shelling out booming, powerful vocals on each cut here. Classic guitarist Steve Lynch gets his share of impressive guitar solos as well.
The only real weaknesses on an otherwise stellar release are "Meet Me Half Way," which has a chorus that sounds a little too much like Nickelback to this classic hard rock fan, and "All I Own," which feels like a generic modern pop ballad. Still, this is just two cuts, and they are easy to overlook.
Topping off the release is a live version of "Turn Up the Radio." Import versions also include an acoustic version of "All I'm Gonna Take." The live take on the band's classic anthem with the current band sounds impressive; it is good to see them keeping the classics alive in addition to bringing us powerful new cuts.
Get Off Your Ass proves that Autograph is a band that is here to stay, and it will be interesting to hear if we continue to get new music from these revived rockers. The faults on the release are limited, and overall, this is a solid effort that is worth picking up.