Babylon AD came on the scene in the late 80s, with a debut album that was one of the best hard rock releases of the era. Featuring classics like "Hammer Swings Down," "Bang Go the Bells," and "The Kid Goes Wild" (the latter of which was featured prominently in RoboCop 2), that release cemented the band's place in rock and roll history.
The group still consists of classic members Derek Davis, Robb Reid, Jamey Pacheco, John Matthews, and Ron Freschi. A few years back, the group released a new live album, beautifully demonstrating to audiences that they were not about to be done rocking. Vocalist Davis even released a solo album earlier in 2017.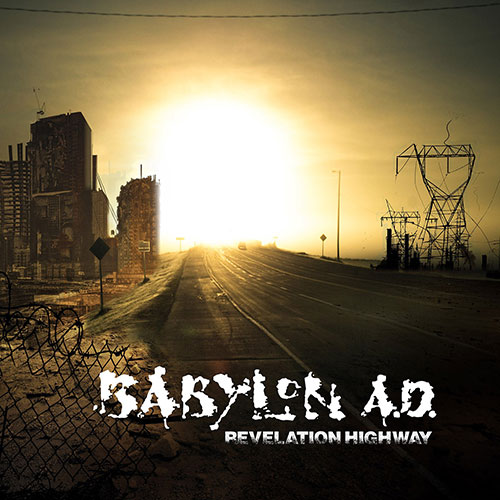 Revelation Highway is the latest album from Babylon AD, scheduled for release on November 10, 2017. The band has proven that they are here to stay, so a new studio album of original material is definitely something for the fans to get excited about. How does their latest release fare, and is this something you will want to purchase when it streets next month?
I will be honest; often times, a band shows signs of something promising and optimistic when it comes to making a comeback, but often fails to follow through. I would be lying if I said I was totally sure about Babylon AD making a return to the musical forefront and releasing a new record (many other bands have been far less fortunate with the outcome), but guess what?
Revelation Highway kicks ass.
It has been three decades since the Babylon AD debut record was released…. Yet this album sounds like it could have been recorded six months after the fact. The chemistry between the band members is as strong as ever; these guys remain at the top of their game, something I cannot even say for many of the former so-called "top tier" bands to emerge from the 80s. Clearly, retaining the classic lineup here has worked in the band's favor; these guys know how to make damn good music together! No amount of money can buy the chemistry this quintet has.
The album goes from straight-up hard and heavy rock as only Babylon AD could deliver, to more moody and atmospheric tracks. Things start strong with the classic hard rock sounds of "Crash and Burn." "Fool on Fire" feels like a sequel to "Bang Go the Bells," which this fan means in the best of ways. A personal favorite on the album is "One Million Miles," one of the more mature but no less powerful cuts the record has to offer. Throughout its ten-track duration, there are no dull moments. This is a spectacular release from Babylon AD, and one of the year's best rock and roll releases.
Babylon AD strikes back with a vengeance on Revelation Highway, easily one of the top rock and roll releases of 2017. When I release my Best of the Year list sometime in December, it is highly likely that you will see this one show up on there. When this album streets on November 10, rush out there and get it. Absolute highest recommendations!