Professor Marston and the Wonder Women (hereafter simply referred to as "Professor Marston") is directed by Angela Robinson, and stars Luke Evans, Rebecca Hall, and Bella Heathcote. The film's musical score is composed by Tom Howe, and is based on a true story. This film is not to be confused with the 2017 Wonder Woman film, which is part of the DC Extended Universe of movies.
Professor Marston is the story of William Moulton Marston, the psychologist who created the iconic superhero Wonder Woman. Marston, and his equally-educated sharp-tongued wife, are working in a college, where they meet Olive Byrne, a student, who becomes an assistant in their research studies and experiences, and the threesome form a rather unconventional love triangle that lasts decades. Many of these experiences fuel Marston's creation of Wonder Woman, as something of an embodiment of the best traits of both women. But the public eventually discovers the Marston Family's secret and abnormal way of life, and Wonder Woman comics come under fire from decency groups with negative accusations.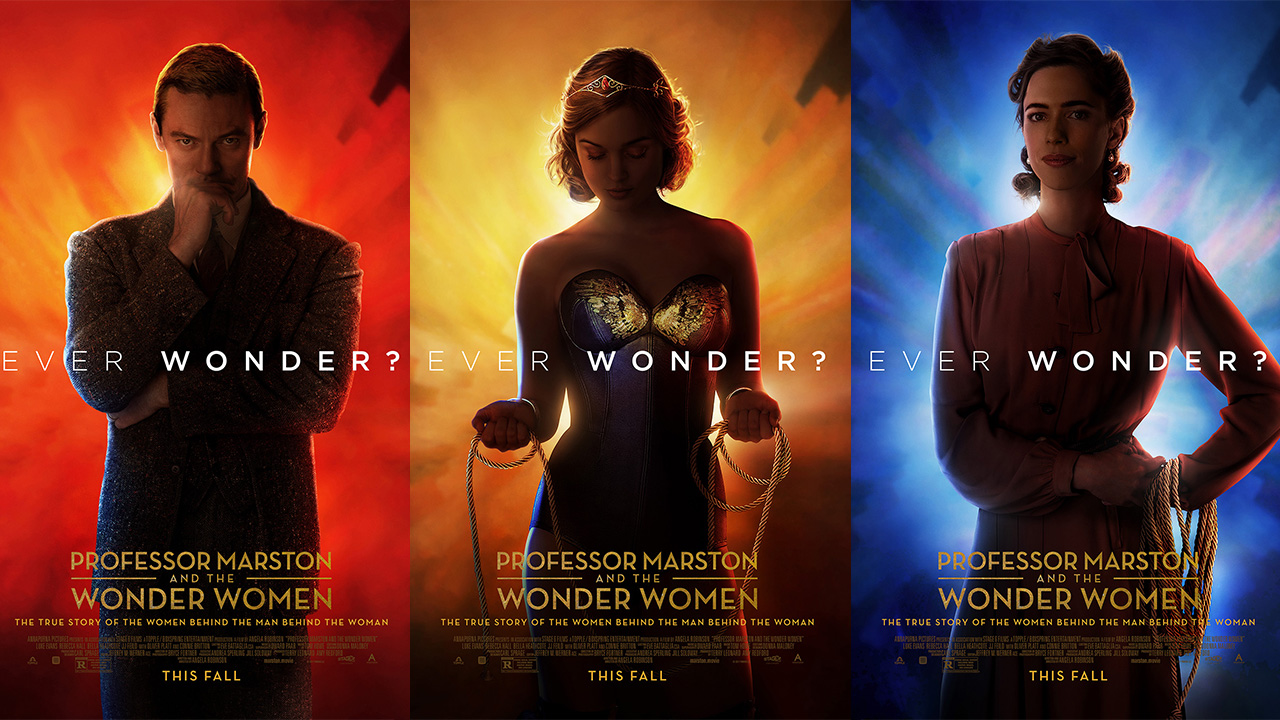 Professor Marston tells a powerful story that is anything but ordinary. Surely you have heard of Wonder Woman and seen her depicted in television series, comic books, and feature films. But the story behind her conception is stranger than the fiction in which she appears. In American society in the 1920s through the 1940s, there were very rigid beliefs as to what life should be, and Marston, his wife, and his second lover were about as far from ordinary as one could get. The clash with societal norms, combined with powerful (and real!) personae makes Professor Marston one of the unexpected cinematic surprises of 2017.
The cast and crew stand as one of Professor Marston's greatest assets. The love triangle portrayed by Evans, Hall, and Heathcote steal the show in every single scene. The true standout amongst the trio would have to be Heathcote, who is initially a shy, timid, and uncertain girl who is planning on following the typical "good girl" path through life, but ends up with everything changing upon meeting the Marstons, and becoming far more than a conventional research assistant.
The film is unflinching, erotic, entertaining, and certainly educational as to the bizarre history behind the man that created the Wonder Woman character. As Mrs. Marston, Rebecca Hall has a tongue that would make most men blush, and is a woman who refuses to back down in uncertain times, even in a male-dominated society. In a time where irregular relationships and homosexuality were more-or-less condemned and unheard of, these are people who went outside the ordinary, yet tried to juggle this with raising children in a happy household. The culmination of all things in the film stands as an unexpected strength, and will leave an impact on viewers. Even if you are aware of the Wonder Woman character (and who isn't?), it is unlikely you have any idea of the strange and darkly sexual origins of the character!
The film is set in multiple time periods, jumping back and forth between the "past" and the "present" (which is 1945). Usually I am not a fan of films that use these "time jumps," finding them to be quite jarring and distracting from the narrative at hand, but here it is actually handled quite seamlessly. If there is one flaw to be had, it is that the movie does cover almost too wide an array of time periods in its two-hour duration; the time skips between eras mean that we clearly miss out on many elements and phases of the Marstons' lives, including seeing their children grow older. It is possible the film may have been better off sticking to a smaller time frame, but these are hardly weaknesses, since what is done in this film is handled well.
I should probably mention that there have been some debates regarding the movie's historical accuracy, including claims from the Marstons' descendants, but claims and debates like this are common when it comes to dramatic films based on a true story, and this certainly did not impact my enjoyment of the film.
Professor Marston is an unexpected cinematic surprise detailing the birth of the most popular female superhero of all time, and the bizarre life of the man who brought her to life. The film is not going to be for everyone (it is certainly not for the faint of heart or those offended by anything overly taboo), but for those that are open-minded and interested in exploring the story, Professor Marston is a well-paced, well-written, well-acted, and all-around excellent film that will impress, educate, and entertain.
Rating: Three-and-a-half out of four stars.
DISCLAIMER: All images in this review are the property of the respective copyright holders. For promotional use only. All rights reserved.