Space Detective is directed by Antonio Llapur, and stars Matt Sjafiroeddin, Angela Rysk, Nemo Strang, Steed Corulla, Rico Lee Jr., and Stephanie Reynolds. The film was screened for audiences on Wednesday, November 1, 2017, at AMC Town Square.
In Space Detective, the eponymous hero finds himself back out amongst the stars when he agrees to help out an old love interest who requires his services. His travels quickly land him in hot water, and he finds himself hot on the trail of dangerous adversaries, as well as a mysterious weapon capable of unimaginable destructive power.
I have been waiting (quite literally!) over a decade for the release of Space Detective; I first became aware of the product back in 2005/2006 when working at Tower Records alongside Antonio Llapur, who directed the film. Even long after the closing of Tower, I remained curious about the state of the film and if it would ever get done (as I'm sure many other followers were!) Fortunately, the cast and crew, all these years later, have absolutely delivered. Space Detective has arrived, and with its distinct visual style and a brisk 73-minute run time, this cinephile is pleased to announce that it is a ton of fun. Space Detective is part noir, part sci-fi action adventure, and part love letter to popular culture and cinema.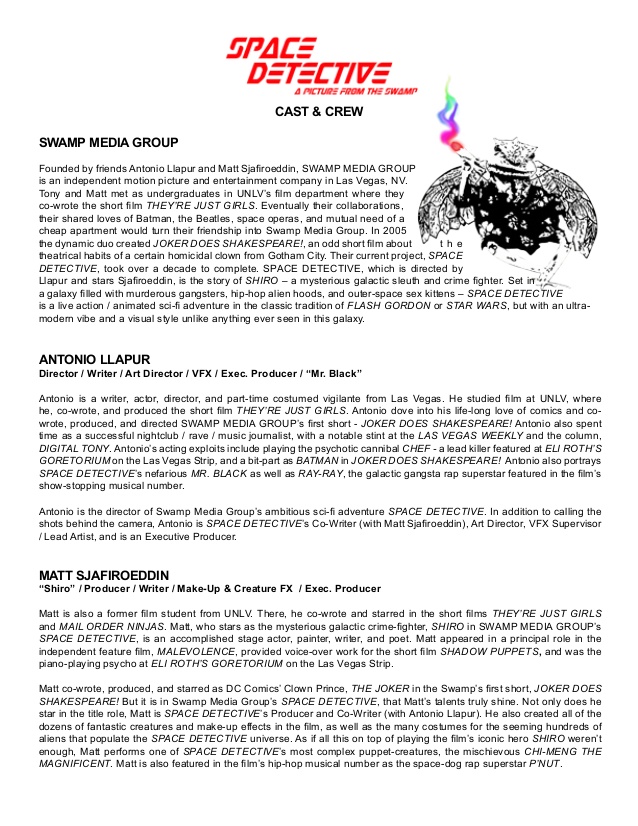 In many ways, independent films like this are far more fun to watch and review than a big budget Hollywood production, because you get to see how the cast and crew make things work without the backing of a major studio and distributor. The crew of Space Detective have made one thing certain: Long after you have finished watching the movie, love it or hate it, you are going to remember it. That impact alone should say something for the work that the team has put in here.
The most memorable aspect of Space Detective, by far, is the LOOK of the film. The cast and crew have filmed live action footage and rendered it in such a fashion that it appears similar to animation (I don't know the exact techniques utilized here) and bold colors are utilized in nearly every single scene of the film. Put simply, you don't want to avert your eyes, because there is always something there to be taken in. In addition, there are so many hidden one-liners, jokes, and visual references that you are going to want to see the movie twice just so you can find the things you missed the first time around. Honestly, it was refreshing to see a film that looked so much different from everything else the major studios are putting out; you'll remember the visuals of Space Detective long after your viewing of the film has ended.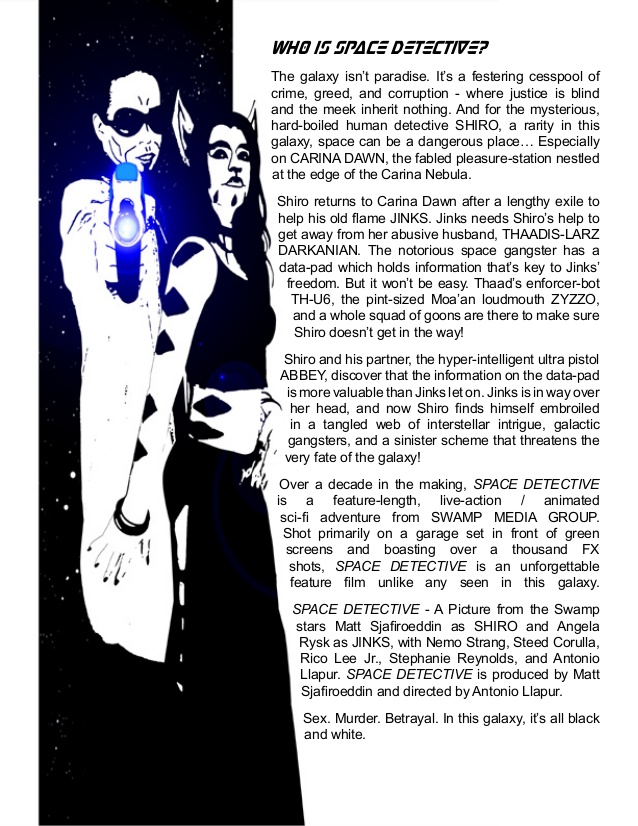 The acting and performances from the cast are delightfully over-the-top, which only adds to the experience. Matt Sjafiroeddin definitely impresses as the eponymous hero, who has his own interesting backstory and exploits, making this character something between a film noir detective and a science fiction action hero. Angela Rysk is terrific as the female lead, a beautiful human/cat hybrid with a Russian accent, who I found myself drawn to and attracted to despite her character's history and, at times, bad decisions. But, the major stand-out of the cast would have to be Rico Lee Jr., who portrays an alien who dresses and talks like a gangster fresh out of the ghetto. Even if we don't get a proper Space Detective sequel, I pray that we get a spin-off with this guy!
The popular culture references throughout the film will appeal to many viewers; it seems like Space Detective was influenced by a little bit of everything. The crime-laden space city featured in the film feels like the unholy love child of Las Vegas, Blade Runner's futuristic Los Angeles, and Star Wars' Mos Eisley. A personal favorite scene was one of a character watching "alien" TV shows that included everything from a rap video to alien versions of Reservoir Dogs and Batman! While this scene admittedly dragged on longer than necessary, it was quite hilarious, and is quite reminiscent of the satirical "television" scenes in RoboCop. Again, you'll probably have to watch the film twice to spot everything.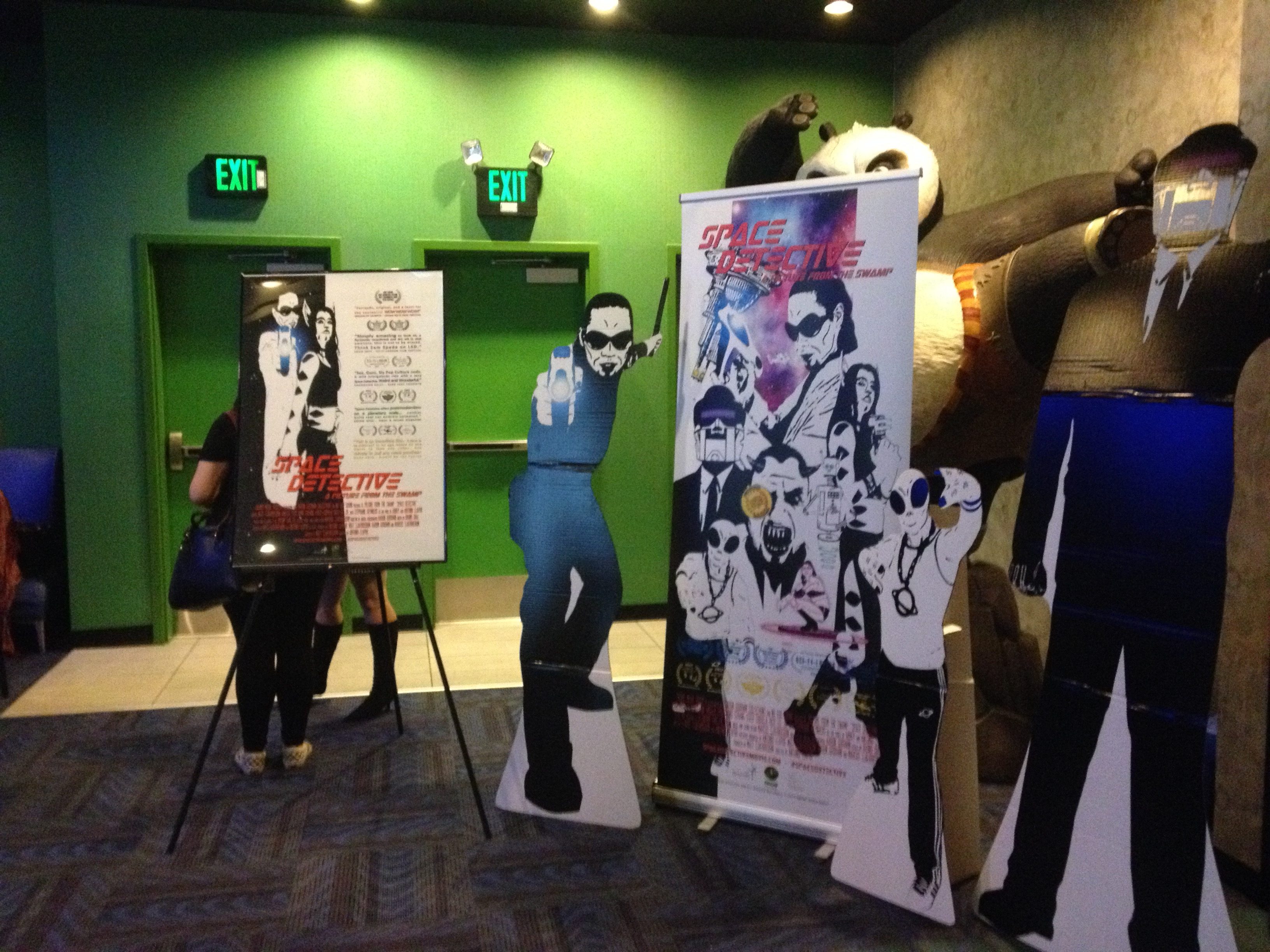 Space Detective has arrived, and this bizarre action/adventure/sci-fi/noir hybrid is sure to satisfy audiences looking to experience something new and different; the brief run time keeps things moving along perfectly. As it is, the movie is paced well, features memorable performances, and plenty of sequences that you will not soon forget. In fact, the film has already won awards at  film festivals, including many outside the United States. Even if you are not a fan of the film following its conclusion (and that's unlikely), you are not going to forget the things that you see on the screen.
Highly recommended viewing!
DISCLAIMER: All images in this review are the property of the respective copyright holders and filmmakers. For promotional use only. All rights reserved.