Thor: Ragnarok (hereafter simply referred to as "Ragnarok") is directed by Taika Waititi, and stars Chris Hemsworth, Tom Hiddleston, Cate Blanchett, Idris Elba, Jeff Goldblum, Tessa Thompson, Karl Urban, Mark Ruffalo, and Anthony Hopkins, Mark Mothersbaugh (Devo) composed the musical score.
Following the events of Avengers: Age of Ultron, Thor returns to his homeword of Asgard, exposing his brother Loki, who has been masquerading as their father, Odin. But when their estranged sister Hela reappears, with ambitions to take the throne of Asgard and return the kingdom to its former warmongering ways, the kingdom faces its most serious threat yet. Further complicating things is Thor being trapped on a backwater planet and forced to fight in an arena for a mysterious Grandmaster, while Hela continues with her plans for Asgard's future.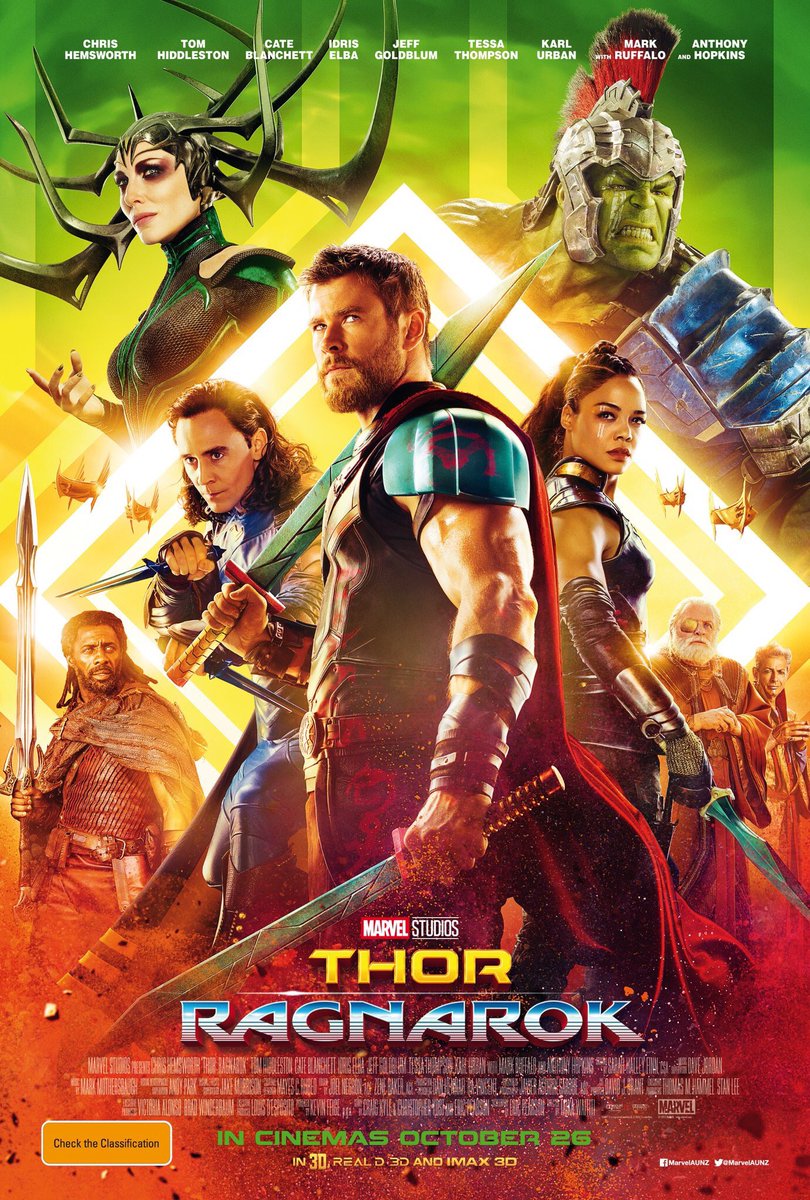 As much as I love Chris Hemsworth's portayal of Thor, and even more so, Tom Hiddleston's portrayal of Loki, the Thor films have often gotten the short end of the stick in many regards. The first Thor film didn't even have a central antagonist (the only MCU film to not have one), though it did serve to introduce Loki. The second was heavily edited and butchered in post-production, leaving us with a lackluster villain and hit-and-miss execution aside from some great Thor/Loki scenes. And while Ragnarok is by no means a perfect film, it is certainly the most fun, enjoyable, and accessible of Thor's solo adventures so far.
The movie is brilliantly cast, with plenty of old faces returning, and some fine new ones that have come into the MCU. Cate Blanchett is delightful as the villainous Hela, who plays this part over-the-top and enjoys every single second of it, finally giving the Thor films a worthy antagonist. Jeff Goldblum fits right in as the Grandmaster, and he too clearly has fun with this part; here's hoping we'll see him in later films as well. The MCU knows how to cast parts, and old and new alike all impress here.
The film also scores points for trying something completely different from prior Thor adventures. Gone are the romantic and comic relief side characters from previous installments. Here we get completely new situations and environments for the characters, and these result in some of the most fun and entertaining scenes in the MCU so far. You would think that after a decade this universe of films (not to mention comic book/superhero films in general) would be getting stale, but Kevin Feige and the MCU team have continued to do their job exceptionally well. It will also be interesting to see if Taika Waititi is asked back to helm future MCU/Thor films.
If there is one complaint to be had with the otherwise fun and spectacular film, it is that it is almost a little TOO funny at times. While the film impresses, it feels almost like the writers forgot they were writing for Thor and not for Guardians of the Galaxy, a team I would not be surprised to see Thor encounter, particularly if he ends up on this film's junkyard/arena planet again. Yet despite issues with the comedic tone, I can still easily call this the best of the Thor solo films, even if it is lacking in a few minor elements from earlier exploits involving the God of Thunder.
Ragnarok impresses in nearly every level, and stands as a strong achievement in the MCU, with something for everyone. While the heavily comedic tone may not be for everyone, it does fit in seamlessly with the MCU, and will have you all the more excited for future adventures involving these characters.
Rating: Three stars out of four.
DISCLAIMER: All images in this review are the property of the respective copyright holders, including Disney and Marvel Comics. For promotional use only. All rights reserved.