Daddy's Home 2 is directed by Sean Anders, and stars Mark Wahlberg, Will Ferrell, John Lithgow, and Mel Gibson, with supporting roles from Linda Cardellini and John Cena. It is a sequel to the 2015 film, Daddy's Home.
Stepfathers Brad and Dusty have developed a friendship and share alternating parenting duties of their children, but their kids are distressed by having to split Christmas up between the different households. The two fathers strive to make a "together Christmas" with everyone in one place, but a wrench is thrown into the works when Brad and Dusty's own fathers make the announcement that they are coming for Christmas. Upon the arrival of Brad's father Don, an overbearing, loving and sensitive man, and Dusty's father Kurt, a chauvinistic, egotistical, and overly judgmental ex-astronaut, the family heads out to spend Christmas in a beautiful cabin… and nothing goes as planned.
I cannot exactly say my expectations for Daddy's Home 2 were high or lofty; it's doubtful that anyone expects Oscar material from a comedy featuring Will Ferrell. The film has an all-star cast in its leading dads and grandfathers, but ends up feeling like nothing more than an episodic collection of hit-and-miss gags, with nearly everyone else in the film playing second fiddle to the leading quartet.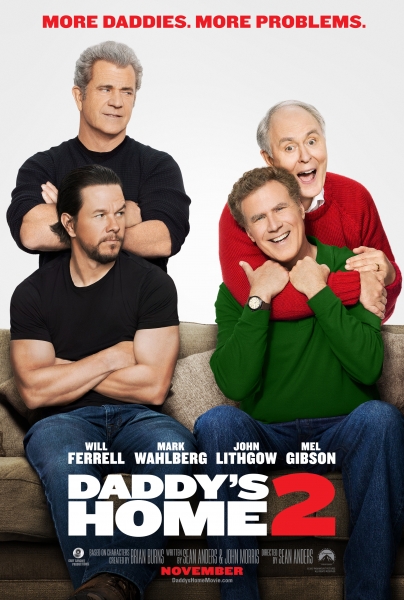 A few weeks prior to seeing this film, I had seen and reviewed A Bad Moms Christmas, and after having seen this film, I can honestly say that the two are, more or less, the same movie. Both are Christmas-themed sequels to non-Christmas movies that were surprise hits. Between the two films, the only major difference is that this film emphasizes fathers and grandfathers instead of mothers and grandmothers. Hell, the structure, the events, the nature of the father/grandfather relationships, the countdown of days to Christmas, and the endings and conclusions, including what the grandparents plan to do following the film's events, are almost exactly the same. I won't say anymore so as to avoid spoilers for either film, but if you watch one film and then the other, you are going to be in for quite the sense of déjà vu.
Where did things go off the tracks? You have a solid collection of actors assembled here. When he's at his best, Will Ferrell can be pretty damn funny, but even the best of comic actors cannot rise above poor writing and a collection of gags in which very little sticks. Bringing in the star presence of Mel Gibson and John Lithgow seemed like a match made in Heaven, and while these two do get some of the film's best moments, and the main quartet seems to have decent chemistry, the bad writing and script just never quite come together. Gags are set up with no follow-through. Gibson's character is supposed to be an ex-astronaut, but his temperament is more consistent with that of an ex-military fighter pilot, so you won't buy that backstory for one second.
It does not help that, outside of the central quartet, basically no one gets any emphasis. The kids are all one-dimensional and boring. It does not help that there are too many of them, and I was having a hard time remembering who was who, since the movie does not bother fleshing anyone out or making them distinctive. Subplots are hinted at but quickly discarded. The wives are basically given nothing to do, and again, since the movie didn't bother fleshing them out, I lost track of who was who, and didn't care about them. John Cena is introduced far too late in the film, and simply adds another one-dimensional stereotypical character to the mix.
To be fair, some of the physical gags are pretty funny, but the movie has no heart or soul beneath it all, despite the best efforts of a talented cast. One of the best moments in the movie comes with the family being trapped in a movie theater, watching a (fictional) movie starring Liam Neeson as an ICBM truck driver estranged from his family at Christmas, which Gibson's character quotes after in an attempt to reconcile with his own son. Let's be realistic…. I'd rather watch THAT film than this one (if any Paramount execs are reading this review, see if Neeson is available, and if he is, get down to business!) A surprise cameo at the end of the film is fun, but unfortunately, can't save the movie from its shortcomings.
I should also point out that, while this is being marketed as something of a family-friendly PG-13 comedy, there are some less politically-correct moments that may be unsettling to some parents of younger viewers, largely stemming from the bigoted attitude of Gibson's character. Honestly, I found a few of these moments to be hilarious, but parents may want to think twice before taking their kids. It is also worth mentioning that divorce and co-parenting are major themes in the film, though the two "co-dads" in the movie actually have a mostly positive relationship.
Daddy's Home 2 had potential, but it feels like a slapped-together collection of weak gags, underdeveloped and uninteresting characters, subplots and gags that go nowhere, and, despite its attempt to tell a story set at Christmas, has no real feeling or value. The (likely coincidental) similarities with A Bad Moms Christmas will give moviegoers an unwanted feeling of déjà vu as well. Neither film is a Holiday tale of high quality, but I would give the nod to the R-rated A Bad Moms Christmas between the two movies if you are seeking Christmas-themed comedy this Holiday Season (though it's basically like choosing between a kick in the face and a kick in the crotch). And if you are looking for more family-friendly fare, there are other, superior options.
Rating: One out of four stars.
DISCLAIMER: All image in this review are the property of their respective copyright holders, including Paramount Pictures. For promotional use only. All rights reserved.