The Ghost Bride is a Filipino horror/suspense film directed by Chito S. Rono, and stars Kim Chiu and Alice Dixson. The film's dialogue includes dialogue in Filipino, Chinese, and English, and as such, is subtitled in English for its American theatrical release.
In Manila, Mayen is a girl belonging to a family that has fallen upon hard financial times, with her father hospitalized, and in danger of losing his business and property to a ruthless landlord, who has offered his hand in marriage to Mayen in exchange for ending said financial hardships. Mayen, wanting nothing to do with this man, agrees to a strange business proposition of becoming a "Ghost Bride" for a Chinese family, which will bring her enough money to end her family's financial problems. But it is not long before, upon making this arrangement, things begin going awry, with people close to her ending up under threat from mysterious entities. It is up to Mayen to discover the mysterious nature of what she has gotten herself into, and to break the curse.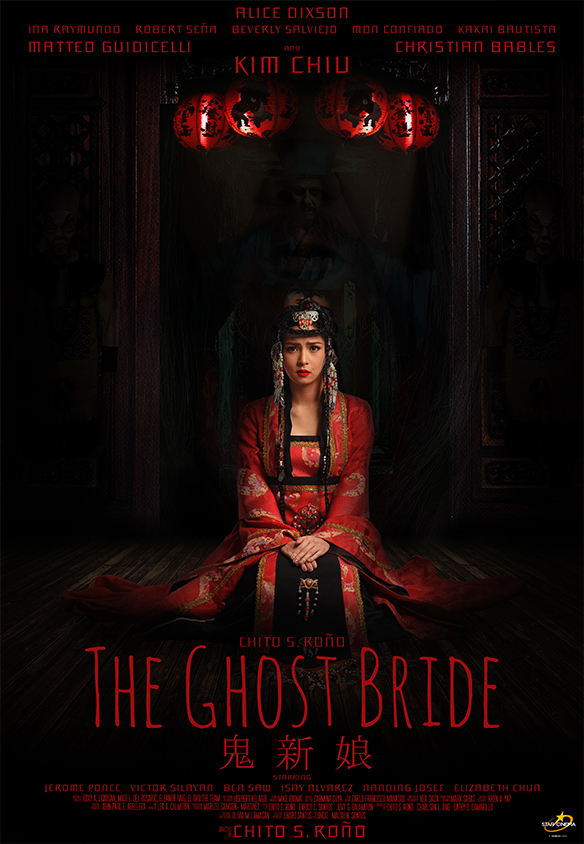 The Ghost Bride is the latest in a long line of Filipino horror films. And while the movie impresses with a horror twist on ancient customs, as well as authentic Philippine and Chinese settings coupled with family drama, it suffers from a convoluted narrative, an overabundance of underdeveloped, one-dimensional characters, a handful of weak performances, and a laughably over-the-top finale that knows no bounds.
As far as the positives go, Kim Chiu gives a fantastic performance as Mayen, the film's young female lead, juggling drama and hardships of many varieties, who reluctantly becomes the titular bride. The drama in her family feels authentic, even if that is not necessarily the "main" story of the film; you can definitely feel for her in this predicament. The movie also scores points for its emphasis on traditional customs and values; some Western viewers may be a bit overwhelmed by this aspect and not fully understand what is going on, and while this is certainly true of me, I thought one of the greatest aspects of this film was one of the simplest; giving viewers a look at these pieces of culture and customs. For the most part, the supporting cast fares well. But the best thing about the movie is Chiu as Mayen; I hope to see her in more films in the future.
Unfortunately, despite the film's intriguing premise, it just falls flat in too many areas. Alice Dixson, as the film's principal antagonist, feels like she is reading her lines from cue cards, and her scenes come off as overly campy as a result. Ironically, the scenes where her threat seems the most authentic are the ones where she is not on camera. The series of events in the film does not always make sense, and you get the impression the filmmakers just decided to do what they thought would be the most shocking and surprising, tossing logic out the window, though this approach does work at times.
The other major weakness is that the movie throws far too many characters and subplots at the viewers; remembering who is related to who, and who has been through what, becomes difficult to follow because of this. The character roster could have done with some trimming; instead we are left with many one-dimensional, one-note persons. The series of events is not helped by its laughably bad finale, which feels like an unholy amalgamation of Crouching Tiger, Hidden Dragon and Doom, backed by some awful CGI work. What it is all said and done, we get a pre-credits scene that hints at a potential sequel, but I am on the fence as to whether or not I would go to see one.
The Ghost Bride is a difficult film to review because there are some parts of it that are fantastic, and others that simply bog the film down and aren't doing it any favors. Yet the emphasis on Filipino and Chinese customs and settings put the movie a cut above many of the mediocre American horror films that have been coming down the pipeline at an alarming rate in recent years. The Ghost Bride is not a masterpiece, but for what it is, it's not a bad movie. I would not recommend rushing to the theater to see it, but if your local theater has it, if nothing else, it is a nice diversion from conventional American horror fare. Moderately recommended.
Rating: Two-and-a-half out of four stars.
The Ghost Bride has not been rated by the Motion Picture Association of America, though my recommended rating would be a hard PG-13 for mature themes, suspenseful moments, and brief but intense moments of violence.
DISCLAIMER: All image in this review are the property of their respective copyright holders, including (but not limited to) ABS-CBN and Star Cinema. For promotional use only. All rights reserved.