The Man Who Invented Christmas is directed by Bharat Nalluri, and is based on Les Standiford's book. The film stars Dan Stevens, Christopher Plummer, and Jonathan Pryce.
In the mid 1800s, British author Charles Dickens was successful following the release of his esteemed Oliver Twist, touring America on its whirlwind popularity. But on his return to England, he finds himself uninspired, with his next three books being flops. Desperate for a new story, he seeks inspiration around London and in the people closest to him, and much to the ire of his publishers (who are losing faith in him anyway), announces that his next story will be a Christmas tale. As Dickens finds inspiration for the characters and events of his new story, later to become the classic A Christmas Carol. But will he successfully complete the story, or will he encapsulate everything wrong with his fictional creations?
The Man Who Invented Christmas puts an interesting new spin on A Christmas Carol. It is part Dickens biopic, and part fantasy story. It weaves together comedy and drama and tells a memorable story that audiences are bound to enjoy. And while I doubt it will join any of the proper filmed versions of A Christmas Carol as mandatory yearly holiday viewing, there is more than enough here to appeal to a wide variety of viewers, despite some tonal inconsistencies and shortcomings in its latter act.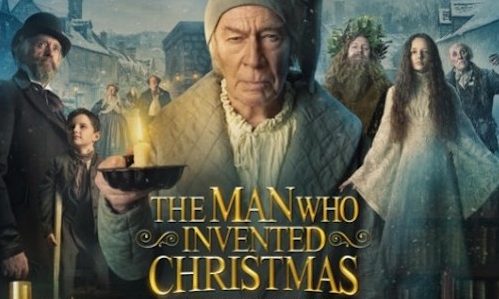 Is there anyone not familiar with the story of A Christmas Carol? For nearly 200 years, the story has always been in print and popular in some shape or form. The Man Who Invented Christmas puts an interesting twist on this, showing the struggles of Dickens to create a new story about Christmas, in an era in which Christmas had gone out of style and long been forgotten by the populace. In this film, we see Dickens' inspirations come to life and interact with him. Standout performances in the film come from Dan Stevens as Dickens, who captures both the loving and the frustrated, tortured sides of the author, and Christopher Plummer as Ebenezer Scrooge, come to life in Dickens' mind, interacting with him. Despite pushing 90 years of age, Plummer gives a fantastic performance here. Personally, it made this moviegoer want to see Plummer playing the role of Scrooge in a more traditional version of A Christmas Carol as well; he's definitely the highlight of the movie.
The overall narrative does a solid job juggling comedic moments involving Dickens, his friends and family, and his creations. You can genuinely feel Dickens' struggle to create a new work of art, and everything from his love to his frustration. Despite this, there are moments in the movie that are genuinely laugh-out-loud funny. The primary and secondary casts are solid in their roles, and even tertiary, one-off characters manage to make an impact with minimal screen time. Furthermore, the film does a superb job showing off 1840s London, painting a picture of a bygone era beautifully. The performances, the settings, the unique take on Dickens, which combines the cold, hard facts with fantasy elements, makes for one of the more unique films to be experienced in this time of year. Personally, this moviegoer was finally glad to have a holiday comedy-drama that was more than just slapstick gags and baseless, R-rated humor.
That said, as much as I did like the film, it does tend to suffer in places, particularly its third act. For the first two thirds of the movie, the balance between comedy and drama is splendidly handled. Unfortunately, come the third act, the comedic elements are more or less tossed aside, and the audience is buried under melodrama that does not let up. While there are some good, dramatic moments to be had here, it does tend to undermine the lighter feel that the movie had built up to this point. One cannot help but wonder if it could have been handled better, though overall, my review for the film is still positive.
The Man Who Invented Christmas is a fantastic holiday film, shedding some light on the creation of a classic story, giving audiences a great mixture of comedy and drama throughout its duration. While it falls short of being a true classic, there is no denying that this is one of the better and more original Christmas-themed movies to come out this holiday season, and for this reason, it comes recommended.
Rating: Three out of four stars.
DISCLAIMER: All image in this review are the property of their respective copyright holders, including (but not limited to) Bleecker Street. For promotional use only. All rights reserved.