Thank You For Your Service is the directorial debut of Jason Hall, based on the 2013 book from David Finkel. The film stars Miles Teller, Haley Bennett, Beulah Koale, Amy Schumer and Scott Haze.
Following a lengthy, arduous tour of duty in Iraq, a group of veterans returns stateside, only to find that adjusting back to civilian life is far more difficult than expected. Family man Adam Schumann suffers from flashbacks and unresolved guilt from events that occurred during his tour of duty, while fellow soldier Solo Aeiti, expecting his first child with the woman he loves, struggles with drug addiction that takes him into dangerous company. Both men struggle to attain the help they need from the VA so that they may live their lives and reintegrate into society.
Movies based around soldiers from wars struggling to readjust to life back home following their service are nothing new. While Thank You For Your Service is certainly nothing original, and does suffer from a split and often rushed narrative, it does contain some strong dramatic moments that beautifully encapsulate the everyday struggles that former soldiers face upon their return to their families and homes.
As far as the strengths of the film go, everyone is perfectly cast and suits their roles well. For the most part, these are not the biggest, most instantly recognizable actors, but this works to the film's strength because you don't have the "star power" sucking you out of the movie and its story. The acting is superb, and everyone puts on believable performances. You will truly believe that these men are former soldiers come home from an experience that has forever altered them. The military/flashback scenes do not shy away from violence and terror, and those watching the film will be able to relate to the characters.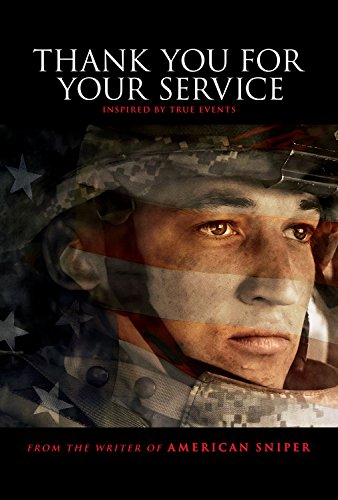 The biggest issue with the film is that the narrative feels rushed and uneven in places, and that things beside the main plot never quite live up to their potential. I do like that the film focuses more on character-driven drama rather than the actual war experiences, but there are still a good many scenes spent in the VA and in counseling offices that don't really go anywhere or advance the narrative. While the Schumann Family story is gripping and dramatic, and hits all the high notes, the Aeiti story feels much more clichéd and "by the book." A character's violent outbursts distancing him from his love, and falling in with the wrong crowd, only to want to try to "get out of it" for the sake of his growing family… even if the film is based on a true story, this is something we have seen before countless times at the movies, and this "B story" feels frustratingly familiar. It is also rather conveniently wrapped up when the film requires it. There are many smaller plot points that feel wasted and undeveloped, and even much of the resolution to the story feels like something we've seen before. The film would have been better with a more focused and consistent narrative, though this is certainly not a weak movie.
Thank You For Your Service is not a perfect dramatic film, but it does hit the high notes in more ways than one, and, while it doesn't bring much new to the table, the character-driven drama serves it well. Anyone curious about seeing the struggles veterans go through on their return home from service will be impressed by what they see here.
Rating: Two-and-a-half out of four stars.
DISCLAIMER: All image in this review are the property of their respective copyright holders, including (but not limited to) Universal and Dreamworks. For promotional use only. All rights reserved.