The Greatest Showman is directed by Michael Gracey, and stars Hugh Jackman, Zac Efron, Michelle Williams, Zendaya, and Rebecca Ferguson. The film features songs by Benj Pasek and Justin Paul.
The Greatest Showman is a musical drama loosely based on the life of PT Barnum. Born into unfavorable conditions and struggling to make a living to support a growing family, Barnum gains the admiration of many, and the ire of others, when he launches a museum of oddities, which evolves into a full-blown circus. When Barnum's wife is content with their newfound success, however, he continues to push his enterprises and risk everything further…. But will success continue to come, or will he fall flat and lose everything?
It's very rare nowadays for any mainstream Hollywood studio to release musicals, despite them once being a dominant and prevalent film genre. The Greatest Showman has ambition and a superb cast, as well as worthy setpieces and locations that bring its era to life. But it suffers from a paper thin narrative, a subplot that threatens to derail the film in its latter half, and music that feels more like modern Top 40 hits than what one would expect from the 19th century, which further makes one question if this story even needed to be made as a musical. The movie does have its share of highlights, but it is not going to jump start a revival of the musical film genre.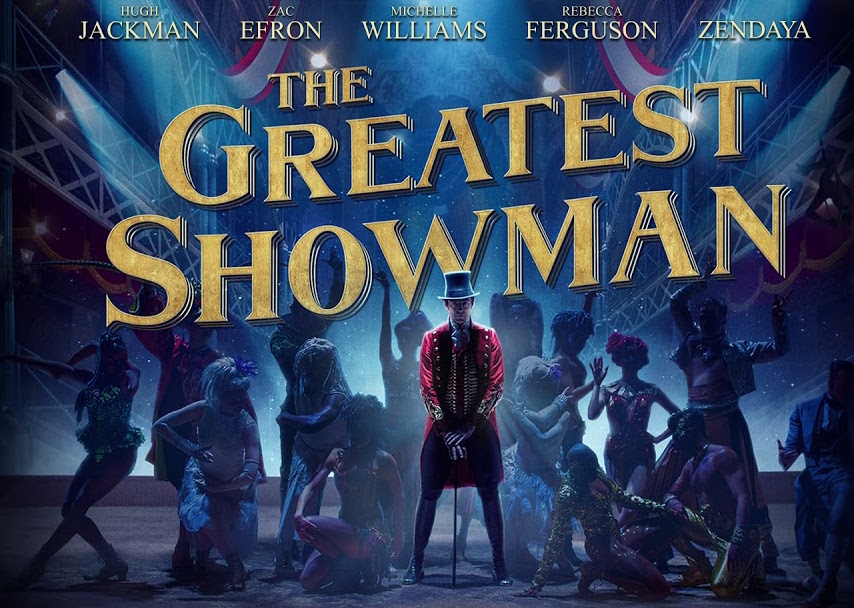 In The Greatest Showman, there is an abundance of quality actors; Hugh Jackman steals the show as PT Barnum, who is the highlight of every scene he is in, whether singing or delivering dialogue. The other cast members are all well suited for their roles, including Zac Efron as a man who becomes Barnum's junior partner, and Zendaya as a trapeze artist. The other actors who play the "oddities" fare equally well, ranging from a bearded lady to a little person, all of whom manage to make an impact with their presence. And while they do not play as large a role as one would hope, the actresses playing Barnum's daughters add something to each scene they are in.
Set design and atmosphere fare well. From destitute city streets to elaborate stunts under the big top, no one can deny that this is a great looking film. While the music may be grossly inappropriate for the period represented in the film, when one watches the musical sequences, they cannot argue with the quality of the choreography in said scenes.
Unfortunately, despite its bottomless ambition, The Greatest Showman falls flat and never quite comes together. The narrative is simultaneously rushed and dragged out, with a paper thin storyline. PT Barnum starts the main section of the film as a young man, and in the course of under 15 minutes, his father dies, he meets a girl, he marries said girl, and he has two daughters. Plot points introduced in a scene are usually resolved by the end of that scene; this Barney and Friends approach to screenwriting means that there is next to no depth in the film despite its effort and polish. As such, there is literally no breathing room; The Greatest Showman feels more like a collection of music videos slapped together with the barest semblance of a plot. Songs are dragged out endlessly, and often are played at inappropriate moments where they just "push things along" with little regard for pacing or logic. If you've seen the trailer, you've seen the bulk of the plot and depth the full movie offers, and that isn't good.
Another serious problem with the film comes from a subplot that involves Barnum taking a hiatus from the circus to help a rising European opera singer tour America. Here we are separated from the principal cast of the movie, and things become mundane. Said subplot is eventually abandoned and forgotten outright, further losing the audience. The majority of this subplot could have been removed from the film with no major loss of substance.
And then we come to the songs themselves. The choreography of the music sequences is superb, but the actual songs feel like they were pulled from Top 40 radio. Overproduced and modernized to the extreme, these are not bad songs by any means, but they feel out of place in the 19th century setting. If a musical is a period piece, the songs should feel like they belong in and represent the period; The Greatest Showman does not do this. When you set your story in the past, and I can close my eyes and visualize the songs being played on a modern radio hits station, something is wrong.
The biggest problem with The Greatest Showman is that the film is a missed opportunity. Why not just make a conventional biopic of PT Barnum with this cast and these setpieces? The musical format glosses over many of the darker aspects of his life, swapping out historical accuracy for sensationalism. Hugh Jackman would have made a great Barnum in a more traditional way of telling the story. Another odd decision comes in the fact that a musical about Barnum's life, simply entitled Barnum, already exists. Why not just make a movie of that?
The Greatest Showman has no shortage of ambition, but it never quite gets off the ground due to its rushed, shallow narrative, and swapping out the truth of Barnum's life for big-budget musical numbers that sound culled from the airwaves of a Top 40 radio station. This is a shame, considering the atmosphere and the cast, which would have made for an ideal biopic of the real Barnum, and not this mess of a musical. I love a good musical, but as much as it pains me to say so, this isn't one. As is, I can only recommend the title as a rental upon its eventual home release.
Rating: One-and-a-half out of four stars.
DISCLAIMER: All image in this review are the property of their respective copyright holders, including (but not limited to) 20th Century Fox. For promotional use only. All rights reserved.