Beside Bowie: The Mick Ronson Story (hereafter simply referred to as "Beside Bowie") is directed by Jon Brewer. The film features interview footage with numerous musicians and acquaintances of Ronson, including Rick Wakeman, Roger Taylor, Joe Elliott, Earl Slick, Tony Visconti, and David Bowie.
David Bowie rose to fame in the early 1970s, but it was not until he joined forces with Rats guitarist Mick Ronson that he truly began to take off. From humble beginnings, Ronson brought songwriting and arranging talents to Bowie, which were instrumental in the creation of some of his biggest hits. Following the disbandment of Bowie's classic Ziggy Stardust band lineup, Ronson pursued a short-lived solo career, and even worked alongside artists in the studio like John Mellencamp and Morrissey. Tragically, his life was cut short by inoperable cancer in 1993, at the age of 46. With his contributions to the popular music world remaining largely unsung, Beside Bowie attempts to bring Ronson's contributions to the forefront where they belong, shedding some light on this unappreciated and unsung hero of the rock and roll world, and beyond.
Beside Bowie is a documentary that reaches far with its subject, but at times, loses its focus, and in some cases, even overlooks major parts of Ronson's career. It is a flawed but still interesting and entertaining look at Ronson's career, although I don't think the appeal here is going to expand to people that are not already rock and roll fans, or followers of Bowie/Ronson.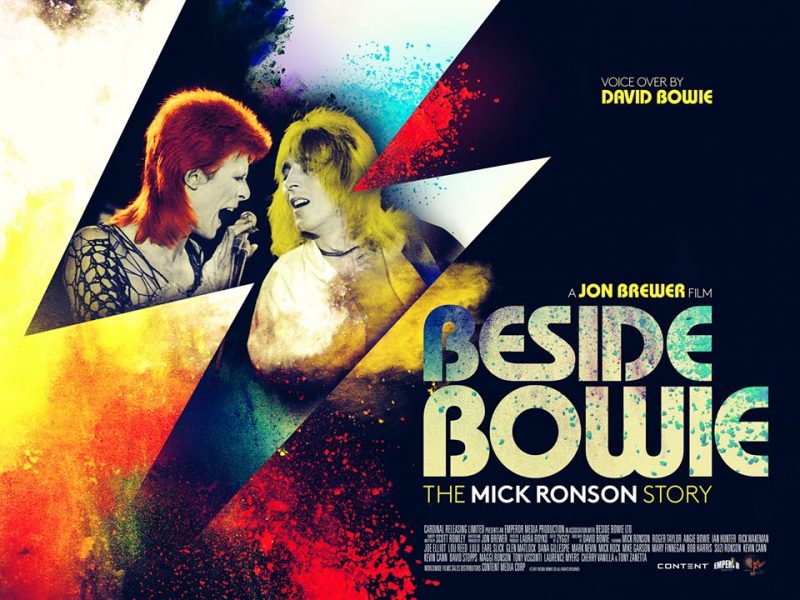 As far as the positives here go, much credit can be given to the filmmakers for wanting to shed light on Ronson's career; there are countless people who have heard Ronson's guitar work, production, and arrangements on major pop hits from various artists, yet still have no idea who he is! It is for these reasons that something like this is a needed documentary. The sheer talent and variety of artists and acquaintances pulled together here for the documentary is staggering, from some of the biggest names in rock, to those who knew Ronson the best. The doc also makes one ponder the questions of what would have become of Ronson had he been able to pursue his love of arranging and producing following his departure from Bowie, rather than being groomed to be "the next big rock star," and whether or not Bowie would have become a star at all if not for Ronson's involvement in his early career. That a man like this was not more commercially and financially successful is criminal.
The problem with this documentary, however, it is that it simultaneously tries to do too much and too little. The first half of the doc, in particular, focuses too much on David Bowie. Ronson's involvement with Bowie is certainly covered, but the doc goes off too much on a tangent at times to talk about Bowie's life. Did we really need to cover the controversy of Bowie coming out as gay in the early 70s, in a film in which Bowie is not even supposed to be the primary focus? Moments like this take the focus away from Mick, and work against the documentary. More information on Ronson's childhood and growing up would have been appreciated.
The single biggest sin that Beside Bowie commits is that it has next to no emphasis on his short-lived solo career in the mid 70s. His underrated masterpiece of a solo debut, Slaughter on 10th Avenue, gets like two brief mentions, and that's it. His second solo album, Play Don't Worry, doesn't even get mentioned at all! This era of Ronson's life was disappointingly short and not commercially successful, but it spawned some of the best music he ever created, and it should not be relegated to a mere few mentions.
The Blu-ray release also includes a DVD copy of the documentary. Picture quality varies, as the content is compiled from many different sources, with some pieces of footage faring better than others. There are some instances of artifacting and aliasing in a few places, which are annoying, but the film looks good overall. Dialogue is loud and clear, and the music sequences sound surprisingly well.
The Blu-ray Disc also includes roughly half an hour's worth of deleted scenes that did not make it into the final presentation, but the disc programmers commit the fatal blunder of not including a "Play All" button for them, meaning you have to scroll through all the menus repeatedly if you want to watch them all; this gets quite annoying when the short length of these clips means having to do that close to 15 times. The disc also does not include subtitles of any kind.
Beside Bowie is a good but not great documentary on the life of one of the music industry's unsung heroes. We get fantastic interviews and rare archival footage of his career, but the scattershot direction and lack of emphasis on certain areas, with too much emphasis on Bowie in others, makes the 100-minute documentary a bit of a mess. Fans of Ronson and Bowie will like what they see here, though I don't see the film being one that will appeal to those that aren't already fans.
Rating: Two-and-a-half stars out of four.
DISCLAIMER: All images in this review are the copyright of their respective owners. For promotional use only. All rights reserved.