This was my first time actually setting foot in Vamp'd. I'd driven past during the day and I'll avoid any jokes about not being able to find the Kount's Coffin. Courtney immediately pointed me to check out the venue almost as soon as we stepped inside from the murals as well as the shrine to Dimebag.
The first band First Class Trash is one I mentioned very briefly in the review of Las Rageous as lead guitarist Andy Ingraham was performing on Day One with Bravo Delta. I was looking forward to this one as Ingraham's lead playing was impressive the last time I saw him. First Class Trash's music is very rock n' roll with some pre-recorded digital bits. I never really know how I feel about this as you're very aware that a good portion of what you are hearing isn't performed live. On the other hand the band has rehearsed well enough that they are able to play along just fine.
One thing that's rather odd is that Ingraham is and isn't on the band's Facebook or new website. He's in some pictures, not in others, and in the About section on their Facebook page there's no mention of a fourth member. On the other hand, no mention of a split I could find either.
Gabriel and the Apocalypse is an interesting act in that aside from some kick ass music, beware getting too close their whole set I was getting more and more worried that a guitar neck, mic stand, or human body would take out one or more people in the front row. While they might not be Mathcore they do share that dangerous feel at live shows, that you are moments away from witnessing something going wrong.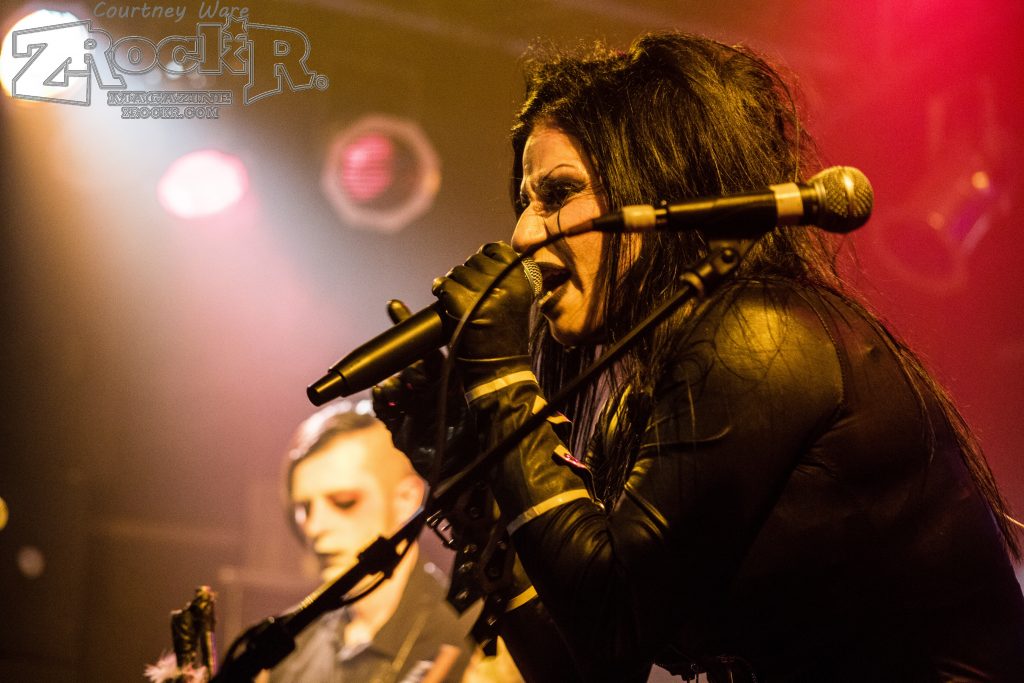 The bass player poured water on a gal in the front and Courtney and I got spit on for some fucking reason. Though as she's a photographer at least none of the spit got on her lens we didn't get the bottle of water. Other photographers at the show weren't as lucky…
As the band were playing their last song their singer would kick her guitarist in the ass before beating on him some more until a mic stand nearly swung into someone's face. Their bass player needed to essentially break character to stop that from happening. I'm aware this makes me sound like a dick but part of me wishes she hadn't.
In 2014 Monte Conner formerly A&R of Roadrunner Records and currently with Nuclear Blast introduced Australian musician Lauren Hart to former Machine Head/Soulfly axeman Logan Mader. The latter had been away from the stage for years previously and had envisioned Once Human to be comprised of largely unknown musicians to avoid being labeled as a supergroup or being regulated to side-project status and thus recruited some damn fine musicians.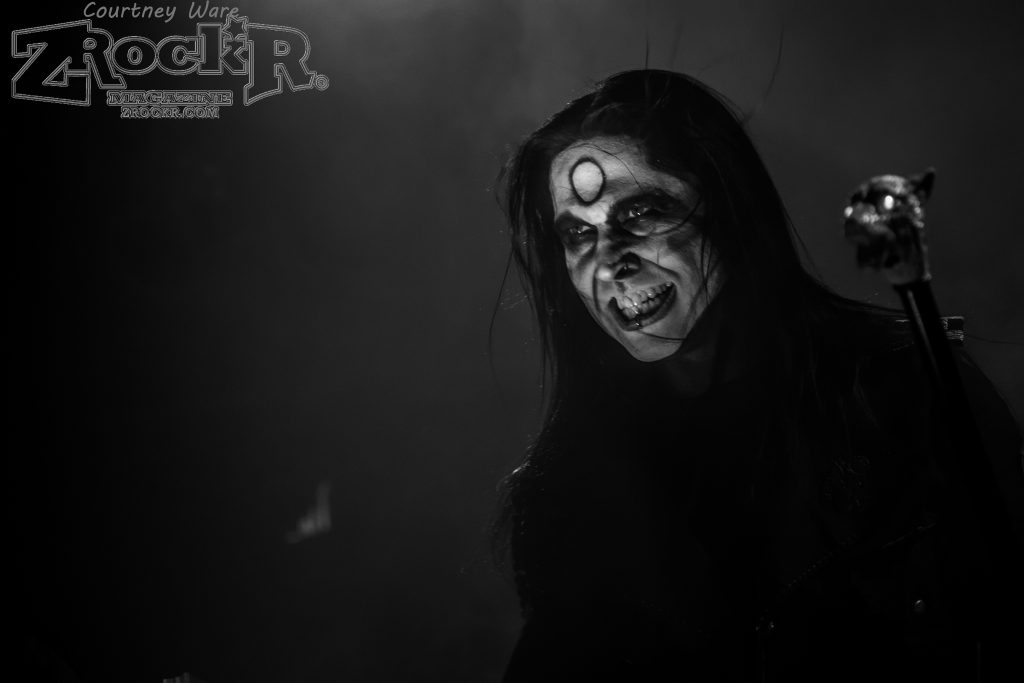 I have to mention that Lauren Hart despite being the most modest frontman or woman I've seen live has a voice that made me think that had someone told me that she had auditioned to replace Arch Enemy's Angela Gossow, was offered the job but chose to turn it down out of loyalty to her band I'd have no reason not to believe it. She fucking killed it! During the set she mentioned that the band had relocated from Los Angeles to Henderson, NV. Thus, they have overtaken the top spot as my favorite local band.
The band has announced that they have added a third guitarist and I should point out that their two full-length albums The Life I Remember and Evolution are both available through earMUSIC.
When tonight's headliner Wednesday 13 takes the stage, the stage is dark and he's wearing a mask on the back of his head… okay. I'm largely only aware of his work with the Murderdolls, though after this show I really need to listen to more of his back catalog. I will say that the lead guitarist uses a whammy effect a lot – nearly every song. Still cool though. I swear he was also staring at me off and on during the show. I'd say it would be creepy – but it was more of a "Who the fuck is this guy?" look and not "I'm going to skull fuck you!"
PHOTO CREDIT: All photos by Courtney Ware for ZRockR Magazine – ©ZRockR Entertainment, LLC – ALL RIGHTS RESERVED